I want to impart a little life lesson for all of you in Straddleland. Never ever ever fall behind on Pretty Little Liars. While watching four episodes in a row fulfills one's desire for instant gratification, we're all in this motherfucking shit hole together. We need each other to keep the plot lines straight and the characters gay. I go away for four episodes and what happens? Emily's sex life gets put on infinite hiatus. Luckily due to the writer's deep personal respect for the good 'ol USA, there was no episode the week of the fourth of July, giving us all time to get on the same page. After this, we band together hand in hand for the rest of the summer.
We open on the Liars enjoying coffee at where I can only assume is the Cheesecake Factory. While Melissa and Esquire Hastings bounce just out of earshot to pay the bill, the Liars resume their usual intrafriendship conspiracy theory mingling.
It's suddenly dawned on the Liars to maybe think about the identity of A version 2.0. Is it Melissa? Is it Lucas? Is it Judith Butler? No. None of those people could be A because they either share a complex past with one of the Liars or they have shown a lifelong commitment to feminism, queer theory, political philosophy, and ethics.
Just then, Jason busts in all riled up about Esquire Hastings's new haircut. I mean, the side bangs looked so nice– why suddenly make the switch to the harsher straight-across bangs at her age?! Also he's pissed about Ms. Hastings defending Garret because, you know, guilty until proven innocent. I'm pissed about the return of Jason and the impact he might be having on my previously exclusively positive feelings about V-necks. What kind of person just claims an entire shirt-group like that?
Oh right, so Jason is offering a 50 grand to anyone with knowledge about the recovery of Ali's remains. According to this one episode of this show Lie To Me that stars this really hot actress Monica Raymund, you should only offer up the sum of money to get people in the door, but then pull the reward so that you don't get false tips. Esquire Hastings saw that same episode and tells someone or another that Jason is wasting his money and will get tons of false tips. He probably should have just bought a ton of Autostraddle T-shirts.
The next day at school, Aria and Hanna totally lez out and start dating while hatching a plan to get Aria's mom a new boyfriend.
Clearly that didn't happen because there is nothing scarier, not even killers, than seemingly straight characters TURNING GAY. But I swear their interactions were the closest thing to girl-on-girl intimacy we were rewarded with this episode. Speaking of middle aged divorces, Aria has clearly started modeling her own personal fashion line for the cougar who knows what she wants. I'm sorry. I can't sign on to animal prints. I'm not ready and you can't make me.
Also due to her freakout on Caleb, Mona isn't allowed visitors anymore. Womp Womp.
Meanwhile, over in sex-free lesbianland, Emily got a job as a barista in a local gluten free vegan whole grain poly-community hang out cafe. Why? Because all teen lesbians work in cafes. This is a universal law like the Pythagorean theorem or how apparently celebrities come out in threes now. Can we just call her place of work The Life Cafe and be done with it? Okay cool.
The Life Cafe's boss is both absurd and potentially my favorite new character ever. It's about time this death-fest got some comic relief.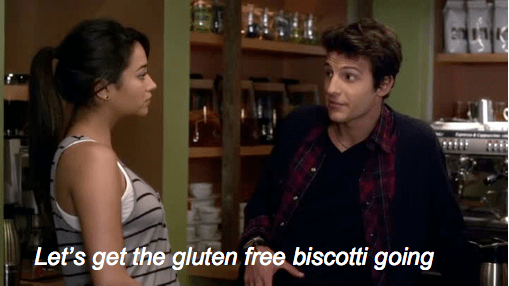 Maya's "cousin" Nate hops in on Emily at work and has all the feelings about Maya's death. He wants to share those feelings with Emily in a safe and open environment like a park bench set or maybe a different coffee shop set. As far as I can tell he is totally and completely hitting on Emily. Now let me say this right now. If this guy becomes Emily's new romantic lead I will absolutely lose my shit all over this motherfucking place. Just all over it. I would rather see Emily engage in inter-species erotica with Optimus Prime than suddenly change sexual orientations. This is not to say I don't respect, understand, root for, want, like, love, care about, kiss, and ultimately believe in and uphold the sexual orientation of bisexual people/characters. It's just that Emily fought so hard in seasons one/two under a gay banner. That she affirmed her right to be a gay teenager. And yes, in the real world teenagers explore their fluid sexualities all the time and that's awesome. But this isn't the real world. This is TV Land where all the gay women characters keep getting killed off or turned straight.
Emily and Nate decide on a park bench for their post-work rendezvous and Nate is a fucking weirdo. Remember back when it seemed like Toby was hitting on Emily all the time but then everyone pretended later like he was just being super nice? Nate is pulling that act on steroids. Nate busts out a hilarious iPhone picture of Emily that is nearly identical to one I sent people in high school. At least the writers are doing their teen lesbian fact checking.
Either way, Nate brings a gift from Maya from beyond the grave– a super gay white tank top. Duh.
The T-shirt has a note on it reflecting Emily and Maya's undying love. This is echoed by Nate recalling Maya proclaiming her undying love for Emily despite their only questionably healthy and extremely short term relationship. Yes, the teen lesbian fact checker indeed deserves a raise.
Over in Hanna Banana Landana, Caleb reveals that he is the reason Mona can't see visitors anymore. Hanna is less than pleased but that's all really boring.
So Hanna ventures over to Aria's house for what I will forever declare the cutest subplot of all time. Aria and Hanna decide to make Ella an online dating profile!
Hanna comes up with the endlessly creative username HotMamma. Apparently MILFXXX6969 was taken.
Hot Mama Ashley Marin comes in while the girls are plotting and points out that the girls should check out a better dating site. OKCupid is just for hooking up, Match.com is full of old people, eHarmony rejects people and PlentyOfFish is just for when you're tired of OKCupid.
Nothing follows checking out middle aged men quite like a trip to a mental hospital, so Hanna moseys on over to try to see Mona again. There she is shocked to see that detective guy Wilden with a court order to talk to Mona. I'm going to assume you care about Wilden about as little as I care about Caleb and certainly less than we all care about Finn, so let's move on.
The liars meet up the next day to address what the best type of hair removal is. Most of the girls agree on waxing but Spencer votes lasering all the way. The Liars decide they should head out to Philly to snoop around Melissa's place to figure out her take on the whole hair removal situation and also shed some light on to why the fuck she lied about a baby.
While the Liars trek off to Philly, we are treated to more of the cutest subplot.
Ashley runs in to Ella and makes an offhanded comment about online dating. Ella is flustered and confused until Ashley whips out her iPad and shows Ella the profile Hannaria made. Ella doesn't know how to use an iPad and initially freaks out.
Luckily, Ashley is there to hold her hand and even receive a conveniently timed date request. Imagine that! The two share all the feelings about being divorced. Normally I don't give a shit about anyone over 25 in a teen drama, but I totes loved this.
Philly is a great city for snooping (I assume this based on crime novels) and the Liars descend upon Melissa's apartment like vultures.
But where are the medical records? The liars check on top of desks and in book shelves but the records are no where to be found. Well, if Melissa is anything like me, her medical records are folded up and put in to her purse and then carried around for several months until she has to fly somewhere and then dumped out in to a pile and pushed under the bed. No one was smart enough to check for an purse pile under the bed.
Just when I was getting bored of this scene, Melissa has to run back home! The Liars freak out and jump in the closet R. Kelly style.
Obviously Melissa doesn't find them and goes on her merry way. Though the Liars never find any medical records, they do manage to find a feather in a garment bag. One. Single Feather.
I guess it's connected to the black swan?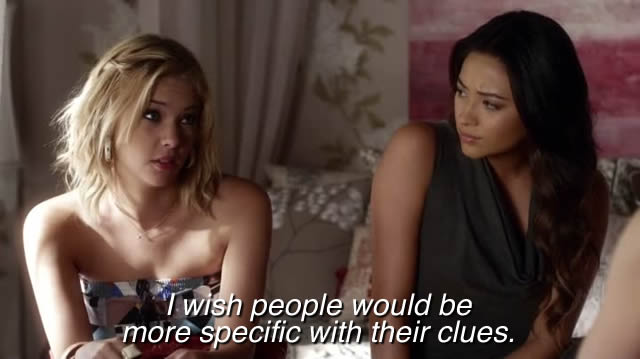 Cut to Spencer finally getting hotel motel Holiday Inn style real. Spencer's all "What the fuck is up with this unspecific feather and that baby you definitely lost but not specifically on the time frame you originally presented to me?!"
And just then in a blaze of glory Esquire Hastings busts in all "I'd like to know those things too! Also has anyone seen my husband because he's been out for at least like ten episodes now." When did the mothers on this show finally become a force to be reckoned with?
Melissa tells all which, on this show, means she imparted exactly two pieces of information. One, that she lost Ian's demon seed the day after his death and continued to fake preggers because it was "just too much." Two, someone threatened to expose her unless she dressed as the Black Swan and distracted Jenna at the Masquerade Ball.
Spencer wraps up this family festival by popping by to see Jason. Jason sitting out on his porch stoop, which is something that doesn't actually occur on the east coast as much as TV likes to pretend it does.
He tells Spencer that he's calling it quits on the crime tip hotlines scene. He is, of course, lying.
While the Hasting fam have their big talk, Hanna, Aria and Emily have talks with their respective plotlines. Ella explains to Aria that it's like okay to be single for a hot minute after getting divorced and that the walls aren't going to crumble down if she doesn't have a man around to open really stuck jars. As usual, Piper nails it.
Hanna, on the other hand, gets prepped to pull an honesty hour with Caleb and explain all about A version 2.0 and calls him up to tell him she has something to tell him. Unfortunately A sends her a picture of paramedics and Caleb reveals his mother has been in a car accident.
Instead of doing what every gay kid in the country does when they chicken out of coming out to their folks and just make up some other big fake news, Hanna just tells Caleb she can't tell him. Seriously? Never openly tell your partner you're keeping secrets. So Caleb dumps Hanna which would be kind of sad if we weren't getting such great Hannaria action.
A hundred thousand hours later we finally wrap up this episode by getting our final does of Emily and Cousin Nate. Emily has to return a book to him or something contrived like that and they meet up in a bar. Emily asks Nate for Maya's parent's address so that she can send them a thank you note for getting Maya's gift to her. Aww. Emily has such lovely manners. Nate says he doesn't have his little black book handy, but would happily take the unaddressed letter and send it off himself.
Now. A this point we can basically be sure that Nate is 100% not going to send that letter and at least 70% not Maya's cousin. I vote creepy male boyfriend from True North, but he could also just be a good old fashioned A henchman. There's also plenty room here for long lost brother to any of the other Liars.
As usual, we end with an A teaser. Today A is drinking a gin and tonic and playing on their laptop. That sounds nice, I think I'll go do that too.