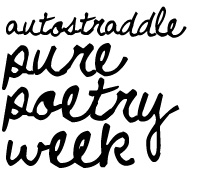 Sometimes one human being's love for poetry is so immense, and one's frustration at the rest of the universe for saying, "I don't get poetry" is so enormous, that one decides for no real reason to declare this week The First Annual Pure Poetry Week on Autostraddle.com. February 23rd –> March 2nd, 2011.
Because poetry is true and nobody makes money writing it, not really, not anymore. So in that sense there's less commercial invasion than there might be in other things. Think about all the things you do that nobody cares about. Imagine if they secretly mattered more than everything else you've ever done. I think that's how poets feel. I think that's why we all care so much about poetry because we're hoping that everything undervalued is secretly the most amazing thing to ever happen to the world.
During "Pure Poetry Week," the entire team will be consistently talking about poets that we like a lot and trying to make you like them. Yup, we've done 10 Lesbian & Bisexual Poets To Fall in Love With and we've told you to read Eileen Myles at least 5,000 times. But this is SERIOUS.
"The material of poems is energy itself, not even language. Words come later."
– Eileen Myles
But this won't be gay-lady exclusive, because our love is too POETIC to be thrown back in our faces. Because schools fuck up about teaching poetry sometimes. Because we want to talk about Stephen Dunn as often and dearly as possible. Because some people don't like National Poetry Month. Because a ton of you love poetry and want to talk about it too. So that's what we're gonna do.
"If your everyday life appears to be unworthy subject matter, do not complain to life. Complain to yourself. Lament that you are not poet enough to call up its wealth."
– Rilke
"I don't want to read poetry that will make a 12-year-old feel stupid. I don't want to read poetry that will make someone who works at Kmart and has never read poetry feel stupid. I don't want to read poetry that has the power to make anyone feel stupid."
-Tao Lin

Pure Poetry Week:
#1 – 2/23/2011 – Def Poetry Jam
(by Riese)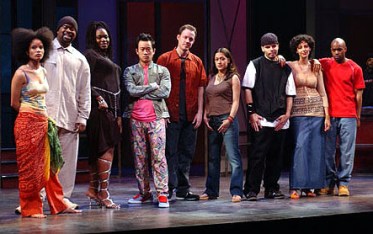 In 1997, I shipped off to a boarding school in the woods to study writing but the only books I brought with me were an anthology called Drinking, Smoking and Screwing: Great Writers on Good Times and a poetry anthology called ALOUD: Voices from the Nuyorican Poets Cafe. I don't know why I didn't bring more books or how I intended to write anything there without more books.
Over the next two years I'd be beaten over the head with Mary Oliver and Gary Snyder until I learned to stop hating and love ALL THE POETRY but before that the only stuff I could really get into was Slam and Spoken Word Poetry, it was the only thing that seemed to have any energy to me and you know, my friends did it, though in retrospect most of them sucked. But I really like that anthology from the Nuyorican. I like everything about it.
"The new poetry, or rather the poetry of the nineties, seeks to promote a tolerance and understanding between people. The aim is to dissolve the social, cultural, and political boundaries that generalize the human experience and make it meaningless."
– Miguel Algarin, in the introduction to Aloud!
So on that spoken-word tip — just in case you have doubts about poetry we're gonna start with some of our favorite women from Def Poetry Jam. (We're not saying that Def Poetry Jam = Nuyorican, because that's not true/reductive, but hopefully that segue was relatively effective just the same.) Def Poetry Jam is this miracle of life where Russel Simmons got a shit-ton of poets on the teevee AND I LOVED THE F*CK OUT OF IT. The Mos Def-hosted HBO series featured spots from celebrities like Dave Chapelle and Kanye West and Lauryn Hill and Ani DiFranco but also from your established spoken word poets and also from your very famous poets like Nikki Giovanni and Saul Williams.
Some say Def Jam was good for poetry and slam poetry in particular and some say it's been totally shitty for slam poetry. Marc Smith, the founder of the Poetry Slam Movement, said it's "an exploitive entertainment [program that] diminished the value and aesthetic of performance poetry" but Nuyorican Poets Cafe founder Bob Holman said "I'm real happy poetry is on television… it gives [Russel Simmons] the back credentials for his hip-hop label, and at the same time he's magnanimous towards the art of poetry, giving us a place like that. It's a great, great moment, just as Def Poetry Jam on Broadway was a great moment, too. Not since Ntozake Shange's For Colored Girls Who Have Considered Suicide When the Rainbow Is Enuf has a poem like that been on the stage."
Either way, it's fun to watch! Also! Later this week Gabby is gonna talk about two of her favorite up-and-coming spoken word poets and YES my little butterflies, Carmen is writing about your lovechild Andrea Gibson, don't stress.
Put your headphones on!
+
10 Women of Def Jam
+
1. Shannon Matesky – "My Space"
+
2. Alicia Keys – "P.O.W"
+
3. Amalia Oritz – "some days"
+
4. Staceyann Chin – "If only out of vanity"
+
5. Maggie Estep – "I'm an Emotional Idiot"
You lesbians will love this b/c you are also emotional idiots.
+
6. Erykah Badu – "Friends, fans, and artists must meet."
+
7. Yellow Rage – "Listen asshole"
This is maybe my favorite
+
8. Sarah Kay – "hands"
+
9. Sarah Jones – "Your Revolution Will Not Happen Between These Thighs"
This piece, which critiques the misogyny of hip-hop, adapted from the 1970s song "The Revolution Will Not Be Televised," was fined by the FCC for indecency, which is pretty f*cking ironic, right?
+
10. Kendra Urdang: "To Every Man Who Never Called Himself a Feminist"