First, we have new videos from The Runaways! More anticipation! Firstly, about the Cherry Bomb music video, Vulture says that "while [Dakota Fanning] doesn't seem uncomfortable in her skin, exactly, there's a vulnerability to her red-lit motions toward brazenness — especially during the "Hello, Dad; hello, Mom" parts — that gives us a pang of parental panic. A pang of "Hannah Dakota Fanning! Put on some clothes! Someone out there could see you!"
Also, E! wants to know if The Runaways is parent-approved, hahaha no they're not talking about YOUR parents weirdo, they're talking about Kristen Stewart & Dakota Fanning's parents. Anyhow, there are new trailers all over the internet by now.
So here we have a new featurette and seven clips from The Runaways.
Although the promise of girl-on-girl action draws us to this flick like bees to honey (you know all about that right, like the circle of life or whatever) it's also 'cause we like to see girls IN ACTION. Like with each other. Making bands, playing sports, training a nun chorus, whatever.  Leading political movements (yeah, one day we'll get a movie like that). When a girl and another girl or many other girls accomplish shit, together. Especially if they're cute.
We're not speaking of the shopping/romance flicks where the woman wins for standing up to her philandering husband after Eva Mendes stole him at Bloomingdales. We're also not speaking of violent/superpower movies, 'cause that's like a whole 'nother list for girls who can handle seeing guns on TV.
See there are always movies about groups of guys getting together and changing the world. Political movies, movies about dude bands — hell, there are probs more movies about (male) football teams than there are movies about any girls sports team at all ever. So here's Ten Movies About Strong Kickass Groups and Teams of Ladies that we're looking forward to, like The Runaways (which we actually hear is more about the dude that managed them than their relationship with each other).
+
10 Badass Girl Power Films
When Tough Girls Get Together With Other Girls and Do Shit
+
+
10. Whip It! (2009) – Ellen Page, Drew Barrymore, Juliette Lewis, Eve, Kristen Wiig
This film featured so many of our favorite female actresses that we were biologically obligated to view it, like How to Make an American Quilt, which actually ended up sucking sorta.

+
9. Blue Crush(2002) – Kate Bosworth, Michelle Rodriguez
Surfing makes bodies hot, and they set a goal and then achieve it, and even though Michelle Rodriguez won't come out, you probs own this movie. To be honest I haven't seen it, but I felt somehow it needed to be included. y/n?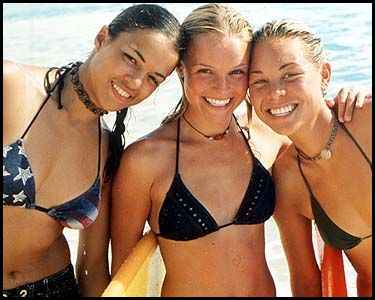 +
+
8. Bring It On (2001) – Kristen Dunst, Eliza Dushku, Gabrielle Union
It makes me feel how Glee makes me feel, except more heteronormative. Also the sequels are good fun.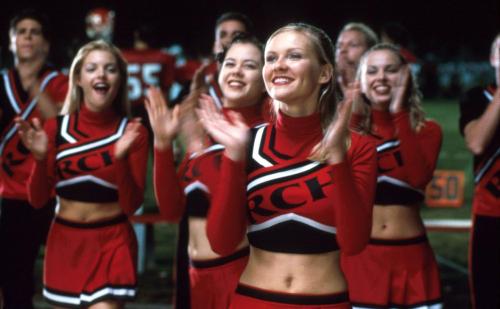 +
7. Troop Beverly Hills (1998) – Shelly Long
I remember this being a lot less about shopping than I realize it actually is, but they had so many montages of progress and cookie-selling and a ton of musical numbers.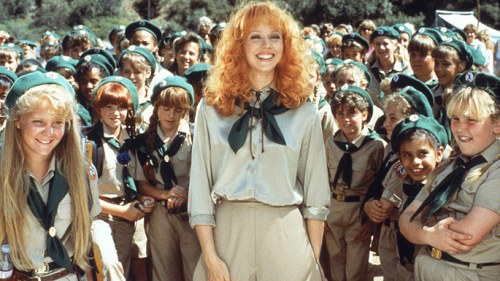 +
6. Set It Off(1996) – Queen Latifah, Vivica A. Fox, Jada Pinkett
I can't watch some of the scenes b/c I have feelings about gun/violence, but other than that, it's good like Bad Girls is good. Also coughlesbianenergy.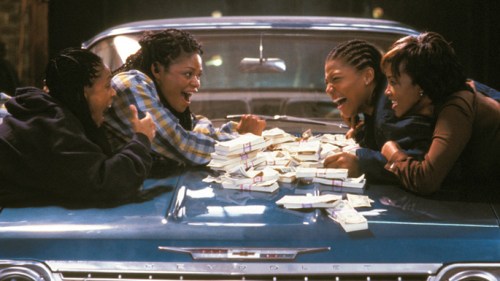 +
5. Ladies And Gentlemen, The Fabulous Stains (1982) – Diane Lane, Laura Dern
As mentioned in our interview with Marisa Meltzer and in a post by the best media studies graduate of all time, fourfour.

+
4. The Craft (1995) – Neve Campbell, Rachel True, Robin Tunney
How many people did you put a hex on after you saw this movie. Like so many people right?
+
3. Bend It Like Beckham (2003) – Keira Knightley, Parminder Nagra
Every lesbian loves this movie, right? Also there was supposed to be a lesbian element to the story, but they took it out and made it a boy-girl romance b/c mainstream media wants to ruin our lives and wants us to be unhappy.
+
2. Sister Act (1992) – Whoopi Goldberg, Kathy Najimy
I have seven words for you: Montage of Remodeling and Making Musical Progress. Also, if those nuns were real and it'd come out in 2010, those nuns would be on YouTube with "My God."

+
1. A League of Their Own (1992) – Geena Davis, Rosie O'Donnell, Madonna, Lori Petty
I feel legitimately blessed to live in a world with this movie in it, even though "This Used to be My Playground" and "Now and Forever" make me cry like a pansy.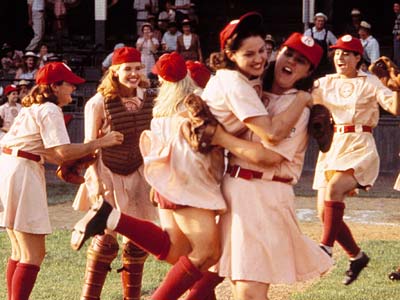 ---
+
Next:
Dead Gay Characters, Lady Gaga & The Muppets,
Girltrash vlog and 90210's lesbian kiss ON VIDEO
Pages: 1 2See entire article on one page