Sisters Johanna and Klara Söderberg are the talented young women behind the indie-folk duo, First Aid Kit. The Söderberg's hail from a small suburb of Stockholm, Sweden, and have been gaining momentum ever since the release of their 2008 Drunken Trees EP.
The maturity of their story-telling and the tight vocal harmonies by these young sisters — only 15 and 17-years old at the time the EP was recorded — is striking.
Watch this performance from a 2008 appearance on Swedish television:
These incredible live performances are not in short supply. Check out a series of performances for Bandstand Busking on YouTube, including videos of "Hard Believer" and "Tangerine".
The one that brought them the most attention, however, was their 2008 cover of Fleet Foxes' "Tiger Mountain Peasant Song." Many of you have probably heard it.
The cover video attracted over 1 million views, but it would take two more excruciating years of waiting until First Aid Kit would release their first full album.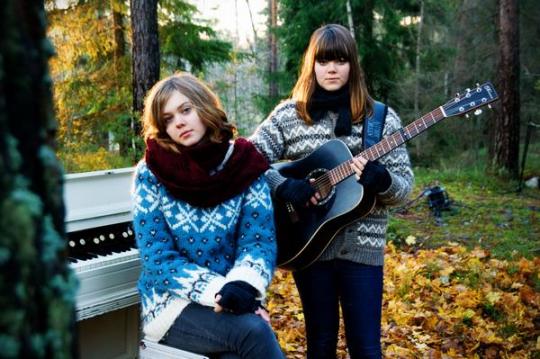 To the delight of eager fans like myself, The Big Black & The Blue was released in January 2010. The saying goes, "If it ain't broke, don't fix it," and the Söderberg sisters took that to heart. The album features more of the harmonies, narrative lyrics, and guitar/autoharp instrumentation that attracted fans two years ago.
If you're interested in seeing them live, they're playing six separate shows at  SXSW. American fans should seize this opportunity, because they don't tour the U.S. often. Find their SXSW schedule and their European tour dates on MySpace.