PROM: Remember last week when we told you about this years gay prom debacle? Now the school has cancelled the dance altogether instead of having to deal with the wrath of the ACLU. (@associated press)
From The USA Today:
Constance McMillan, an 18-year-old senior at Itawamba, recently challenged a school policy prohibiting her from bringing her girlfriend as her date to the April 2 prom. McMillen, who is a lesbian, and the Mississippi chapter of the American Civil Liberties Union urged school officials to reverse the policy both on McMillan's choice of date and attire. She also wanted to wear a tuxedo to the dance.
Understandably, the cancellation has alerted McMillen, because now everyone is going to be mad at her. Luckily she's a lesbian so basically it will be twice as bad:
"Oh, my God. That's really messed up because the message they are sending is that if they have to let gay people go to prom that they are not going to have one," she said. "A bunch of kids at school are really going to hate me for this."
School officials told McMillen last month that she could not bring her sophomore girlfriend to the prom and also told her she could not wear a tuxedo. The school then circulated a memo that prohibited same-sex dates.
AUTOSTRADDLE WANTS YOU: Did you take a same-sex date to your prom / winter formal / other fancy high school event? Well we're running a contest and starting a photo gallery full of your adorable gay faces! We're dead f*cking serious about visibility and changing the game. Get the details here and send in your photos ASAP!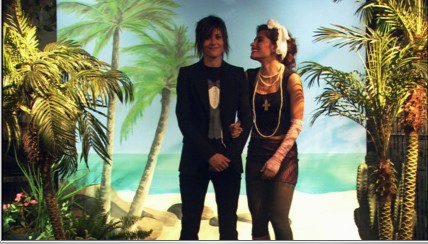 HOW KIDS FIND OUT ABOUT GAY MARRIAGE:
We put this up on our tumblr yesterday and we bet it's already going viral but if you haven't seen it YOU MUST.
GAY BUS:
The Annual Equality Riders Are On The Road Again You should probably check out their route to see if they're coming to a city near you so that you can feed them and hug them. And if you haven't seen it yet, head on over to Logo and watch their documentary, Equality U, because I did and it made me cry.
COFFEE:
Endangered Species: The New York Coffee Shop – "In my view, a city is defined by its coffee shops. As Madison Moore explored last week, coffee shops are meeting places to ogle and be seen, work and eavesdrop. They make the city less lonely. New York has always, in my mind, been associated with coffee shops… A generation of people has grown up with television shows and films romanticizing this experience—for me Woody Allen films, Felicity, Sex and the City and even Friends all played a part in creating this New York imagery." (@racialicious) Also, a commenter at racialicious points out that the NY Times did a story today about um, burgeoning coffee culture. (@nytimes)
CATHOLIC SCHOOL:
You heard about the kid kicked out of school for having lesbian parents. But you'll never guess who's "sticking up" for us. (@mediaite)
BULLYING:
A New Set of Studies Look at Why Certain Kids Are Bullied So guys, the first part of the article is wholly disheartening, but there're a couple of good bits at the end, so make sure you get to them. – "maybe being socially isolated also allows kids to focus on their talents and build up their inner worlds, making them more reflective or creative. And maybe being the butt of jokes as a child lends someone more empathy for the downtrodden later in life." However there's also the problem that one out of every two lesbian, gay, bisexual and transgender (LGBT) youths are regular victims of cyberbullying. (@jezebel)
MASSA:
Glenn Beck has his best show ever interviewing recently resigned politician Eric Massa and then apologizes for wasting an hour of his audience's time, which is funny, b/c basically Massa disagreed with him. That's all. Haha Glenn Beck. Jon Stewart has more. (@comedycentral)
CENSUS 2010:
Are you excited for the census? I know I am; they pay $18.00 an hour and you get to go talk to strangers which is actually my idea of fun. But let's talk about being queer and the census. The Williams Institute has some great FAQ sheets and maps that answer your questions and show where we're living. (@williamsinstitute)
PARTY IN LONG ISLAND:
For those of you on or near Autostraddle Design Director Alex's home base of Long Island, New York:

Got plans this Saturday, March 13th? Now you do!
Come to the PRIDE FOR YOUTH FUNDRAISER party where you can witness (or participate in) a Lady Gaga look-alike contest and dance while raising money for a good cause.
There will also be an open mic session before the DJ/dancing commences, as well as prices, snack, and give-aways throughout the night. Alex is going to support the cause and if you're in the area you should too!
$10 at the door (21+) // Starts at 8pm at Kelli's Bar and Grille
All proceeds benefit Pride for Youth (the first support and outreach program to exist for LGBT youth and their families on Long Island) and the Long Island Pride Chorus.