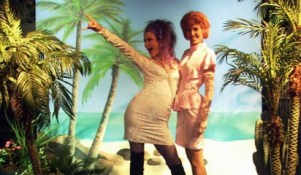 So this girl Constance McMillen wanted to take a girl to prom, and wear a tux, and the principal was like hell to the no, and then the ACLU got involved, and then the school just decided it would be better to cancel prom altogether. Why are they so afraid of how cute girls look in menswear? No but srsly.
We have a feeling, even though we are old, that some girls are bringing girls to homecoming/prom/fancy-wear day dances these days. Amirite? Are you one of those girls/boys? Well let's celebrate those photos everyone is so f*cking afraid of! VISIBILITY, LADIES!

Send us your prom photos!
1. Email your photo to autostraddle [at] gmail [dot] com.
2. We won't publish your name [unless you give us permission] but…
3. If you can, we'd love to know when & where the photo was taken — city/state & year of the event.
4. We'll start putting up the gallery this evening and keep building it as we get submissions. [You can see it here in this post, or on its own page.]
5. If absolutely necessary we can smiley-face over your ex-girlfriend if she's really crazy or a famous tennis player.
6. Everyone who sends in a photo will be entered to win a $25 Amazon.com Gift Certificate, we'll draw a name at random on Sunday and announce it in the Sunday Funday.
7. When you're done with that, check out LezGetReal, where the ladies are putting a full-court-press on Ellen (yah, that ELLEN!) to organize a prom in Mississippi so this girl can freakin' go!
And let's hope that come springtime, we'll be able to add Constance McMillan and her ladyfriend to the gallery.
Tell everyone! Tweet this, put it on your facebook, — we wanna see a bajillion cute gay faces ready to embark upon the most overrated night of their lives — fight the lesbian shaming.
Note: All of these photos used to have captions with the year, the location, and the girls in the photograph indicated. However when our photo galleries were transferred when we switched the plug-in we use for galleries in March 2013, the captions apparently weren't transferred. We are looking into why this happened and if there's any way to fix it.
Woodbridge, 2008
New Hampshire, 2003
Victoria, British Columbia, 2009
Wisconsin, 2008
Virginia, 2009
Virginia, 2008

Boston, 2008
Tracy and Cat, Missouri, 2009
Tovah and Cynthia, Manchester, New Hampshire, 2008
Texas, 2008
Taylor and Katie, Queer Prom, Oregon, 2010
Tabitha and Leah, Houghton College Banquet, 2006
Susie and Laura, Milwaukee, Wisconsin, 2009
Prom, St. Louis, Missouri, 2007
Springfield, Missouri, 2007
South Hadley, Massachusetts, 2009
South Carolina, 2008
Sorority Formal, Tennessee, 2010
Seattle, Washington, 2006
Sara and Caroline, Ridgefield, Connecticut, 2007
Yonkers, 2008
San Francisco, 2004

Martha and Ashley, Eugene, Oregon, 2009
Rhode Island, 2010
Rachel
Rochester, 2006
Prom King
Prom, 2009
Pennsylvania, 2009
Haylee and Katie, Palm Desert, California, 2006
Palm Beach, 2008
Winter Formal
Kati and Maggie, Painesville, Ohio, 2006
Ontario, Canada, 2009
Ohio, 2009
NYC, 2009
Prom, New Jersey
New Hampshire, 2009
Natalie and Sarah, Minnesota
Murray County, Georgia, 2007
Missouri, 2006
Michigan, 2005
Massachusetts, 2009
2008
Massachusetts, 1994
Maryland, 2008
Maggie and Kati, Homecoming, Ohio, 2006
Madison, Wisconsin, 2005
Lynne and Sarah, Washington, DC, 2007
Lynchburg, Virginia, 2008
Little Rock, Arkansas, 2008
Lindsay and Judith, Raleigh, North Carolina, 2003
Liesbeth and Annelies
Leesha and Clare, Santa Cruz, California, 2009
Lauren, 2009
Laurah and Sara, Vermont
Fish Out of Water
Ktana and Yoti, Tel Aviv, Israel, 2009
KT and Lisa, Chicago, 2008
Kentucky, 2008
Kansas City, 1985
Johanna and Marion, Senior Prom, Newtown, Pennsylvania, 2000
Jess and Kristen, Emu Formal, 2010
Indiana, 2009
Idaho, 2007
Hannah
Kelsey and Jennifer, Grants Pass, Oregon, 2009

1993
Florida, 2009
Florida, 2005
Eugene, Oregon
Junior Prom, Ephrata, Pennsylvania, 2000
2009
Emma and Jessica, Prom
Emily and Taylor, Jacksonville, Florida, 2007
Em and Lynz, Decatur, Georgia, 2008
Edmonton, Canada, 2007
2009

Connecticut, 2007
Colorado, 2006
Chicago, 2009
Chicago, 2009
Chicago, 2006
Charlene and Gina, Reno, Nevada, 2009
Brie and Megan, Hampton Bays High Prom
Anna and Emily, Birmingham, Alabama, 2007
Berkeley, California, 2008
Belleville, New Jersey, 2009
Belgium, 2009
Bakersfield, California, 1994
Australia, 2008
Austin, Texas, 2009
Arizona
Ariel, Prom, Berkeley, 1997
Alex and Rachel, Asheville, North Carolina, 2001
Alex, Long Island
Alex and Erica, Nashville, Tennessee
Winter Formal, Alabama, 2006
Adele and Eb, Homecoming, Vancouver, 1999
Prom, Houston, Texas, 2008
Senior Prom, St. Louis, Missouri, 2007
Law School Prom, Albuquerque, New Mexico, 2007
Connecticut, 2006