Final Fantasy XIII found its way into my paws when it hit stores Tuesday, but woefully it didn't have a chance to find its way into my 360 until yesterday. Seeing as how it will take me an estimated 45 hours to complete the game in a pretty straightforward play-through, I think I'll offer a few first impressions. My proper review will probably be around the 20 hour mark. That's a lot of my life, 20 hours.
Here are 5 things I think about it so far! Note- I am an approximate 2 hours in. Also, thanks be to my girlfriend who played for me for a while because I was whining about thinking I had carpal tunnel.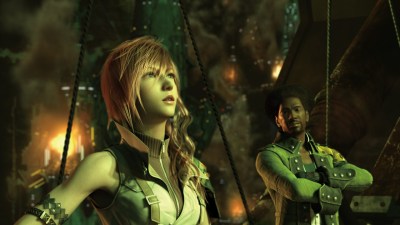 1. Final Fantasy XIII hits you in the face with combat! Ouch! I keep hearing things about how this game, more than any in the series, doles out a lot of combat. And Square Enix makes that crystal clear immediately. You're thrown into a dystopic industrial world with all of these assholes you don't care about yet and you're immediately fending off wave after wave of beautifully animated cyber-kitties. That sounds more like porn than I intended. Let's call them mechano-tigers instead, eh?
2. Oh my god, is Final Fantasy XIII GORGEOUS. Final Fantasy XII hit stores 4 years ago, so the developers obviously chained themselves to their computers for the entirety of the last 4 years to make this game so beautiful. Unfortunately, I'm still stuck inside the kind of claustrophobic, industrial starting area, so I can't wait to see what a lush, less inorganic area might look like. Also, no moogles yet (#mooglewatch).
3. "Vanille, " the requisite young waifish character, is SO irritating! And what's with her ever-shifting pseudo-Australian accent. Actually, she kind of sounds like a shrill, drunk New Zealander who has trouble using her "inside voice." Of course, Vanille is in the grand tradition of young, giggly waifs in Final Fantasy games. Like Selphie (is that a name?) and Yuffie. You can spot the annoying-as-fuck character because their name apparently will end in an "eeee" sound. Like the eeee sound when I scream "SHOOT MEEEEE" every time she's on screen.
4. Um, I don't want to shop at a goddamn vending machine. No really (maybe I'm still having Bioshock 2 hack flashbacks). Final Fantasy XIII apparently does away with the concept of the RPG town altogether: there are no cities to explore in the usual sense, and instead of quaint little vendors in hovels selling you things that are weirdly translated from the Japanese, you get to walk up to a futuristic little ball and press a button to buy stuff. I DON'T WANT TO SHOP AT THE TINY BALL, even if one of the virtual shops is called something that sounds like Urban Outfitters and that's kind of funny. I want a shanty and my weirdly translated dialogue back!
5.  I am trying to keep an open mind BUT I AM SO WORRIED. Sidequests and open-world exploration on a huge map are my two favorite parts of the Final Fantasy series. Aside from moogles. Those are separate. But Final Fantasy XIII demolished those features in favor of focusing on the combat system. And I am very heartbroken, even though I knew this. I will vow to remain quasi-unbiased about this (that's not much of a vow, is it?), but we'll see what happens. I hear the game opens up around the 17 hour mark. No, I'm not kidding. I hate to play FOR SEVENTEEN HOURS to see if I'm still let down. But I would do that for you. And for myself. Or to myself?
And that's my First Gloss of Final Fantasy XIII. I'll be back with some less stubbornly biased and more informed opinions soon! Not 15 hours from now. I don't have that kind of stamina. And this is requiring way too much math. I quit.