I've been obsessively watching the Cooking Channel and Food Network for a week solid because obvs it's almost Thanksgiving and I need to be inspired. When I don't go home for the holidays, getting me into the festive spirit is like pulling teeth BUT I'M TRYING.
I believe Thanksgiving's real purpose is seeing your family / friends all together in the same claustrophobic space, eating a traditional menu of some sort because humans enjoy dependable repetition, and then escaping the claustrophobic space with a reasonable amount of your dignity still intact. This might sound insane, but I love every last awkward second of it.
This year I'm 'celebrating' in Phoenix with a very low-key, small menu and, best of all, I'll be roasting my inaugural beets! They'll be part of a root vegetable roast that will also include carrots, sweet potatoes, red potatoes, brussel sprouts, herbs and probs a garlic/onion situation. EXCITED. INAUGURAL BEETS.
Hey I bet you'd like a new recipe or six to try out this year. Look no further, scouts! Emily, Rachel and Stef apparently live off of nothing but sweet potatoes and quinoa. JK they totally eat other stuff.
1. Spiced Sweet Potato Fries: Emily
2. Warm Quinoa Salad with Chickpeas, Leeks and Tofu: Rachel
3. Quinoa Pilaf with Butternut Squash, Cranberries and Fried Sage: Rachel
4. The Best Cranberry Sauce: Rachel
5. Sweet Potato Biscuits: Stef
6. 3 A.M. Quinoa Salad: Stef
Spiced Sweet Potato Fries
by Emily
Warning: This recipe is REALLY easy! Seriously, anybody can make sweet potato fries. So if you want to make something that tastes good but is also simple, and you want to impress your friends, this recipe is for you.
Ingredients
a sweet potato (or 2 or 10)
various spices: cumin, paprika, chili powder, etc.
salt + pepper
olive oil
parmesan cheese (optional)
You can add or subtract spices as you choose. I like to use salt, pepper, cumin, paprika, and chilli. Sometimes I like to add cajun chicken spicing because I'm weird like that.
Preheat oven to 450° F.
Peel your sweet potato. You can cut it into fry like shapes, or I've heard medallions work as well but I've never tried it. I cut them like fries by cutting the sweet potato in half, then the half in half, etc. The thicker the pieces are, the longer it will take to cook.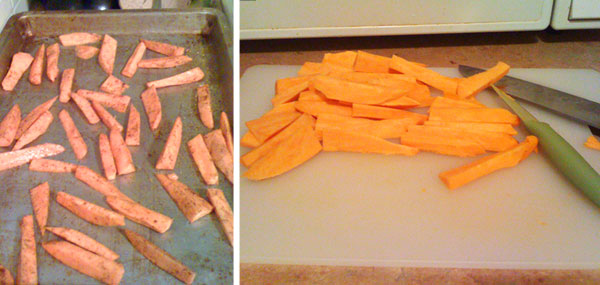 Once you've got your potato all cut up, put them on a cooking tray. Pour olive oil on top of them. The more olive oil you put the crispier they will be, so it's up to you how much you want to put. I usually put just enough to cover them so the spices stick. Try not to drown your potato in oil.
Then, add your spices! If you want them to be spicier, add more chilli or pepper. If you feel like it you can also cover them in parmesan cheese. There is nothing that isn't improved by cheese.
Stick 'em in the oven. The cooking time can vary between 10 and 20 minutes depending on how big they are, and how much oil you've put. You want them to be crispy on the outside and soft on the inside. If you taste one and the inside is still hard, then they're probably not ready. If they start to brown on the outside then they probably are! Share your sweet potato fries with a friend or keep them all to yourself om nom nom.
Quinoa Two Ways
by Rachel
When I was growing up we had a dish called alternately Rice Thing or Rice Surprise, which was "rice with other stuff that is going bad/we happen to have in the fridge." These are both kind of like that, in that the exact grains/vegetables/legumes/proteins you use are unimportant. You could use rice, or barley, or even pasta. Whatever. A CARBOHYDRATE. Then, put some stuff in it. Ready? Go.
1. Warm Quinoa Salad with Chickpeas, Leeks and Tofu
Ingredients
2 cups cooked quinoa
1 cups cooked chickpeas
2 leeks
1/2 block of extra firm tofu (I marinated mine using this method, it was fucking delicious) (or use feta cheese if you are a person who eats cheese)
garlic, ginger, salt, pepper
olive oil/butter/Earth Balance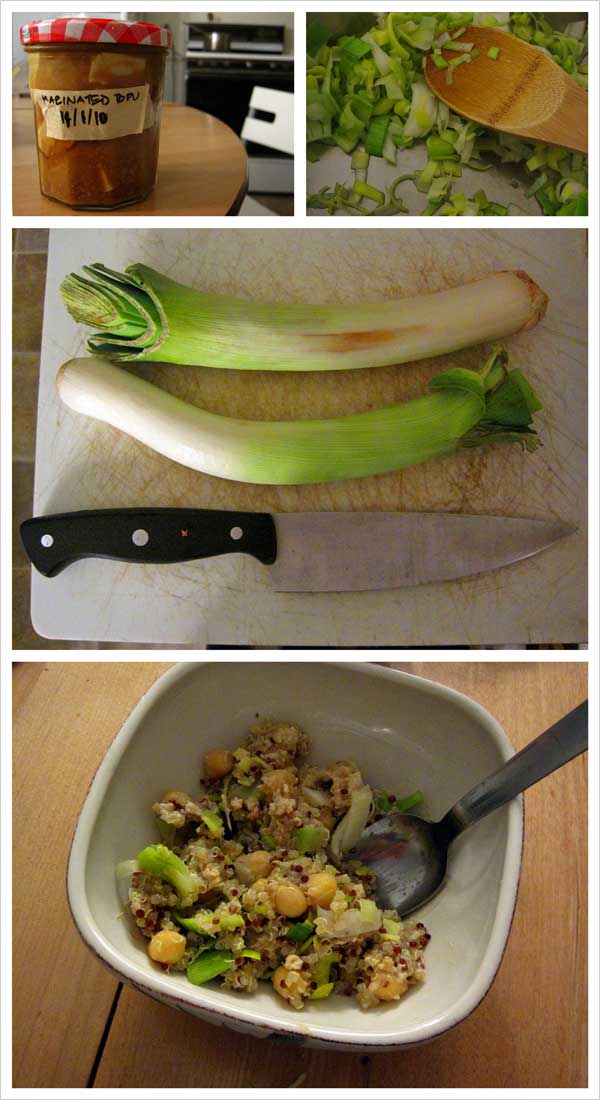 1. Cook the quinoa if you haven't already. Use slightly less than 2 cups of water per cup of quinoa. If you want it to taste good, use stock/salt/garlic when boiling it. It's done when all the liquid is absorbed. Set aside.
2. Sautee the leeks. Again, salt and garlic and maybe ginger might be good here, in whatever quantity your heart tells you.
3. When the leeks are soft and taste nice, add the chickpeas. You're not really cooking them, so you can stop whenever they're warm.
4. Crumble in your tofu/feta. It might melt a little. That's ok.
5. Stir together. Eat. Yes.
========
2. Quinoa Pilaf with Butternut Squash,
Cranberries and Fried Sage
Ingredients
2 cups cooked quinoa
1 small butternut squash
1/2 cup to 1 cup dried cranberries
Some whole fresh sage leaves, like maybe those little plastic packets of fresh herbs you can get at the grocery store.
Salt, pepper, garlic
Olive oil/butter/Earth Balance
Balsamic vinegar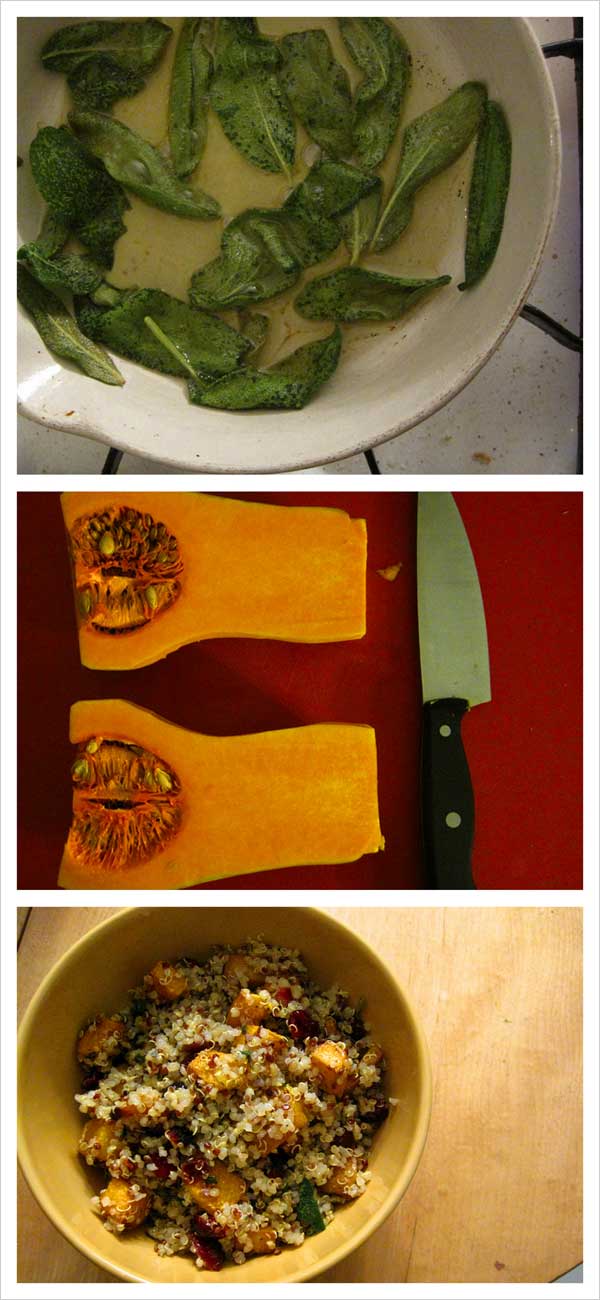 1. Peel and cut up the butternut squash, making sure to remove the seeds and weird stringy parts inside. Make like 1 inch cubes, or maybe a little smaller. Put them in a big bowl and put in some olive oil, salt and pepper. If you want it to taste really good, also put in some balsamic vinegar and garlic. Don't be shy with either of them.
2. Put some foil on a baking pan and then pour out the squash onto it. Put into an oven at like 425 for 30-40 minutes, taking them out halfway to stir around so they cook evenly.
3. In the meantime, you can get the cranberries and sage ready if you're a real Rachael Ray time cruncher. Put the dried cranberries in a bowl, and pour some boiling water on them. (If you're feeling fancy, you can instead simmer them in orange juice or orange liqueur.) (I'm not fancy, sorry.)
4. Take a heavy skillet and put a bunch of butter/oil/Earth Balance in it. I used an EB/olive oil combo. Melt it and turn the heat up, like, pretty high. When the fat is hot, drop in the whole sage leaves and move them around in there for a while. I've never fried sage before so I'm not really even sure how this should work. I just kind of kept them in there til they were darker than they were before and kind of crispy, but not brown. When they seem done, take them out of the oil and move them to the plate.
5. Strain the cranberries and put them in a big bowl with the quinoa and squash. Crumble the crispy sage into the bowl. Season with salt and pepper and maybe a splash of lemon juice. Stir together and serve.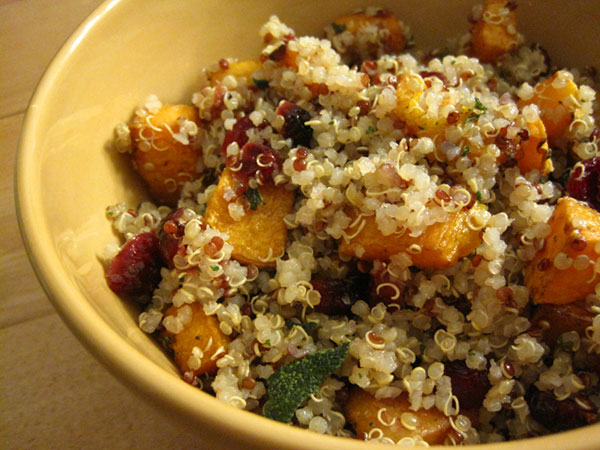 THE BEST CRANBERRY SAUCE
by Rachel
I am pretty sure this is originally from a cookbook, but I got it via one of the cooks at the restaurant I work in who wrote it on a scrap of paper for me when I said the pot she was stirring smelled good. So, you know, sorry to whoever I'm not crediting here. Thanks for the cranberry sauce, it is insane and delicious and I love it.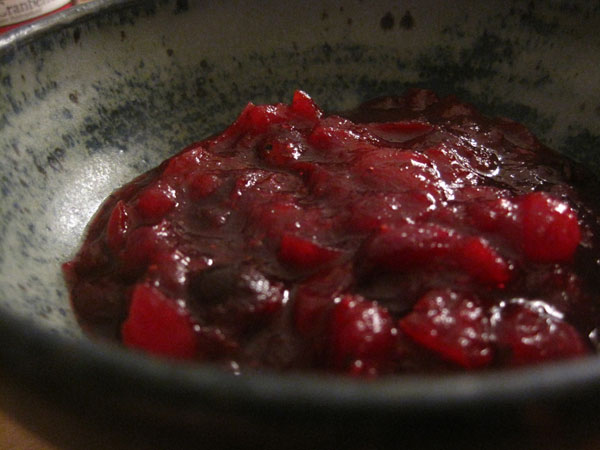 Part 1 Ingredients
1 3/4 c cranberry juice (real cranberry juice, not cran-apple cocktail lite or what have you. ONE HUNDRED PERCENT JUICE.)
3/4 c honey (I only used 1/2 a cup. I don't like stuff to be too sweet.)
Part 2 Ingredients
1 tbsp orange zest
1 cinnamon stick
1 bay leaf
1 teaspoon ground ginger
3/4 teaspoon coriander
1/2 teaspoon black pepper
1/2 teaspoon salt
2 cloves
1/8 teaspoon cayenne pepper (or aleppo chile if you have it)
Part 3 Ingredients
1 12 oz. bag of fresh cranberries
1. Put the first set of ingredients in a pot. Simmer them for like 5 minutes over low/medium heat.
2. Add the second set of ingredients and simmer for 2-3 more minutes.
3. Add the cranberries. Simmer for 15 minutes. It will seem like there is totally not enough liquid but there is. Trust me. The cranberries will break down really quickly and you will get a really good, thick sauce with some cranberries left whole. Take off the heat and remove the bay leaf and cinnamon stick.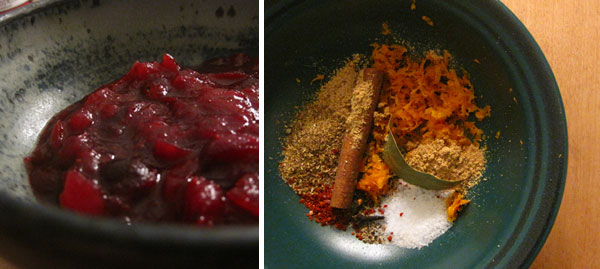 4. PUT ON EVERYTHING YOU EAT. Don't skip this step. It is important. Probably it is most important to put it on toasted whole wheat sourdough bread and/or Thanksgiving Sandwiches, which are an important leftovers tradition in my household. But everything else is important too. Just put it on everything. Just do this for me.
Sweet Potato Biscuits
by Stef
As a diet-conscious lady who has just recently lost 20 lbs, I am fearful of this Thanksgiving and what it means for my newly-disciplined waistline. HOWEVER, this recipe is completely irresistible as it combines my two great passions in life: potatoes and bread. I borrowed this lovely vegan recipe from Peta's Thanksgiving recipes and did some science experiments to try and adapt it, but the best batch was the one that stayed true to the original recipe. Here you go:
Ingredients
2 large sweet potatoes
2 cups flour
2 tbsp baking powder
1/2 tsp baking soda
2 tsp salt
8 tbsp vegetable oil
1/2 cup toasted sunflower seeds
Preheat your oven to 375º F. Wash your sweet potatoes and cut the ends off. Cut a slit down the middle of the top of each potato and lay them on a baking sheet. Typical sweet potatoes take about an hour to bake; trust me when I say you are going to want to bake them thoroughly so they'll be easier to mash. You'll know they're completely baked through when you can push a fork through the skin with almost no resistance.
Remove potatoes from oven and mash into a large mixing bowl. The skins should come off pretty easily; you can remove those. If the potatoes aren't completely mashable, as a last resort you can throw them in the microwave with a little water sprinkled on top. A minute on high or so should make them more malleable.
When your potatoes are completely mashed and gooey and delicious, add your dry ingredients, oil and sunflower seeds. If the dough is still a little dry, you can add a bit of water (not too much) to moisten it up.
Form into biscuits and bake for 15-25 minutes at 375º F.
3 A.M. Quinoa Salad
I just came home and invented this salad half drunk at 3 am. I'm totally making it for Thanksgiving. You should too!
Ingredients
1 cup dry red quinoa
1 4-oz pkg tempeh
2-3 tbsp olive oil
2-3 tbsp salad dressing, your choice
1/2 large red onion, diced
1 bunch kale, stemmed and sliced into small pieces
2 medium sized ripe tomatoes, diced
mint leaves, to taste (if available)
To cook quinoa, place 1 cup dry quinoa in a pot with 2 cups of water. Bring to a boil, then cover and simmer on low heat for 15 minutes or so or until all water has been absorbed. Fluff with a fork and let cool.
Cut up tempeh into squares about 3/4″ around. I like to marinate my tempeh overnight, but sometimes you're inventing a recipe off the top of your head at 3 a.m. and you just soak it for five minutes beforehand instead. Pour a little bit of olive oil and a generous serving of your favourite salad dressing into a skillet. I used Brianna's Santa Fe dressing literally because the sticker on the bottle said "MAKES A GREAT MARINADE!" Heat the oil and salad dressing mixture on medium heat for a minute or so, then add tempeh. Move your tempeh around quickly in the pan and make sure to flip over all the pieces so they marinate and cook equally on all sides. When most of the liquid has been absorbed and your tempeh is starting to look a little brown around the sides, you're done!
Combine tempeh, quinoa, finely sliced kale, diced tomato and red onion in a large bowl.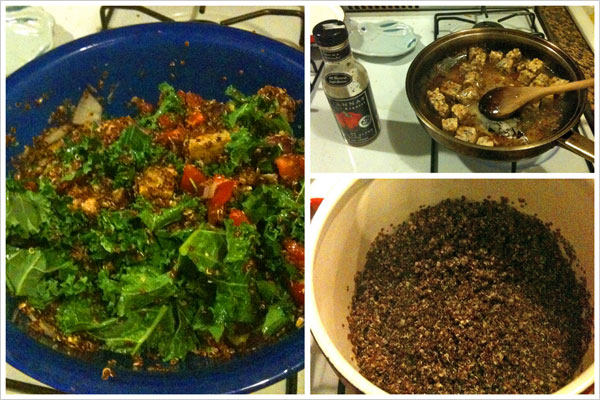 My salad still needed a little something so I threw in a diced-up sprig of mint from my backyard garden, which made everything ten thousand times better. If you have the means, I highly recommend it.
Share your best Thanksgiving recipes in the comments!