Why simply marathon a good television show when you could marathon a good lesbian show on Netflix or a show with some element of lesbians, trans people, bisexuality, pansexuality or queerness within it? Netflix's original programming is chock full of LGBTQ-inclusive TV shows, lesbian series and wlw TV shows, and although they also host a variety of content produced by other studios and networks, this list is focused on TV series developed by or in partnership with Netflix, because those are the shows you can mostly expect to find on Netflix channels worldwide and indefinitely. Because we are a website for LGBTQ women and trans people of all genders, that's the type of representation we'll be highlighting here, today.
---
The Queerest Netflix Original LGBTQ Inclusive TV Shows:
These LGBT Netflix TV Shows and lesbian series have LGBTQ+ women and/or trans people either playing lead characters or simply in abundance and in general de-center cisgender heterosexual stories. If you want queer and trans stories front & center, these shows are for you!
Dead End: Paranormal Park
2022  // 2 Seasons // 20 Episodes
Barney Guttman (Zach Barack) is the lead character of this delightful comics-inspired animated series, playing a Jewish queer trans boy who lives in a haunted house and has a crush on his best friend, Logs. The show follows his adventures with his other pals Norma (who is pansexual and autistic) and Norma's girlfriend, Badyah (Kathreen Khavari).
---
(2023-) // 1+ Seasons // 8 Episodes
15-year-old protagonist Mia Polanco (Sophie Wilde) returns home after spending many months away for inpatient eating disorder treatment. Her friends have changed — they're drinking, doing drugs and having sex, and Mia angles to catch up in this series full of messy teenage queers stumbling their way through it all.
---
(2018) // One Season // 10 episodes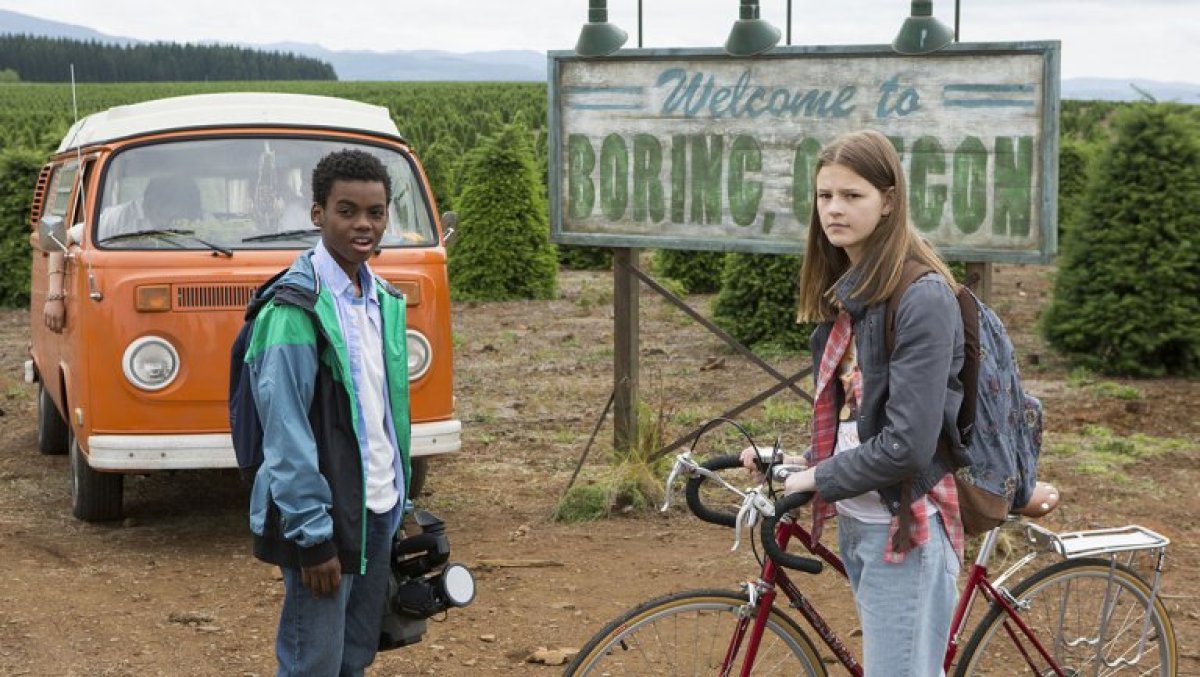 We fell hard for this '90s throwback lesbian Netflix TV show centered on a tomboy coming out to herself and the world (and crushing hard on an alternateeen drama queen played by Sydney Sweeny) — you can marathon the whole thing in a night and lament that it got cancelled.
---
2023 // Limited Series // 8 Episodes
Mike Flanagan's final project for Netflix is his most epic, precise and haunting: a limited series that weaves multiple Edgar Allen Poe stories into one grand tale of the Usher family: Roderick is the head of a major pharmaceutical company responsible for an addiction epidemic that has made his family very rich. Then, one by one, his children begin to die — and he has six of them, by five mothers, and at least four of them are queer, and there are other queers, too, you will see.
---
Channel 4 // (2020-2021) // 2 Seasons //12 episodes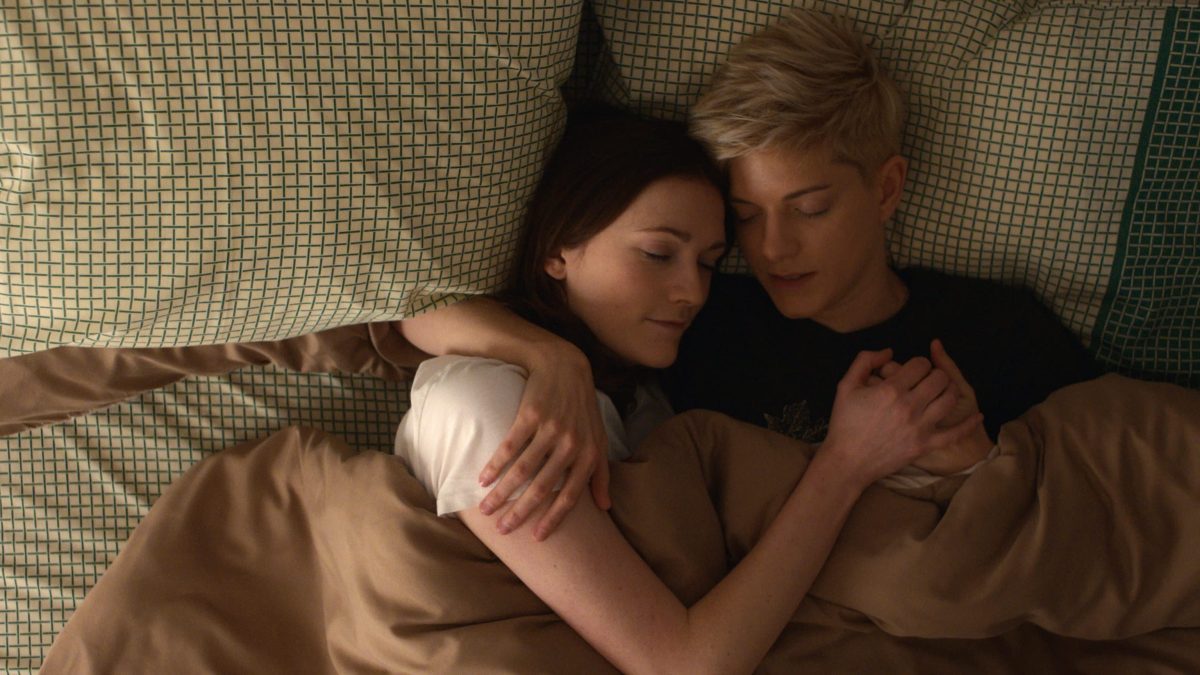 Mae Martin is VERY cute and funny in this delightful little queer Netflix TV show in which they play Mae, a recovering cocaine addict and stand-up comic who falls for a straight girl in Season One and crawls out of a relapse in Season Two. It's so smart and sweet and perfect.
---
(2022) // One Season // 8 Episodes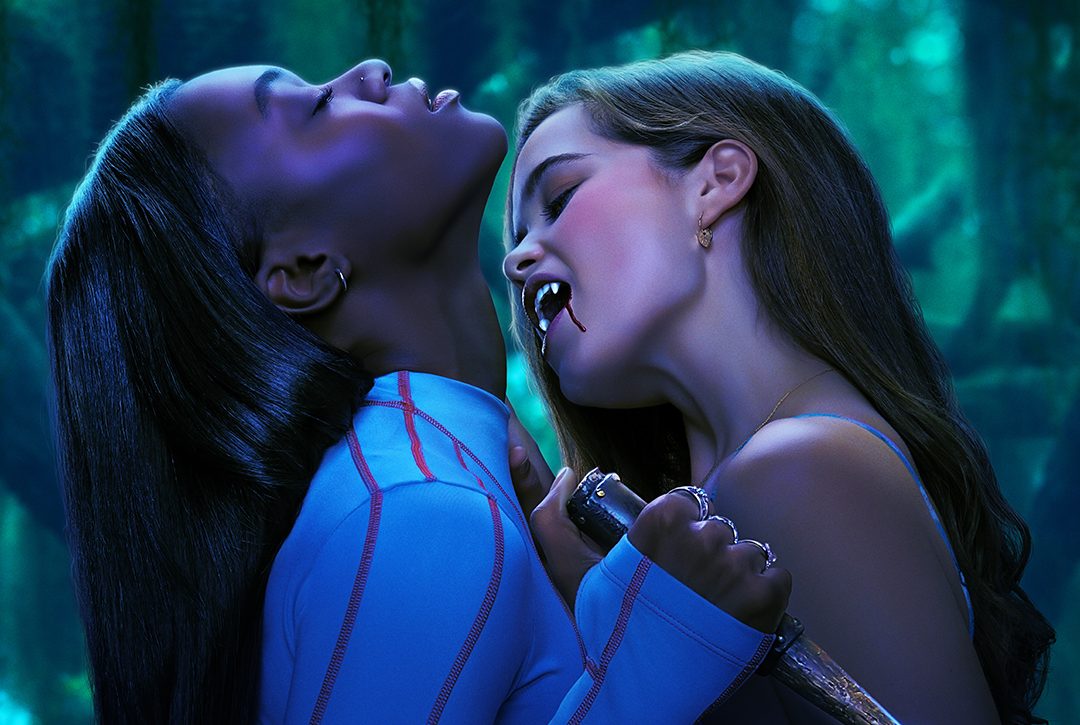 This "sweet (and sometimes bloody) story of firsts — first times, first kills, and first loves" only lasted one season at Netflix, but for that one season we had ourselves a lesbian protagonist and a central narrative of a vampire from a legendary lineage falling for a human girl, much to the chagrin of everybody else.
---
Glamorous
(2023) // One Season // 10 episodes
The protagonist of Glamorous is a gender-non-conforming non-binary makeup artist (played by trans actress and social media star Miss Benny) working for makeup maven Madolyn Addison (Kim Catrall) in an office crawling with homosexuals and bisexuals, including her designer Britt, a Black masculine lesbian played by Ayesha Harris, and Britt's crush Valentina. It's a very queer show even if lesbians aren't centered, but it's also pretty mediocre!
---
(2017) // One Season // 10 episodes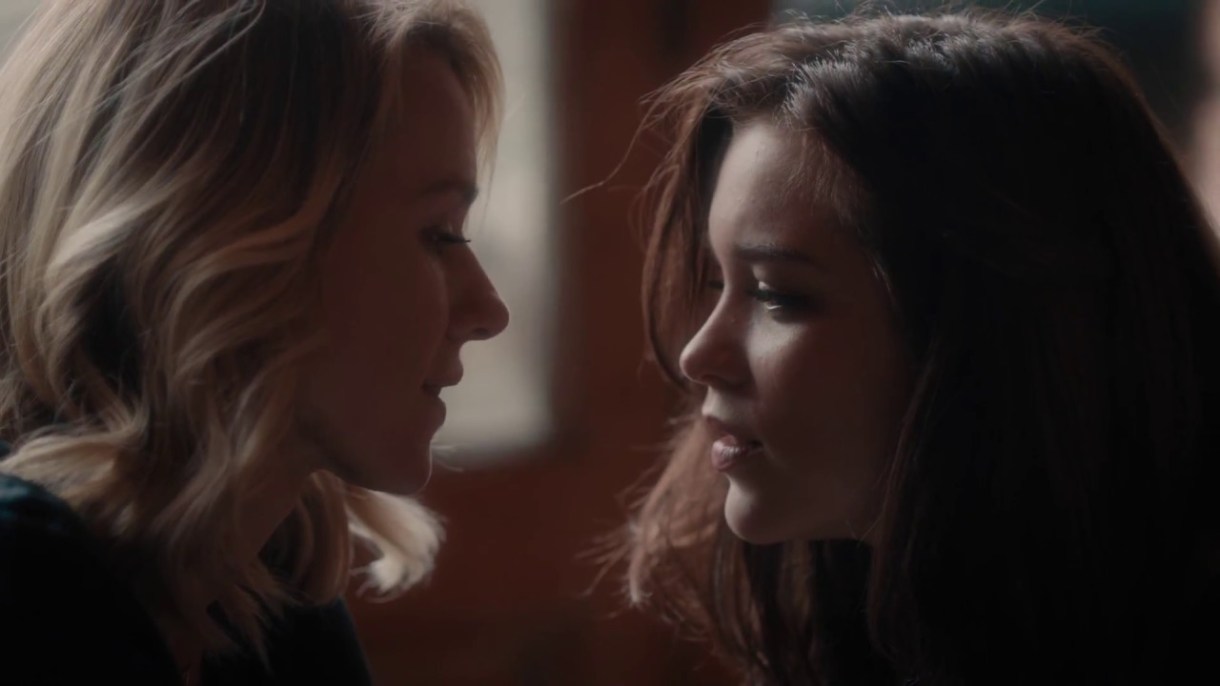 We got one entire season of this uneven, generally terrible yet still somehow totally addictive psychological thriller that starts Naomi Watts as a bisexual therapist who gets wrapped up in a thing with a girl she's stalking for reasons too convoluted to get into here.
---
(2020) // Limited Series // 9 episodes
This follow-up to The Haunting of Hill House is entirely centered on Dani, the (bisexual!) live-in nanny for a weird family living in ye olde haunted manor. Housekeeper Hannah is played by queer actress T'Nia miller, and there's also a very gay gardener in overalls, Jamie. The story between Dani and Jamie inspired Valerie to note that this show "isn't a ghost story, it's a lesbian love story — with ghosts."
---
(2022 – ) // 1+ Season // 8+ Episodes
In this Australian series we are once again confronted with the reality that everybody is gay now! We've got the autistic and queer Quinni (played by austistic actor and disability rights advocate Chloé Hayden), the mixed-race and nonbinary Darren (played by nonbinary actor James Majoos), lesbian lothario Sasha (Gemma Chua-Tran), her Indigenous and queer best friend/ex Missy (Sherry-Lee Watson) and there's even an (oh-so-rare) asexual male character. In her review, Kayla noted that these identities are used "not to check boxes but to paint a vibrant and varied world that covers the trials and tribulations of high school from the low-stakes shit like crushes and clique drama to much higher stakes conflicts like unsafe living conditions, sexual assault, and violence."
---
(2022 – ) // 2+ Seasons // 16+ Episodes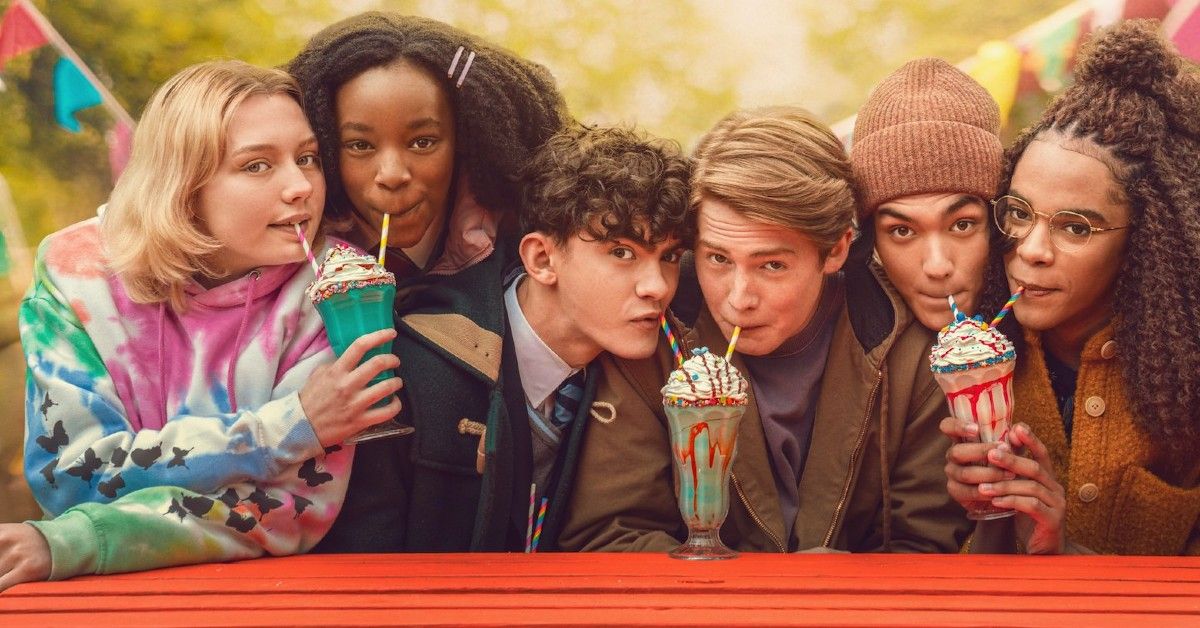 Would you like to have your heart warmed to its very core by an adorable British LGBTQ+ romantic comedy series based on a webcomic/graphic novel by 27-year-old aromantic asexual writer Alice Oseman?? Now you can!!! Trans TikTok sensation Yasmin Finney plays Elle, one of Charlie's best friends. Queer couple Tara (queer actor Corinna Brown) and Darcy (Kizzy Edgell) are also featured in the story! It's a gay male couple at the forefront of the tale, but honestly they both have a lot of lesbian energy?
---
(2020) // One Season // 8 episodes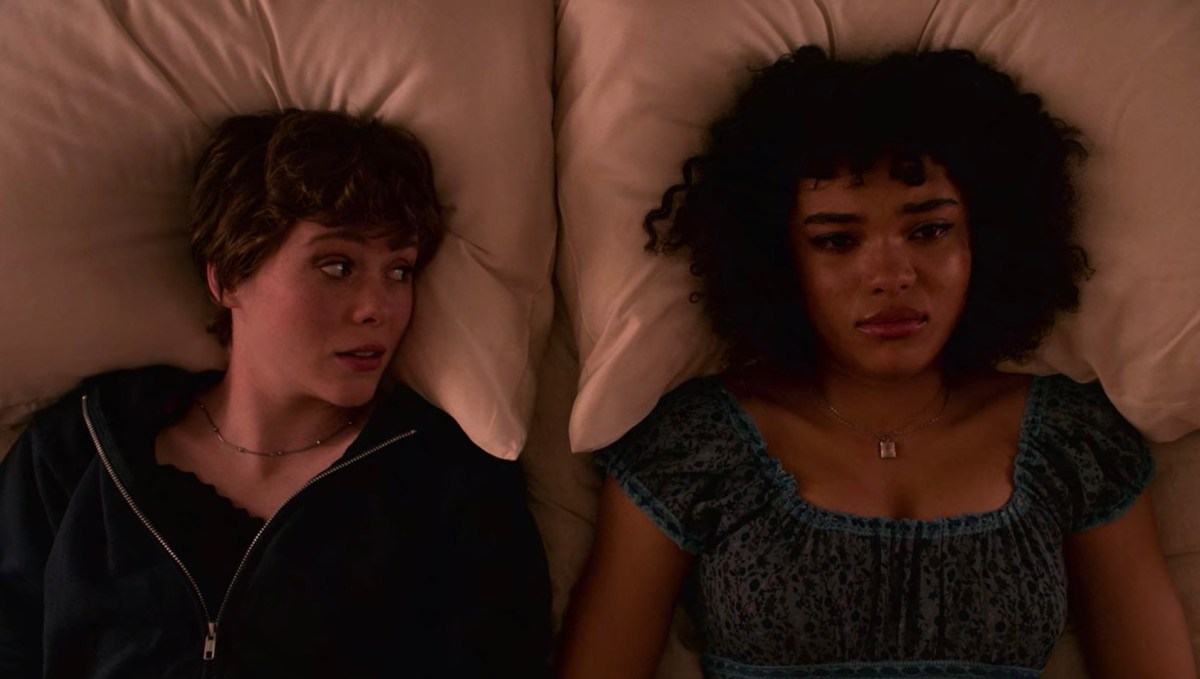 For Sydney (Sophia Lillis of Sharp Objects), the surly self-described "boring 17-year-old white girl" at the center of the lesbian Netflix series "I Am Not Okay With This," her feelings of powerlessness around her father's death have become augmented by something else she isn't sure how to name, but the friend she confides in about it is quick to refer to it as "superpowers." Also she's in love with her best friends.
---
(2015 -2021) // 3 Seasons // 25 Episodes of which 14 include a lesbian character and 7 are 100% focused the lesbian character's story
So the thing is that overall, Aziz Ansari's critical smash Master of None is not a 100% lesbian TV show. BUT it's possible to watch JUST the Denise-focused episodes and make it into your very own 100% lesbian TV show. Season One featured out lesbian writer/comic/actress Lena Waithe as Ansari's lesbian pal, Denise, and although Season Two had less Denise overall as Aziz frolicked overseas, it also had one of the most important episodes in lesbian television history, "Thanksgiving," for which Lena Waithe made history as the first Black woman to win an Emmy in Comedic Writing. The final season of Master of None, called "Moments in Love," focuses entirely on Denise and her relationship. You can watch just "Thanksgiving" and Season Three and you won't feel lost at all.
---
(2013 – 2019) // 7 Seasons // 91 Episodes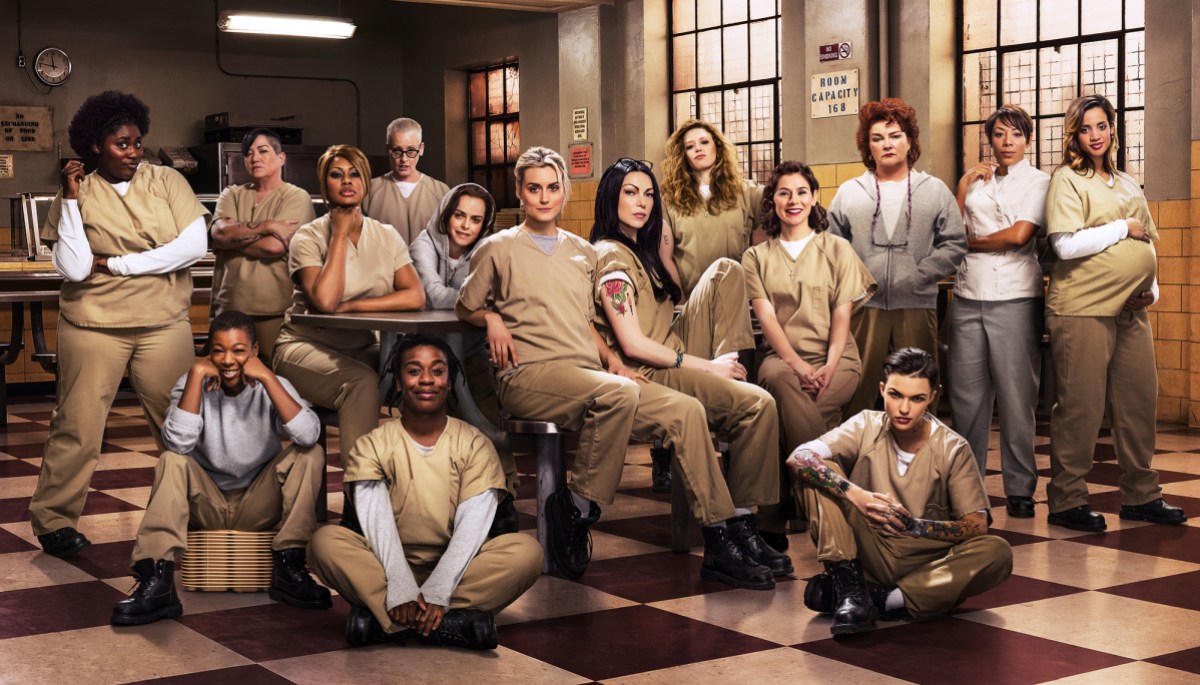 One of the first-ever Netflix original series was also one of the first lesbian TV shows on Netflix: Orange is The New Black has like a billion queer characters, including a bisexual protagonist as well as rampant misandry, a nearly all-female cast, and racial diversity for days. We've got a trans woman of color playing a trans woman of color (Laverne Cox), we've got queers playing queers (Samira Wiley, Lea DeLaria, Ruby Rose, Vicci Martinez, Taylor Schilling), a not-so-hidden agenda to expose the draconian absurdity of the prison-industrial complex, and situations that'll make you laugh, sob, and fall in love. With a television show. Until Season Four, which ends in tragedy and heartbreak and is highly problematic and, well, it might turn you off the show forever!!! If you're willing to forge forward, which many understandably were not, the show eventually regains its footing and adds more queers every year.
---
(2020-) // 1+ Seasons // 8 episodes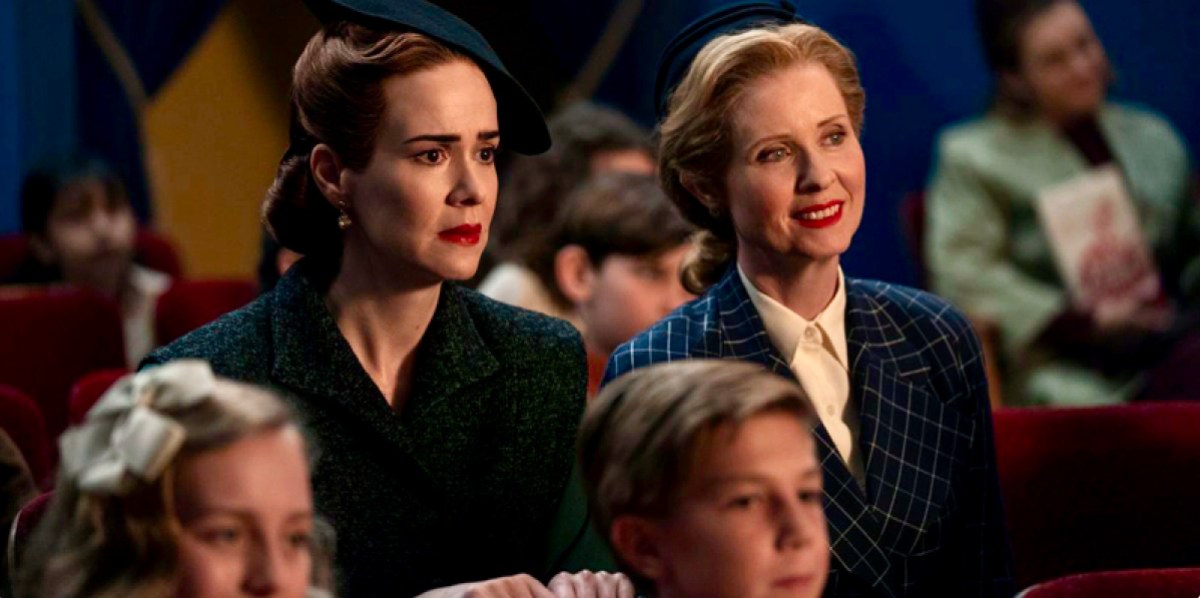 "[Ratched gives us] Sarah Paulson in all her dyke drag queen glory… this eight-episode series — that is supposedly season one of a four season arc — is absurd in its very existence and delicious in its classic movie concoction. There is so much to chew on, so much to celebrate, so much to critique, and yet the whole thing feels so completely Ryan Murphy it's hard not to just delight in its very existence." — Drew 
---
(2022-) // 1+ Seasons // 11+ episodes
"The Sandman crafts a fantastical world where dreams are as real as the ground under your feet, where feelings are gods and rubies can make wishes come true, where nightmares walk among us and where everyone, it seems, is at least a little bit queer." — Valerie
---
(2018 -2020 ) // 5 Seasons // 52 episodes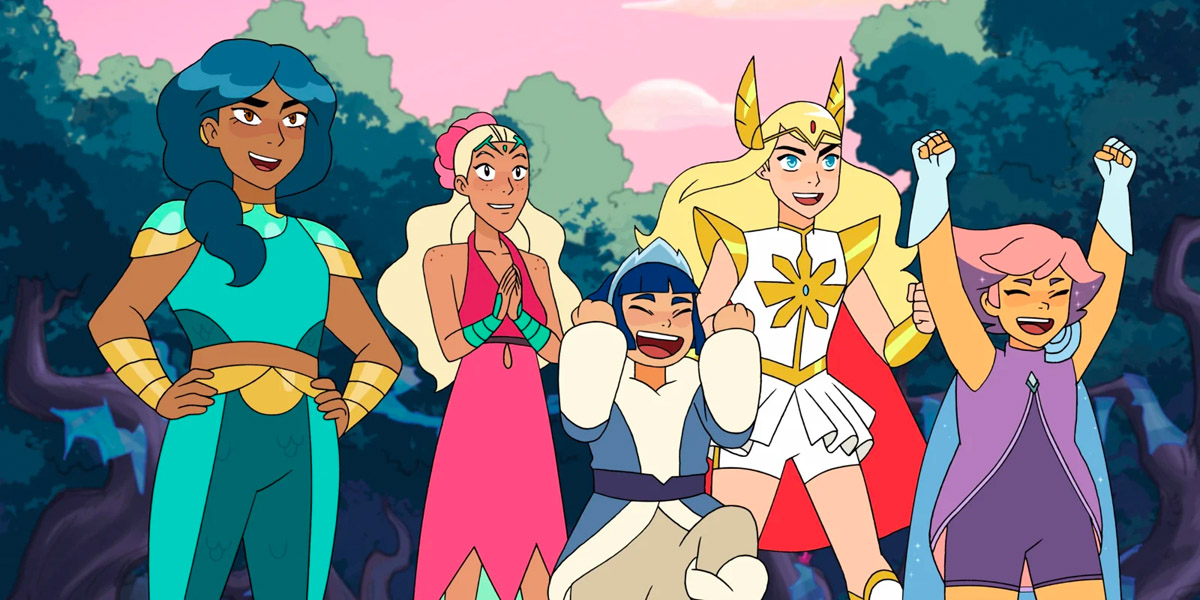 "Not everyone is queer at the end of the day on She-Ra and the Princesses of Power — but almost everyone is! There's Bow's gay dads, there's longterm lesbian couple Netossa and Spinnerella, there's non-binary Double Trouble, and, well, I don't want to spoil it for you, but there's four more queers by the time this ragtag squad of rainbow rebels defeats fascism and restores Eternia to it's pre-colonized natural state. But the queerness of She-Ra isn't contained to the romantic storylines. There's the joy and healing of found family, the trauma of being different in the families we're born into, there's pathways out of evangelical fascism, there's guilt and shame and redemption, there's mental illness, and good heavens the rainbows! Mostly, though, in some really dark days, there's hope. Come for the '80s nostalgia, stay for the storytelling that is as captivating and well-plotted as all the best stuff non-animated stuff you're watching." — Heather
---
(2014 – 2018) // 2 Seasons & 1 Movie // 25 episodes 
If you like ambitious, sprawling sci-fi epics with enormous budgets, assorted racial stereotypes and a refreshing transgender female character in an interracial lesbian relationship with another woman, then this show is for you. The show creators have confirmed that every character is pansexual and there's also a a gay male couple. Season Three was wrapped up as a movie event that bestowed a very happy queer ending upon us all.
---
(2019) // One Season // 10 episodes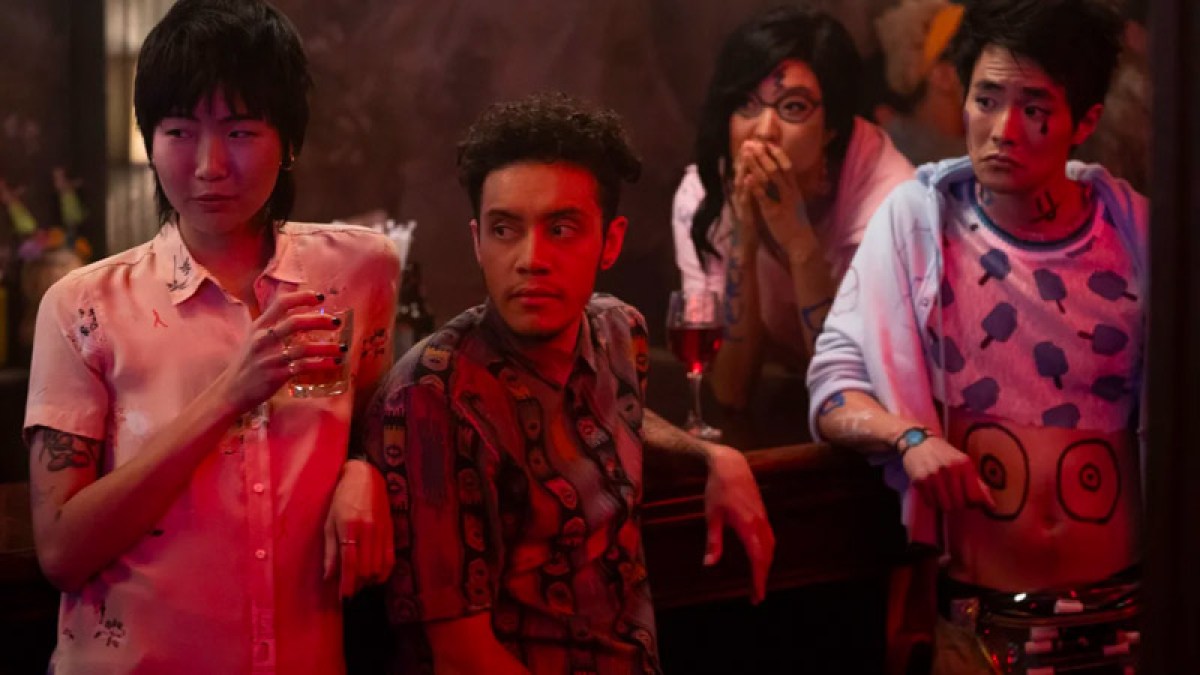 Picking up quite a bit of time after the original groundbreaking series left off, the Netflix reboot of gay Tales of the City, helmed by lesbian showrunner Lauren Morelli, returns to San Francisco and finds trans matriarch Anna Madrigal still played by a cis actress (although she's played by trans actress Jen Richards in a flashback episode, one of the season's strongest, which also features trans actress Daniela Vega) and surrounded by new and returning characters. One is Shawna, played by Elliot Page, and other residents of 28 Barbary Lane include a maybe-breaking-up couple comprised of Margot (May Hong), a queer woman, and Jake (Josiah Victoria Garcia), a trans man.
---
XO, Kitty
(2023-) // 1+ Seasons // 8 Episodes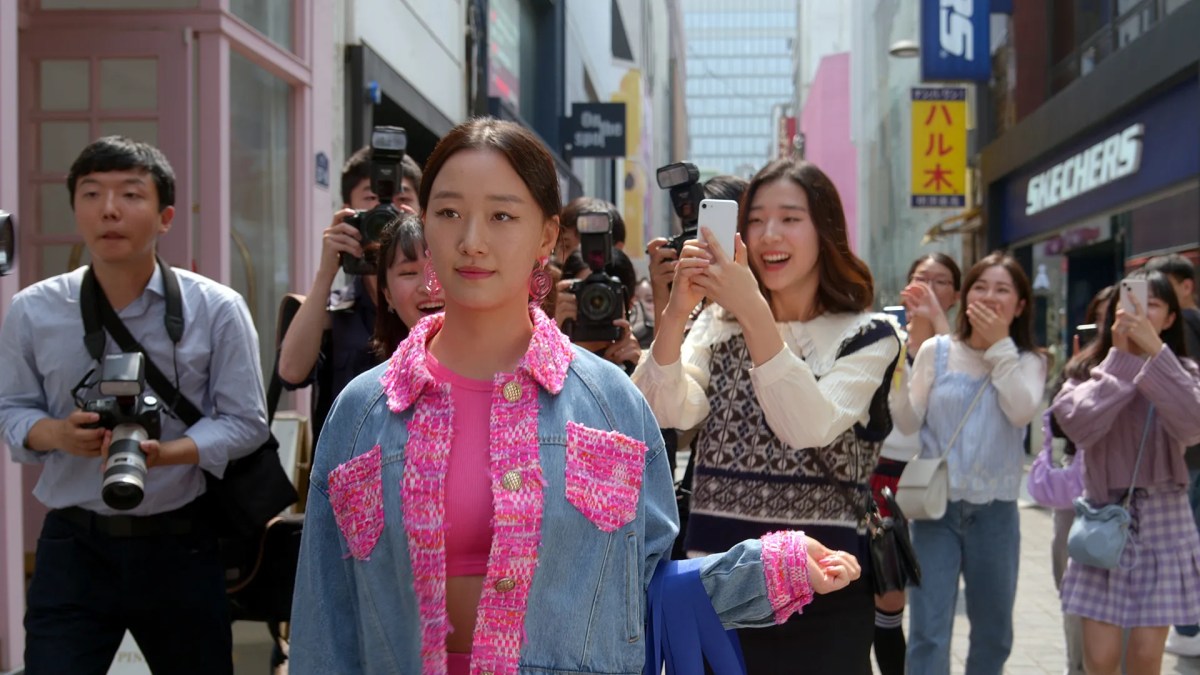 You might think that this show is kinda gay but it's gayer than that, believe it or not! This spinoff of To All The Boys I've Loved Before finds Kitty moving to South Korea to attend the same school her mother did and reunite with her long-distance boyfriend — only to learn he has another girlfriend, but their relationship is not exactly what it seems to be.
---
More Gay, Queer and Lesbian Netflix TV Shows
These Netflix shows all have major trans, queer or lesbian characters, although they might not always be out from the first episode.
(2021 – ) // 1+ Seasons // 9+ Episodes
"I'm not quite sure what I expected Arcane to be, but I didn't expect it to be an epic sci-fi adventure about found family, queer badasses, and underground rebellion. And yet, to my delight, that's exactly what it was." — Valerie
---
(2017 – 2021) // 4 Seasons // 38 Episodes
Atypical is about a teenage boy named Sam who's on the autistic spectrum and his family. One of those family members is his younger sister, Casey, who plays mostly a supporting role in season one. However, in season two she moves to a new school and starts getting her own storylines, one of which is queer, and it just keeps getting better from there!
---
(2020-2021) // 2 Seasons // 18 Episodes
Netflix's reboot of The Baby-Sitter's Club is about as wholesome as you'd expect, but without veering too corny, and is full of the "girls can do anything" energy that made the book series a classic for decades. In the first season, Mary-Anne babysits a young trans girl in an standout episode. In the second season, we're treated to two teen coming outs: one via a casual mention from a BSC member and another in a much more substantial plot from Claudia's big sister, Janine.
---
Bienvenidos a Eden / Welcome to Eden
(2022-) // 2+ Seasons // 16+ Episodes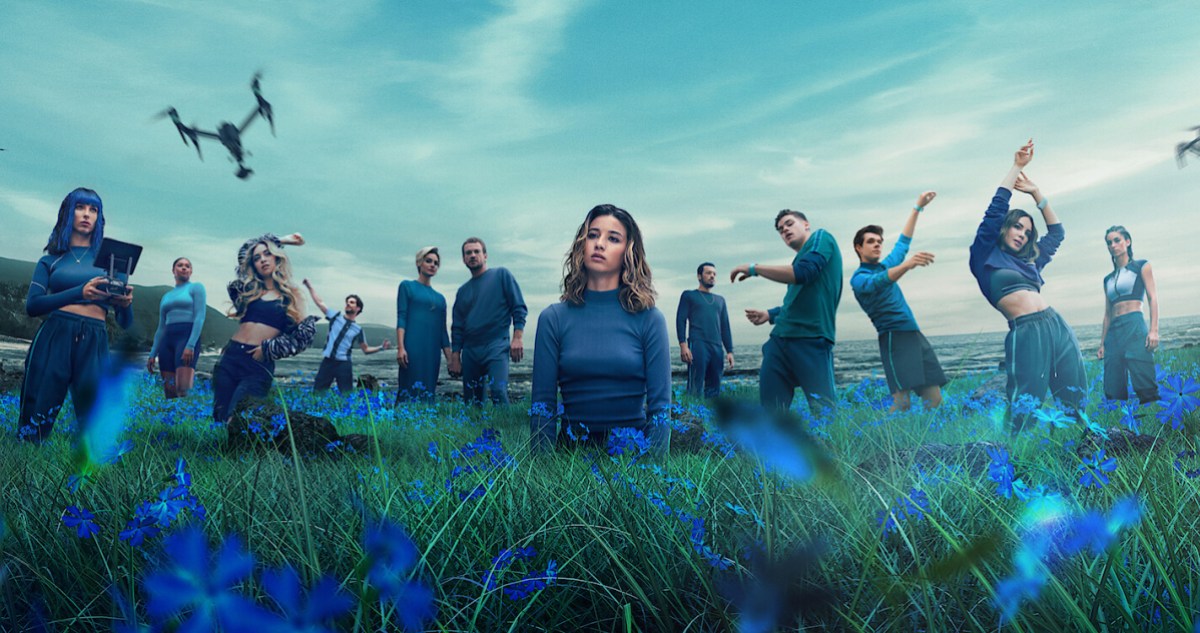 A bunch of attractive, stylish, hungry teenagers are lured to a mysterious island under the guise of it being the most exclusive influencer event ever, only to find themselves amid a terrifying murderous cult. Zoa (Amaia Aberasturi) is the bisexual daughter of an absent father and an addict mother, Bel (Begoña Vargas) is a badass lesbian in braids and Mayka (Lola Rodríguez) is a trans woman, hacker and DJ who discovered Eden's existence all on her own. According to Into, "all the greatest characters —who support the rebellion and help people escape— are queer."
---
Big Mouth
(2017 – ) // 7+ Seasons //  51 Episodes
The majority of Big Mouth's queer content is focused on queer male characters, but it's a beloved program by the community. "The series doesn't turn into a hopeful after-school special just to validate its characters' identities," NBC Out wrote of this cartoon that aims to personify the creatures that drive puberty inside the teenage brain. "Rather, it commits to presenting their lives in full, complete with dick jokes and anxiety monsters and characters who are deeply problematic alongside characters who are kind and wise. Yes, they are LGBTQ, but at the end of the day, they're teenagers — and teenagers are messy as hell."
---
Boca a Boca / The Kissing Game
(2020) // One Season // 6 Episodes
This Netflix LGBT TV Show from Brazil follows teenagers in a small ranching town who are falling ill, seemingly from a "kissing orgy" at a wild dance party held by a local cult. The lead character, Frances, is queer and has a crush on her friend, Bel, who is the first student to get sick.
---
(2018 – 2020) // 4 Seasons //  36 Episodes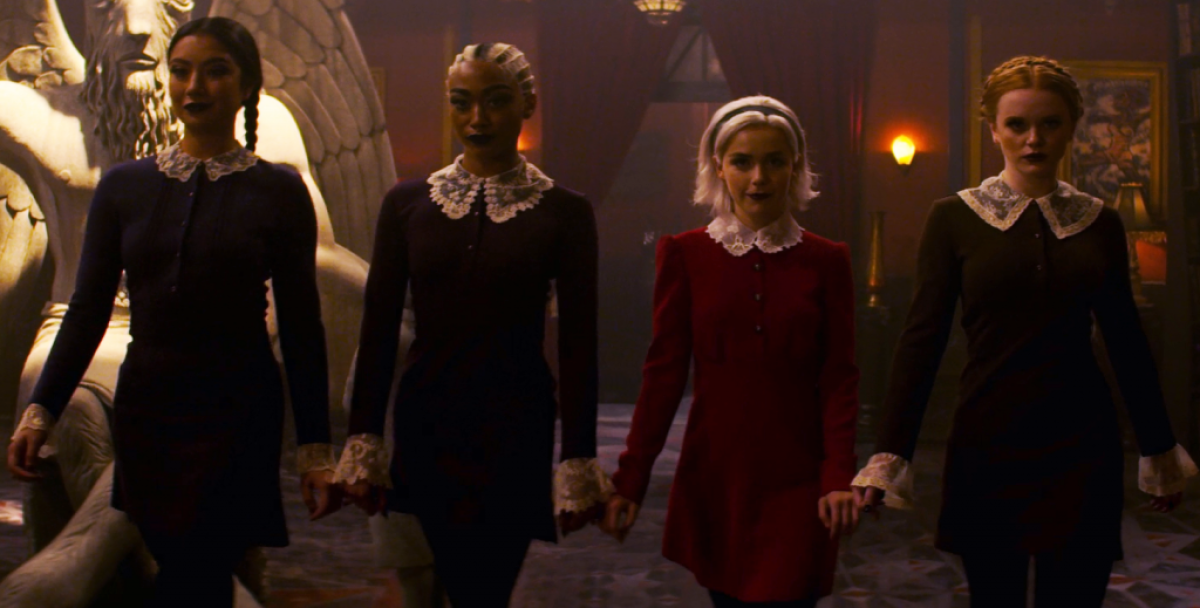 "Given that Part One features actual cannibalism, it's wild that CAOS's Part Two is darker, bloodier, and more unsettling than the first, but this show loves to outdo its own extremities. Theo transitions in Part Two, and Sabrina fights for gender equality in the premiere, but the series does occasionally struggle with its own mythology and with uniting both sides of its storytelling, which whiplashes between grounded character work and sheer chaos. There are even magical orgies on this show, featuring the brilliant villain Prudence as well as Sabrina's quippy cousin Ambrose. Pansexuality is normalized at Sabrina's school, but sometimes that queerness doesn't permeate the show's main storylines. But if you're looking for something spooky and cinematic, this is your show." — Kayla
---
Collateral
BBC Two // (2018) // 1 Season // 4 Episodes
This British thriller spends four parts investigating a murder that only has one witness — Linh, who's having issues with her immigration status and is dating a vicar who's way older than her. As the detectives delve deeper into a criminal underworld, the realities of the crime reveal themselves in unexpected ways.
---
(2020 – 2022) // 3 Seasons // 24 Episodes
This Mexican whodunit set in a high school where a hacker upends the social order by leaking students' secrets co-stars Zion Moreno as Isabela de la Fuente (in Season One), a popular girl who's trans status is revealed by aforementioned hacker. Samantha Acuña is Alex, a lesbian who struggles to fit in and make friends her own age.
---
(2019-2022) // 3 Seasons // 30 Episodes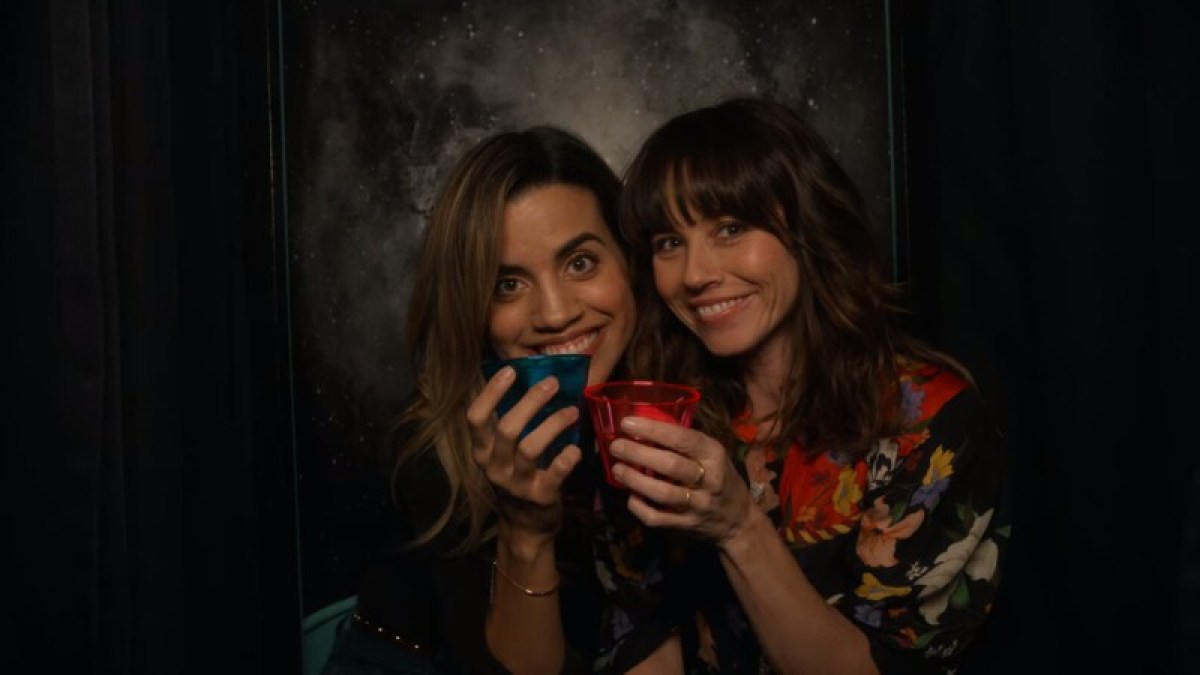 In Season 2 of "Dead to Me" Is Flirting With You Via Natalie Morales, Valerie sings the praises of this dark comedy series from lesbian showrunner Liz Feldman about the friendship between two women who meet in a support group after Jen (Christina Applegate)'s husband dies in a car accident. Judy (Linda Cardellini) ends up moving in with Jen and becoming a second Mom to her kids as they get wound up in some pretty sketchy and f*cked up shit! In Season Two, it turns out that Judy is queer when she starts up a thing with a chef played by bisexual actress Natalie Morales. THEY'RE GAY and it's GREAT.
---
(2017 – 2021) // 4 Seasons // 40 Episodes
"It's no secret that Dear White People has a checked history with its depiction of queer black women," wrote Carmen, referring specifically to Season One's problematic tropes. But Season Three saw this "incredibly smart and stylized" show finally "give us the nerdy Black Gay Girls we deserve." After coming out in Season Two, supporting character Kelsey Phillips gets fully fleshed-out as a character and debuts a romance with Brooke, a media studies undergrad "whose main character traits up to this point have been: being nerdy, being very annoying, being an excellent student journalist." But by Season 4, she's gone!
---
F2N Canada // (2016 – 2018) // 4 Seasons // 40 Episodes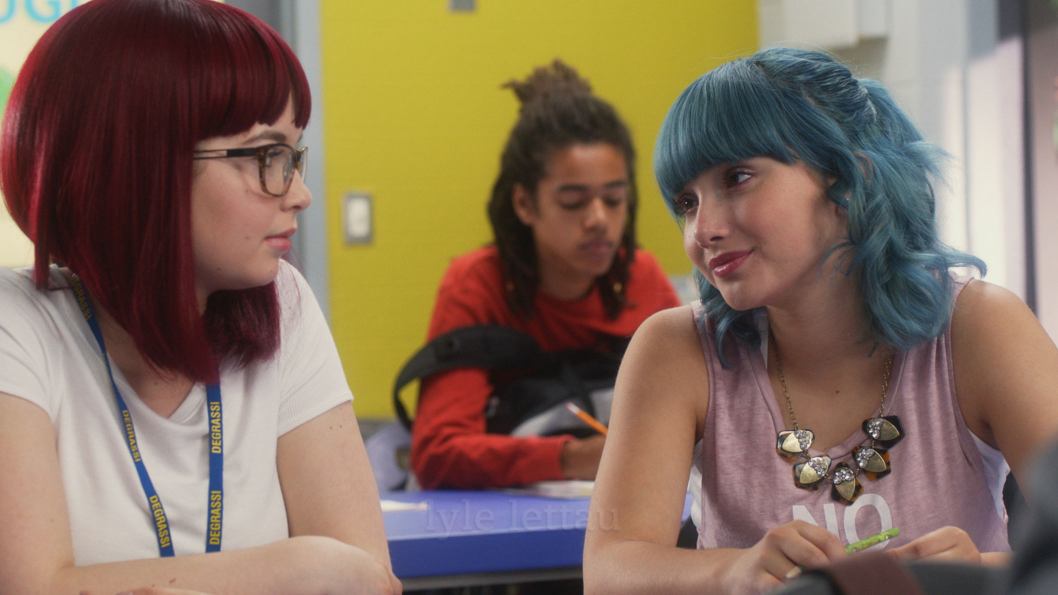 Seasons Three and Four debuted in 2017, bringing with them a cute romantic storyline between a Muslim Syrian immigrant, Rasha, and Degrassi's Latina lesbian student council president, Zoe. Season Four's journey for Yael was maybe the first-ever televised situation a young assigned-female-at-birth person realizing that they are non-binary.
---
Channel 4 // (2018 – 2022) // 3 Seasons // 19 Episodes
Derry Girls, a teen comedy set in Northern Ireland during The Troubles in the 1990, ended its first season with a great coming out episode for Clare and Season 2, while not really meeting our total expectations for exploring Clare's sexuality, does give us one of the best lesbian prom episodes ever.
---
(2018 – ) // 7+ Seasons //  56+ Episodes
This delicious sexy teen soap set in Spain, where scholarship kids clash with the town's richest citizens at an exclusive private school, is basically about blackmail, and also murder! There's a lot of gay-guy stuff, but the gay-girl stuff for the first three seasons is pretty light. In Season 4, we finally get the (of course, tragic and complicated) sapphic romance we'd been waiting for.
---
(2020-2021) // Two seasons // 18 episodes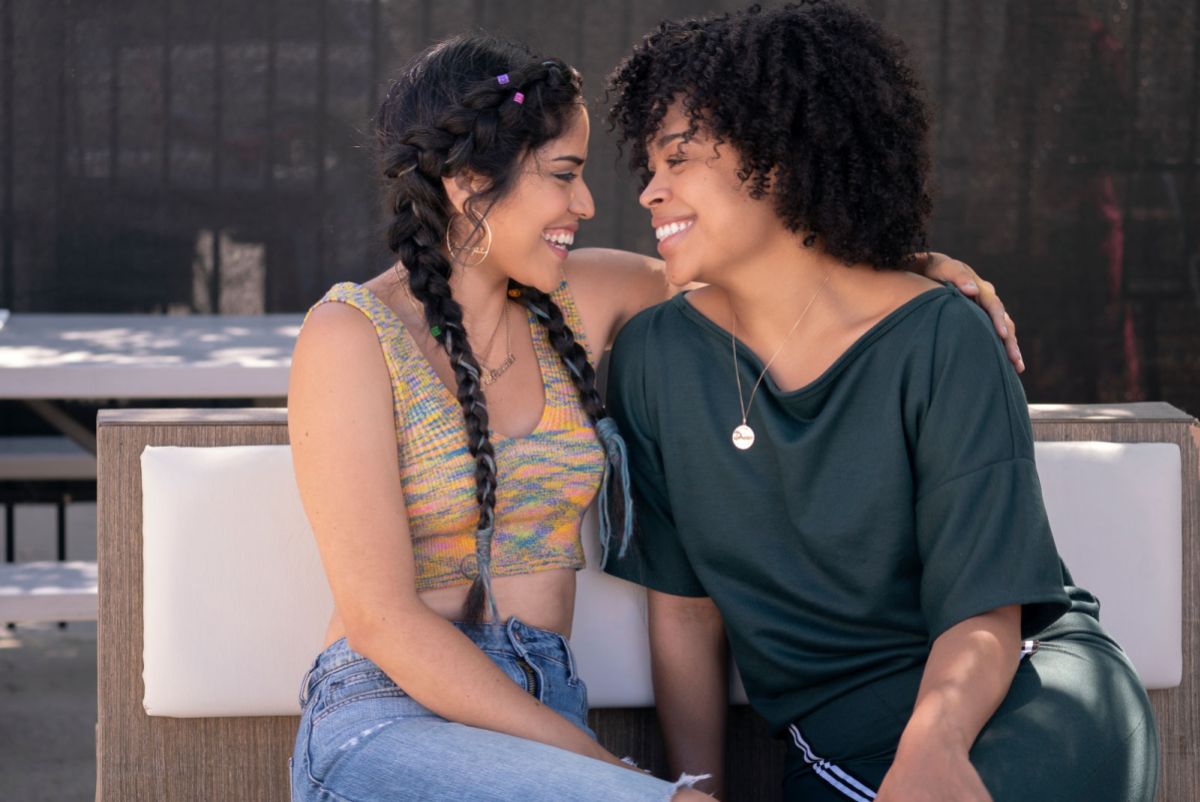 Gentefied is centered on three adult cousins — Chris, Erik, and Ana — as they work to keep their grandfather's taco shop, Mama Fina's, afloat amid rising rents. Ana, the queer youngest cousin, just wants to change the world through her art, continue her love story with Yessika, her girlfriend since high school, and keep the other two from killing each other with their macho pride. Gentefied is hellafied fun, smart, and has a lot of damn heart.
---
(2021-) // 2+ Seasons // 20+ Episodes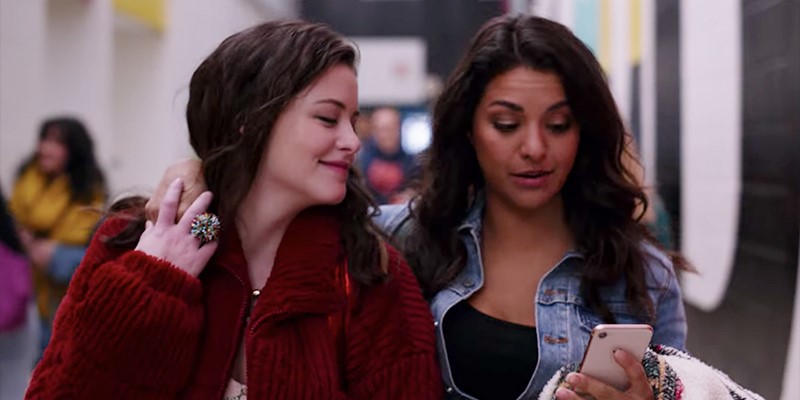 15-year-old Ginny, her brother who never talks and her hot Mom Georgia move to a New England town where it's like, perpetual autumn. Georgia schemes. Ginny is surprised to learn that being smart and pretty will actually garner you friends —  she's never been very good at friends — and one of those friends (Maxine), my friends, is a LESBIAN.
---
(2017-2019) // 3 Seasons // 30 Episodes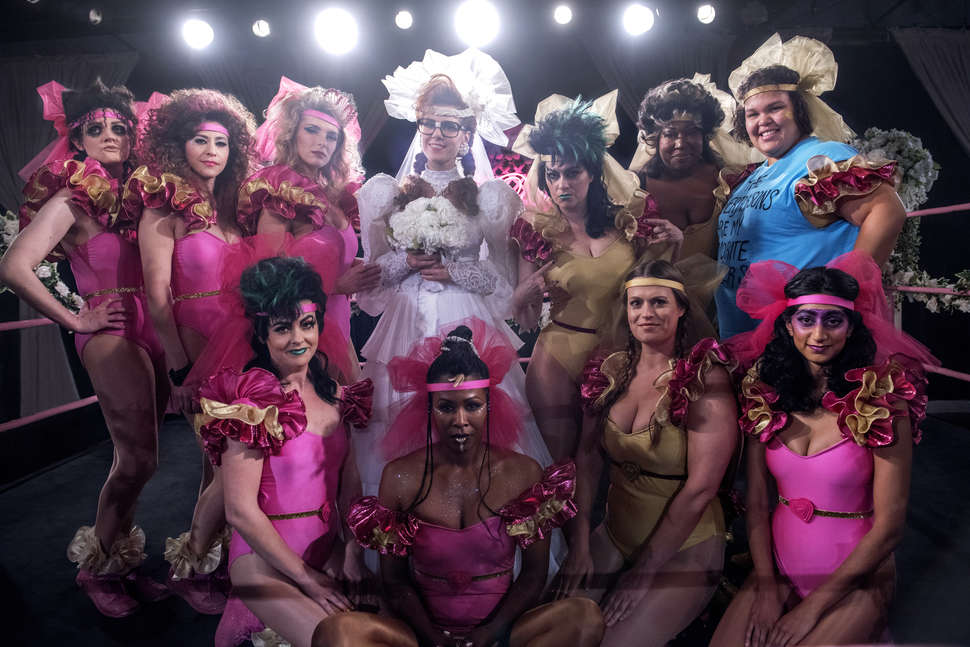 Season One of this smart, quirky 1980s Jenji Kohan project about the "gorgeous ladies of wrestling" was almost maddeningly not queer despite having gay men and a pretty gay premise. But Season Two delivered a romance to remember between two women of color, which hit some pretty interesting complications in Season Three.
---
(2018) // One Season // 10 Episodes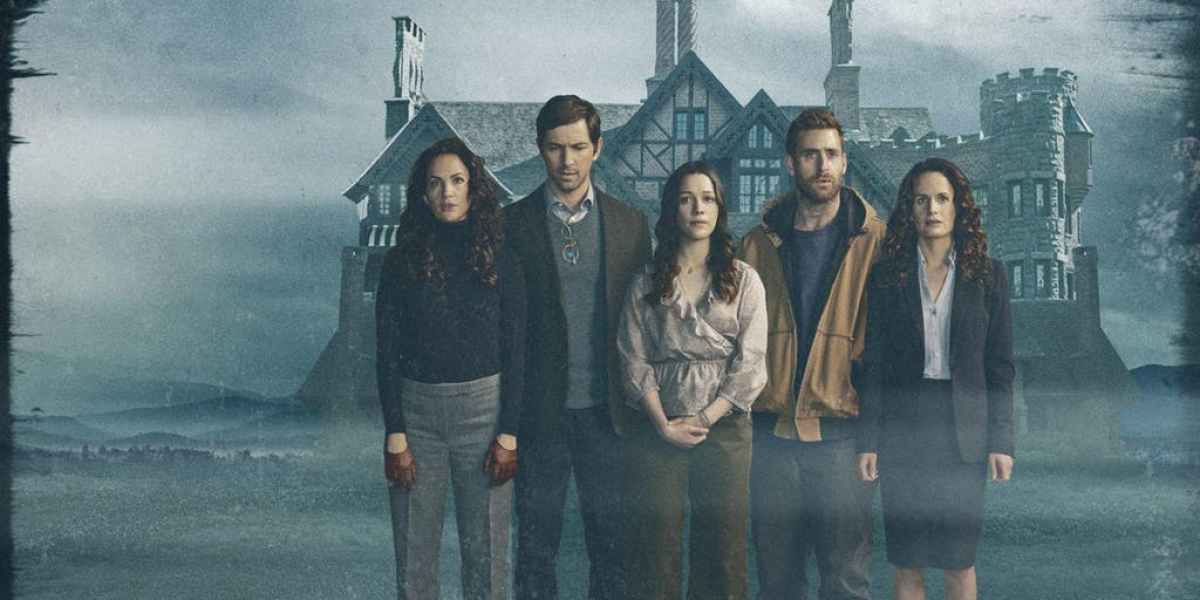 "Based on Shirley Jackson's iconic novel, this ten-part reimagining is noteworthy for its standout lesbian character: Theo Crain, wonderfully portrayed by Kate Siegel. Blessed (or cursed) with ESP, Theo can read minds and feelings with simply a touch. Her gift acts as a metaphor for any child who grew up in an abusive household and was forced to be hyperaware. She wears gloves that she keeps on even during one-night-stands. For Theo, sex is about distraction, not connection. She may not be the protagonist, but Theo is a relatable and deeply felt queer character that holds the whole series together." —Kayla
---
Human Resources
(2022-2023) // 2 Seasons // 20 Episodes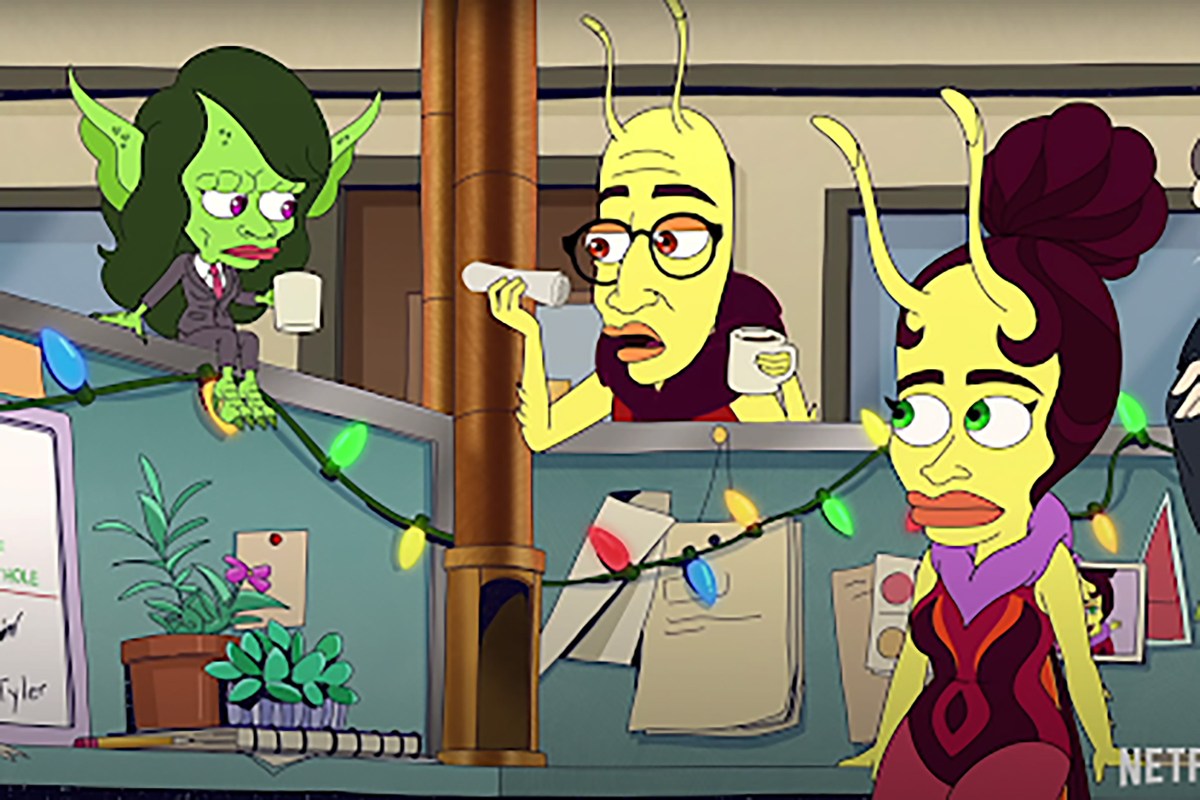 This Big Mouth spin-off follows the workplace dynamics of the hormone monsters which include pansexual Love Bug Sonya (Pamela Adlon) and pansexual Kitty Beaumont Bouchet the Depression Kitty (Jean Smart) and trans teen Natalie (Josie Totah). Plus there are lots of male queer characters as well!
---
(2022) // 1 Seasons // 10 Episodes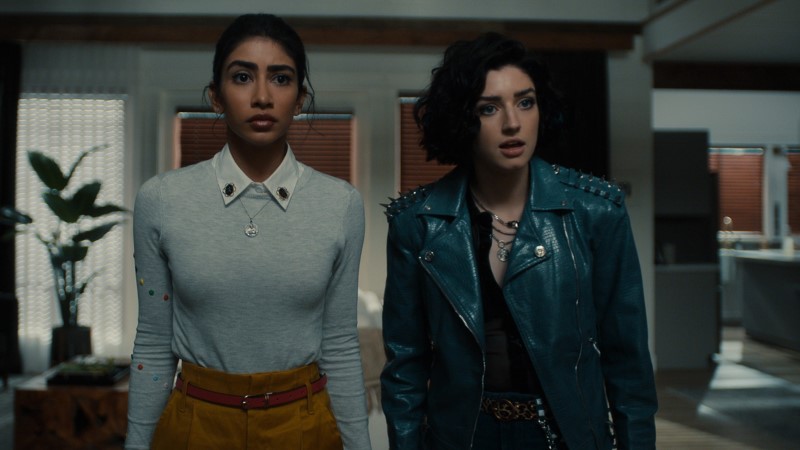 "If you like messy superpower origin stories, found family feels, comic-book-esque fight scenes, and slowly unraveling mysteries, with a bonus queer, asexual, South Asian woman, Netflix's The Imperfects is the show for you." — Valerie
---
La Casa de las Flores / House of Flowers
(2018 – 2020) // 3 Seasons // 34 episodes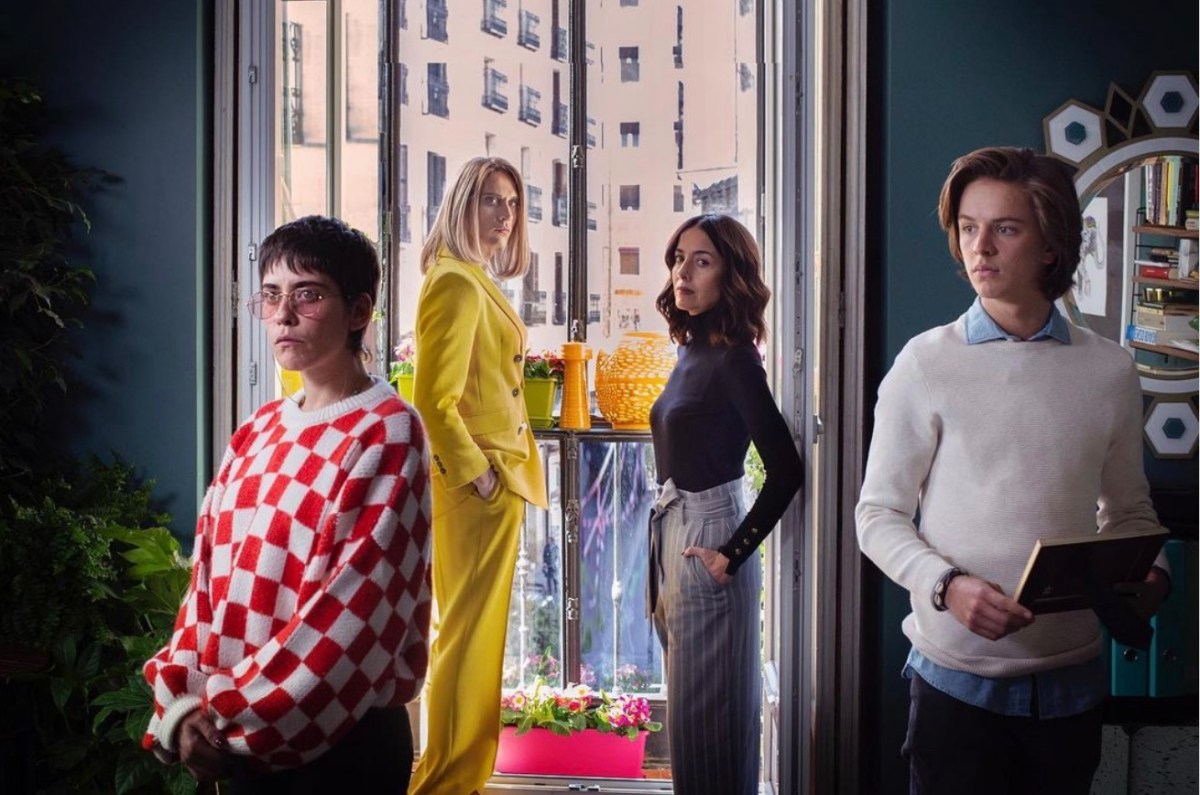 Behind a family-run flower enterprise lies SCANDALS and SECRETS, and Instinct writes that it was "a turning point for modern-day Mexican television" that "features non-traditional characters and dives deeply into sexuality, gender identity, and dysfunctional families." Eldest sibling Paulina is shocked when her husband comes out as a trans woman (unfortunately played by a cis male actor), María José, who eventually has a thing with their family's lawyer.
---
Las Chicas Del Cable / Cable Girls
(2017-2019) // 6 Seasons //  42 Episodes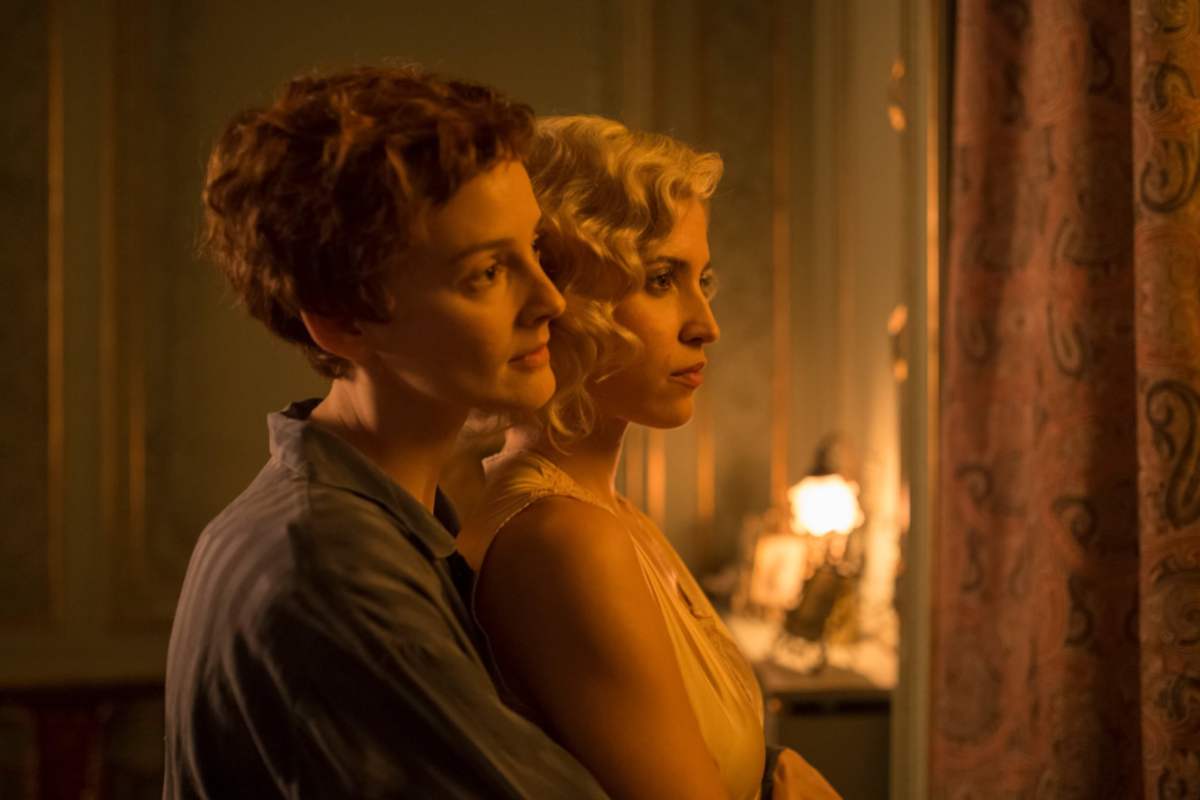 This period drama set in 1928 Madrid features a tight-knit group of women who work together at Spain's only cable company (cable as in telephones, not television) — united for many reasons including their desire to work in the first place, which wasn't a traditional desire for women at the time. One of the women, Carlotta, is bisexual, married to a man, and has feelings for Sara, another cable girl. The Dart describes it as "Netflix's hidden gem."
---
Fox // (2015-2021) // 6 Seasons // 93 Episodes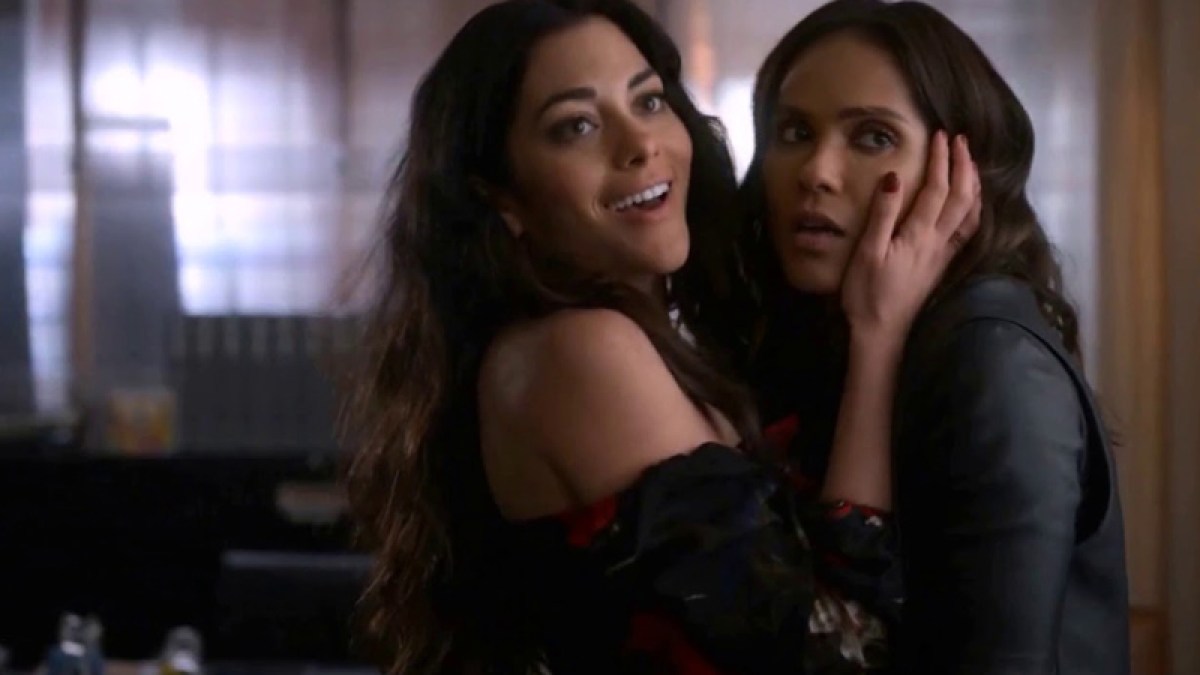 "Long before they moved to Netflix, Lucifer's title character, and his best demon bud Maze have been openly bisexual. But I've discussed here and there on this very website that Lucifer the show seems to have a questionable hold on what that means. But, the show's shift to Netflix also gave us a shift in perspective on bisexuality, specifically as it related to Maze. In fact, Maze's entire arc in Season Four was centered around her feelings from Eve (yes, THAT Eve) and trying to get them across, despite being someone who isn't all too familiar with the practice of sharing her feelings." — Valerie
---
Merry Happy Whatever
(2019) // 1 Season // 8 Episodes
When this charming if banal Netflix holiday sitcom opens with Kayla Quinn (Ashley Tisdale) and her husband Alan deciding to stay in different houses for the season in pursuit of an eventual divorce, and over the course of the season, Kayla comes out to herself and her family.  "ashley tisdale playing a lesbian is everything i never knew i needed but is now the best thing in the universe," tweeted one fan, which about sums it up!
---
(2017 – 2019) // 2 Seasons //19 Episodes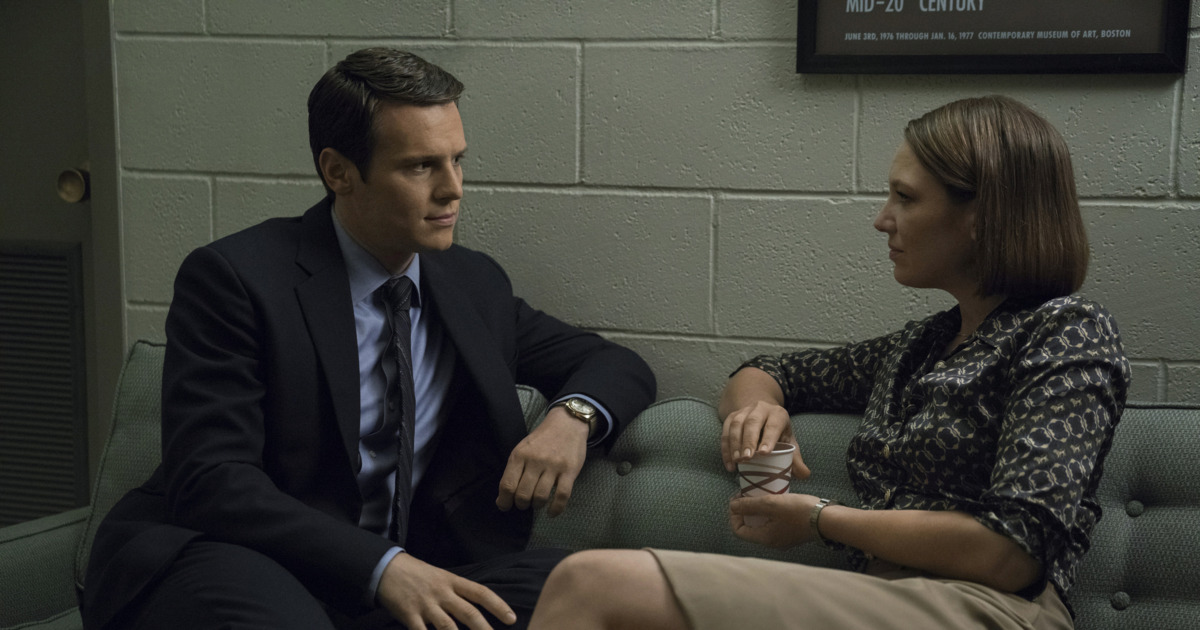 This thriller about the early days of the FBI's criminal profiling department starred the always delightful Jonathan Groff and received largely positive reviews when it debuted on Netflix this fall. Anna Torv played Wendy Carr, a psychologist with a scholarly interest in interviewing imprisoned serial killers to determine what the hell is going on there. Her lesbianism is sidelined in Season One but in Season Two, Wendy gets a VERY hot girlfriend who looks nice in a tank top, and queer storylines bubble back up to the surface.
---
(2020-2023) // 4 Seasons // 40 Episodes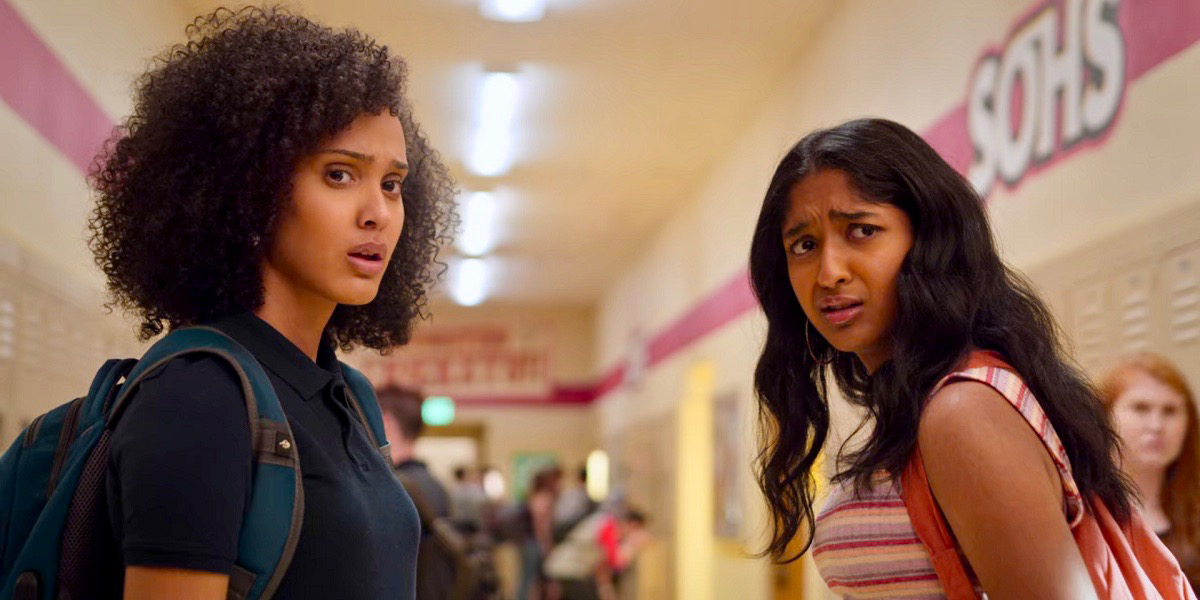 Your mileage may vary on this coming-of-age comedy is centered on Devi Vishwakumar, a Tamil Indian-American teenager growing up in Sherman Oaks grappling with her father's recent death and her burning desire to be cool. She's got two best friends, and one of them is named Fabiola, and she's an Afro-Latina and also SHE'S GAY.
---
The OA
(2017 – 2019) // 2 Seasons // 16 episodes
Vulture writes that The OA "gently, but insistently, weaves a queer narrative," with its themes of chosen family and "a secret language they share together, something that feels akin to drag culture." But it's also remarkable for the character of Buck, played by 15-year-old trans actor Ian Alexander, one of the only trans male characters on television when this deeply weird, impossible-to-describe and wholly immersive sci-fi show premiered in 2017, heralded as "the future of trans visibility in Hollywood."
---
(2017 – 2019) // 3 Seasons // 39 episodes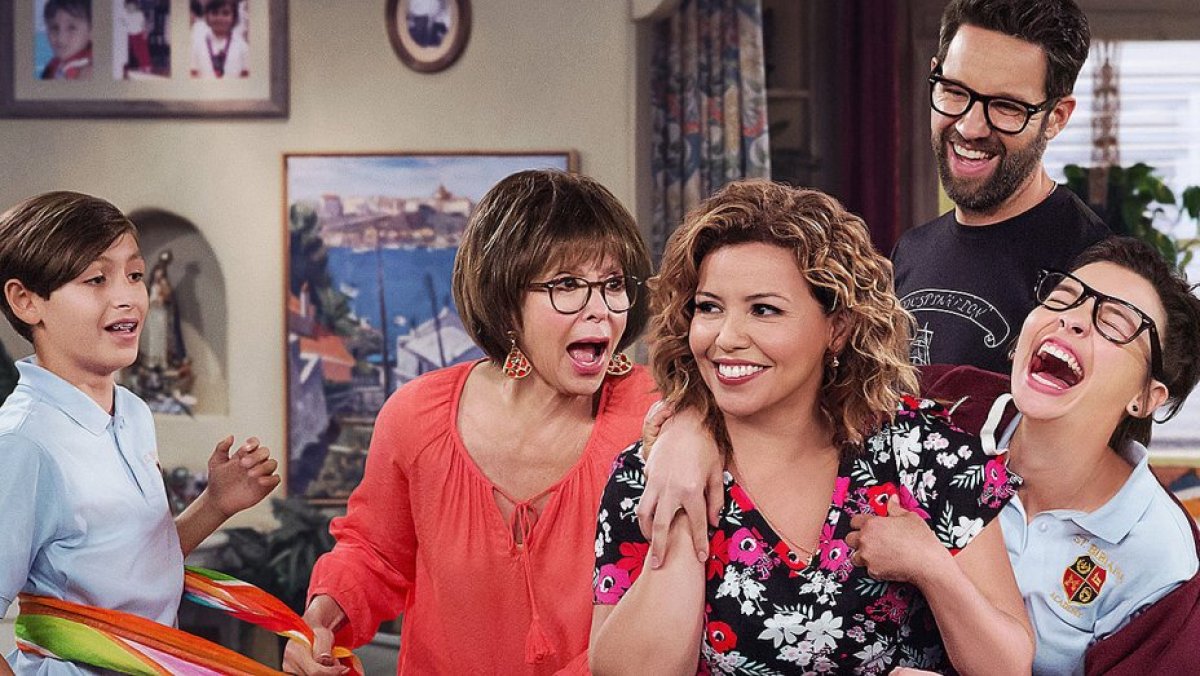 In addition to being charming as fuck and giving Autostraddle a mid-season shout-out, Norman Lear's One Day at a Time makes the case for an old-fashioned style of show taking up progressive causes. Three generations of a Cuban-American family endure the slings and errors of everyday life, including a daughter who comes out as a lesbian mid-Season One and has her first queer relationship in Season Two.
---
(2021) // One Season // 10 Episodes
In a loosely-constructed dystopian future, a corporation had created a DNA test capable of determining your sole perfect soulmate, and the temptation to find one's "match" unleashes interpersonal chaos. Amid all this we have lesbian detective Kate (Zoë Tapper), investigating a murder that often muddles the far more interesting questions the show raises, whose soulmate gets in a car accident on her way to meet Kate and spends the series in a coma.
---
(2019 – 2021) // 2 Seasons // 15 Episodes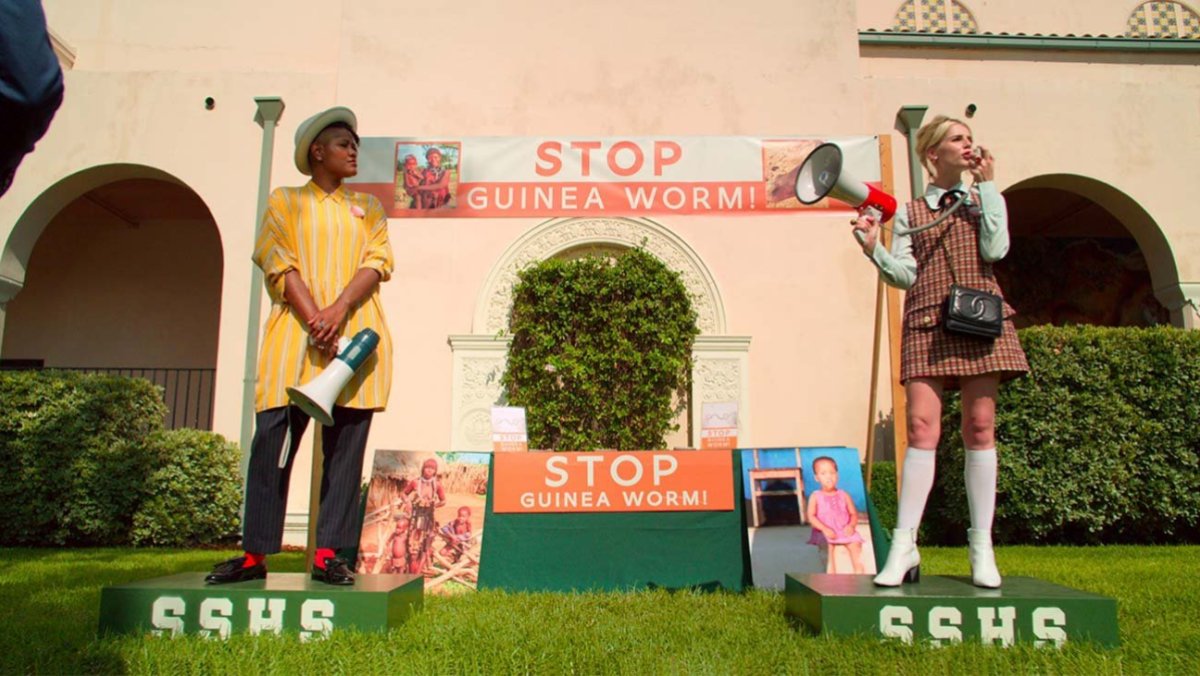 Ryan Murphy's first project for Netflix is chock-full of gay, even if we can't decide if we actually like it or not. The wealthy and glamorous mother of the show's protagonist, played by Gwyneth Paltrow, has a lesbian affair. Queer black actress Rahne Jones plays lesbian candidate Skye Leighton, who has an affair of her own. Trans actor Theo Jermaine plays one of Payton's political advisors. Season Two brings a bevy of throuples and casual sexual fluidity. Also most of the guys are queer too!
---
REBƎLDE
(2022-) // 2+ Seasons // 16 Episodes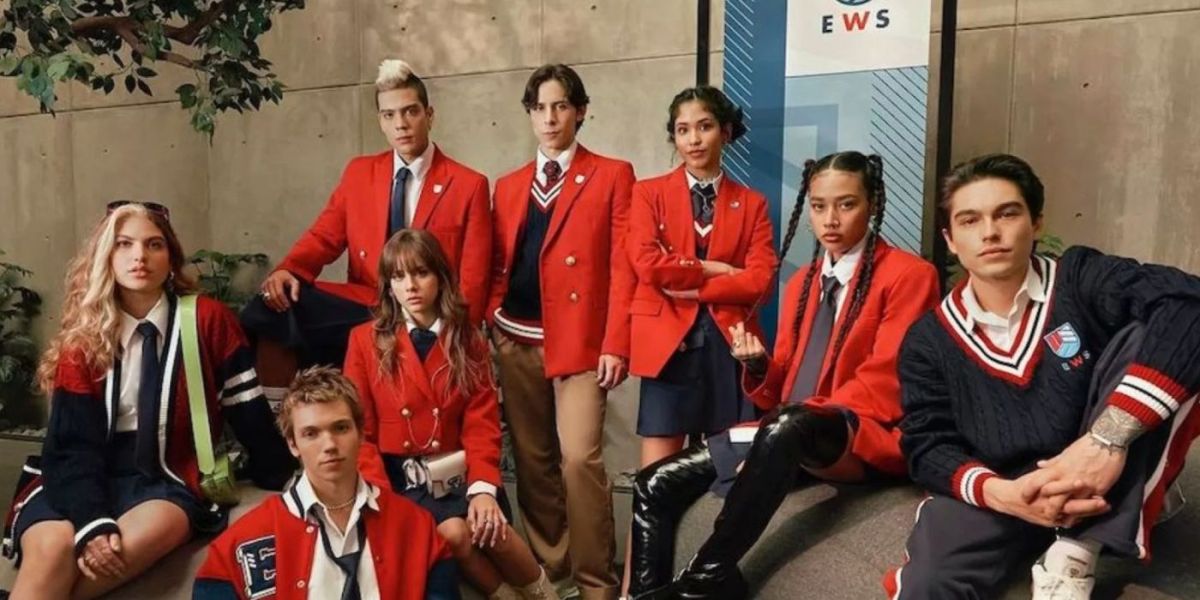 This series is based on a Mexican telenovela by the same name which was a massive hit, spawning an actual pop group that released nine studio albums. Netflix's re-booted contemporary REBƎLDE follows a new crew of very hot and talented teen musicians enrolled at the Elite Way School. Amongst them is Andi (Lizbeth Selene), "a rocker at heart" and "a drummer who scoffs at any rulebook, from what she wears to whom she dates in between rehearsing for Battle of the Bands" who has a relationship with Emilia Alo (Giovanna Grigio), "the most popular girl at EWS."
---
(2019-2023) // 4 Seasons // 34 Episodes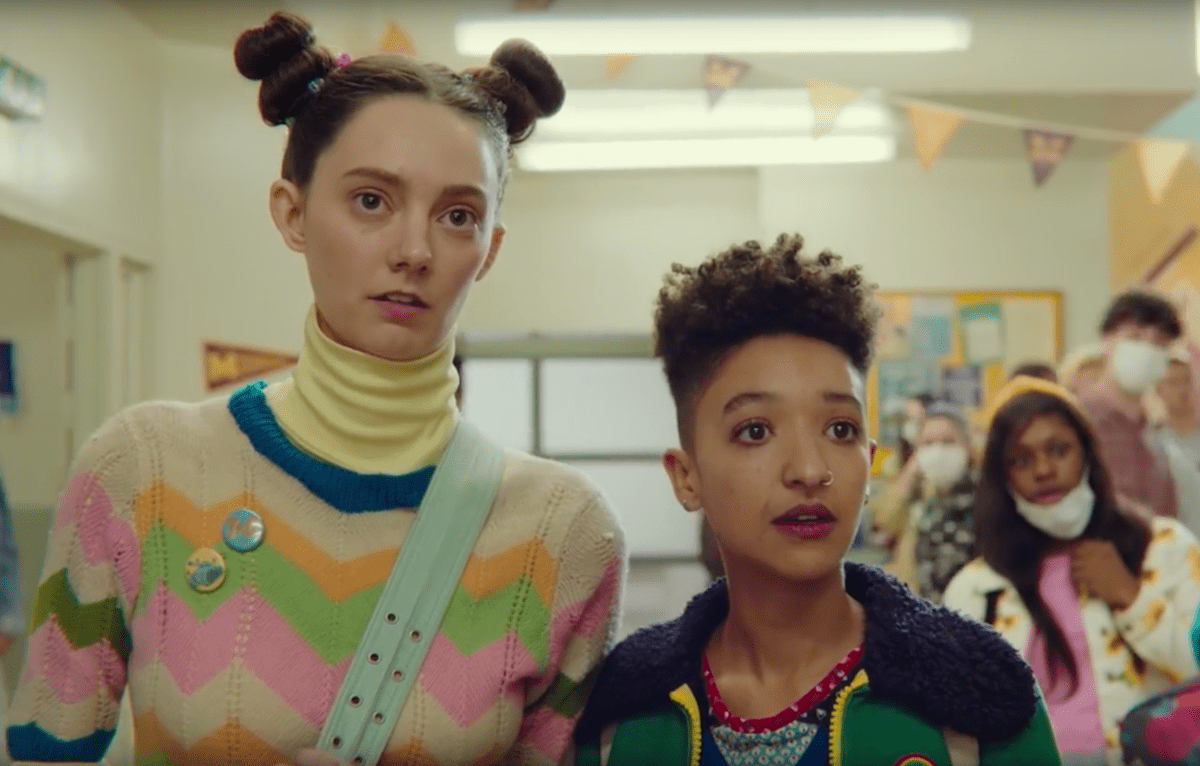 Come to have your life ruined by Gillian Anderson; stay for infectious teen drama laced with a very fun, weirdo sense of humor. Baby dykes learn to scissor, Gay Moms exist nonchalantly, and an awkward teenage boy who finds success walking in his mother's footsteps by offering Sex Education to his classmates. As the show progresses, a lead character discovers her pansexual side all the way into a queer relationship and a Black non-binary character faces off against a new, conservative administrator. In its final season, basically everybody becomes queer and great fun is had by all.
---
(2017 – 2019) // 3 Seasons // 30 Episodes
"Santa Clarita Diet is an absurdly dark comedy featuring Drew Barrymore as a suburban real estate broker who's also a zombie (just go with it). Her neighbor, Lisa, comes out in Season Two and starts dating Deputy Anne (played by queer actress Natalie Morales). As a couple they're super sex positive and hilariously vocal about it. Sure they are both sort of just funny side characters to the main plot, but Natalie Morales is an underrated comedic talent in everything that she does, and in Santa Clarita Diet she puts in some of her finest work." — Carmen
---
(2017 – 2018) // 2 Seasons // 19 Episodes

Nola Darling, the pansexual protagonist of this contemporary remake of the Spike Lee original film that made waves for its portrayal of black female sexuality, has a relationship with a lesbian named Opal in Season One and that was cool except that also it kinda wasn't. But then Season Two came along and gave Nola the bright light she deserved, although it's unfortunate that so much of her queer love story happened off-camera.
---
(2015 – 2023) // 4+ Seasons //  34+ Episodes
It takes three seasons to get there but once you do — this acclaimed and beloved '80s-set series about mysterious forces and the children who battle them finally reveals a lesbian character — Robin, who Carmen describes as "the breakout star of a snarky teen nerd rebel." The fifth and final season will air this year.
---
2023- // 1+ Seasons // 8 Episodes
Based on Michelle Buteau's memoir and thenceforth also starring Michelle Buteau, Survival of the Thickest is a fun romp of a show about Mavis Beaumont, plus-size stylist rebuilding her life after a breakup. One of her best friends is a bisexual woman exploring the possibility of actually dating women for the first time, and Mavis is often surrounded by queer community, working with queer people and attending queer events, including noted drag queen Peppermint.
---
(2020) // One Season // 10 Episodes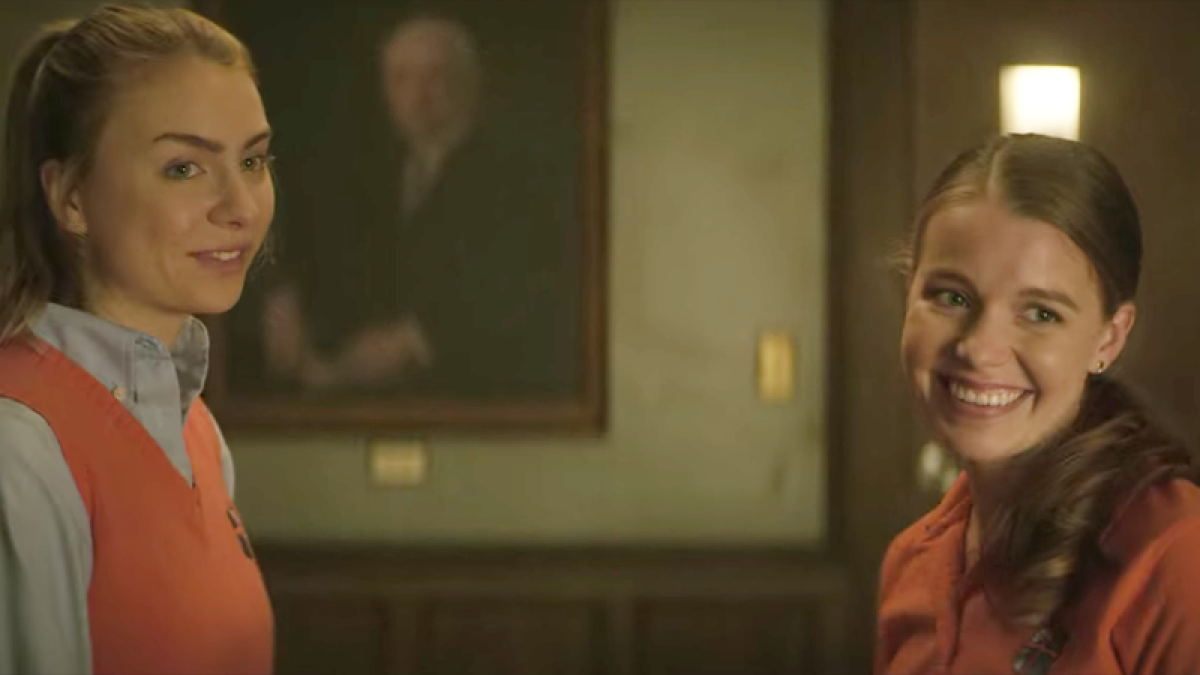 Jenji Kohan's comedy about twins who become bounty hunters just to add a little bit of excitement to their lives has a gradually emerging bisexual storyline that hits a very sweet spot for us all.
---
Top Boy
(2011 – 2023) // 5 Seasons // 32 Episodes
This British crime drama follows two drug dealers returning to London streets to find their pursuit of money and power threatened by a fresh new hustler on the scene. Jacqueline "Jaq" Lawrence is a masculine lesbian and a main character of the series starting in Season Three, as she moves from from number two to top dog. Her girlfriend, Becks, is played by model Adwoa Aboah.
---
(2019 – 2020) // 2 Seasons // 20 Episodes
Brianna Hildebrand plays queer lead character Elodie, the shy new girl in town, in this show about teenage shoplifters. Of Season Two, Valerie wrote, "between the female friendships and sweet queer romance, Trinkets Season Two didn't have to steal my heart because I gave it freely."
---
Tuca & Bertie
2019 // One Season on Netflix // 10 Episodes
Xtra said of this popular and cancelled-too-soon-by Netflix adult animated series that it was "not just explicitly queer — though Tuca is canonically bisexual — but thematically queer in its embrace of non-normalcy." Following two birds in their 30s (voiced by Tiffany Haddish and Ali Wong) entering a new stage in their friendship, guest voices include queer icons like Tessa Thompson, Nicole Byer and Laverne Cox. After its first season at Netflix, it spend its next two at Adult Swim.
---
(2019-2023) // 3+ Seasons // 20+ Episodes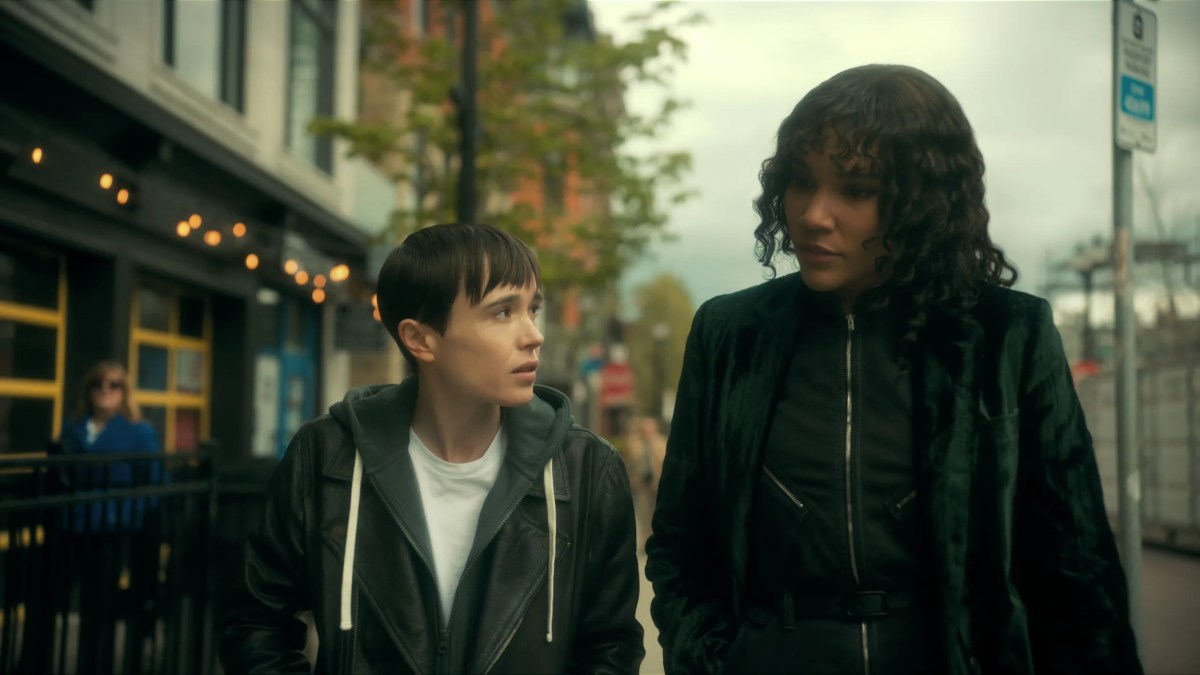 Elliot Page's Viktor turns out to be the queer we hoped in Season Two and in Season Three, comes out as a trans man. The series, based on a comic book, centers on a dysfunctional family of adopted sibling superheroes who have reunited to stop the apocalypse and figure out how their father died. Its fourth and final season will air this year.
---
(2020-2022) // 2 Seasons // 20 episodes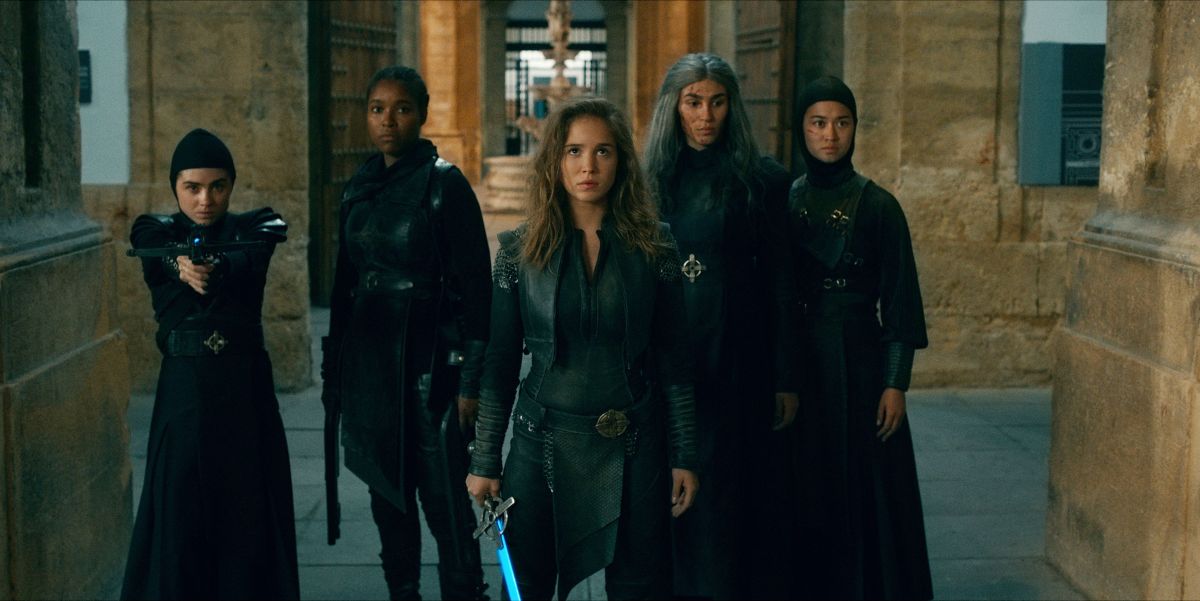 19-year-old Ava wakes up in a morgue with a divine artifact all up in her back and proceeds to fight demons on earth while heaven/hell tries to control her. Her friend Sister Beatrice is openly gay. In Season One, Ava's relationship with Beatrice was teased but in the second season, it was able to truly blossom and grow.
---
Valeria
(2020 – 2023) // 3 Seasons // 24 Episodes
This Spanish-language rom-com explores the sex lives and interpersonal drama of four best friends: the titular writer Valeria, who finds herself in an unhappy marriage, and Carmen, Lola and Nerea. According to Refinery 29, Nerea's "lust for living as an out lesbian is one of the most important stories of Valeria (and adds some hot queer sex to the proceedings.)"
---
Why Are You Like This?
ABC Australia // 2021 // One Season // 8 Episodes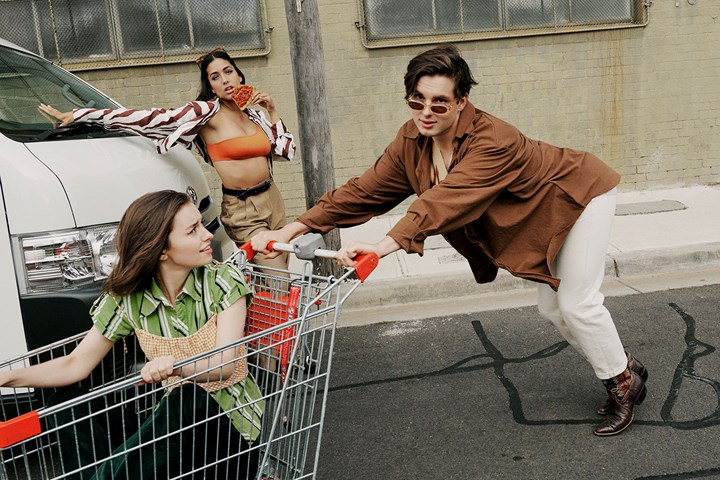 This Australian comedy import into the LGBT Netflix shows cannon follows "three best friends navigate life in their early 20s — including work, fun, identity politics, hookups, and wild nights." Mia is bisexual and part of this Extremely Online trio that will provide you with a delightful few hours of queer TV.
---
Netflix Anthology Series With Notable LGBTQ+ Episodes
Channel 4 // (2011 – ) // 5 Season Anthology Series // 22 Episodes //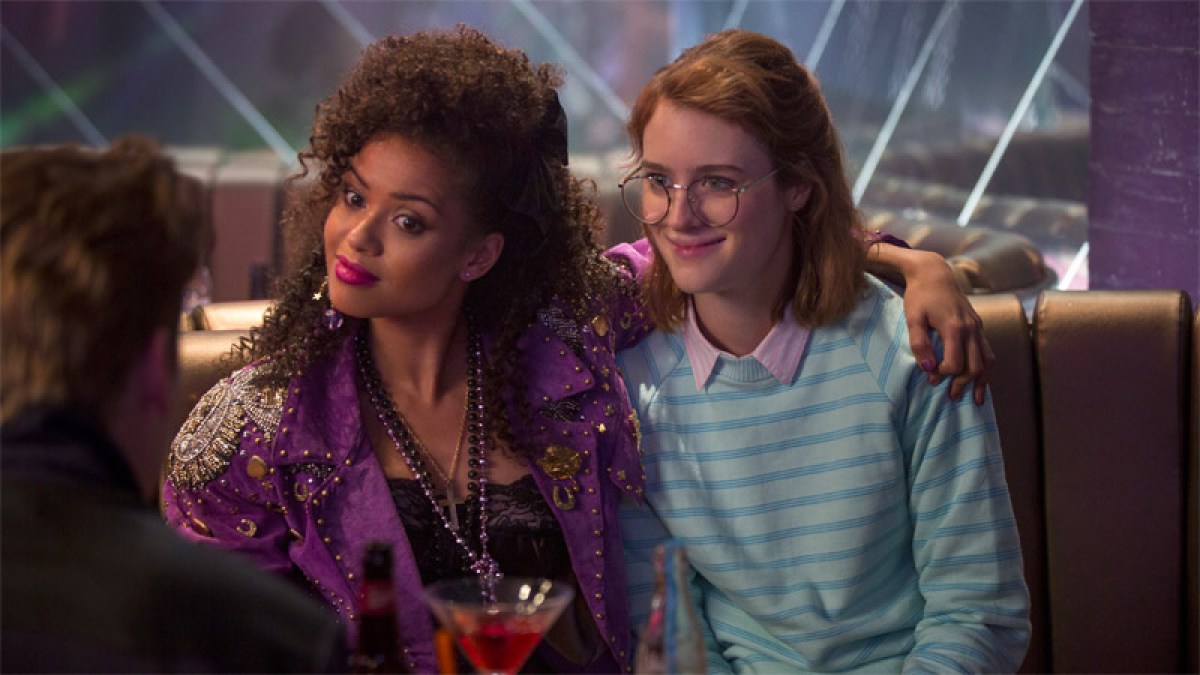 This sci-fi dystopian anthology series tells a new story every episode, usually taking place in the future and with a focus on technology. In Season Three, Black Mirror gave us a beautiful gift: San Junipero.
(2017 – 2019) // 3 Season Anthology Series // 25 Episodes
Joe Swanberg's character-driven series that uses Chicago as central throughline bounces between different people, providing intimate snapshots of their lives. The recurring queer women on the show — Jo and Chase — provide some of the best episodes, covering a sprawling gay relationship arc of coming out to breaking up.
---
Other good Netflix Original Programming with minor LBGTQ+ female and/or trans characters/stories: American Vandal, Archive 81, A Storm for Christmas, Beef, Bojack Horseman, Broadchurch, Chosen, Doctor Foster, Fuller House,Get Even, Grace & Frankie, Grand Army, Hollywood, House of Cards, How to Sell Drugs Online (Fast), Jupiter's Legacy, Jurassic World: Camp Cretaceous, Kipo and the Age of Wonderbeasts, Manifest, Marcella, Midnight Mass, Raising Dion, Russian Doll, Self-Made, Shadow & Bone, Sky Rojo, Special, The End of the F*cking World, Tiny Pretty Things, Unorthodox
Other Medicore Netflix Original Programming with minor-to-medium LBGTQ+ female and/or trans characters/stories: 13 Reasons Why, The A-List, Altered Carbon, Anne With an "E", Away, Cowboy Bebop, The Devil in Ohio, Godless, Hemlock Grove, Insatiable, Q-Force, Resident Evil, The I-Land, You
---
Looking for more lesbian TV shows you can stream right now? Here you go: