This post was originally written in 2017 and has been updated in March 2020.
---
Amazon: an evil company with a lot of free television for Prime Members! What TV shows with lesbian, bisexual and queer women characters are on Amazon Prime? What a good question you may have typed into your computer browser, looking for queer television program with lesbian storylines! Lesbian bisexual queer TV shows on Amazon Prime! Streaming!
There are more programs available on Amazon for an extra fee as well as add-on channels, this post is just covering the shows that come with your subscription and for which you can watch the entire series on Amazon for free.
---
Amazon Streaming TV Shows With Lesbian and Bisexual and Queer Characters and Lots of Queer Stuff
One Mississippi (Amazon Original): 2 Seasons, 12 Episodes

Tig Notaro's super-good semi-autobiographical comedy series follows a Los Angeles radio host "Tig Bavaro" as she returns home to Mississippi after a double mastectomy and a C. difficile infection to be with her family when her mother is taken off life support. She moves in with her brother and stepfather and begins learning things about her mother and her home that she never knew. Then she falls for a straight girl played by her real-life girlfriend Stephanie Allynne. It's really funny and when it got cancelled I was very sad.
Transparent (Amazon Original): 5 Seasons, 41 Episodes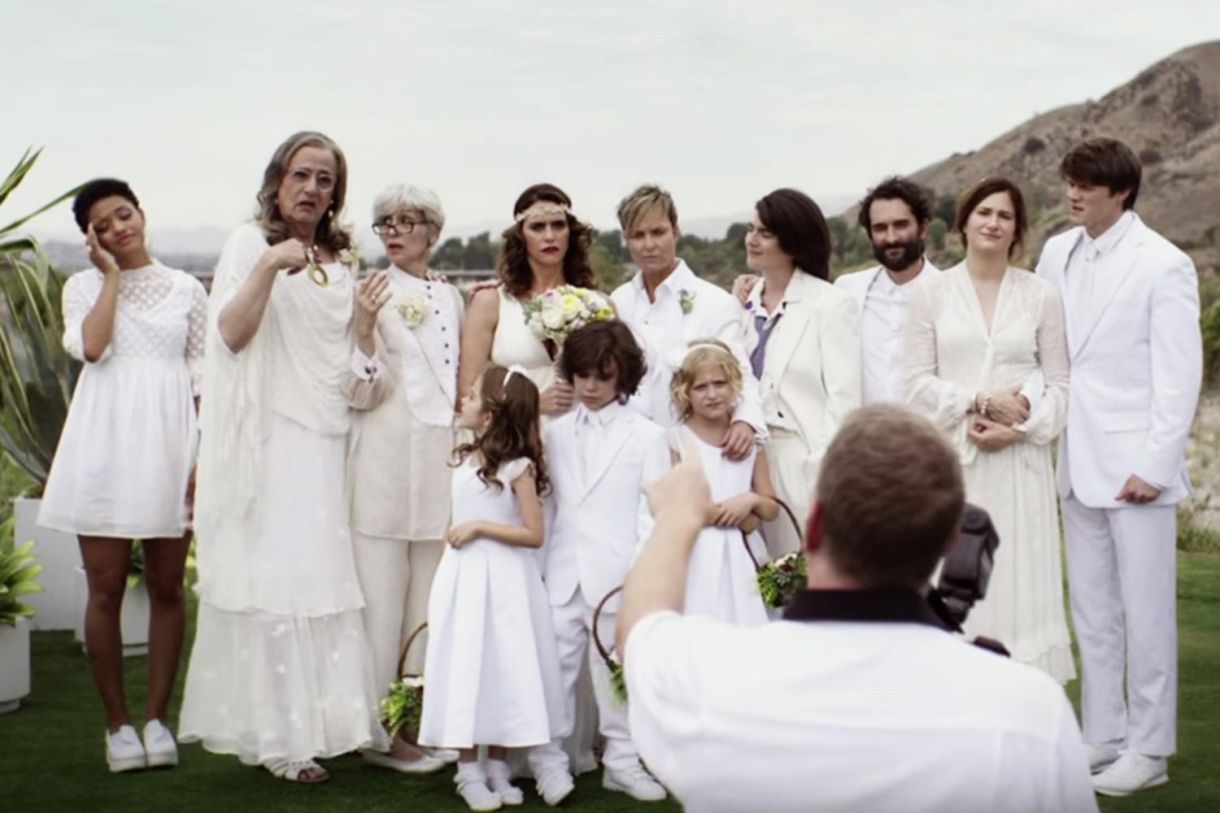 Transparent is centered on a Los Angeles based Jewish family who are basically all queer, except for the straight guy who can suck it he's the worst. Transparent has trans women playing trans women, it has a bisexual Mom who gets kinky with Jiz Lee and has a throuple, it has a twenty-something daughter with a fluid sexuality and gender presentation, it has multiple lesbian trans women, it has Carrie Brownstein playing a bisexual named Syd and Cherry Jones playing, basically, Eileen Myles. It was brilliantly written and it employs more trans and queer folks behind the camera than any show.
True Blood (HBO): 7 Seasons, 80 Episodes
Like almost every show in the history of shows, this one eventually went off the rails, but for a few seasons there it was one of the best things on television. It's about vampires, and we all know vampires are usually bisexual, right? So you get a lot of that in this show, including lead character Tara Thornton played by Queen Sugar's Rutina Wesley (who comes out a little later in the series), Evan Rachel Wood's delightful Queen Sophie Ann, and at least a dozen more. My favorite character, though, was always Lafayette.
Danger & Eggs (Amazon Original): 1 Season, 13 Episodes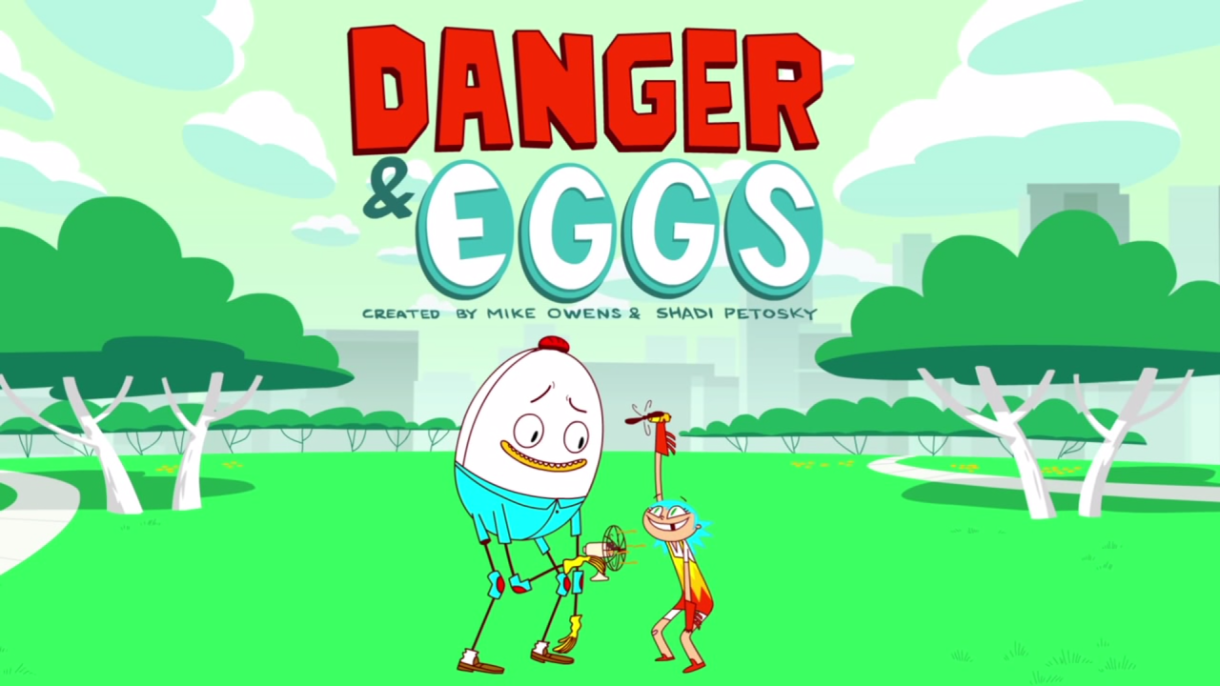 Last week we told you about Danger & Eggs and how it's got queer themes, queer characters, a trans woman co-creator and a cast that includes so many of our favorite humans — Stephanie Beatriz, Jasika Nicole, Angelica Ross, Cameron Esposito, Rhea Butcher, Tyler Ford, Jazz Jennings and Laura Zak. This week could be the week that you find out for yourself why everybody is so excited for Danger & Eggs! I'm also excited, generally speaking, for danger, and also for eggs, scrambled.
Remember this adorable webseries from 2009-2011 starring Nicole Pacent and Rachael Hip-Flores, Autostraddle's 2009 Critters of the Year, as two teenagers who fall for each other and have all kinds of self-discovery and also so do their friends? If you do, you'll be happy to hear it's on Amazon and if you don't, well GO WATCH IT.
---
TV Shows on Amazon With Lesbian and Bisexual and Queer Characters and a Good Amount of Queer Stuff
Humans (Channel 4): 3 Seasons, 24 Episodes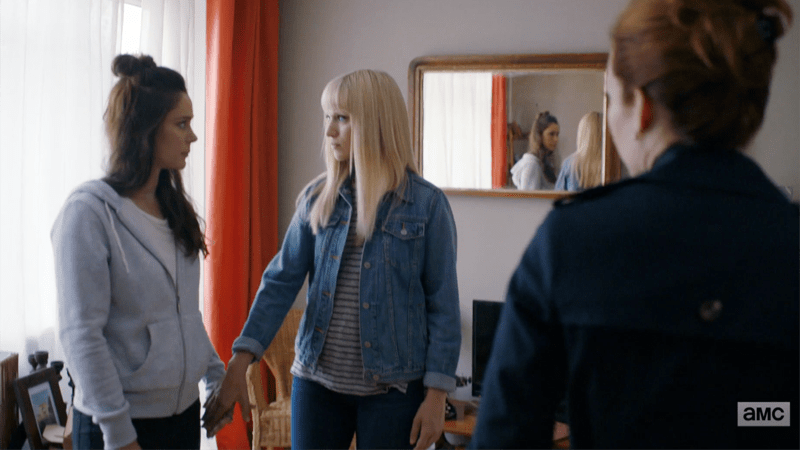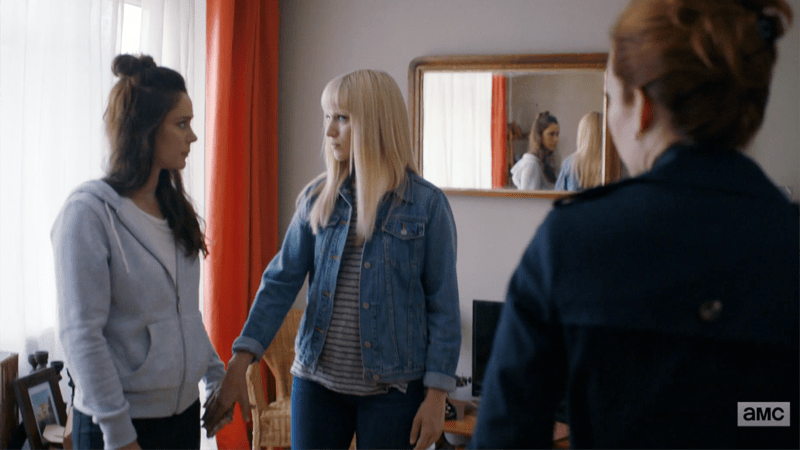 Humans is so good and so underrated why didn't you all watch Humans when we told you to? Good news there's still time, gather round for this gripping sci-fi series about a parallel present in which the must-have gadget for any busy family is a "Synth," basically a robot servant. But what if the robots got sick of being servants! And what if Niska fell in love with a woman!
Hannibal (NBC): 3 Seasons, 39 Episodes
Season Two of this psychological thriller introduced a recurring lesbian character, Margot Verger, who, after a detour into Unfortunate Tropesville, eventually gets a love interest and offspring. You'll have to endure some cannibalism to get there, though, but isn't that true about everything, really?
The Good Wife (CBS): 7 Seasons, 156 Episodes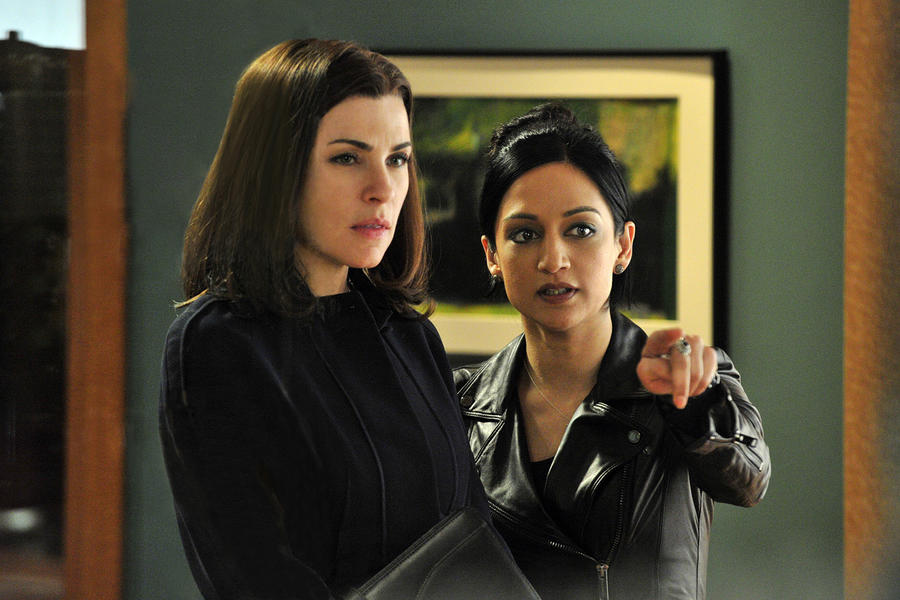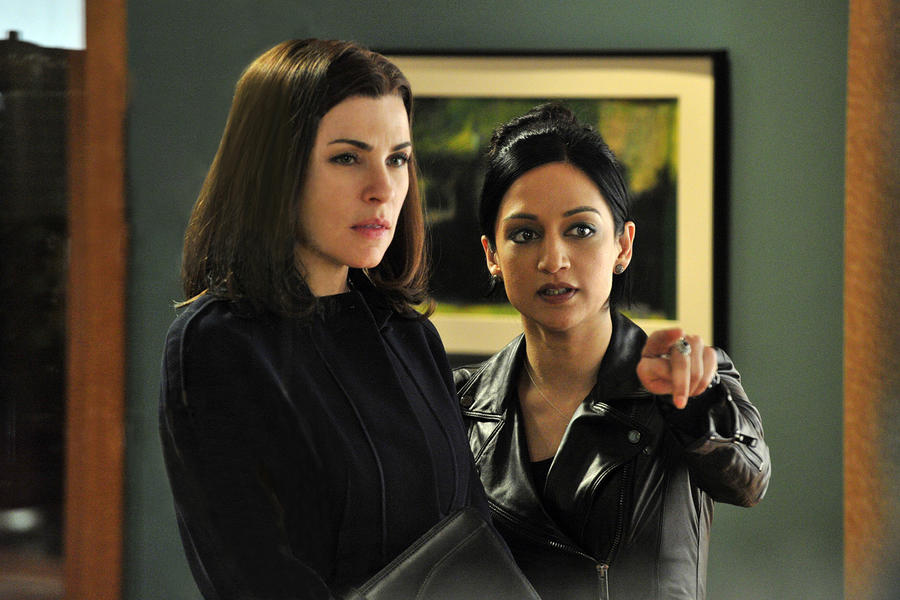 The Good Wife began as a story about the loyal wife of a state's attorney embroiled in a sex and corruption scandal she was forced to publicly endure. Then it becomes a story about the wife returning to her career as a lawyer, which brings us to her law firm and to her smokin' hot bisexual investigator Kalinda Sharma. Kalinda appears in 86% of the series episodes and sometimes (!!!!) even has involvements with ladies.
Orphan Black (BBC America): 5 Seasons, 50 Episodes
This science fiction thriller stars Tatiana Maslany as a bunch of clones, including queer Experimental Evolutionary Developmental Biology Ph.D. student Cosima. She has a scissoring relationship with Delphine Cormier. Honestly every time I write a blurb for this show I end up getting something wrong about it. Did I do okay.
Defiance (SyFy): 3 Seasons, 38 Episodes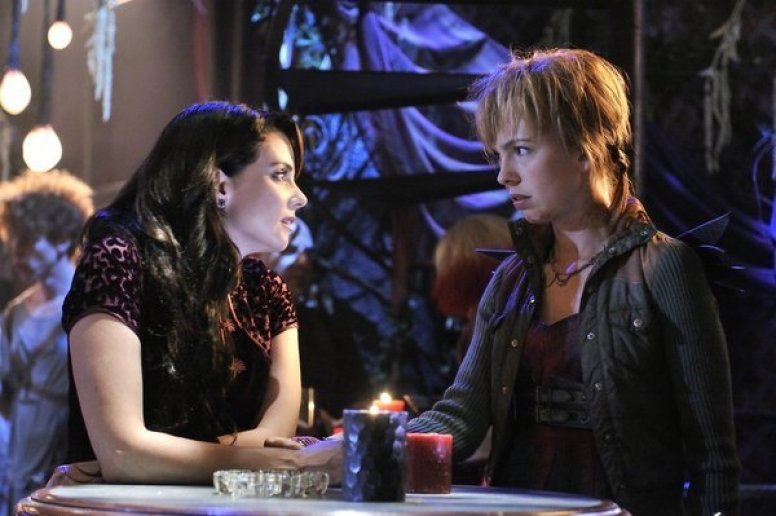 Defiance is a dystopian sci-fi series set in (what used to be) St. Louis after a whole bunch of alien wars ravaged and terraformed the entire earth. Now humans and aliens are living together! Kenya Rosewater (played brilliantly by your girl Mia "Jenny Schecter" Kirshner) owns a brothel called Need/Want and during season one she falls for a Castithan noble named Stahma Tarr (played deliciously by your girl Jaime "HG Wells" Murray).
The Wire (HBO): 5 Seasons, 60 Episodes
The Wire is easily one of the best television programs of all time — and broke ground with its Black lesbian detective character, Kima Greggs, who unlike so many other queer characters, actually appears in every episode. Each season looks at a different element of Baltimore and its relationship to law enforcement: the illegal drug trade, the seaport system, the school system, print news media and city government. Plus it's got one of my favorite gay male characters of all time, Omar Little.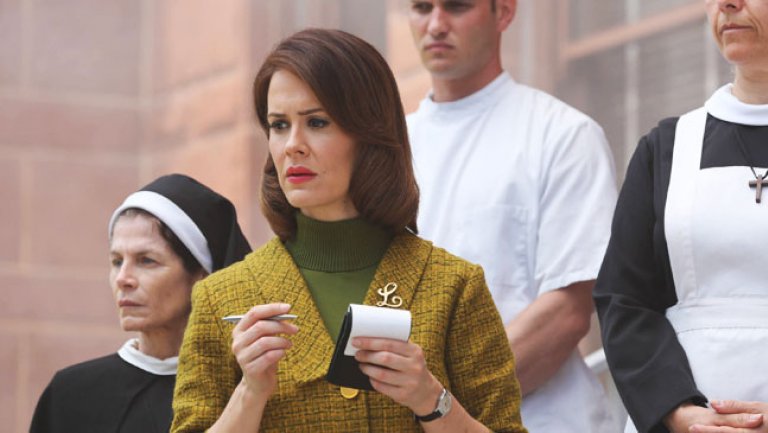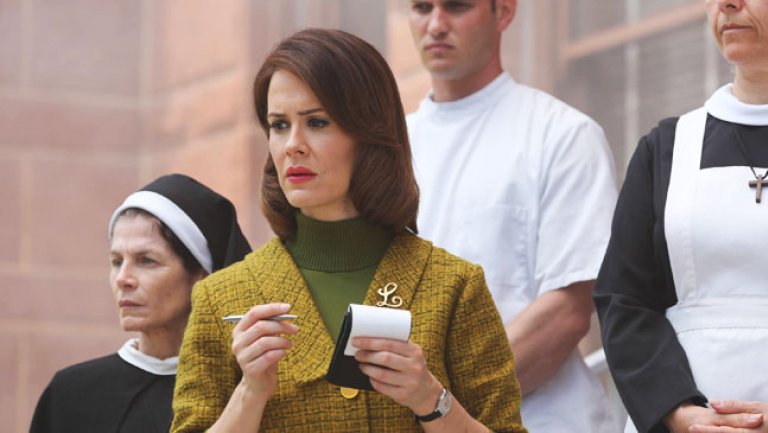 Seasons 1-8 are free on Amazon Prime, and Season Two is probably the queerest — that's the one where Sarah Paulson plays a lesbian reporter trapped in an asylum and forced to undergo conversion therapy while her girlfriend Clea Duvall sits at home waiting to be murdered. Seasons Four and Five are also chock-full of LGBTQ+ characters, ranging from "pretty cool" to "super offensive." You'll see!
Counterpart (Starz): 2 Seasons, 20 Episodes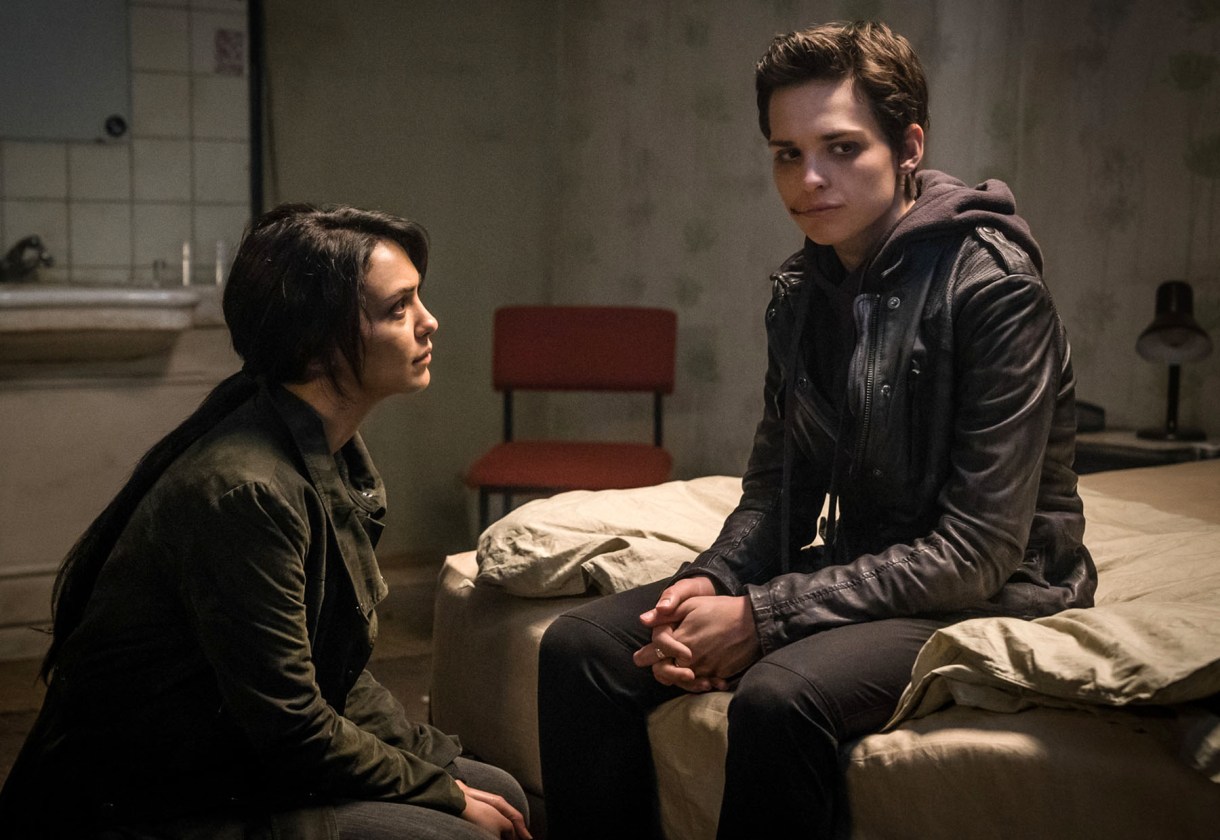 Baldwin, a masculine-of-center lesbian and trained assassin never given the chance to develop a true emotional life or any dreams of her own, a fact laid bare when she's forced to watch her counterpart, an accomplished classical violinist, die in an alternate dimension. Her story weaves around and connects with the primary storyline in a gripping, dark story that never got its due
Imposters (Bravo): 2 Seasons, 20 Episodes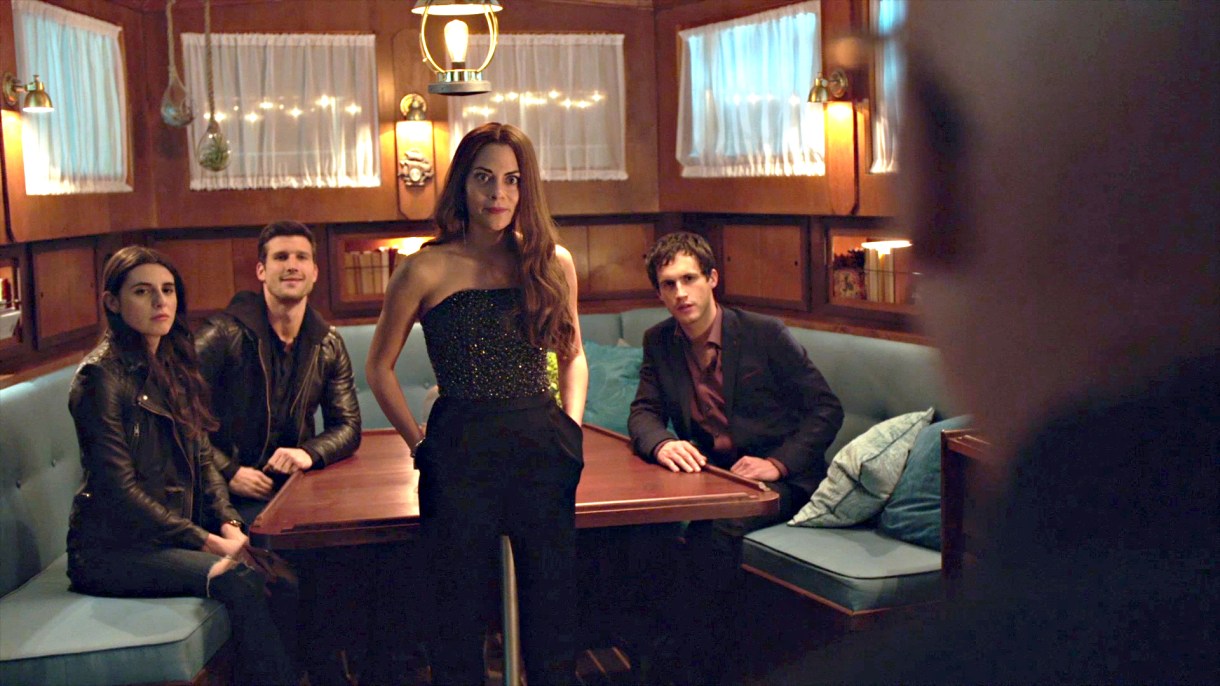 Two men and one woman are duped by the same con-artist in Season One of this uneven dark comedy that starts out a bit corny and becomes quite a bit of fun.
Hunters (Amazon Original): 1 Season So Far, 10 Episodes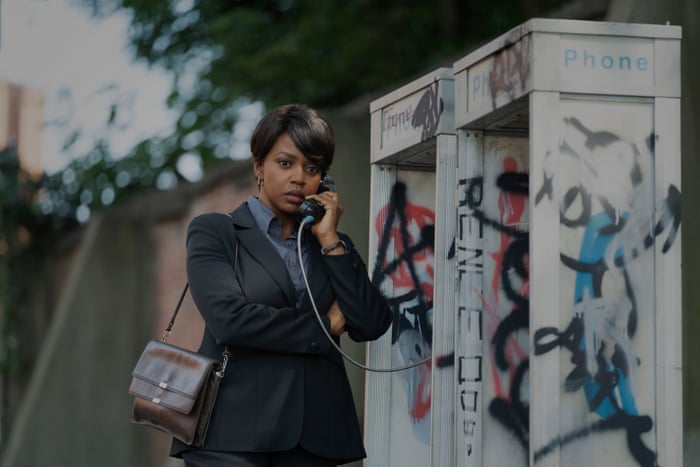 Three decades after World War II, a group of Jews and allies have set out to find and kill Nazis who are still living, thriving and employed in the United States. FBI Agent Millie Morton is on the case and also she's a lesbian! Who lives with her hot girlfriend! It's a sharply stylized series with a winning cast, although its Holocaust flashbacks can be alternately horrifying and problematic.
---
TV Shows With LGBTQ Women Characters Streaming on Amazon With a Fine Amount of Queer Stuff
Red Oaks (Amazon Original)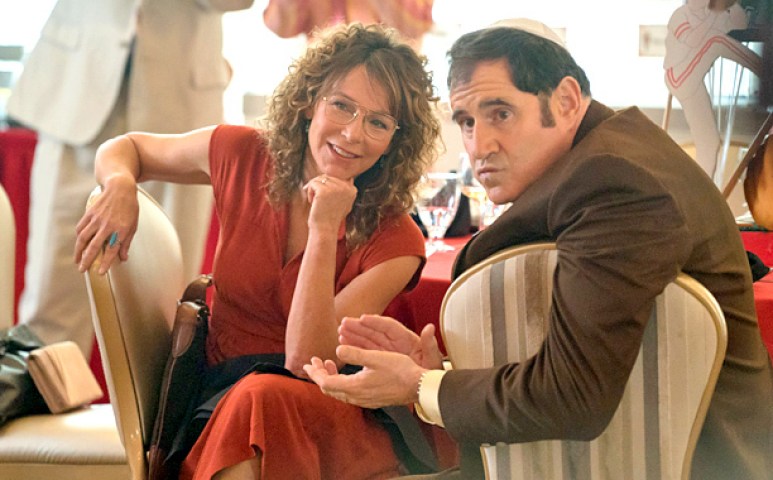 Set in a New Jersey country-club in the mid-80s, Red Oaks has a regular character who, following a divorce, starts questioning her sexuality and tentatively wading into the waters of light kissing with other ladies. Judy is played by Jennifer Grey, who you may remember from a little dancing movie set in a Catskills summer resort in the mid-50s in which nobody put baby in a corner.
Home Fires (ITV): 2 Seasons, 12 Episodes
Home Fires is a British period television drama about women who come together to make Jam during World War II. Also, lesbians.
American Gothic lasted for one entire season, and included a storyline where a married politician running for Mayor was having an affair with her female campaign manager.
House (Fox): 7 Seasons, 177 Episodes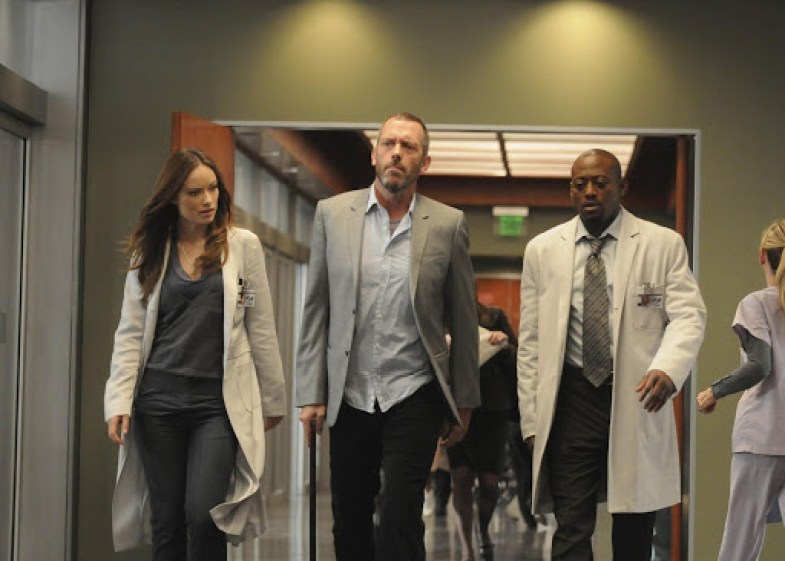 Olivia Wilde plays gay yet again for us in House ad Dr. Remy "Thirteen" Hadley, a bisexual internist who joins House's medical team in season three. For most of the series she is dating fellow doctor Dr. Eric Forman (Omar Epps).
Deadwood (HBO): 5 Seasons, 36 Episodes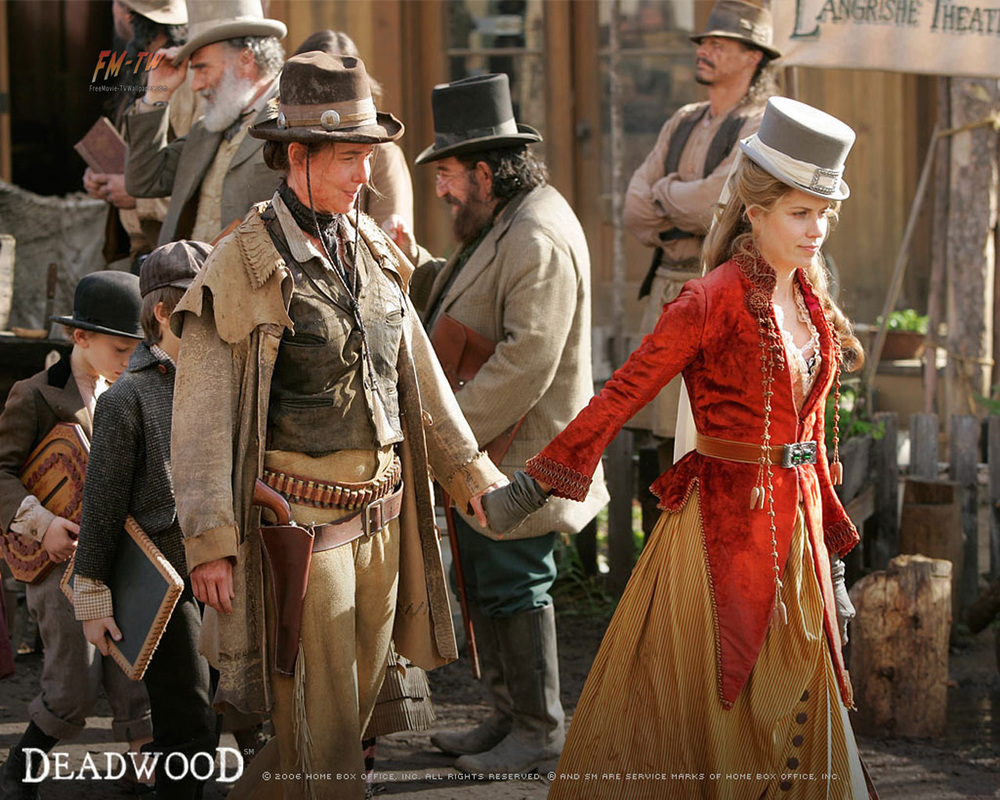 Joannie Stubbs has been described as "a fascinating, three-dimensional female character" who is "not only well-drawn, but by Season 3 is firmly established as preferring the company of women." Jane Canary, a character based on Calamity Jane, is one of Joanie's love interests.
Veep (HBO): 7 Seasons, 56 Episodes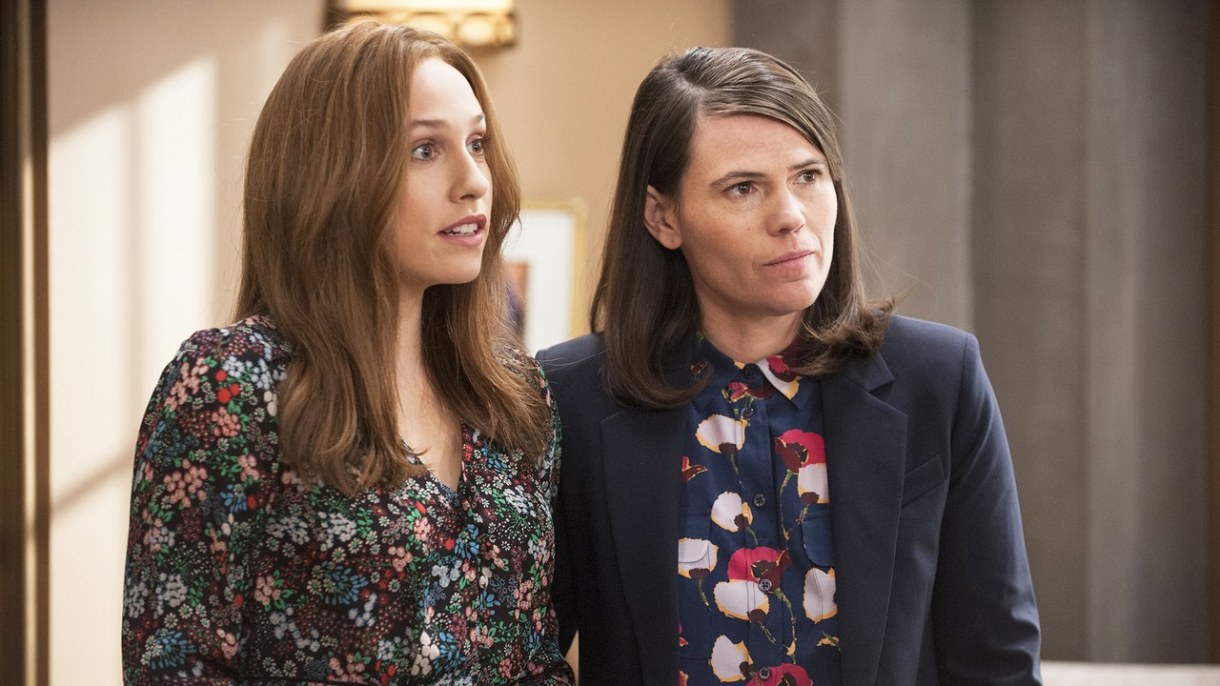 This show is so smart and funny, you've probably heard of it. Selena Meyer (Julia Louise-Dreyfuss) and her very clever and very mean staff navigate American politics with a dash of incompetence and a sprig of "what are we doing here."  Big bonus: her daughter is (eventually) gay! And dates Clea Duvall!
Madam Secretary (CBS): 6 Seasons, 120 Episodes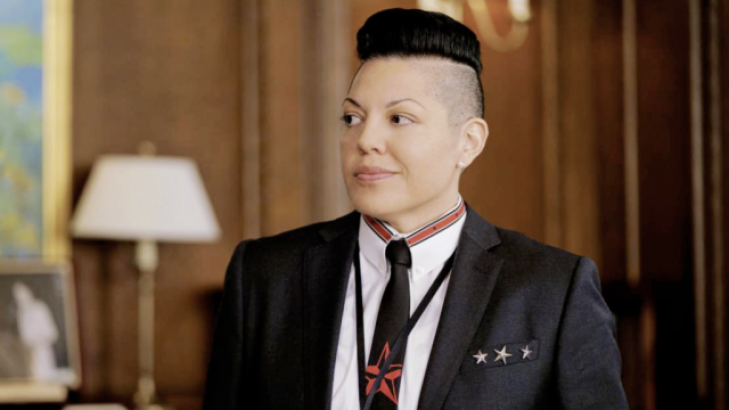 Kat Sandoval brought fashion inspiration and bisexual realness to us when she joined this program as a Political Consultant in Season Four and stays through Season Five.
The Vampire Diaries (The CW): 8 Seasons, 171 Episodes
In Season 6 of this sexy campy teen vampire series, we finally get some girl-on-girl action. And then we say goodbye to our lesbians that very same season!
American Housewife (ABC) : 4 Seasons So Far, 84 Episodes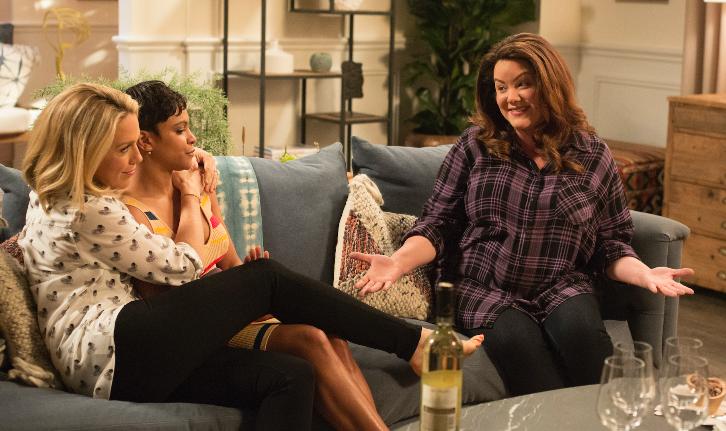 Katie Otto has trouble fitting in amongst the wealthy and privileged families in her new hometown of Westport, Connecticut. One of her two closest friends in the neighborhood is Angela, a divorced lesbian mother and lawyer.
Forever (Amazon Original): One Series, 8 Episodes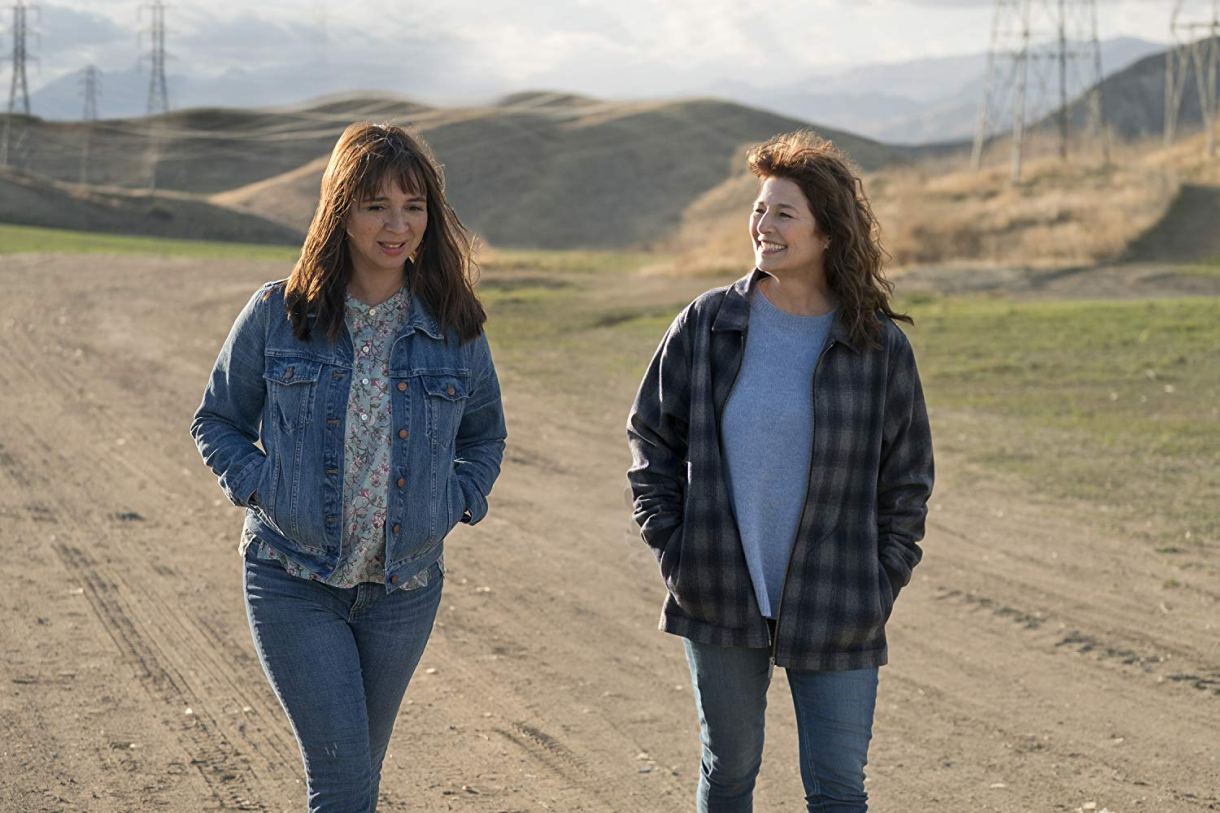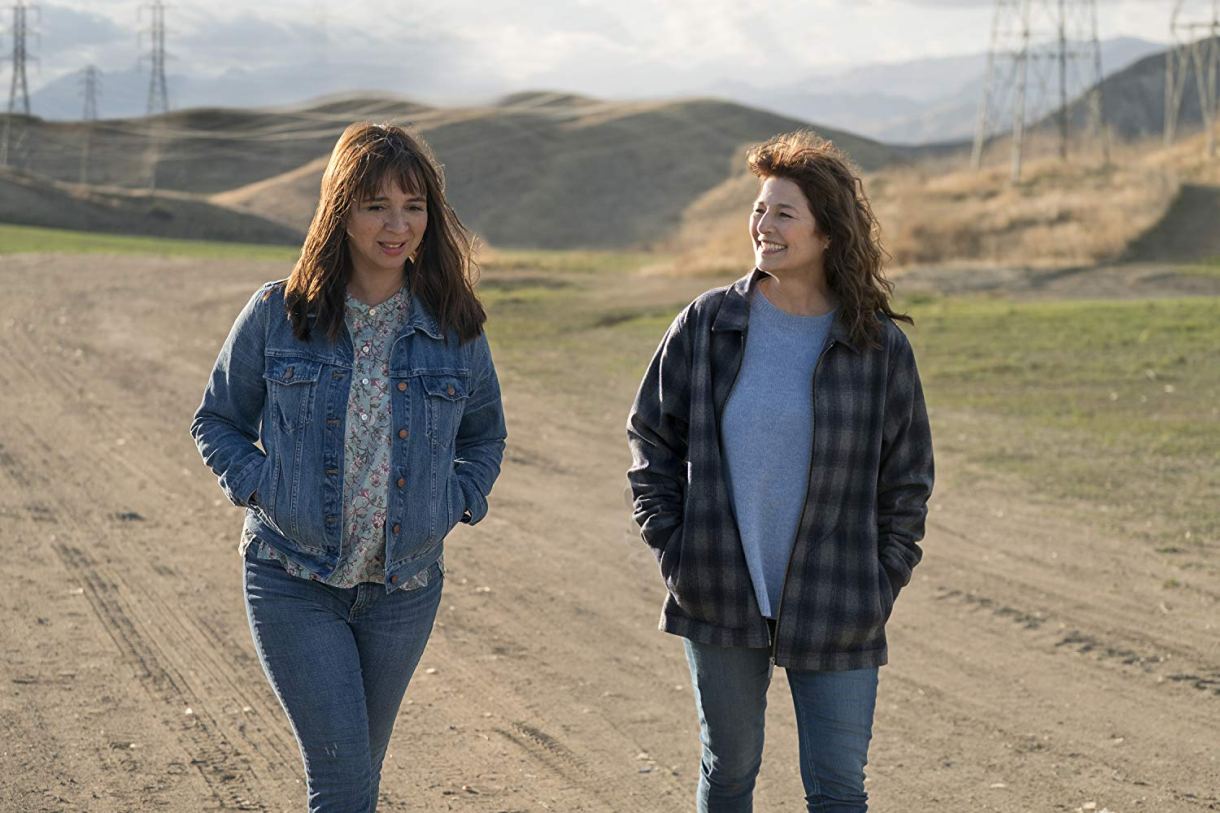 Depending on who you ask, this series either contains a TON of gay stuff or barely any gay stuff. If you ask me, for example, I would edge towards the "minimal gay stuff" because none of it is explicit or consummated. However, if you ask Heather, she would say that Forever "explores middle-aged queerness in a way [she's] never seen before on TV."
The classic 1975 novel about three schoolgirls who vanish from Appleyard College for Young ladies on Valentine's Day 1900 has been adapted before — Peter Weir's 1975 film "certainly picked up on the erotic subtext" of the story, but the new Foxtel series "takes the sexual undercurrents rippling among the residents of Appleyard College and the local townsfolk and makes them a tad more obvious." According to one writer, "this adaptation is fundamentally about queerness, about how each character discovers, experiences, and reacts to their queerness, and about the consequences of the choices each character makes as a result of their queerness." YMMV on how much queerness you pick up on.
Vikings (The History Channel): 6 Seasons, 79 Episodes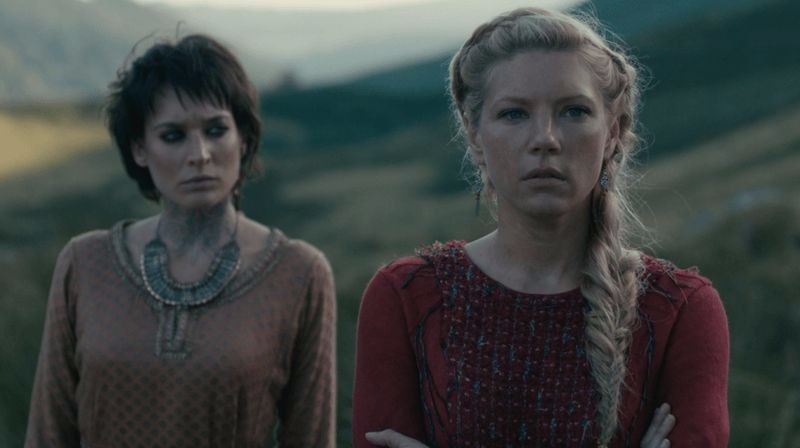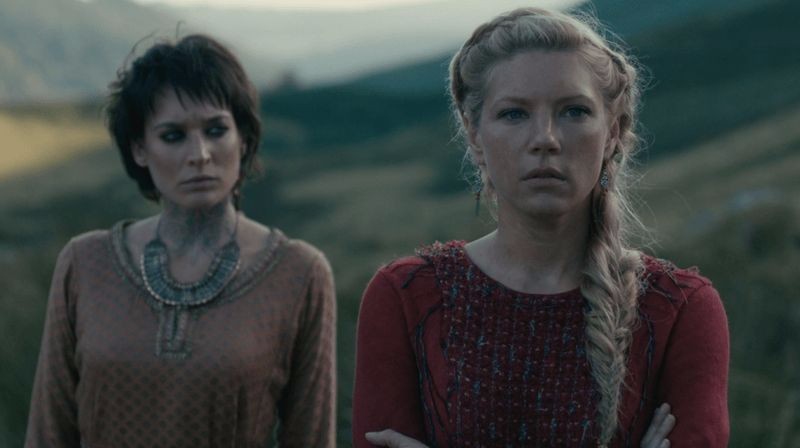 Viking is a historical drama series inspired by the sagas of Norse hero Viking Ragnar Lothbrok. At some point, shield-maiden Astrid has a romance with legendary shield maiden Lagertha? There is also some death involved in this.
The Fall (2012 – 2013): 2 Seasons, 11 Episodes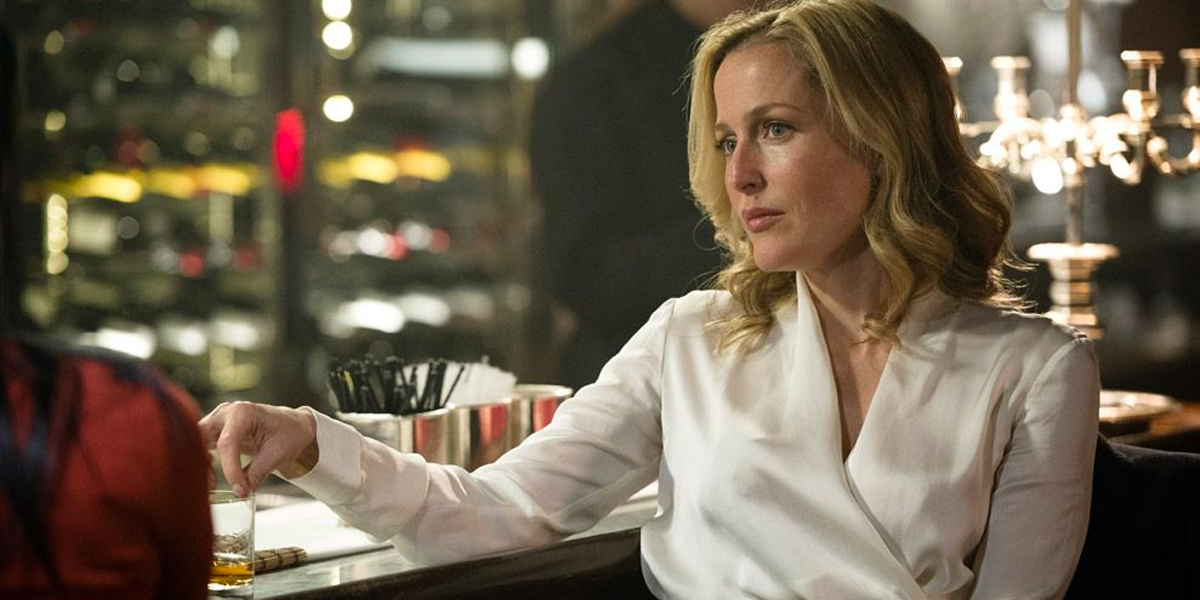 It's a dark, quiet, suspenseful-and-creepy-as-hell crime series starring Gillian Anderson as a sexually fluid detective psychologically rattled by a particularly challenging case. She kicks ass and takes names, working alongside an adorable lesbian police constable who unfortunately she does not make out with. Look out for Archie Panjabi playing another queer-ish character, Dr. Tanya Reed Smith.
Fleabag (Amazon Prime): 2 Seasons, 12 Episodes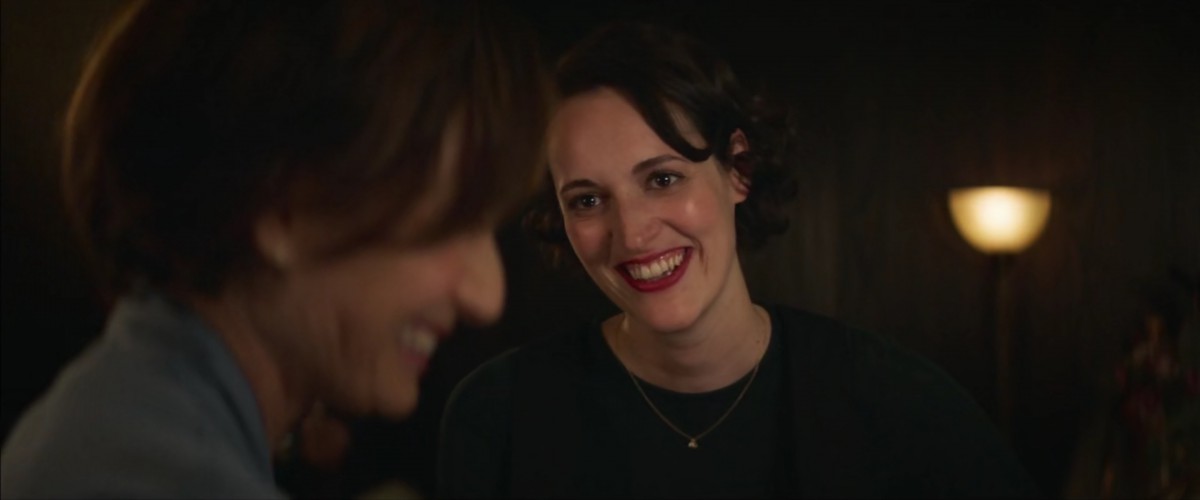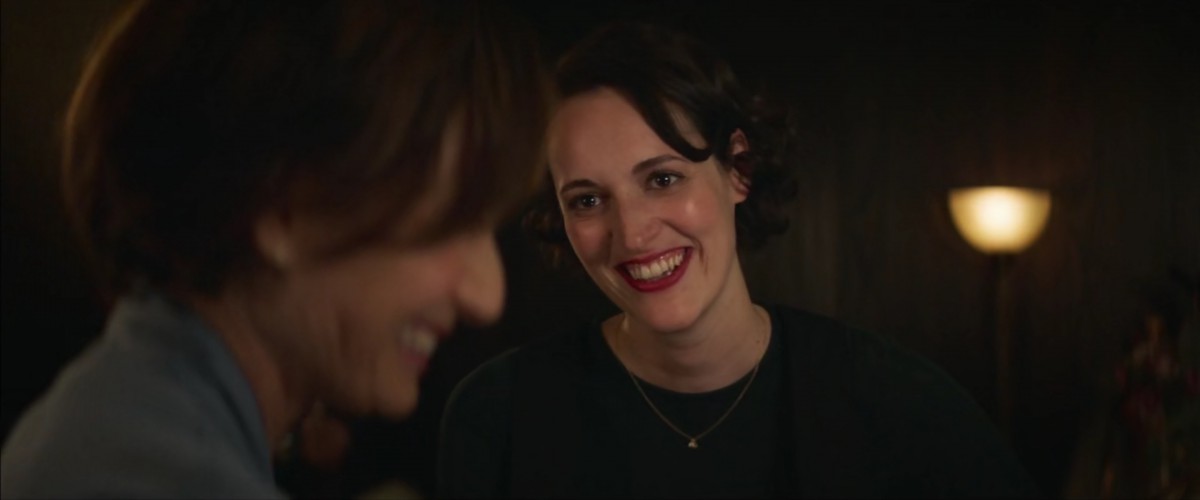 In its second season, Phoebe Waller-Bridge's eponymous protagonist confirms her bisexuality while sharing a drink with a lesbian businesswoman played by Kristin Scott Thomas. But you're gonna watch this show regardless because it's so good!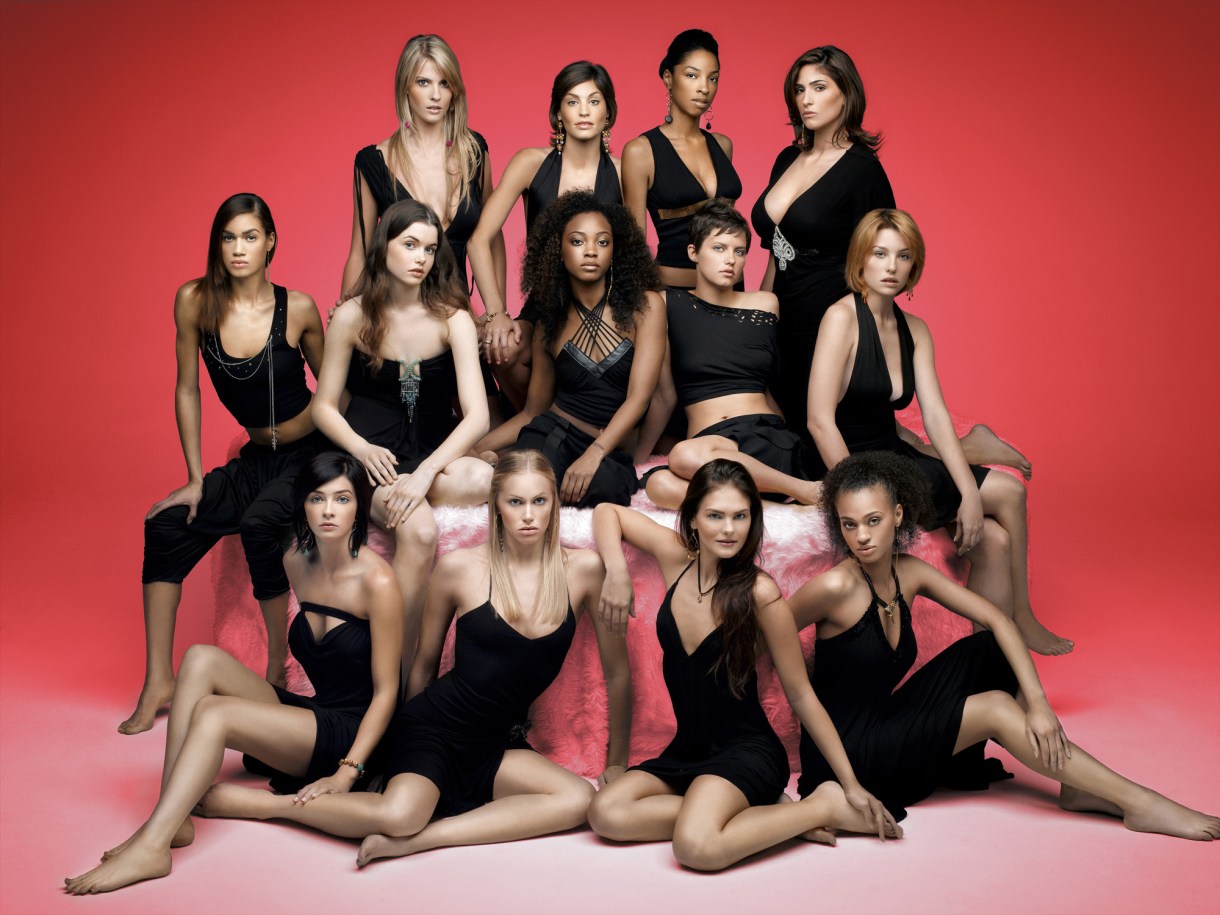 Do you wanna be on top? So do the ladies on this show. Amazon Prime has Seasons One through 14, which means you'll get a solid chunk of lesbian and bisexual women, including Ebony from Season One, Kim Stolz and Nik from Season Five, Leslie Mancia from Season 6 and Megan Morris and Michelle Babin from Season 7.
---
TV Shows Streaming on Amazon With a Small-to-Okay Amount of Queer Stuff
The Man in the High Castle (Amazon Original): 4 Seasons, 40 Episodes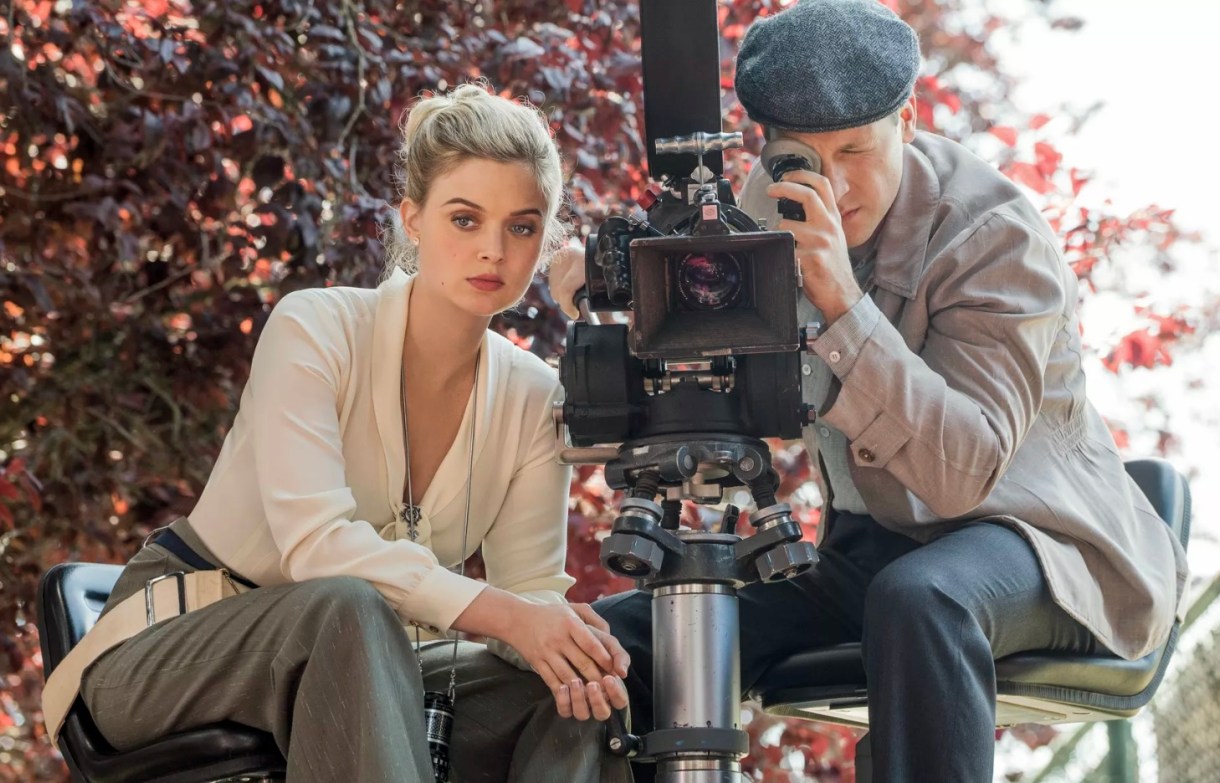 You've really got to pay attention to a lot of high-concept yet often quite absurd alternate history depicting a parallel universe where the Axis powers won World War II and thus Nazi Germany and the Empire of Japan are in charge, each taking a piece of the United States for themselves. I can't even get into the characters, it's very complicated! A small lesbian storyline arrives in Season Three.
The Expanse (Syfy + Amazon): 4 Seasons, 46 Episodes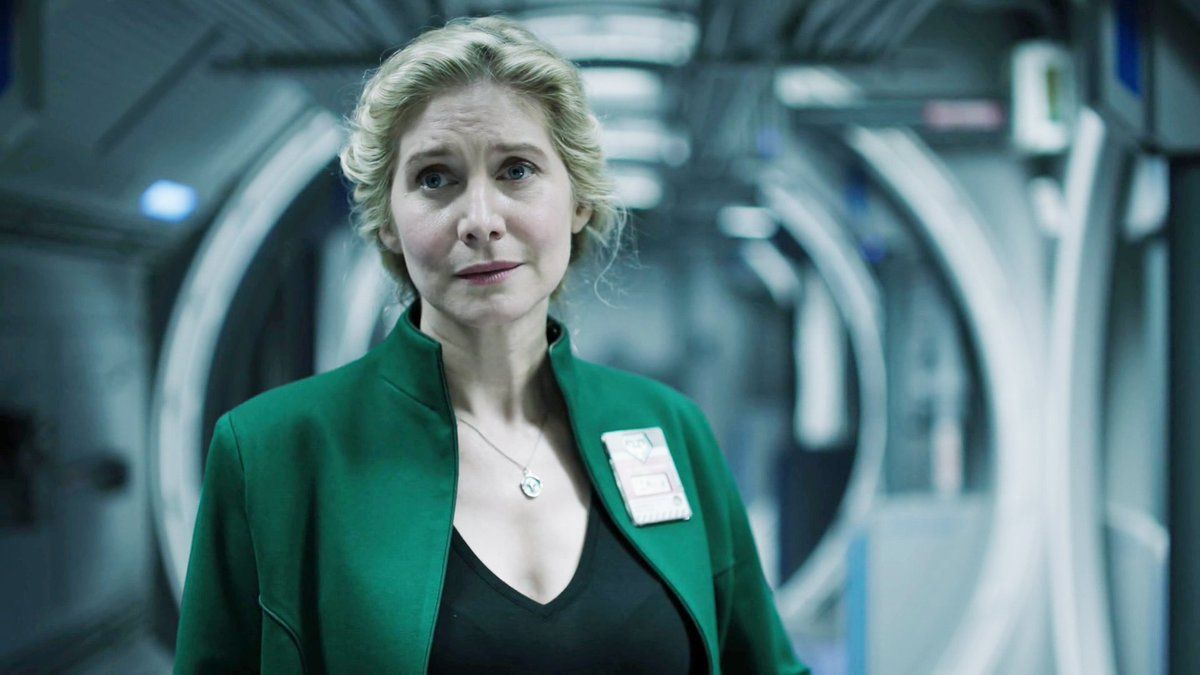 The Expanse follows a disparate band of antiheroes as they grapple with a conspiracy that is threatening the fragile future they're living in a colonized Solar System. Also; being queer is not a big deal in this future! Elizabeth Mitchell plays lesbian character Anna Volovodov, a doctor who leads a small Methodist congregation.
Sex and the City (HBO): 6 Seasons, 94 Episodes
A pitch-perfect slice of life from a certain time and a certain place allegedly stars Sarah Jessica Parker as Carrie Bradshaw, but truly stars Cynthia Nixon as Miranda, who is somehow straight. Samantha dates a woman at some point and hits every negative lesbian relationship stereotype possible, but that's not why you're watching it. We all watched it. It was what we did. It's a cultural touchstone. It's often offensive and completely bananas. At the time it was revolutionary. It's hard to explain.
Six Feet Under (HBO): 5 Seasons, 63 Episodes
This is my favorite television show of all time, so I'm including it even though the queer female content is pretty low-key and reasonably brief. There is a gay male lead and also it's just so good! Especially if you've dealt a lot with death and grief in your own life.
Nicole Kidman plays a small role as Julia, Australian lesbian mother, in the second edition of Top of the Lake, which follows an emotionally erratic detective (Elizabeth Moss) as she investigates the death of an unidentified girl found at Bondi Beach.
Bones (Fox) (2005 – 2017): 12 Seasons, 246 Episodes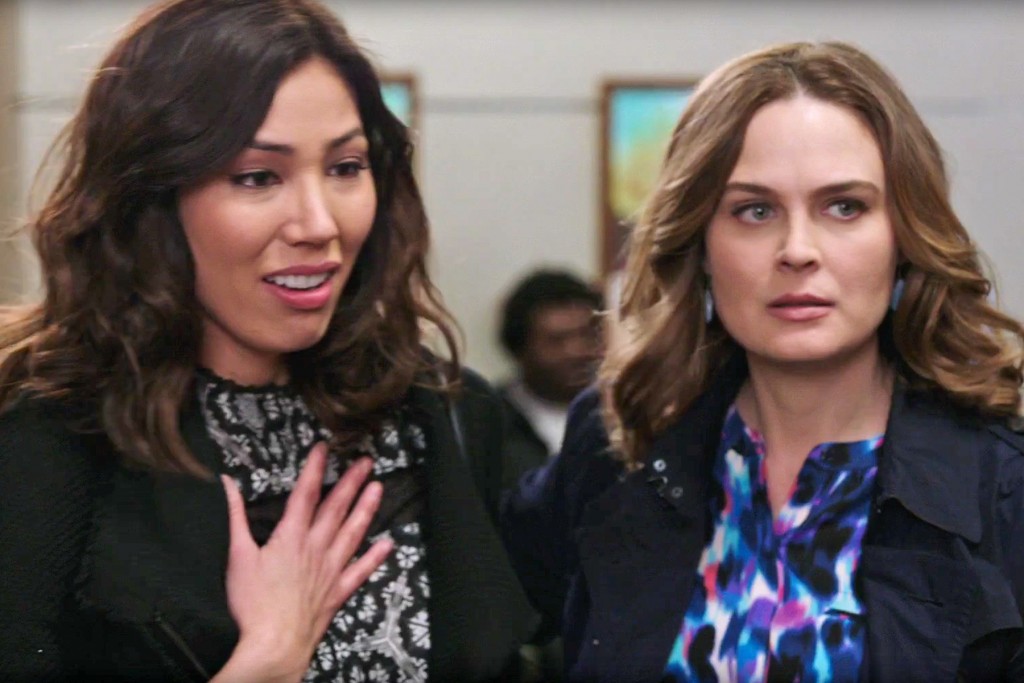 Let Natalie tell you all about this queer love plot: "When Angela Montenegro broke the heart of her art school girlfriend, Roxie, lost her muse and went eight years without publicly displaying her work. Meanwhile, Angela put her classical art training to work at the Jeffersonian Institute in forensic facial reconstruction. But then the exes cross paths after Roxie's implicated a crime, Montenegro is reminded that the only thing between them that's changed is time…and once Roxie's vindicated, the pair share a kiss." (This is under the "okay amount of gay stuff" because relative to the entire length of the series, there's not a lot.)
Goliath (Amazon Original): 3 Seasons So Far, 24 Episodes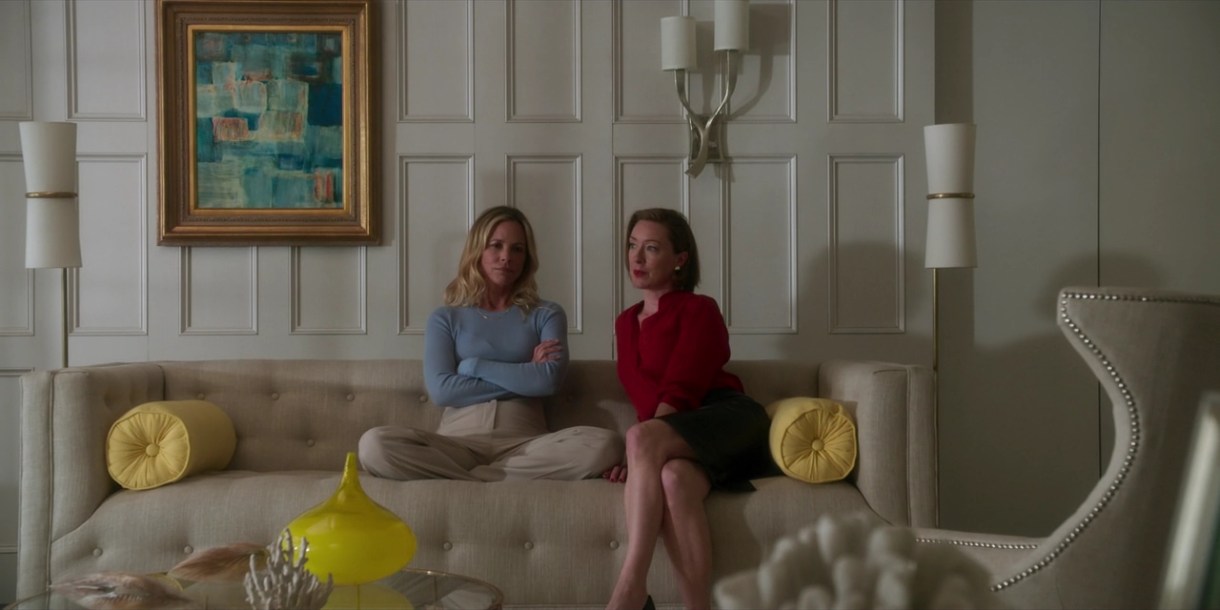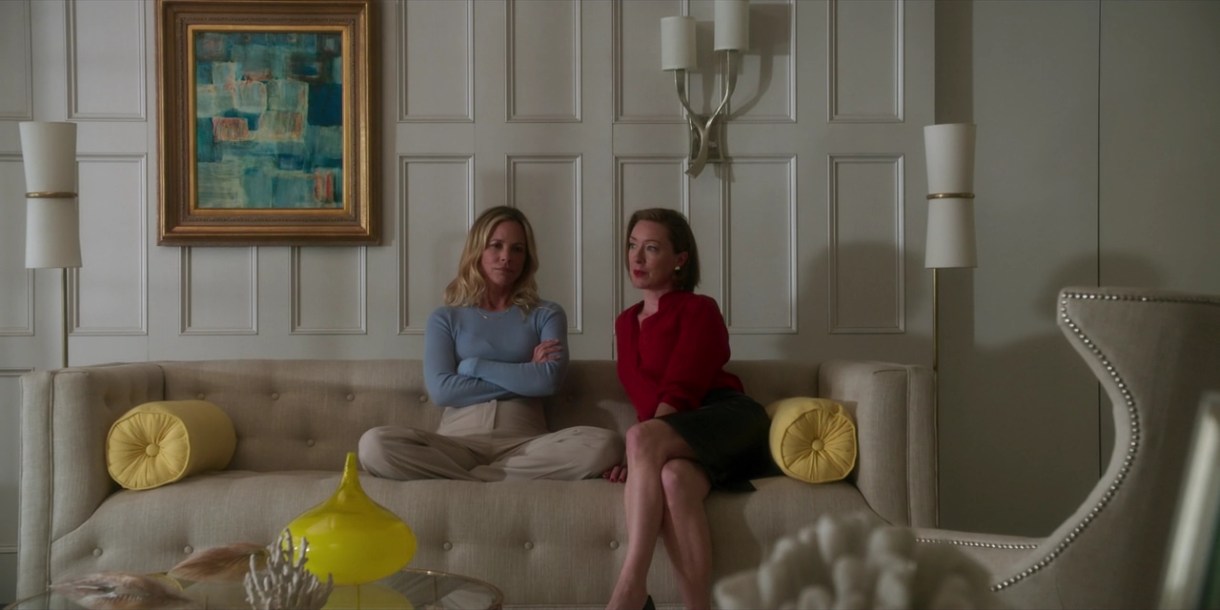 "Down and out" lawyer Billy McBride, played by Billy Bob Thornton, gets pulled back into the work through some byzantine and unexpected cases, including a TRULY BIZARRE Season Two situation that continues to haunt me. Anyhow, there are some adjacent queer women characters who appear in Seasons One and Three, including Billy's ex-wife, played by Maria Bello. Nina Arianda's performance as Patty Solis-Papagian is a genuine delight!
Carnival Row (Amazon Original): One Season So Far, 8 Episodes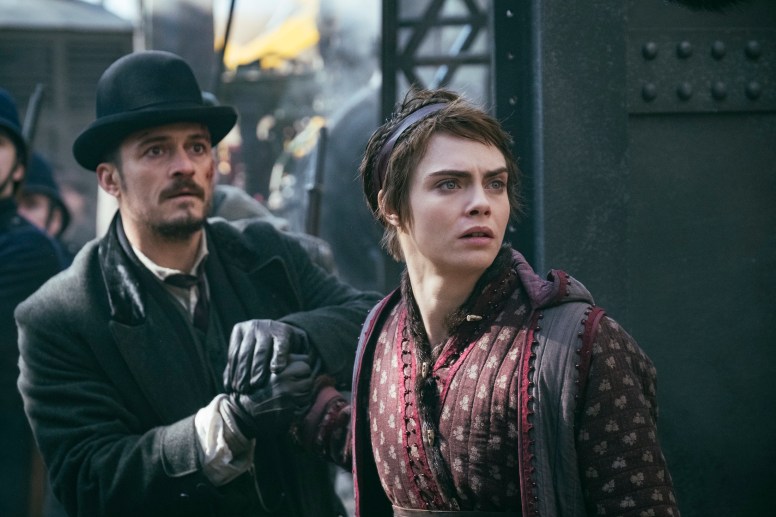 This neo-Victorian fantasy-noir finds bands of mythical creatures escaping from their riotous homeland to seek comfort in a city where they are not entirely welcome. Queer model/actress Cara Delevingne plays Vignette Stonemoss, who is pansexual and was involved fellow faerie Tourmaline, although that element of her character earns only the most passing of mentions.
This incredible program unfortunately did not ever make itself as gay as it should've. Still, there are some sexually fluid cylons and a brief meander into a story in which we briefly meet a lesbian captain, Helena Crain. Also somehow Starbuck, a lesbian, is not a lesbian?
Phillip K. Dick's Electric Dreams (Amazon Original): One Season, 10 Episodes
One episode of this anthology series tells the story of a future policewoman, played by Anna Paquin, sharing headspace with a game designer as both track down violent killers whose existence has enormous consequences.
NYPD Blue (ABC): 12 Seasons, 261 Episodes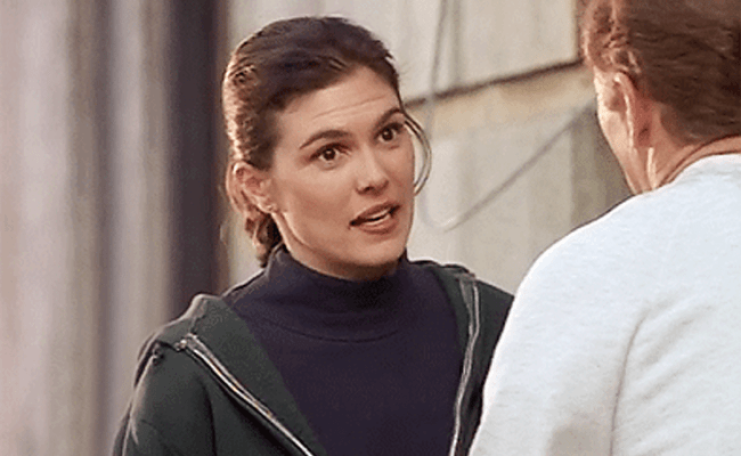 Officer Abby Sullivan enters the show in Season Four. She is a lesbian with a long-term girlfriend named Kathy. She appears in ten episodes. There is death involved in this story. Generally speaking would not recommend this experience.