The second season of Fleabag has a reasonable premise: The only romantic rival worthy of Phoebe Waller-Bridge is God.
We pick up 371 days, 19 hours, and 26 minutes after season one ended. Fleabag's café is going well, she hasn't seen her family all year, and she's forced herself to stop having casual sex. Her sister, Claire, and Claire's husband, Martin, are trying (and failing) to have a baby and trying (and failing) not to drink. Fleabag's father and godmother are finally getting married. And their new priest is hot and says fuck a lot.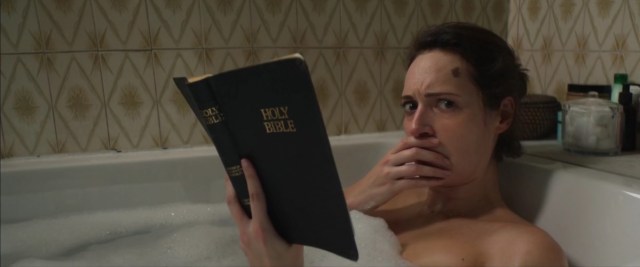 Maybe it's because he's unobtainable or maybe it's because he's the only person at the family dinner who asks Fleabag about herself. But she quickly becomes smitten with the priest and a will they/won't they friendship is born.
If the first season was consumed with Fleabag using sex to distract from the death of her friend, this season focuses on Fleabag's desire for friendship in lieu of (or along with) sex. Early in the season Fleabag attends a counseling session with a therapist played by Fiona Shaw. The therapist asks her if she has any friends and Fleabag seems to realize in the moment that she does not. She later clarifies that she does have friends and winks at us, the viewer, the imagined audience for whom she feels the constant need to perform. (Sidebar: I want to make sure you caught that Fiona Shaw plays the therapist and inform you that Fleabag hits on her and that it is amazing!!)
The entire season examines Fleabag's fourth wall breaking, who we are to her, and what we're providing for her. It transforms a storytelling device born from the show's theatrical beginnings into one of its deepest qualities. Fleabag has masked her loneliness by turning inwards, by controlling her narrative with endless quips, and keeping the people in her life at a distance by making them characters. Her commitment to unreality has allowed her to avoid the hardest problems in her life. Every time she looks directly into our eyes we might swoon, but we're, unfortunately, unable to give her anything back.
This is why it's so meaningful when the priest notices this tendency. "We'll last a week," she tells us after they agree to just be friends. The priest's brow furrows. "Where did you just go?" he asks her. She doesn't know what to say. Nobody in her life has paid enough attention to her or understood her enough to notice how disconnected she is from the world around her.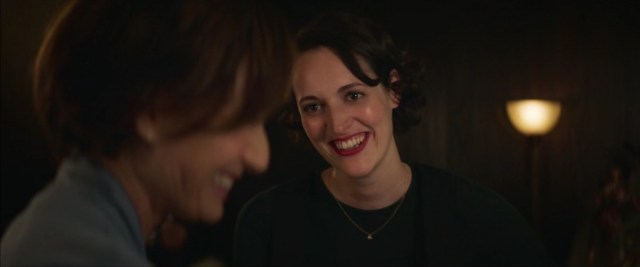 But Fleabag's meaningful connections are not reserved solely for this man (who I must confess even I found hot). That's right. The buzz you heard from its UK release was true. Fleabag is openly bisexual! Kristin Scott Thomas plays Belinda Fries, a lesbian named Best Woman in Business by Claire's company. Due to an award mishap, Fleabag ends up at a bar alone with Belinda. It is thrilling (thrilling!) to watch Fleabag's reckless confidence turn into reckless insecurity in the face of her own baby queerness and this powerful woman. Phoebe Waller-Bridge and Kristin Scott Thomas play so well together and Waller-Bridge is especially phenomenal in these moments. She's nervous in a way we've never seen before and yet remains totally true to her character.
She looks at Belinda with so much desire and admiration and vulnerability it's frankly overwhelming. I took 54 screenshots during this episode and a third of them are just Phoebe Waller-Bridge looking at Kristin Scott Thomas the way I imagine I'd look at Phoebe if we ever met in person. The way she looks at her made me gayer. I didn't think I could be gayer, but I also didn't think Fleabag could get better and it has, so there you go.
This season is messier, more complicated, and, yes, somehow, even better than the first. I found the last season finale dramatically satisfying if a bit false, but the end of the second season, and the series, is perfection. It's a happy ending in all the ways you don't expect and I watched it unfold with such an immense feeling of gratitude. For the first time in a long time I felt like things in my life were really going to be okay. Maybe you'll feel that way too.
Phoebe Waller-Bridge gave us a gift with this series. A gift from God, one might say.