I've always had a bit of a thing for bad girls, and I don't think I'm alone on this one. Who doesn't love gals with switchblades hidden in their beehives, girls with killer smirks who drink the tears of their enemies, and ladies that enact revenge without smearing their lipstick? And why do we love them? Is it the clothes, the hair, the make-up? Or is it more about attitude, manipulation, and that pesky sexual ambiguity? For slightly shy girls like me, bad girls let us live out our wildest fantasies. All those things we wish we could have done to that one girl in high school who made our lives a living hell. For these reasons, this column, "Rhymes with Witches" will dissect our love for the fictional mean girls that make it hurt so good. Every week, come take a walk with me on the wild side (switchblade not included) to explore the evil women we love on TV and in film and why we love them. Heroes and damsels in distress be damned.
---
For those of you who don't know what the virgin/whore dichotomy is, Vladimir Tumanov defines it as the tendency to categorize women in terms of two polar opposites in his article titled "Mary Versus Eve: Paternal Uncertainty and the Christian View of Women." It's the timeless stereotypes of women as either submissive "virgins" that fit the patriarchal confines of femininity or rebellious and sexually active "whores" who are often patronized characters that usually meet an untimely end (if you read Victorian novels you know exactly what I mean). It's pretty much all the regular misogynist bullshit women have had to deal with since the rise of patriarchal religion. Leah M. Wyman and George Dionisopoulos describe this change best in their article, "Transcending The Virgin/Whore Dichotomy."
"The creation of these harmful tropes is attributed to the change from the worship of female goddesses to religions based on a singular male god figurehead. Since the ancient goddesses displayed qualities that would be viewed as contradictory from a contemporary perspective, a singular goddess was often split into two separate entities; one representing the acceptable upper-world and the other representing the repulsive underworld. Thus, the female image became similarly dichotomous, consisting of a virginal, conscious, upper-world image and a harlot, unconscious, underworld image."
No more were women viewed as full humans beings, with complex personalities and traits as contradictory as the goddesses we used to worship. We were now only regarded by in relation to our male counterparts, which pretty much comes down to viewing us as sexual objects instead of equals. This dichotomy has been analyzed in numerous papers and books, but none do it with as much flair and fun as the teen cult classic, Saved!.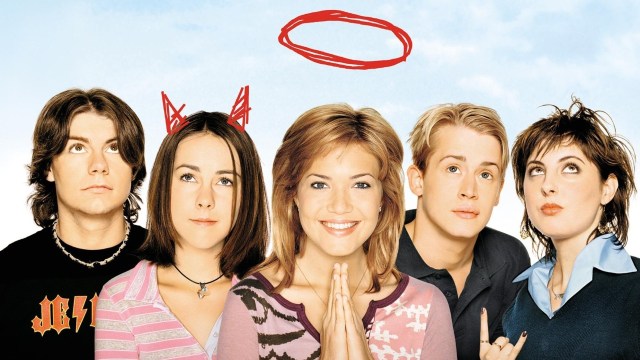 Hands down one of my favorite movies of all time, the evangelical teen flick follows Mary (played by Hunger Games: Catching Fire break out star, Jena Malone), 1/3 of the most popular group in her Christian high school, who has sex with her boyfriend when she finds out he's gay. Through a series of trials to turn him straight, she accidentally gets pregnant and we see her go through an existential crisis, drop in the social hierarchy, losing friends and making some kick ass new ones, as well as some pretty cute shopping montages.
And while I love Jena Malone and I can't believe it has taken Hollywood this long to pay attention to her, the stand out stars that make this movie are the residential mean girls, Hilary Faye and Cassandra. At completely opposite ends of the high school hierarchy system, Hilary Faye is the reigning Virgin Queen Bee while Cassandra plays the Whore with the Heart Of Gold. What's fascinating about these two characters is not just how different they start off in the beginning of the movie, but how they blur the lines between these two tropes and end up somewhere in the middle. They grow from not just the high school caricatures we assume to survive, but end up whole and complex people.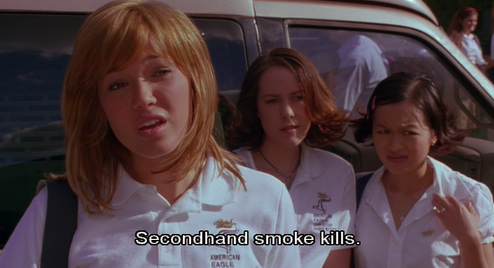 Lets start with Hilary Faye, played by Mandy Moore who won my Mean Girl blackheart when she played Lana in The Princess Diaries alongside Anne Hathaway. Here we have a stereotypical popular girl with the perfect smile and blonde hair, who flaunts her religious perfection and uses it against her fellow classmates and friends. Religion is both her shield and her weapon. She embodies the "virgin" part of the dichotomy, as the female character who gains her power through her religious fervor, chastity and completely submissiveness to her faith. Maybe submissiveness is not the right word since Hilary Faye is anything but submissive. She is strong willed and determined even if a bit misguided in the beginning. But this misguided nature comes from the very "virgin" pedestal that she is placed on by her classmates, her principal, but mainly herself. Hilary Faye is the first to banish Mary into social outcast oblivion the moment she starts to derail from Hilary's linear concept of what it means to be a good girl. Make that, a good Christian girl.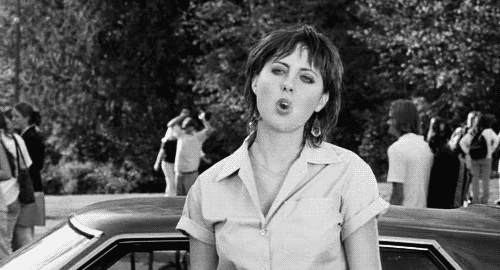 On the other side of the spectrum is Cassandra played by Eva Amurri Martino, who wears killer eye shadow I still try to duplicate to this day. Like Hilary Faye, she is confidant and feels comfort in her social position of sex-crazed, cigarette tokin' Jewish girl in a conservative Christian school. Her self worth doesn't come from other people's high regards for her but for their disdain towards her. On the first day of school she solidifies her place as a total badass when she starts speaking tongues during a school assembly, but was really just her saying PUSSY over and over again (#rolemodel status). As the "whore" part of this dichotomy, she is viewed by her classmates as not a fellow student but as something to fix, to Save. Since she realizes she will never fit in, she decides to completely stand out which, like Mary realizes, can be a lonely place to be.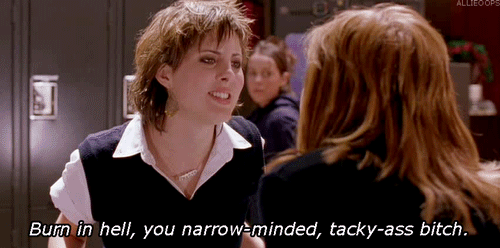 Throughout the movie we see these two girls restricted by these stereotypes, slowly break free of them. We learn Hilary is not as perfect as she would like to appear and Cassandra is the caring person that friends Mary at her lowest. They both learn in their own way, that there is no one right or wrong way to be a girl — we are strange, complicated, that can't be categorized into just one thing. We mess up, we're misguided, we get jealous, but we're human.