It's a beautiful day in Rosewood, where people go to seek revenge against teenagers on drugs and also sometimes there's a lot of minors in big, white, virginal wedding dresses. Yay heteronormativity!
---
We open and Spencer is walking through the woods wearing a wedding dress. Is she chasing someone or being chased? A is after her. She steps on something. Her eyes go wide! Perfect time to cut away!
---
But wait!

Hanna is telling the Liars about Paige giving the note to the police. Paige is out of town. Convenient.
Spencer is sure that the cops will question her. They think that Mrs. DiLaurentis is stalking them? Spencer and Hanna are sure that Jessica is A, but Emily and Aria aren't as convinced.
When Emily and Spence leave, they see that Jason is back in town.
He ignores the girls and jumps in his convertible. Was he the one listening outside the window? Spencer and Emily chase after him. Or, they try, but Spencer's car is broken.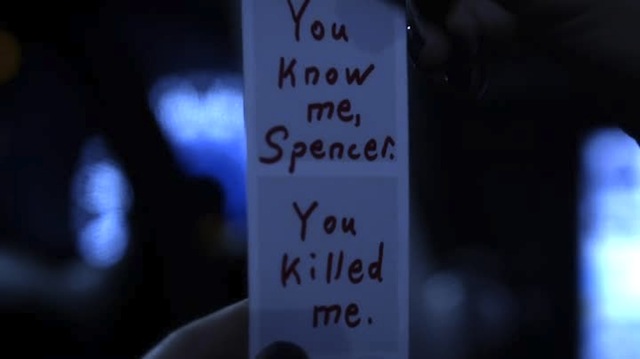 There's a bunch of pictures of a girl with her face cut out in the ignition and it says, "You know me, Spencer. You killed me." in A's handwriting. UH WHAT?
---
Aria's mother is being a mother and asking her about the hotel charges. She asks Aria about Ezra resigning from Rosewood. Aria's mom is back! Yay! I missed her. I'm so glad she has a parent again.
---
Spencer is going to talk to Jason, but Dean, her sober life coach, wants to go with. Dean is obsessed with Spencer's urine. I don't think she ends up leaving the house to talk to Jason at all.
---
Hanna's mom is panicking about a the charity bridal show. Weren't they real estate agents? Hanna tries to warn her mom about trusting Mrs. DiLaurentis.
---
Paige walks in on Emily and Spencer talking in the bathroom. They start to argue in front of Spencer which is uncomfortable… Apparently Paige didn't call Emily once while she was away. Emily accuses Paige of telling the police. Paige says she did it to protect her. Emily's pissed, thinking it's revenge. Who will protect Ali now?
---
Hanna finds Buzzcut and Buzzcut blows her off. Hanna apologizes for being a flake at dinner. She asks for a do-over date, but Buzzcut says he's busy. Ouch. Burn.
---
Mrs. DiLaurentis is yelling at a person on the phone with Ashley doing busy work nearby. The police roll up and she sends Ashley upstairs.
Officer Holbrook wants to give Jessica an update on the investigation. Mrs. DiLaurentis doesn't want to talk, wants to just let her daughter rest in peace or some other random lie. Officer Holbrook brings up the fact that in an early family photo, Ali has a fracture in her right arm, but the coroner didn't mark that the body from Ali's grave had such an injury. He wants to exhume the body, Jessica says no, but Gabe already has a judge's order.
Ashley is in Ali's room and pulls some clothes out of a shopping bag that seem a little young for Jessica, in my opinion. She bought these yesterday?
Jessica walks in and is so pissed. She's finally so creeptastic I can kind of see her as A.
---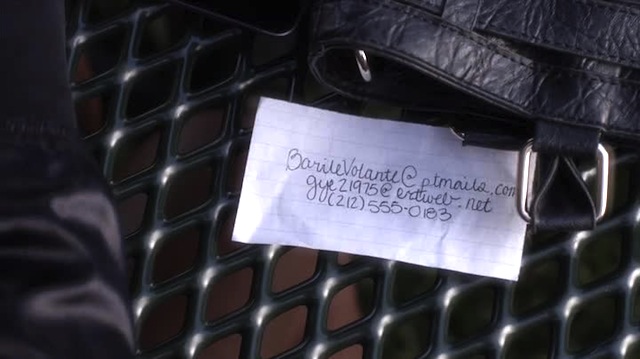 Emily is investigating the email address she found on the money. The phone number directs her to an Italian restaurant.
Emily sees Jason and asks what happened. Jason thinks Wilden was behind the elevator shaft thing. Jason has really nice hair. Emily asks him what's up with his mom and Spencer.
Flashback time! Ali and Jessica are arguing about someone trying to hurt her. Jessica asks if it's Spencer. She gets kind of aggressive. Apparently Jessica really believes Spencer was after Ali.
---
Aria and her mom are chatting and her mom's phone keeps ringing. Zach is obsessed with her. It's so weird. Aria seems a little jealous of her mom's codependent relationship. Finally someone calls out their parents for being pretty damn absent.
Aria yells at her about leaving and being out of the country instead of being with her children. Even if it is misdirected anger, whatever, you kind of abandoned your teen kids to go live with a guy in Austria?
Pages: 1 2 3See entire article on one page