"What three things would you want with you on a deserted island?"
Would you want an electric toothbrush? A novel whose margins are marked up by your author ex? The torso of a mannequin?
My answer to that question has always been, "No one who ends up on a deserted island got to choose what they brought," and the girls of Amazon's The Wilds prove that point for me. One moment they are on a plane on the way to a girls' wellness retreat, the next they are on a deserted island. And they don't get to choose what washes up with them. So they are forced to try to survive with very little of their vacation baggage and a whole lot of their emotional baggage.
At a glance, The Wilds is a story about eight teenage girl archetypes, Breakfast Club-style. The heartbroken loner, the spoiled little rich girl, the jock, the nerd, the Southern pageant girl, the outdoorsy survivalist, the hot-tempered lesbian, and the innocent optimist. It's a classic story of strangers who seem like opposites forced together and realizing they have more in common than they thought. It's sometimes cheesy, sometimes saccharine, all times dramatic as hell. It checks all the teen trauma drama boxes — eating disorders, sexual assault, loss of a parent; basically anything Degrassi had a Very Special Episode about. But the girls have this charm that makes you want to learn more about each of them, and the show has a clever way of revealing their backstories bit by bit that keeps you needing to come back for more.
Because, of course, each girl has secrets, each girl is here for a reason, and each girl is more than the archetype she seems to fit. When I first started watching The Wilds, I joked that it was like if a CW show was allowed to say the word "cunt" but the truth is, these girls were more diverse in race, body type, sexuality, and style than I a CW show usually allows. Plus, they get kind of gross. They don't keep that CW sheen the whole time they're on the island. They get dirty and their hair gets messy and their skin cracks and peels with sunburn and dehydration.
The show is sort of broken down into three sections. Before the Island, On the Island, and After the Island. And while I would have preferred to spend more time in the Before or On than the After, which at times feels a little contrived as far as how the writers are getting to the things they want us to know, and some of the arcs seem to villainize feminism? Even though I feel pretty sure that's not what the show is aiming for overall. But the existence of that third timeline lays out interesting crumbs; I found myself itching to see another girl in the After, both because I wanted proof of life and also because I wanted to see what state she was in. Because the truth is, as their layers start to peel back, you get invested in these girls' lives, and find yourself rooting not only for them to survive, but for their newly formed bonds to come back intact, too.
Take Toni, for example. I bet a lot of you rolled your eyes when you say "hot-tempered lesbian" on the list of archetypes.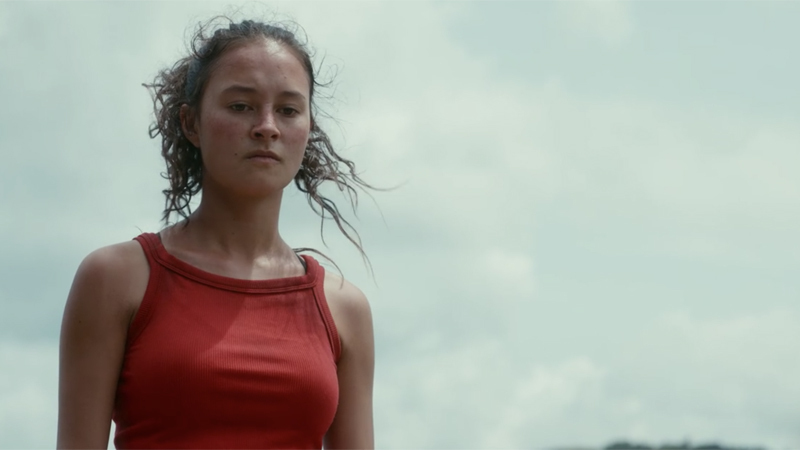 The Angry Lesbian is a tale as old as time, and it's annoying as hell. But then you learn more and more about Toni, about her life, about her past, about why she's so angry. It also gets one of the truest things right about being a teenage lesbian: a jealousy you can't quite name when your best friend starts hanging out with a new girl. Are you jealous of their friendship, are you jealous of the new girl, are you jealous of your best friend? Do you want to be friends with the new girl, or get rid of her? Or… be with her?
Toni's flashbacks tell a tale of a high school girlfriend, and she is comfortable making jokes about having sex with girls in front of her fellow castaways. It's nice to see a teen girl be so out and open and comfortable in her queerness, even though there's plenty else bothering Toni.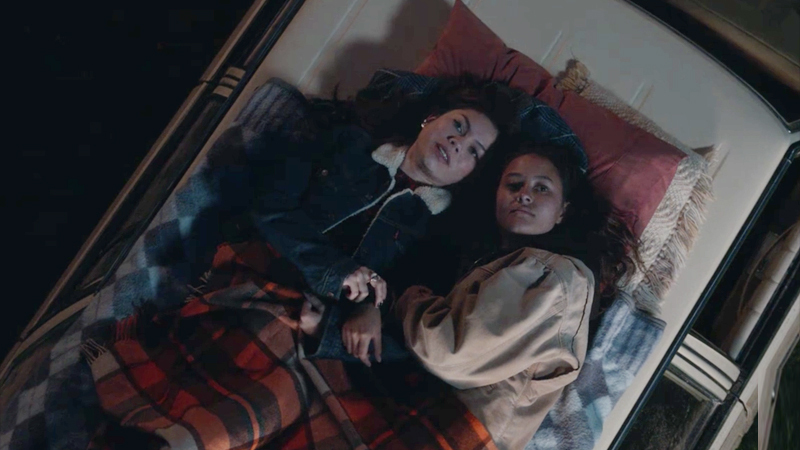 Toni is a great character, she's funny and tough and loyal to a fault. She's angry about a lot of things, but never about being a lesbian. She knows family has nothing to do with blood and is no stranger to trying to make the best of being dealt a shit hand.
And I want to talk more about Toni but to do that I have to enter the spoiler zone. So this is your warning. Here, I'll give you a cute photo of Toni and her flashback girlfriend as a transition.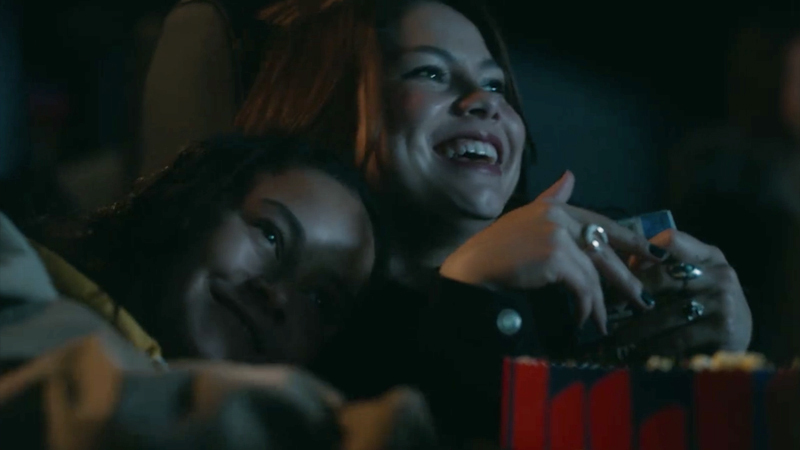 Spoilers ahead!
On the island, when Toni first starts making jokes about being a lesbian (while they're eating oysters) most of the girls take it in stride. Except Shelby. Shelby tries to keep her pretty mouth shut but eventually snaps and tells them to tone it down. And this isn't the first time the girls talk about sex — they discuss who has masturbated on the island and where within the first few days — so while the other girls can't quite figure out what bee got in Shelby's bonnet, Toni recognizes it immediately. Shelby tries to defend herself, saying that she hates the sin not the sinner, and that she's allowed to have her beliefs. But there's one moment when she's repeating the things she learned at church when she says, "Everything I've ever known has taught me that."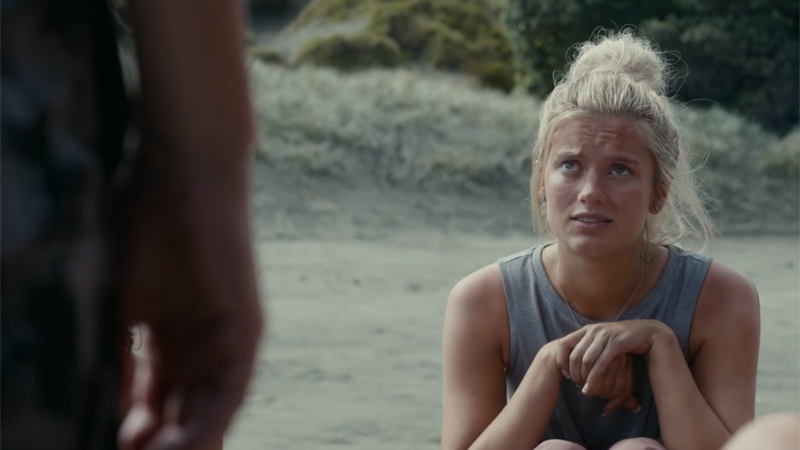 And there's an underlying feeling of…"and if that's not true, where does that leave me?" Because when you're raised Christian, it feels like the church has built walls of Jenga bricks all around you. It's hard to see through, precariously piled, and you're warned not to stray too far. So one brick being removed could send it all toppling down. Shelby tried to leave the tower once before, gently, quietly, but her father's reaction caused her to start supergluing the bricks back in place one by one. She felt safer in her Jenga tower. But the thing is, there is no superglue on a deserted tropical island.
And while at first it seems like Shelby's "secret" is just that she's missing two of her teeth (even though she still looks pretty cute without her fakes in)m we eventually learn her trauma goes much deeper than that. Deeper even than being raised in such a strict, Christian household. So it's no wonder the first time Shelby realizes that the reason her and Toni are always at each other's throats is because of an underlying attraction they're both denying, the first time she recognizes that passion for what it is and kisses Toni, she immediately runs. Literally and emotionally runs the fuck away.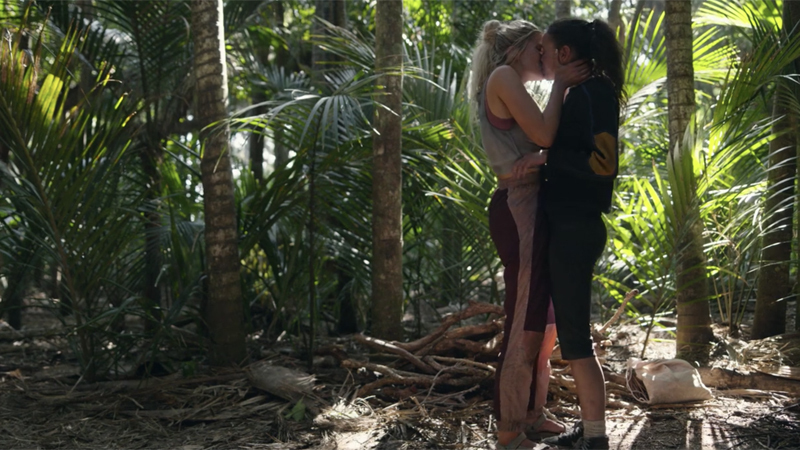 When we learn about Toni's backstory I thought that was going to be the only gay we got, so I was very happy to be wrong. "Lesbians on a deserted island" isn't exactly a new concept, and I like that the writers don't quite romanticize it, though of course they dramatized it. But I loved the concept of what happens when the rest of the world falls away and the girls are forced to contend with who they really are, not who the world wants them to be.
I watched this show with my dad and when it was over I asked if he had a comment he wanted me to add to my review and he just kind of gestured desperately at the TV and said, "There better be a season two."
And I agree, the way Season One ended demanded a Season Two and luckily Amazon seems to love us more than Netflix does these days, because the renewal was just announced this week. So we'll see our girls on Amazon again soon, to see who lives, who dies, who gets more sweet lady kisses.