Recapping a show or movie, particularly one others haven't seen, is always a precarious balance: you want to divulge just enough to convince a person to watch but never too much to steal any joy away from the act of watching. For Homecoming that task is particularly difficult because so much of the joy of watching the show is rooted in the not knowing. The show is a psychological thriller, a series of mysteries, propelled by skilled direction — in its first season by Sam Esmail (Mr. Robot) and now, in its second, by Kyle Patrick Alvarez (The Stanford Prison Experiment). It's meant to disorient you. That's part of the joy. Robbing the audience of that disorientation feels like I'm undermining the art.
Beyond that, though, what makes the task of recapping Homecoming's second season particularly challenging is that, despite its new lead actress — the incomparable Janelle Monáe stepping into the space that Julia Roberts once inhabited — the second book of the anthology series feels less like a standalone and more like an epilogue to the show's first season. To talk about any of it, without spoiling some of Homecoming's first season, is nearly impossible.
I say all of that to finally say this: If Homecoming sounds like something you might be interested in… if psychological thrillers are your thing or if you're a child of the 90s and, thus, inexplicably drawn to Julia Roberts' hair and smile (look, don't judge!) or if you just want to see Janelle Monáe kissing girls (#relatable)… then save the rest of this review for later. Start with the first season, even if you're just here for the kissing girls, because you'll need to have seen it, in order for the second season to really resonate. It's a quick binge, just 10 half hour episodes in the first season, and, admittedly, the first is the better of the two.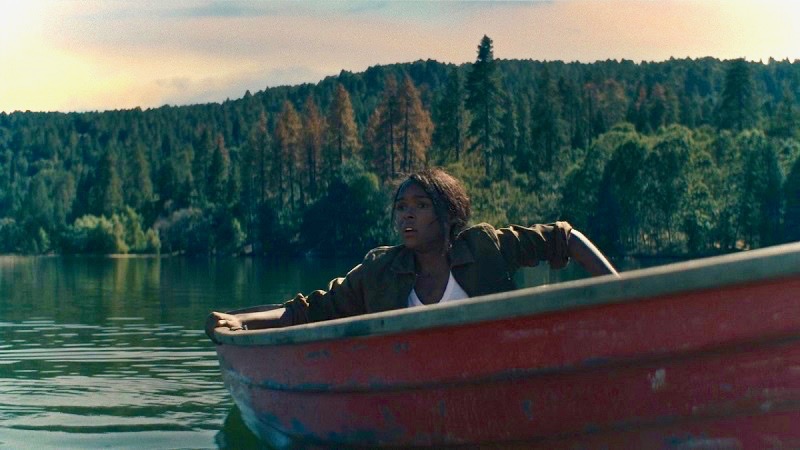 Janelle Monáe opens Homecoming's second season, adrift alone in a rowboat, in the middle of a lake, with a cut on her face and no memory of who she is or how she got there. As she jostles awake, she loses her one lifeline — the phone she'd been clinging to in her right hand — and watches the other — a man standing on the shore — run away when she calls. She's forced to row herself ashore, by hand, and then stumbles through the woods and onto a city street, haplessly making her way to somewhere and nowhere all at once. It's not until a park ranger stops her and encourages her to check her pockets that Jane Doe finds the first clue of the life she once knew: Her name is Jacqueline "Jackie" Calico and she's a military veteran.
If you've watched the first season of Homecoming, you know what likely caused her amnesia: the same regiment unwittingly fed to returning soldiers at the Homecoming Transitional Support Center, a live-in facility run by the Geist Emergent Group. While the facility purports to be a means of transitioning soldiers back to civilian life, the soldiers are a modern version of the Tuskegee experiment: without their consent, they are fed a diet laced with an experimental drug, to help them forget their battlefield trauma and return to the theater of war. If that's what put Jacqueline Calico out in that rowboat, it endears her to you her right away and you cheer for her as she struggles to piece her own biography. But in Homecoming, nothing is ever as it first seems.
This is, undoubtedly true, of Audrey Temple (Hong Chau), the meek receptionist at the Geist Group, who ends Season One by convincing Homecoming's senior executive, Colin (Bobby Cannavale), to take the fall for the whole project. She seems in control at that moment, as if she's been a spy all this time, dispatched by the company's eccentric owner, Leonard Geist (Chris Cooper), to oversee Colin's work. But, in reality, she's just an ambitious Geist employee who saw an opening created by the Department of Defense's investigation and took full advantage. In the blink of an eye, Audrey goes from barely noticeable receptionist to powerhouse, take-no-prisoners, Geist executive. But Audrey doesn't ascend so quickly without help. She's boosted up by Francine Bunda (Joan Cusack), a representative from the DOD, who see Audrey's potential; regular use of a topical roller that's made of the same chemical used by Homecoming, albeit in much smaller doses; and her girlfriend, Alex Eastern… or, as you might know her, Jackie.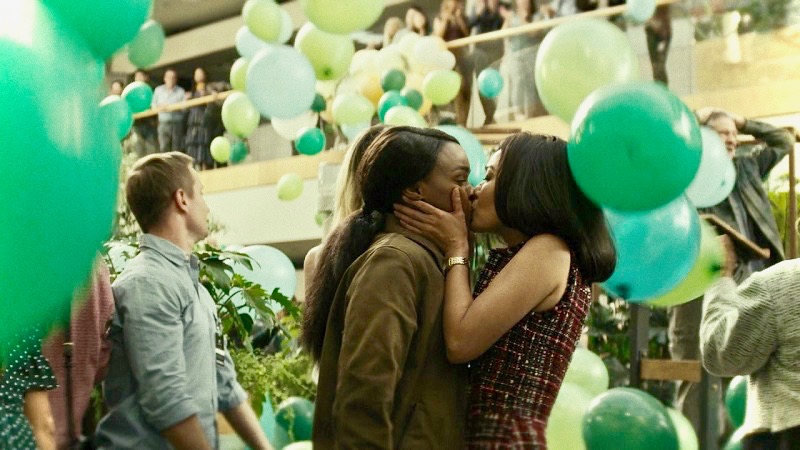 Alex is Audrey's rock. She guides Audrey through the pitfalls at work and encourages her to recognize her gifts and stand firm in her ambition. And while Chau and Monáe are great opposite each other, one of the second season's biggest shortcomings is that it doesn't spend nearly as much time with the pair. The absence of that emotional connection is deeply felt throughout season two, in large part because Homecoming's first season succeeds due to the connection built between Roberts' Heidi Bergman and Stephan James' Walter Cruz. Watching that connection built over the first ten episodes helps makes Bergman's sacrifice resonate, whereas Alex's sacrifices feel comparatively more transactional. It's not until the second season's end that you appreciate the depth of their relationship, and by then it is too late. With the Season Two clocking in with three fewer episodes, one wonders if an exploration of Alex and Audrey's relationship was lost to time.
But perhaps the second season's biggest problem is that it tries to shoehorn too many stories into those seven episodes. Monáe's face is the first thing you see in new season, however as the season progresses, the show's focus shifts: to Audrey's ascent to executive, to Leonard Geist's battle with the DOD to maintain control of his company and his discovery, to Walter Cruz's reemergence. It's interesting still — and worth spending your time watching — but it fell short of my expectations. I wanted Homecoming to be Monáe's star vehicle and Jacqueline/Alex's search for her identity to be as compelling as Heidi Bergman's was during the first season, but it wasn't.
That said, Monáe's first lead TV role feels made for her. Aside from the fact that you'd be hardpressed to find someone as imminently likable as Monáe — which endears you to her character before you even know anything about her — this type of story is one that Monáe's been telling for years. While other TV critics draw parallels between Homecoming and Memento, I immediately recognized the parallels between Homecoming and the "emotion picture" that accompanied her 2018 release, Dirty Computer. In that role, Monáe plays Jane, running to outrun the Nevermind, a cleansing process that promises to strip away all the things that make her dirty.
"People used to work so hard to be free, but we're lucky here, all we have to do is forget," Tessa Thompson's Zen tells Jane. Those words could easily have been one of the loglines Colin used in the first season to sell Homecoming to potential investors.
This role was made for Janelle Monáe, I just wish the show's writing matched her talents.
Homecoming is now available for streaming on Amazon Prime.