Probably the main criticism that Jill Soloway's groundbreaking and award-winning show Transparent faces is that its main character, a transgender woman, is played by a cisgender man, Emmy winner Jeffrey Tambor, and that the show exists through a cis lens. While these criticisms are valid (as we were reminded by the recent New Yorker profile of Soloway), the show also is creating a never-before-seen version of trans representation and trans involvement in Hollywood. Soloway and Tambor may be the faces of the show, but its body is very much made up of trans people.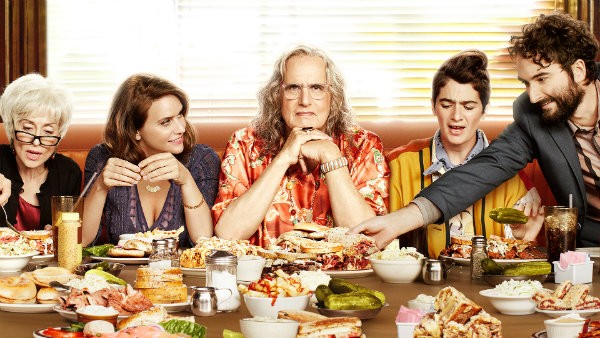 When I visited the set this summer I immediately saw other trans people — some actors, some crew members — all of them completely at home in their element. Here being trans didn't make you the other; it made you a valued and respected part of the family. This was one of the few truly queernormative and even transnormative spaces I've ever been in. My transness, and the transness of the many other trans people on the set, was recognized — this wasn't a genderblind community — but it wasn't something that made me an outsider. I felt like an insider in a large group of people for one of the few times in my life.
Rain Valdez, a trans woman who works in the Accounting Department, felt the same. "At times, I felt like I was one of the cool kids. I think that had to do with the content of the show and the nature of the working environment created by our leaders [Soloway, Zackary Drucker and Rhys Easrnest]," she said, "Being one of the cool kids is a privilege I never had growing up, especially in school. I was one of the outcasts because I was different. So on Transparent, it's like the tables have turned."
This ethos of respecting trans identities, not othering them, extends beyond just the set. Both in the world of the show and in Hollywood, Transparent is hoping to make sure that trans people are in charge of, and profiting off of, their stories.
From the beginning of the show's conception, Soloway has been committed to doing her best to get things right. She reached out to Rhys Ernst and Zackary Drucker, two trans artists who have worked as consultants and producers on Transparent, when the pilot was still just a script.
"We came in and had a meeting with her and were really super impressed with where she was at with her level of thought about trans issues and politics," Ernst told me. "Jill really completely from day one understood that trans people need to be involved in a compelling way on this project. And I commend her for on that foresight, because it's pretty rare. In most other productions in Hollywood, you see a 'symbolic trans consultant'; they can take or leave their advice."
With Ernst and Drucker involved so early on, and Soloway committed to including trans people in every step of the creative process, they were able to "sow these seeds that have then grown into much larger steps into trans inclusivity," as Ernst put it. They've hired trans women, like Valdez, Natasha London in the costume department and, after the first season, Our Lady J as the show's first trans staff writer. While the main role of Maura is played by cis male actor Jeffrey Tambor, Transparent has also had more trans actors on screen than maybe any show ever. Not only do they have people like Alexandra Billings, Trace Lysette and, this season, newcomer Hari Nef playing significant roles, but many other speaking and non-speaking roles are filled by trans people.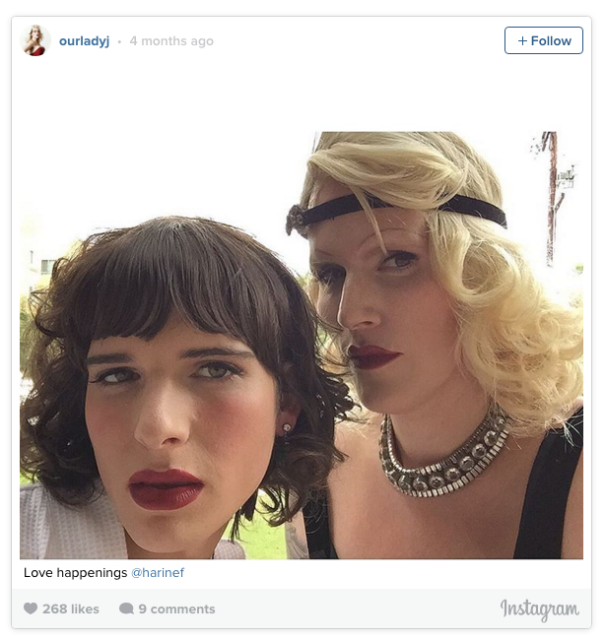 In this way, Transparent is hoping to create a new trend in Hollywood. One where trans people get to be a part of their own stories, where trans people get a piece of the money that's being made off of their struggles. Ernst says he specifically hopes that other productions will look to Transparent and start to follow their lead. "There's starting to become a sense that other productions need to hire trans people, and they're starting to scratch their heads and say 'Oh, we don't have a trans person on our crew and we're making a trans story, that's a problem,'" Ernst said.
"I hope it also connects to other issues of intersectionality in Hollywood, because diversity is a big issue in Hollywood, period; and obviously in terms of women in Hollywood and people of color in Hollywood, and people who just had less access to being at the table or participating. So I think it's a really exciting moment we're having with all this. I hope it's the beginning and not just a moment."
It's no secret that many trans women struggle to find jobs that accept them, so for this show to hire so many trans women and create a space where they can be themselves is something quite revolutionary. London told me that working on the show gives her the encouragement to be her true self. "It's so uplifting and it gives you such a sense of confidence that you can't really get anywhere else right now. You really feel like for once you don't have to hide anything and that's such a game changer."
Valdez said from working on Transparent, she's felt a freedom that she didn't feel in her previous jobs. "I don't feel as lonely. I'm also able to make deeper connections with some of my co-workers and colleagues because they've gotten to know the real me and actually still like working with me. That's a special feeling in itself, one that I never had in most of my past jobs."
For Valdez, working on Transparent was the first time she was openly out as a trans woman at her job. "In fear of discrimination or losing my job, I felt I had to withhold that part of information about me. I kept it secret for a very long time because I wanted a career in this industry and I didn't want being trans to get in the way of that. Fortunately, and I don't say that lightly because I consider myself to be very lucky, I am a trans woman with 'passing privilege' and so I was able to live 'stealth' most of my personal and professional life as a means of my own survival. Which sounds like a dream way to live, but you're always compartmentalizing your emotions and separating your worlds in two — who knows versus who doesn't know. At a certain point that can get exhausting and you just want to be entirely you. I don't have to live like that anymore. On Transparent, I can be a trans woman and talk about it, and it's okay."
When I was on set, and every time I've talked to people who work on the show, it's clear the show has no intention of otherizing trans people. Ernst says that this is deliberate. "Jill talks a lot about 'privileging the other' and that's amazing coming from a showrunner. To me, one of the next steps in trans representation is situating trans people within larger narratives in which they're not just reduced to their transition or the fact that they're trans. They're three dimensional characters with different aspects of their lives or families or relationships." For Ernst, though, that's just the first of the next steps.
"I think the other side of the future of trans representation is enabling trans authors, filmmakers, writers, producers, directors, wardrobe, costume designers, etc. into the chain. I think that's going to take some time, because when you've had people excluded forever, going from zero to sixty, suddenly running a show from your first day on the job, you know, I think it's a long game. I give a lot of credit to Jill, and it's not just lip service. I'm grateful for the precedent she's set being a Hollywood insider, which she didn't really have to, by any means. The way she's just kind of invested in the trans crew people and helping them in their careers and moving them up has just been sowing the seeds for a lot of future change too."
Including so many trans people in the production of the show gives these very talented trans people a chance to show other people in the industry what they can do. For many trans people, it's a lack of opportunity, not talent that holds them back. Nef wants to see other parts of Hollywood to start recognizing talented trans people the way Transparent does.
"This season we have a trans writer (Our Lady J), a trans director (Silas Howard), and a few other trans actors with major roles other than me, [Alexandra Billings, and Trace Lysette]. We're good, we're professional — we're trained. Our work this season proves that: One, trans people are the folks who are best at telling our stories; and two, that we can hold our own outside of trans-related content. I don't feel entitled to every role I audition for, but I would like an audition. The 'trans tipping point' won't last forever. Our work does — and will — speak for itself."
Nef told me that the presence of a large community of trans people on set and behind the scenes made everyone work better, and therefore the show is better because of it. "I've worked with so many great teams, but with Transparent there was a unique sense of community and safety. There were trans folks everywhere: writers, directors, actors, producers, even the PAs driving me to set in the golf cart. I'm usually the only trans person in the room, and that's hard. The trans-firmativity of the Transparent set allowed me to do my very best work," she said.
Drucker says that she's even seen the Los Angeles trans community come together in new ways because of Transparent. "I feel like I've witnessed this entire community formation over the last two years," she told me, "and for me it's very attached to the show because we've been able to bring in so many gender non-conforming and trans actor friends, as well as bringing a lot of people onto our production team."
It really hit her how big the Transparent trans community was when they made a video to send to Camp Aranu'tiq, a camp for trans and gender nonconforming youth. "We just did this little video with interview shout outs from the cast and all the trans crew," she said, "and just watching it turn into a 16 minute video because there were so many of us, you know, it's the first time I had visual evidence of the trans community that's embedded in the production of Transparent."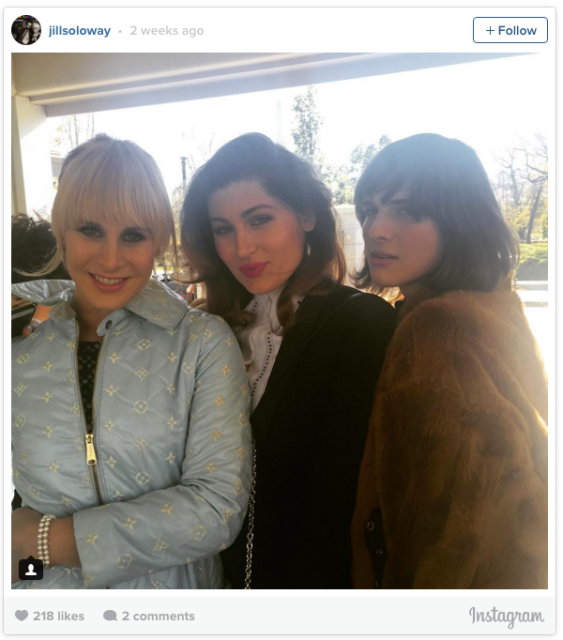 One of the reasons the show is so successful in making sure that trans people are a top priority is the way it makes sure that its cis members are mindful about trans issues. Drucker told me about how a cis crew member became a trans ally because of the lengths the show goes to make sure trans issues and people are at the are at the forefront of everyone's minds.
"They probably would have no exposure to a trans person unless they worked on this show, but I realized that by them working on the show and reading the Trans Daily Digest — we get this email every day with a dozen headlines of what's going on in the trans world every day, and it goes to everybody who works on Transparent — and I realized that this person is an invaluable ally, because they're going out to their community who's had no exposure to trans people and talking to them and challenging them on their assumptions."
London and Valdez agreed. London said the show did a good job of providing resources and informative meetings on how to be a trans ally; Valdez also celebrated the open and everyday way trans topics were discussed.
"We would even get into discussions about the movement and what's going on in the world," Valdez said. "For some of my co-workers, I was able to give them a first hand experience on what it's like for a trans person. And 99% of the time, they all could relate… because we're not that much different. Transparent has created a space where conversations about the trans movement is a normal topic. And searching trans history in your browsers is common. The more things like this happen, the more trans people become a part of our world and our way of thinking as opposed to something that's discrete or taboo. Transparent is bringing so many worlds together where everyone is different and unique and it's quite acceptable."
One of the people who's been most committed to understanding and helping the trans community is the show's star, Jeffrey Tambor. "I think that Jeffrey has been a really important ally to the community," Drucker told me, "and he's taking the role so seriously that it's always been my feeling that we're lucky to have him, because he always shines a spotlight every chance he gets. You know, he's not easy to pin down, but any time you invite him to a community event with trans people, he's there. In the same way that Maura has discovered the trans community, Jeffrey Tambor has as well."
Soloway and Transparent are fully committed to listening to and valuing trans people's stories, input, opinions and contributions. "There's always the fear of being tokenized and not listened to," Our Lady J, told me, "but from day one everyone really listened and took my experience in emotionally and intellectually and I feel great about it, it's been really lovely." She went on to talk about how the show is really setting a new precedent for involving trans people in trans stories in a very real way.
"I think Transparent is a great example of how we should be making trans art and trans storytelling. The thing that Hollywood has done in the past is to tell transgender stories from an outsider point of view, and it rarely involves a trans person. As a trans artist, I've been in LA for five years now and I've gone to countless lunches with directors and writers who ask me about my experiences, and then at the end of the day they're profiting off of our lives, and none of us are making a penny. And we're in a place where economically, and artistically too, we need to be empowered. So I think that the Hollywood machine needs to incorporate trans artists into every trans story that's being told, behind the scenes, in front of the camera. I think that's what Transparent's doing."
This heavy involvement from trans people has also helped to open up the world of possibilities for the characters on the show itself.  While other shows and movies are stuck at a 101 — or even lower — level, Transparent is able to jump right into 301- and 401-level stories. In season two, shit gets real. Ernst told me that he, Drucker and Soloway don't want to do any hand holding with their audience and instead want to "plunge into this waist deep."
"I think it's gonna be really gripping to see what the response is, because I've certainly never seen anything like this on TV before and I'm really nervous and excited for how it goes over, nervous in a good way," Ernst said.
Both Ernst and Drucker are especially excited for people to see where Maura and the other trans women in her life go this season. "For me, personally, many of my closest friendships and my friend circle are other trans women," Drucker said, "and to see Maura finding that feeling of solidarity  and sisterhood and finding that camaraderie and sameness — their friendship and their bond for me is one of the most exciting parts of season two. And shooting those scenes is just really magical because they go off book, and they improvise, and the three of them, they have their own friendship that's being captured on camera."
Ernst told me that he's excited to move past the transition narrative with Maura's story. "Maura, her story this season is really a lot about her branching out, and she's at this next stage of her internal transition. She's kind of like, 'I've sort of transitioned, now what?' And where does that leave her? And she's thinking about dating and what that might mean for her and what challenges there might for a lesbian, late-transitioning trans woman. One of the things I really love this season is her friendship with Shea and Davina. It's like they're they're own little chosen family. And dating issues kind of crop up that way too, because Davina's boyfriend comes back from being gone a long time, and so we see her world, being a trans woman who dates men, vs. Maura's world."
Drucker's equally excited to see where the show will go. She told me that they don't have to do 101 work anymore and can create a more complex trans character without the same amount of responsibility than they had when introducing Maura in the first season. "[We] created Maura with a lot of sensitivity to not contribute to the damaging history of representation of trans people, and that has to be done really carefully I think, because there isn't enough out there about us, especially when you consider a mainstream audience," she said. "I sometimes wonder if season one will be a humble beginning for a really intricate tapestry of a narrative. Culturally have been stuck on the transition narrative for so long that the nature, the form, of Transparent for both seasons creates this incredible opportunity to transcend that narrative and create a character who is trans, but is a lot of other things as well."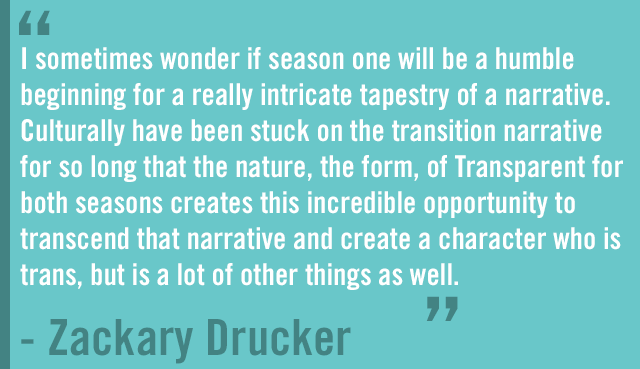 The trans characters on Transparent are able to be complicated in ways that other trans characters simply can't be, and that's because there are trans people behind the scenes. Drucker says that in season two they'll be letting a trans person show a darker range of emotions occasionally. "You know, we're assholes sometimes, it's not like we're perfect all the time and so we're allowing a character to be complex."
Our Lady J is excited that she's able to help bring more nuance and grit to the story. "My thing is, for any show that's dealing with trans people or any people who have been otherized or marginalized, I ask myself, 'Is this character being represented just as every other character is?' And as we know, every character on the show falls down, and so Maura's gonna fall down a little bit this season. Last season she was handled with great care and respect, and I fell in love with Maura last season, and so now we get to be a little dirtier and that's fun for me."
In one of the most stunning new storylines this season, there are flashbacks to 1930s Berlin, the Magnus Hirschfeld's Institut für Sexualwissenschaft, a sexology institute that was one of the most groundbreaking and earliest LGBTQ rights institutes. There we meet Gittel, played by Nef, a trans woman who was a part of Maura's family history.
Ernst said that he was especially excited to tell this part of history because not only did it provide an insight into the Pfefferman's family history, but because Hirschfeld's "institute and its legacy were dismantled by the Nazis, which is so crazy, because it was this totally Utopian moment, and then basically just demolished. And it's really a little-known history, even in the trans and queer community, that to me is like, I don't think we're thinking along the lines of a linear step ascension from 101 to 201 to 301, we're just going backwards and forwards in history now and being pretty no-holds-barred, in terms of a range of queer issues."
The scenes at the Institut für Sexualwissenschaft are some of the most beautiful and powerful scenes in the entire show, and they're certainly more complex and impactful than most other attempts at showing trans history.
For Nef, who studied drama at Columbia and has trained at Northwestern and with Olympia Dukakis, getting to play such an important role as her first professional TV acting job was exciting. "Jill Soloway gave me a pep talk while shooting my first scene," she said, "I think she could tell I was nervous. She said, 'Listen, this isn't modeling, this isn't even acting. We're telling a story. This girl's story needs to be told. She's coming up into your body. She needs you.' That was the last word we ever spoke about acting. Jill is magic."
This is a whole new type of trans storytelling. Even in the recent past, with movies like Dallas Buyers Club and The Danish Girl, many trans people felt the portrayals to be inauthentic and even insulting. And that's not even mentioning the even more dangerous and damaging portrayals that came before, and around, that.
This new type of storytelling has allowed for the show to incorporate trans people even more. Nef said that it transformed her whole experience on the set. "I could work with an open heart. Nobody was going to misgender me, the clothes were going to fit my body, the representation of transness was going to be supervised by trans people," she said, "Sympathy is great, but empathy can make an even stronger difference in the work."
When you're telling more in depth and more real trans stories, you're going to have more than just one trans person in your scenes. This season, we saw that, and for Drucker, it was a moving experience.
"We shot a scene at my favorite bar that I go to every week with all my girlfriends and all the girls from the show. We all go to this bar every weekend, it's in the middle of nowhere, it's like really suburban and it's a queer trans woman who runs it, and it's the only trans party that you go to and it's mainly trans people. And the real thing that's happening is this trans community that's formed, and we were able to bring that into episode two. Maura, Davina and Shea kind of all land there. So we were recreating this club that I go to every weekend for Transparent and also being able to also pay a lot of people who don't get paychecks often enough and putting them in front of a camera and saying, 'We are all worthy of being represented, we are all worthy of being a part of this.'"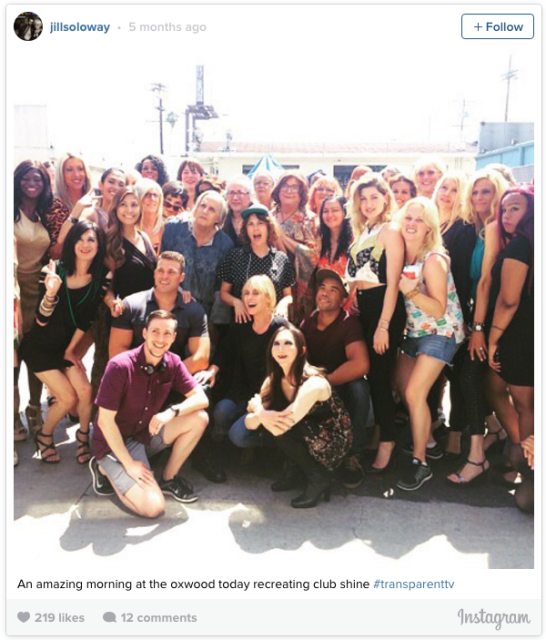 The idea that we're all worthy of being represented and being a part of this moment was echoed throughout the cast and crew. Nef told me, "When I reblog something on Tumblr, if I relate to it strongly I add a simple, silly, caption 'me.' I don't mean that literally, it just feels really good to encounter media you relate to in more than a peripheral or abstract way. When you're a minority, perhaps it's even more important."
The way London sees it, Transparent is not only telling trans stories to the public, but to Hollywood as well. "The Transparent team has trans writers, actors, producers, crew members and they are really talented; I hope Hollywood is taking note of how 'normal' we really are. We aren't the stereotypes, we aren't our pasts, we are who you see before you and that's what should count."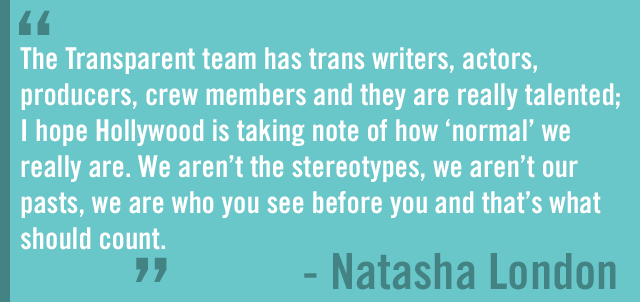 Valdez hopes that "one day this industry will no longer be treating trans people as a gimmick. Hollywood is such an influential part of the world and historically we've seen it make a difference. But it still needs its training wheels when it comes to trans issues. We need more shows like Transparent to set examples. We need more trans people in the creative process and in the decision making end."
The transnormative world that Transparent is trying to create is just the start, and they know it. They're excited to see where the tracks that they're laying will lead. As Ernst told me, "It will be interesting in five years to watch again because this stuff is moving so fast, and who knows what the world will be like at that time."