This has been a surprising summer for queer women on TV — in a good way! Last summer was such a bust on account of every gay getting buried, but there's some fun and flirty things happening now. I'm actually enjoying queer TV right now more than I have since that one summer when Defiance and Pretty Little Liars were good and Bomb Girls existed. I'm not naive enough to call it a trend, but we're having a nice moment. Carmen recapped Queen Sugar's midseason finale this week. Kayla recapped The Bold Type. Valerie Anne recapped Wynonna Earp and Orphan Black. And Faith made a list of TV moms she'd like to U-Haul with!
Here's what else happened in the world.
---
Stitchers
Written by Valerie Anne
When last we left our Stitchers gals, Camille had saved Amanda from a baddie and they had a lovely little conversation about their feelings. I said, and I quote, "the conversation they have at the end of the episode gives me more hope than I originally anticipated having for this queer little relationship."
Well my hope balloon is deflating fast, my friends. It's not out of air yet, but the last few eps have been…not great for Camille and Amanda's relationship.
It starts with Camille asking her coworker buddy Fisher for relationship advice, because she's really into Amanda and doesn't want to mess it up. Which seems great! Until she is assigned a case that reminds her of her childhood and she gets a little squirrelly.
Their next date night starts out fine…
But when Amanda calls her out for not quite being there, Camille asks the question I want to ask the people I care about so much it scares me at least once a week: "Why do you like me?"
Camille starts rambling about feeling like a liar but she's not articulating her feelings in a way Amanda understands and she's never seen her quite this down on herself, but before Camille can figure out how to explain what she's feeling or even just that a case has her a little in her head, Kirsten comes home and Amanda excuses herself. Camille turns her anger at herself on Kirsten and tells her that her sister is probably a liar. Which is valid in context of the show, but also comes from a deeper place in Camille.
You see, Camille grew up in a trailer park, using her cute little girl face to swindle kind passers-by out of money. One day her older brother was getting arrested for having enough weed to be considered intent to sell, but Camille said she found it and the cops let them off with a stern look and a verbal warning. As soon as the cop was gone, her brother laughed like that was the most fun he'd ever had, and not only didn't thank her for saving his ass from jail, but also told her nobody likes her.
Camille spent her childhood lying and surrounded by liars, and this case is reminding her of everyone she's cared about who has hurt her and everyone she has hurt. So of course she's not peak girlfriend material right now.
So she goes to Amanda to apologize, saying letting people get close and wearing her heart on her sleeve are new things for her, but Amanda is worth it to her, so she wants to give this thing a shot.
For some reason Amanda says she doesn't want to be "anyone's shot" and storms off, leaving Camille and I very confused because what does that even mean??
On lots of shows that would have been it. Amanda would have walked into the metaphorical parking lot never to be seen again. Camille would only date guys for the rest of the show and no one would ever mention she was bisexual. But! This show! Is apparently not like that. To my surprise and delight, Camille tells her friends she's on the outs with Amanda, and acknowledges that she's bummed about it. They eventually need to call Amanda in on the case they're on, and everyone checks in with Camille, who assures them she can be professional about it.
Camille and Amanda do have a loaded conversation, where Camille asks Amanda what she needs, as in to help with the case, and Amanda says, "space," which is a joke because the case is in a Mars simulation, but also probably literal.
The next episode was a bottle episode so Kirstin and Cameron were the only ones in the episode until the very end, but it was one of the best episodes of crime-of-the-week serial dramas I've seen in a long time, so I thought that was worth mentioning.
In this week's alien-conspiracy-themed episode, Camille proudly boasts that Gillian Anderson was her first crush, so that was fun. Also she spends the next episode making a face every time someone says Amanda's name that looks like when someone's hungover and someone else mentions booze.
I don't think we've quite seen the end of Camille and Amanda. The end of their relationship wasn't a clean cut, and I'm getting similar vibes as when on Rookie Blue Gail and Holly were fighting and weren't speaking but had to work together and it was tense until one day Holly pulled her into an interrogation room and they made out and it was beautiful.
So what I'm saying is, though the storyline zigged when I thought it would zag, there are still two more episodes left in the season, and I don't think we're done with these two yet.
---
Younger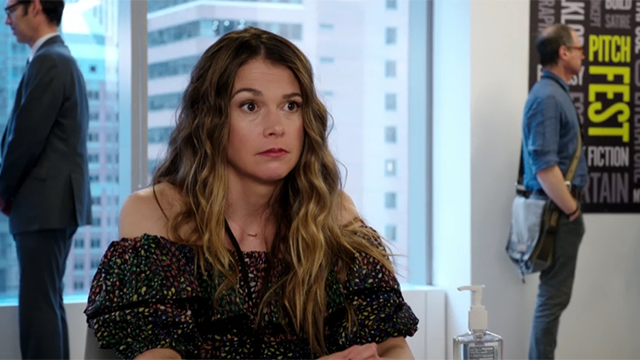 My favorite thing about Younger is obviously the relationships Liza has with the women in her life, mostly Maggie and Kelsey. My second favorite thing about Younger is how Maggie is such a cool cucumber with women but also she gets into the most ridiculous Scooby-Doo situations. This week's wackadoodlry is actually a little too close to Darren Star's Sex and the City shenanigans for my taste, but Debi Mazar makes everything so much better than it is on the page.
Maggie and Lauren are out at a gay bar, is how the whole thing gets started. Lauren's rebounding from her boring boyfriend she dumped and looking for a lady to hook up with. ("I'm back and I'm oozing sex!") Maggie is riding her wave of success from stabbing that salami at Montana's art show last week. And so they decide to wing-woman each other.
They're ogled and then approached by a woman named Donna who owns a gallery in Soho; she read the recent piece about Maggie in the New York Times and she wants to talk art with her. Also she wants to have sex with her. Maggie gets weird about it because Donna has a mustache that she doesn't seem to know about. Lauren couldn't care less.
Lauren: She was so into you; you could've fried an egg on that cooch.
Maggie: Did…did she have a mustache?
Lauren: Honestly? It wasn't on her tits. That's all I was lookin' at.
They end up in the bathtub together and Donna asks if Maggie wants to shave her and Maggie says she does and she goes for the mustache but that's not what Donna meant at all and so that's the end of that.
This plus last year's Mikvah disaster should be enough to deter Maggie from ever going near a bath with another woman again for the rest of her life.
---
The Fosters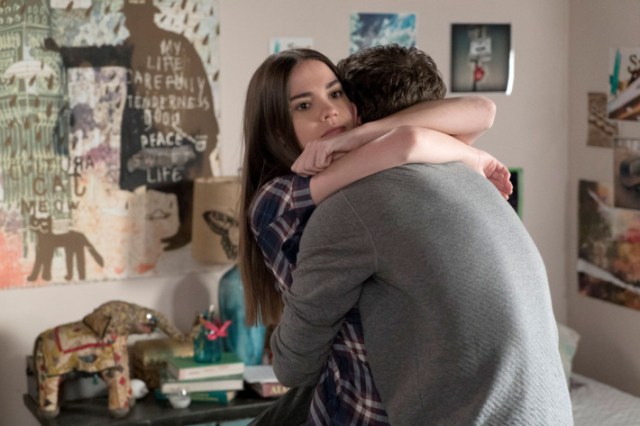 Callie and Aaron are getting serious. Sex serious. And in a surprising turn of events, everyone handles it with such refreshing maturity I'm not really sure what to do with myself. I mean, yes, Callie spends the entire day driving back and forth between Aaron and AJ sorting out her drama, but it's because she's trying to take control of her life in a healthy way for once. She tells AJ it's complete bullshit that he cheated on her and then blamed it on her because she had a lot of stuff going on in her life, like being arrested for yet another crime she didn't commit and nearly getting shut by a drug dealer. He agrees. It was a childish thing to do. And when Aaron's not ready to have sex with her because he doesn't trust that she's not just using him for a rebound, she accepts that, and tells him that when the time comes she's going to have some questions and she needs the whole process to be a judgement free zone for both of them, a safe space to communicate about the differences between having sex with a cis guy and a trans guy. Aaron is very cool with that. (Much cooler than he was about her getting sex advice from Cole and acting like what one trans guy likes is universal for all trans guys.)
Mariana also has some drama going on, some roller derby drama. It's blah blah whatever posturing for alpha social status. All I care about is Mariana is going to be the greatest roller derby player on the earth. She has some aggression she needs to get out, for sure, and also she has never not completely excelled at everything she's ever tried to do. She did forget her butt pad though. She probably won't make that mistake again.
Stef and Lena are mostly still trying to navigate Jesus' head injury recovery and the very clear PTSD that's going along with it. He finally has a real conversation with Emma about her decision to get an abortion. She reiterates that it is her body and it was her choice (this show has done a brilliant job with Emma's unwillingness to back down or shoulder guilt or shame about her decision) but she's sorry she didn't at least discuss it with him first. Again, she was still going to do what she wanted to do, which was get an abortion, but she knows it was hard for him to have to learn about it the way he did. Probably he still shouldn't have taken a bat to Brandon's room to deal with it. He agrees. And he's actually feeling pretty okay about things in his life, until Stef and Lena tell him he can return to school but only with the help of an aid.
Probably something also happened with Brandon in this episode but I cannot remember it. ¯\_(ツ)_/¯