Hi hi hello!
I am writing to you from an air mattress strategically placed in front of my AC unit in my living room where I have been sleeping for days because it's so damn hot, hooray! I actually just got back from a quick romp in Central Florida, the place of my birth, where Jen and I went for the 4th of July.
As much as I ragged on it, there are a bajillion things I miss about the Florida life. They are, in no particular order:
Publix – Publix subs (pressed in honey butter), Publix sweet tea, mango key lime pie, and calypso crunch cookies
The smell of orange blossoms
Cypress trees and spanish moss
The lakes, which are the creepiest green color but sooo warm
Fried seafood, the good greasy kind
Seeing cows on the side of the road like it's no big thang
Central air conditioning
Fireworks in my backyard, like everyday
Natalie's orange juice and Cafe Bustelo
Florida sunsets
Things I don't miss:
Palmettos (cockroaches on steroids)
Camouflage as a fashion statement
My sister had a big BBQ at her house for the 4th where I feasted on a gargantuan amount of smoked ribs, pulled pork, and cake pops. This is the contraption in which my brother-in-law made said BBQ….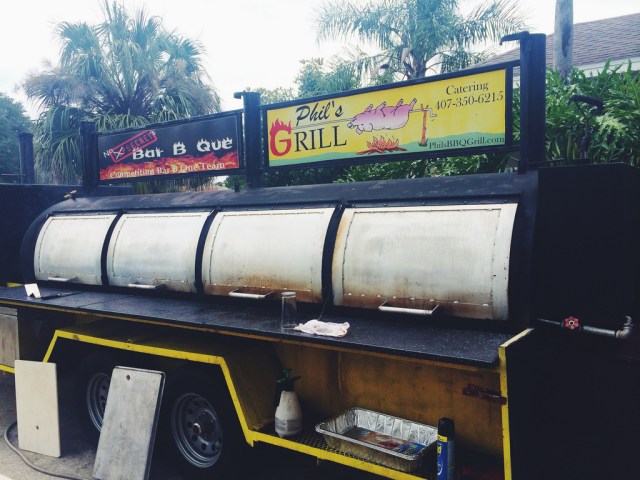 My sister organized a bike parade for the kids in the neighborhood. Here are my adorable nieces, Sophie and Lola, and my nephew, Jackson, who was not pleased with his rocket bike that my brother-in-law made him (he actually won the race on that thing).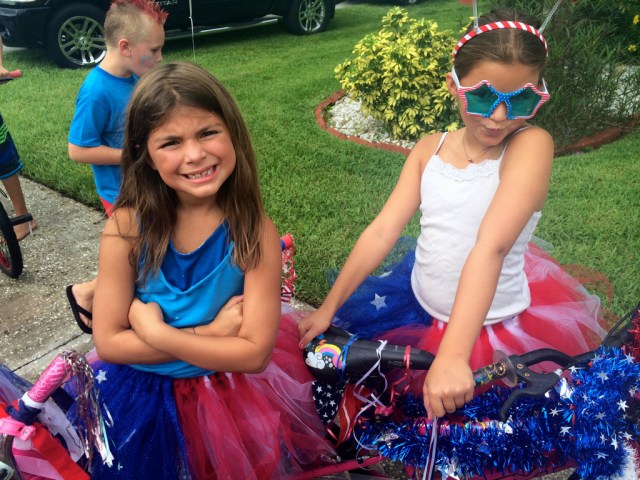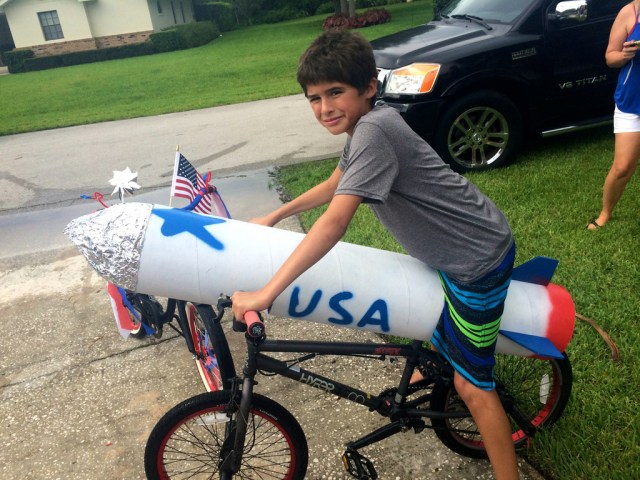 The next day, we attended an event called Floatilla where half of the town gathered on my lake to sit on tubes, drink PBR (or in our case "pink surprise" compliments of my sister), and listen to live country music. If I'm making this sound like a miserable experience I assure you it was NOT, except for the country music and except for the part where I dropped my phone in the lake. Here is Jen enjoying some Central Florida realness. I was probably on the boat eating all the Funyuns.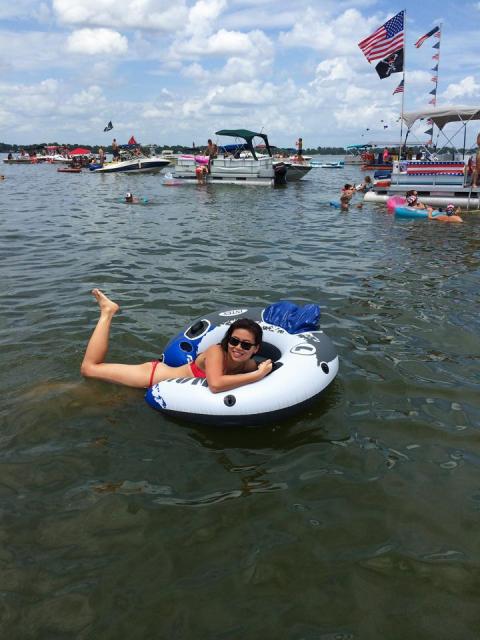 I got to reconnect with my 17 year old pup, Nepo (short for Napoleon after the dog from the Aristocats) but the best part of all was getting to see my seven nieces and nephews whom I have missed to pieces. I got to watch Sophie, Lola, and Jackson wakeboard which was pretty rad because I'm pretty sure when I was their age I was not doing anything that didn't involve Rocko's Modern Life and eating cheese from a can. Here is a picture of Sophie and I pretty much being the same person.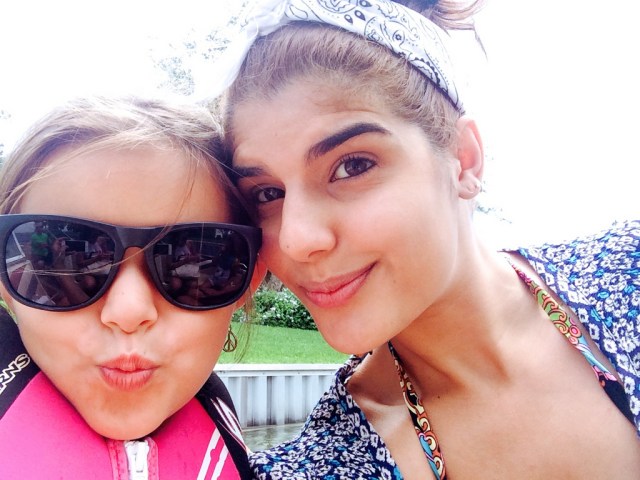 My mom made us an elaborate breakfast every day that we were home. When I say elaborate, I ain't lyin. Check out the scene for her "Bombay Breakfast." The were also huckleberry pancakes one day and blueberry blintzes fried in butter the next!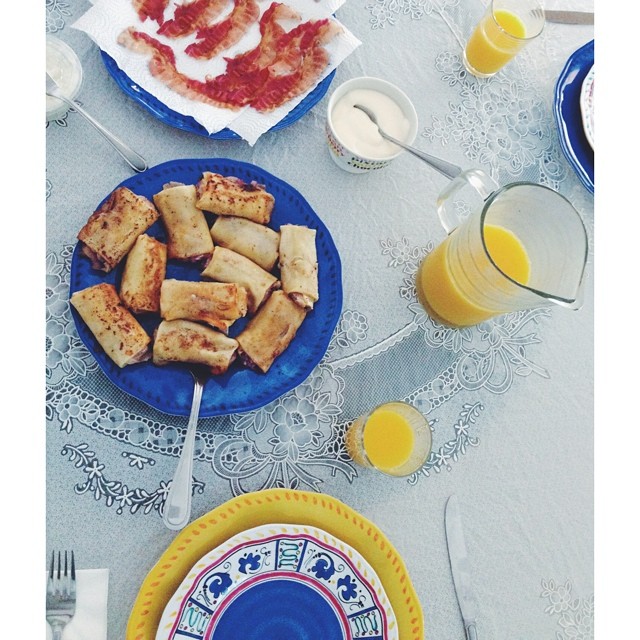 This is a giant plate of fried alligator, frog legs, and other more socially acceptable foods like oysters, catfish, and shrimp! MMMM Florida, you so tasty!
My mom sent me back to NYC with 2 pounds of okra, so I made a nice little Southern dinner of okra corn cakes and sautéed collards. Unlike every other thing I have talked about in this post, this recipe is vegetarian!
Okra Hoecakes with Coconutty Collard Greens.
Makes around 9 cakes
For the Hoecakes:
2 cups finely ground yellow cornmeal
2 teaspoons baking powder
1 teaspoon fine sea salt
1 tablespoon sugar
1 large egg, lightly beaten
1 1/2 cups cold water
1/2 lb fresh okra, stemmed and sliced into thin rings
1 jalapeño, finely chopped and seeded
1 clove garlic,minced
1/4 cup coconut oil
Maple syrup, for drizzling
MIX: cornmeal, baking powder, salt, and sugar if using together in a medium bowl.
WHISK: egg and water together in another bowl.
ADD: wet ingredient to dry and stir in okra, jalapeño, and garlic (add a little more water if the mix is too dry).
HEAT: the coconut oil in a large skillet over medium heat.
SCOOP: 1/3 cup of batter for each pancake and fry on both sides 2-3 minutes, or until golden brown.
SERVE: with maple syrup for drizzling!
For the Collards:
2 bunches of collard greens (or kale or mustard greens), stemmed and roughly chopped
2 tablespoons coconut oil
3/4 cup coconut milk
Juice of 1/2 a lemon
Salt and pepper
BRING TO A BOIL: a large pot of salted water; add greens and cook for 2 minutes then drain.
HEAT: coconut oil in a large skillet over medium heat
ADD: greens, coconut milk, and lemon juice and simmer for 5 to 7 minutes.
SEASON: with salt and pepper
---
Header by Rory Midhani