What's that you spy with your greedy little TV eyes? Why, yes! Yes, it is! An installment of Boob(s On Your) Tube, the gay TV column that gets killed and revived more often than a white man on a sci-fi TV show! There are so many reasons this column is hard to keep up with, including the fact that almost all the queer characters are on binge-able streaming shows these days. But with the help of some of Autostraddle's best and most dedicated TV writers I'm determined to make this damn thing work!
In case you've missed it this summer, I recapped the deeply disappointing end of Pretty Little Liars. Valerie Anne continues to brilliantly recap Wynonna Earp and Orphan Black. Our team joined together to slog through season five of Orange Is the New Black. Faith even recapped every single episode of Sense8 (and will be doing the two-hour series finale, too!). We've also done standalone reviews of almost too many things to count: Claws, Brown Girls, Queen Sugar, Naomi Watts' new show, Danger and Eggs, Master of None, Anne of Green Gables, 13 Reasons Why, Loud House, Dear White People, and the Handmaid's Tale.
Riese is almost done writing a review of the first season of Hulu's Harlots and Faith is working on a review for the first season of GLOW.
Boob(s On Your) Tube hasn't been regular, but we've been working hard to bring you the best and most fun and most activist-minded TV coverage on the great wide internet!
The most thrilling thing I want to tell you about is that two Boob(s On Your) Tube regulars have joined our TV writing team! If you've ever read this column, you know that Pecola and CP have always provided funny, sharp commentary about all of our favorite shows, and now they're doing it professionally. I have known Pecola on the internet for years and years. Her wisdom has shown me the light in a dozen different ways since my earliest days at AfterEllen and it is an absolute honor to be working alongside her. I've only started to know CP and already she has infused my life with such a warmth with her open-hearted criticism I feel like I am stating to enjoy television again. CP is Carmen Phillips. Pecola is Natalie. My heart is very happy writing this paragraph.
So other than all that, below is what we haven't talked about yet this summer on teevee.
---
Stitchers
Written by Valerie Anne
Have you been watching Stitchers? I've been watching Stitchers. I'll confess I started watching Stitchers because Allison Scagliotti was in it and I live in a pretty constant state of missing Warehouse 13, and you know what, that turned out to be a perfectly valid reason to watch this show. Her character, Camille, provides a similar snarky energy as Claudia did, but now with more maturity and confidence.
In the first season, there was a line that piqued my interest during a conversation between Camille and her then-boyfriend about her not mentioning a guy she dated. She shrugs it off, saying it didn't matter much, they didn't even date that long; as if to prove the point, she mentions that she dated his sister longer.
It was a well-placed line, that honestly even if they never followed up on it, didn't feel manipulative or too much like a punchline. It was more to show that Camille is who she is, no apologies, and she has depths we don't quite know about yet. But, we're in luck, because not only are they following up with it, they're doing it in style.
This season on Stitchers, there's a new Medical Examiner in town, who happens to also be a DJ and also into Camille and also a very attractive woman. Her name is Amanda and she's played by Anna Akana and I love her.
The first time they kissed was a lustful response to some capital 'e' Emotions Camille was feeling and for a minute I worried the ME was just an outlet for distraction, but in a following episode, we see the two of them sitting on the couch, SINGING TO EACH OTHER. Camille plays the guitar and sings for Amanda, admitting she doesn't usually do that for anyone. The two of them share cute kisses on the couch, and later even rip each other's clothes off as they tumble down the hallway in the middle of a everyone-is-having-sex montage.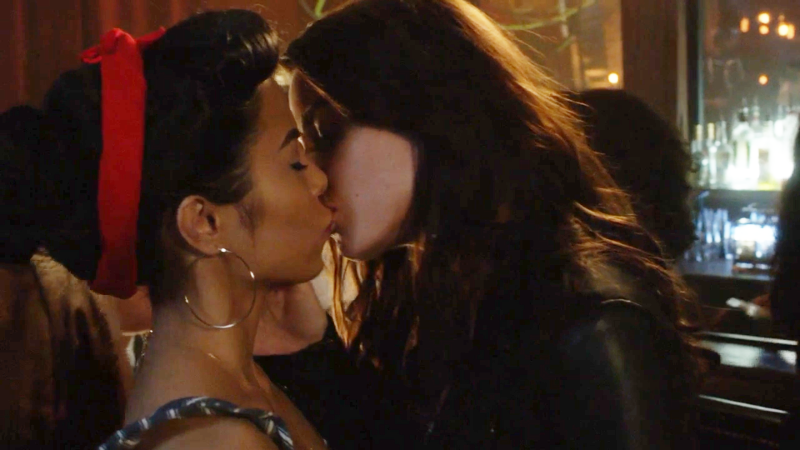 In this week's episode, Camille is still playing coy with her coworkers, admitting she's seeing someone new (describing their night together as a "hard R" as opposed to Kirsten's PG night), but it isn't until about halfway through the episode when she gives up the gig and decides she can't contain how giddy her new gal makes her. She even goes on a double-date with her ex-boyfriend/coworker and his new girlfriend who happens to also be Camille's roommate's estranged half-sister (it's…complicated).
On that date, Camille's ex pulls Amanda aside to warn her not to hurt Camille, but Amanda doesn't bat a perfect eyelash before threatening him nine ways to Sunday if he doesn't cut that out right now. Amanda can fend for herself, is what I'm saying. Camille and Amanda are part of the crux of the episode, which I won't spoil for you, but I will say that the conversation they have at the end of the episode gives me more hope than I originally anticipated having for this queer little relationship.
What I'm saying is, it seems like they're taking this storyline seriously and the bisexual revolution continues apace.
Younger
Last summer I was convinced that me and my friend Nic were literally the only two people on earth watching Younger, but when the fifth season premiered last week it trended on Twitter (my favorite irony since Younger is aimed at 30-somethings who, according to the show itself, are irredeemably bamboozled by the World Wide Web) and then this week it trended again. In fact, the season five premiere was the highest-rated episode of the show to date. Which is good! Because I want more! It's so ridiculous but also very fun and so far this season, the best it's ever been.
One reason for that is Liza's relationship with Kelsey, which has kind of become the emotional anchor of the entire show. At the end of season four, Liza came out to Kelsey as not-a-millennial. She also broke up with Josh. So now Josh and Kelsey are both mourning Liza, but the relationship where all the pathos is aimed is the one between two women. Liza kicks off "Post Truth" — an episode where Kristin Chenoweth plays "a one-woman reality-distortion field," so Kellyanne Conway, basically — by telling Kelsey that the most important people in her life are her daughter, Maggie, and Kelsey. She tries to explain, tries to talk it out, tries to force Kelsey to listen, but Kelsey feels deeply betrayed and can't let it go. She helps Liza walk back a blackmailed story about her real age from an Entertainment Weekly writer, but she insists it's for the business, not because she loves Liza.
When they're not making sad moon-eyes at each other, they're bickering like ex-girlfriends: "You really have no idea what a meme is; I can't believe I've been so blind!"
Maggie tries to help Liza navigate her breakup with Josh and her friend-breakup with Kelsey. First up: A new route to the L train. "Never face a painful situation when you can just skulk around it," Maggie insists. But! In a welcome change of pace, Liza's drama doesn't push out the chance for Maggie to have her own storyline. When a barista compliments Maggie's art and then gives her five free coffee card punches — "fifth one's free!" — Maggie assumes she's being hit on with euphemisms and symbolism. The barista's name is Montana and Maggie invites her over to "look at some art" by which she means "scissor" but by which Montana actually means "look at some art." They laugh when Maggie makes a move and Montana insists she's straight. "It's fine; some of my best friends are straight," Maggie insists.
They're for absolute sure going to fall in love.
The Bold Type
I was just going to toss a blurb in here about The Bold Type when I heard there was a lesbian subplot in the pilot episode, and also the main character is played by Katie "Karma Ashcroft" Stevens, but then I watched the pilot episode this afternoon and have decided it deserves a full review. I've been really down on Freeform because I can't help but blame it for part of Pretty Little Liars' dive-bomb into heteronormative oblivion, but when I step back and examine the information inside my noggin, I'm looking at The Fosters, Stitchers, and now The Bold Type and realizing Freeform is still the queerest non-streaming TV network around and I'm just going to have to exercise my Paige McCullers-style garbage can vendetta elsewhere.
Here's what I'll say about The Bold Type: It's on the nose with its Feminism 101, but the overtness is welcome. This show is aimed at teens and young college students. There is a queer subplot in the pilot, one that involves a lesbian Muslim photographer and potentially a romantic connection with one of the main characters. And it focuses on lots of different kinds of female relationships, including a refreshing one between a badass lady editor in chief and Karma Ashcroft. Maybe you could watch it this weekend and we can talk about it on Monday?
Coming Soon
Natalie's going to share some thoughts with us about the final episodes of Laverne Cox's Doubt and get us caught up with Claws, Carmen's going to keep us in the loop on Queen Sugar, The Fosters is returning, and so is Game of Thrones. Yara Greyjoy's making out with some woman who's not Daenerys in the trailer.