I don't remember learning what it meant to be gay. I remember Bianca Montgomery coming out to a very upset Erica on All My Children when I was 13, I remember people slinging "gay" as an insult on the playground, I remember my mother groaning "ew" at the TV like a child presented with peas when two men or two women kissed in a movie. Willow and Tara were moving vending machines with the power of their love around the same time Bianca came out, but as far as I could tell, such magic only existed on the Hellmouth.
Sometimes I wonder how my life would be different if shows like Steven Universe were on when I was little. Would I have been able to see myself Ruby and Sapphire becoming Garnet? Would I have recognized Pearl's feelings for Rose as familiar? Who knows. What I do know is that, despite being a slow-changing landscape, children's shows are starting to work diverse characters and LGBTQ+ storylines in, and it's a wonder to behold. Because chances are, before you knew the words, before you found a term that fit you, you knew. So wouldn't it have been great if instead of just knowing, you could point to something and be like, "Hey, that's like me. I'm this character."
That brings me to a show on Nickelodeon called The Loud House. It's got cute Gravity Falls-esque drawing style, and focuses on a boy named Lincoln Loud who is the middle child, smack between all TEN of his sisters. The sisters each have an archetype, though they're blissfully not all what used to be considered "female" archetypes.) Yes, there's the shopping-obsessed teenage twins and the beauty queen, but there's also the mad scientist, the mechanic, the sporty one, the comedian, the goth, the baby, and the one we're were to talk about, Luna, the anglophile musician.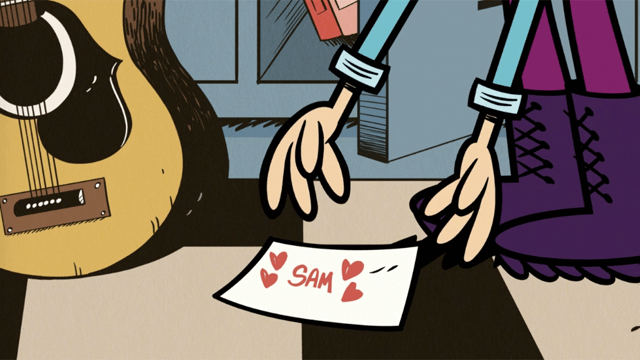 The format is fairly typical of children's cartoons – there's a problem, the kids try to fix it, hijinx ensue. What's fun about this show is that you get to see the same problem through eleven different lenses. The episode before the one in question was about the baby sister; she had a preschool interview and the older siblings thought they accidentally taught her the word "dammit", flashing back to a time where they all said the word and the baby was nearby (a baseball to the head, a ripped sweater, a popped guitar string, etc) so they all go through and re-do the situations and say something else instead. It turns out the baby was trying to say "donut" the whole time. You get it. It's very cute.
This week's episode, "L is for Love," pens with a love note being delivered to the Loud House, addressed to "L. Loud" and signed "secret admirer." Well, everyone in the Loud family's name starts with "L", so naturally, chaos ensues. First, we get to see everyone interacting with their crushes: the sporty one spit-shakes with a boy on a baseball field, the mall-obsessed one flirts with a boy who works at her favorite store, etc. Luna, notably, is shown only rocking out with two other musicians, a boy and a girl. The goth sister knows a thing or two about love notes because vampires are very romantic, so on her suggestion, each sibling tries to give their crush a sign that they're into them. When a second letter arrives, narrowing the intended recipient to a brunette, Luna admits that she didn't end up sending her crush a sign because she's pretty sure Sam is out of her league. Her siblings insist that's not true and encourage her to take part in the next escalation of this crush quest, which is to give your crush a gift to try to prompt the third letter to be an official date invite.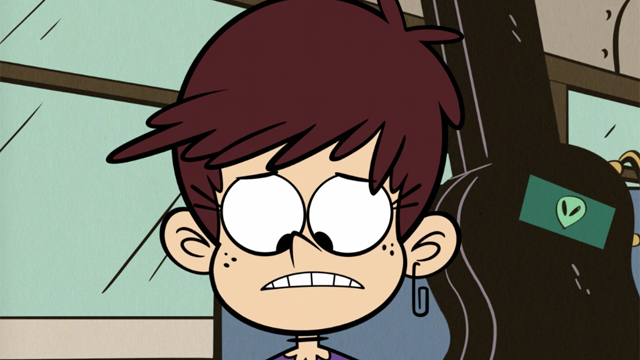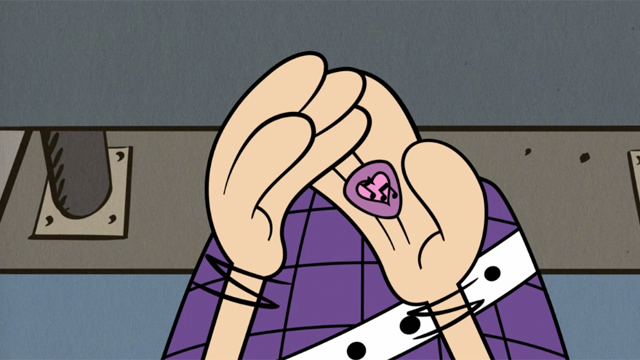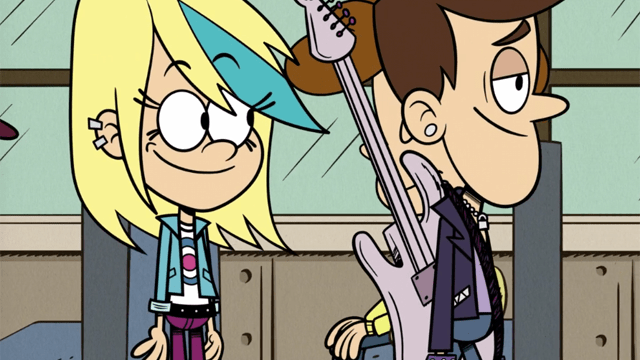 The Loud kids all send little gifts to their crushes, but Luna watches the band walk by her on the bus and loses her nerve, deciding against giving Sam her favorite guitar pick, calling herself a lonely heart, and later telling her siblings she just isn't convinced Sam would be into her. The third letter comes and mentions music and a love of all things British, so the siblings decide (excitedly) that the letter is definitely for Luna and help her get ready for her date with Sam.
When they get to the restaurant, everyone has their eyes peeled, but no one can see Sam. Now, throughout this episode, Luna's siblings were talking about "Sam" as if it was a known fact that Luna has a crush on Sam, and when Luna lamented Sam was out of her league, the way her siblings jumped in made it sound like they knew Sam. This scene confirmed it; "I don't see Sam," one of Luna's siblings said. Meaning they knew exactly who they were looking for (even though technically we don't know yet).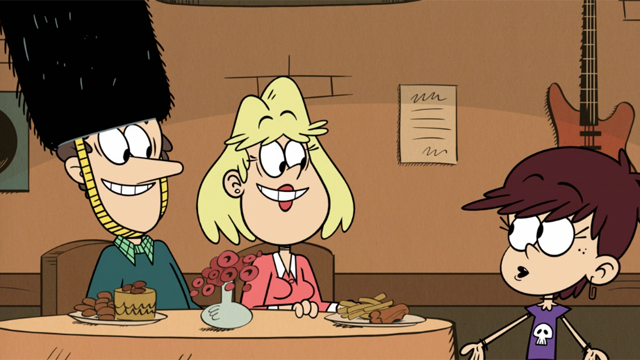 Instead of Sam, the Loud children see their parents, and are told that the letters were from their mom to their dad. It's the 20th anniversary of their first date, and secret admirer letters were how she asked him out the first time. The kids explain that they thought the letter was from Sam for Luna — again, talking as though everyone knows exactly who Sam is — and their mom asks Luna if she's okay. She admits she's a little bummed, but her parents' story inspired her and gave her the courage to just go for it and tell Sam how she feels.
In fact, all the siblings are inspired, and we go through another cute little montage of everyone giving their crushes love letters, which goes over so much better than all their other shenanigans. We end with Luna, who slips a letter into a locker, then watches from around the corner as the band walks by. This time, everyone in the band keeps going and says goodbye to Sam, who is revealed to be the blonde girl in the band, not the boy. Take THAT, heteronormativity! What's cute too is that it's a plot twist for those who just assumed it was the boy, but also cool reveal if someone somehow had been wondering if Sam was the boy or the girl in the band this whole time.
Anyway, Sam reads the letter and when she gets to the end she smiles, and Luna smiles from around the corner, knowing Sam likes her back.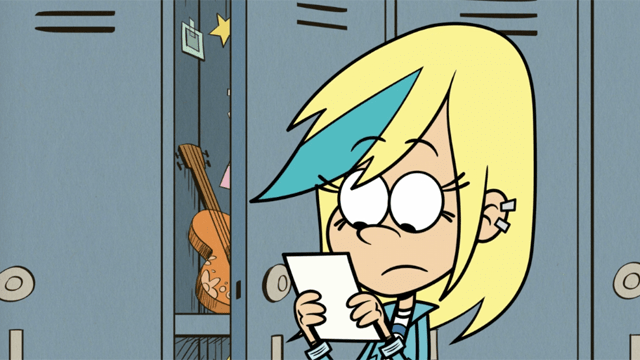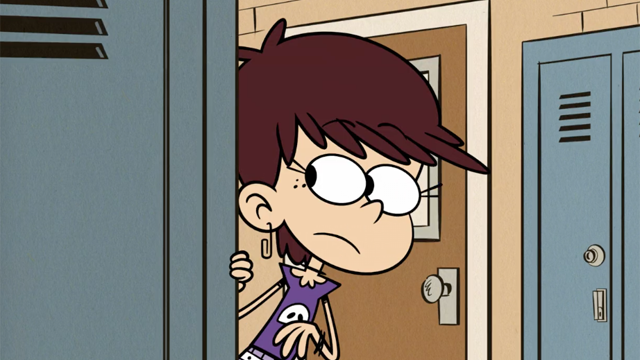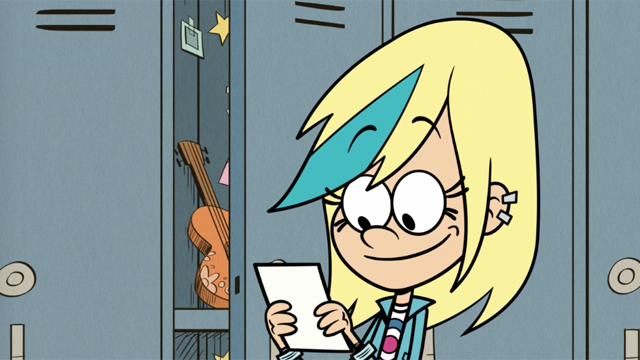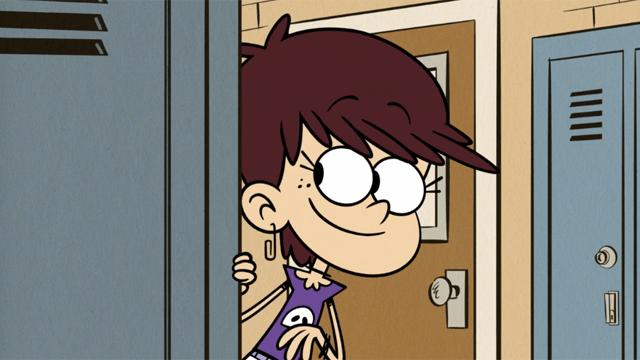 But wait…there's more!
This isn't the first time this show has dropped some casual gayness on us like pros. In an episode from season one called "Overnight Success," Lincoln's best friend Clyde is dropped off for a sleepover by his two dads. They also drop off a large pile of supplies, a long list of phone numbers, a photo of themselves, and a few shed tears after dropping off their little boy for the first time. "I love him so much," Mr. McBride wails as they walk away, his husband comforting him. Simple, funny, perfect.
And just like that the first married gay couple (and an interracial one at that!) is on Nickelodeon, and kids now have a frame of reference when they meet a new schoolmate who says they have two dads. Instead of "You have to have a mom and a dad," they'll say, "Oh, like Clyde McBride!"
There's a little girl out there who watched this, who will continue to see more and more cartoons with storylines like this, who will grow up to be like Wonder Woman in the patriarch's world. No matter how evolved our culture becomes, there will always be people who try to tell her she's wrong for liking girls. But her foundation of self was built on Saturday mornings when she was seven years old. Built on characters like Luna, whose entire family helped her get ready for what they thought was a date with a girl. She'll barely hear the noise. It'll be bullets pinging off her wrist cuffs. Instead of thinking "I can't have a crush on a girl," she'll say, "I'm like Ruby and Sapphire. I'm like Luna Loud."
---
Before you go!
It takes funding to keep this publication by and for queer women and trans people of all genders running every day. We will never put our site behind a paywall because we know how important it is to keep Autostraddle free. But that means we rely on the support of our A+ Members.
Still, 99.9% of our readers are not members.
A+ membership starts at just $4/month.
If you're able to, will you join A+ and keep Autostraddle here and working for everyone?
Join A+