This review contains mild spoilers.
Stop me if you've heard this one: A handsome, successful straight white man swaggers onto your TV in a pilot episode and spends the next five years systematically destroying everything he ever claimed to love. Tony Soprano, Don Draper, Walter White, Dexter Morgan, Nick Brody, Hank Moody, Gregory House. These are the men around whom prestige television — and prestige television criticism — was built. White guys writing about white guys. So it's no surprise that Naomi Watts' new Netflix series, Gypsy (more on that name in a minute), has bored mainstream male TV writers out of their minds. Watts' WASPy Upper East Side therapist, Jean Holloway, is a paint-by-numbers antihero.
What sets Jean apart from the Dick Whitmans of the world are the facts that she's: a) a woman, who b) dismantles her life, piece-by-piece, because of her attraction to another woman. And the show's queerness doesn't end there. Like all antiheroes, Jean's obsession makes her more and more unlikable as the series progresses, but Jean's young daughter, Dolly, begins exploring her queerness in such an authentic and endearing way she ultimately emerges as the most heroic and relatable character on the show. It's a striking juxtaposition.
It all starts when Jean pops into her local coffee shop/bar for a decaf Americano one morning on her way to work. She makes up a fake name for herself as a lady barista catches her eye. "Diane," she lies, easy as breathing. Sidney Pierce is the lady barista. She's beautiful, she's British, and she wears just enough extra eyeliner to let you know she's a musician. Jean is so intrigued that she stops by again after a day of dealing with therapy patients and orders a chardonnay. Sidney gives her bourbon instead. They flirt a little, some gentle teasing; they promise to remember each other's names. Jean covertly stuffs a flyer for Sidney's band into her pocket as she's leaving the Rabbit Hole to pick up her daughter from school. (Yes, the Rabbit Hole. Yes, it's underground. So yes, Jean literally keeps going up and down the rabbit hole to visit Sidney. This show does not pass up one single opportunity for a heavy-handed metaphor.)
Jean's interest in Sidney goes from piqued to peaked when she sees Sidney perform. They share a couple of drinks afterward and the first of half a dozen almost-kisses. "I can't explain it but there's something about you that reminds me of me," is what Sidney says the first time their lips get close enough to touch. They're even wearing the same perfume.
In between emotional foreplay with Sidney, Jean counsels her patients, the most troubled of whom is a guy named Sam whose girlfriend broke up with him eight months ago and he's still not over it. "She made things exciting," he explains. "Whatever you were doing, she made you feel like you were part of the best thing in the world. I never was adventurous, but she made me feel like I was."
Sam's ex-girlfriend is obviously Sidney.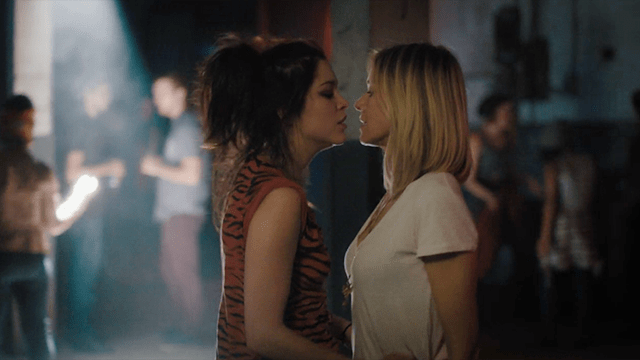 What follows is ten episodes of two dynamic, manipulative, gorgeous, narcissistic women who've never had trouble negotiating power in their relationships with men trying to outmaneuver each other at every turn. Lying. Dancing. Drinking. Promising. Touching. Yelling. Soothing. Withholding. Lying. Lying. Lying. It's sometimes clunky and often weird but almost always sexy.
And then there's Dolly, Jean's daughter. Dolly likes dinosaurs, video games, action figures, remote control trucks, and most especially Star Wars. Dolly gets frustrated when she can't hang out with the boys, but she's also very bonded with her best friend, Sadie. She tells Sadie she loves her, and Sadie hugs and kisses her on the cheek when she leaves school every day. Dolly wears button-ups, ties, and backwards baseball caps. When Jean tries to tell Dolly her long hair is beautiful, Dolly says, "I don't want it to look beautiful. Do you think G.I. Joe has beautiful hair? No." And then she gives herself a haircut before her birthday party, explaining, "I wanted to feel like me."
The writers never make it clear if Dolly is a blossoming little tender butch lesbian who prefers a more masculine gender presentation, or if Dolly is experiencing gender dysphoria and is actually a trans boy. What they do make clear, however, is that Dolly is always right, and the adults — including her mother — who are uncomfortable with her preferences and decisions are always wrong.
So. About that show name. Creator and showrunner Lisa Rubin, who had a knack for writing "good sex scenes" and "flawed women grappling with issues like control, obsession, identity, and sexuality" as a grad student in Columbia University's film program, conceived the idea for this show when she heard the Fleetwood Mac song of the same name playing in a coffee shop where she was writing. Like so much of the dialogue and nearly all the visual metaphors that comprise Rubin's fictional world, Fleetwood Mac's immortal lyrics are just so very right on the nose. Stevie Nicks is putting her mattress on the floor to pretend she's living in simpler times when she wasn't so anchored to the world and boxed in by her success; Jean Holloway is masturbating to fantasies of her patient's ex-girlfriend on her husband's side of the bed while he is at work.
That the name of the show is based on a song doesn't make it any less of a slur. It's a word steeped in oppression and persecution. It's terrible. It's a terrible name. However, it does force a complicated conversation about queer cultural criticism. More and more lately, it seems like one side of the world is made up of straight white guys who still, even after watching the 2016 presidential election, don't see the difference between the way women and men move through the world (thus the difference and significance of a woman inhabiting a archetype historically portrayed by a man), and the other side of the world is made up of socially conscious activists and minorities who have become increasingly unlikely to publicly engage with art that has been deemed problematic in any way. And once a -phobia or an -ism or a type of erasure has been assigned to a TV show or a book or a movie, any website or magazine that chooses to critique it is tagged as unethical.
A lot of important conversations are being lost in that ever-widening chasm. Essential stuff happens in the mental wrestling match between idealism and pragmatism and I think it's a real shame that queer women are, in many ways, erasing ourselves from conversations about us by refusing to participate in them.
There have been a handful of women antiheroes on TV over the last few years, but what sets Naomi Watts' new show apart is the way it centers on three different queer experiences.
It's not prestige drama, but it's way too well acted and well filmed to be disregarded. It's not good, but it's fun. It's not going to push the LGBTQ rights conversation forward, but it's also careful not to suggest that queerness causes Jean and Sidney's worst behaviors. It focuses on the toxic impulses of two women, but it saves its most scathing critique for good old "nice guys." Jean is an antihero archetype, but she's not Don Draper. This isn't Mad Men. This isn't about men at all.