Compared to the root canalish experiences of shopping for bras or shopping for swimsuits, shopping for jeans is a cakewalk! But compared to lying in bed and watching television shows on DVD, shopping for jeans is like taking the LSATs naked.
Luckily, The Queer Beauty Bar is here to guide you through the jeans buying experience with minimal pain, extra humor, and a lot of care. We promise not to tell you how to look "slim" for your boyfriend or challenge your decision to shop in the men's section.
SO! Welcome to the first-ever AUTOSTRADDLE JEANS ISSUE. As you may or may not recall, we've already gone through what to do with your boobs in The Bra Issue, what you should do with your bottoms area in Boyshorts 101 and what swimsuits to buy in The Swimsuit Edition. Now it's fall and we're working our way up to entire body-covering items of clothing! (See also: Top Ten Sweatpants)
We're attempting to address at least 50% of your needs in this piece, but the comments are wide open for you to share tips for your own gender presentation/sexual identity/income/lifestyle/taste-in-sandwiches.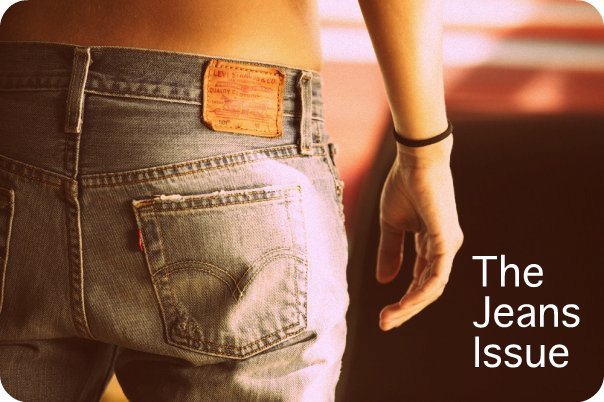 Part One: Shopping Guides
+ How to Go Shopping for Jeans Without Softly Crying to Yourself, by Fashion Editor Lizz
+ Jeans for Plus-Size Women, by Bevin aka Queer Fat Femme
+ Jeans for Girls Who Are Shaped Like Boys, by Riese
+ Men's Jeans for Women, by bcw
+ Jeans in the Workplace, by Crystal
Part Two: Odes
+ Why I Love Bellbottoms, by Brandy Howard
+ Why I Love Mom Jeans, by Lily
+ An Ode to American Eagle, by Emily
Part Three: Notes on Style
+ This Season's Greatest Jeans Ever by Fashion Editor Lizz
+ How Ripped Your Jeans Are Allowed to be Before It's Indecent, by Katrina
+ Cleaning Your Denim, by Carolyn
How to Go Shopping for Jeans Without Softly Crying to Yourself
I usually love shopping. Unfortunately, jean shopping makes everyone feel out of shape and poor. To combat this, I've laid out a fool-proof plan for shopping for jeans without softly sobbing to yourself in the dressing room.
1. Take inventory
Try on every pair of jeans you currently own with a top and shoes you would actually wear with it. For example, I try on my super tight jeggings with a plaid button-down and black ankle boots, but I try on my nice wide-leg jeans with a work blouse and heels. For each pair of jeans, write down the brand, size and style, and your feelings about them. Is the waist too tight and low? Do you wish the bottoms were skinnier? Now, this part is hard, but THROW OUT THE JEANS YOU'RE NOT WEARING ANYMORE. That means any pair you haven't worn in six months. The exception to this rule is a pair that fits in the waist, hips and butt, but are too short or too long. Those can be cut into shorts. Look for any common themes on your list. Maybe you wish every pair of jeans came up higher in the waist. Maybe you love all your flares but hate all your skinny jeans. Whatever it is, identify cuts, washes and brands that you like/dislike and write them down.
2. Price it Out
Take a deep breath — the truth is that below about $110, the cost of jeans usually reflects the quality of the denim, stitching and fit. (Above $110, that is a ridiculous price.) I suggest you plan on spending no less than $50 per pair. This might be more than you're used to paying, but a good pair of jeans can last well over twice as long as a crappy pair (which will save you money). If $50 is truly more than you can possibly afford, continue to shop like this is your minimum, but know that you'll only be able to buy when it's on sale.
Get Online
Now that you've done some deep yoga breathing to accept the cost of jeans, you have just a little more research to do. Go on a site like shopstyle.com that has clothing from lots of different stores in one place. Search for your price range and the style/color you want. This will give you an idea of what stores have what you're looking for. Now, get out a tape measure and proceed directly to their sizing guide. Compare your measurements to the men's, women's and kid's sizing guide regardless of your gender or age — figure out objectively what will fit you best. If you're small, kid's clothes are usually way cheaper, so you might get lucky with stores that make high quality kid's clothing.
3. Go Shopping
First, make sure there isn't a big sale coming up the day after you were planning on shopping. This happens to me approximately 1.5 times per month and it's awful every time.
Wear your favorite pair of jeans and don't forget your notebook. Bring someone who will sit and watch you try on jeans for hours without being negative. This is probably your mom or pet rabbit. If no such person exists, go alone. Whatever you do, do not bring someone with you who will comment about how much jeans should cost. This will just cause you to spend more or less than you really want to. Don't bring your girlfriend.
Once in the store, ask a sales associate for help, and be specific! For example, ask, "Do you have anything like the 'Always Skinny' jeans except with a slightly higher waistband and skinnier at the bottom in a women's size 28 or 6?" Try on every pair in the store and sit, jump, dance like Justin Bieber and show your mom/rabbit. Remember when I said wear your favorite jeans? Compare to these. You should like the jeans you're trying on so much that you're slightly disappointed by your old ones.
Once you're truly in love with a pair, if the price is right, buy them on the spot. If you're short on cash or feeling dangerous, ask the attendant if they're going on sale any time soon. If she says no, ask about a student discount (someone will have an I.D.), a discount for getting a credit card and sign up for the store's email list. I guarantee within a week you'll receive an email announcing an online sale or promotional code. When you finally have them home, wear them out once with the tags still on. Congratulations, you just bought jeans without crying!
The Queer Fat Femme Guide to Shopping for Jeans
I am not the biggest fan of wearing pants in general, but when I do wear pants 99% of the time they are jeans. There are a few guidelines to finding jeans for plus size bodies, but as with all shopping, in general I use my intuition.
The first thing to remember when shopping is that jeans either work with your body or they don't. It's not you, it's them. If they don't fit just move on to the next one and don't take it personally. Plus size bodies are all different and just because one person is fat in a certain way. Two folks who wear a 22W might have entirely different jeans fit needs–a 22W with a big ass and flat belly needs a differently cut garment than a 22W with a big belly, small ass and tiny waist.
As with all other plus size shopping, manufacturers vary dramatically in their sizing and size charts. I suggest trying on as many pairs as possible to narrow down which size is going to work for you. Prepare yourself to feel good about your looks by being as cute as you can, do your hair (if applicable), do your make-up (if applicable), wear a versatile top you love to pair with jeans.
In terms of plus size fit and style, I consulted my friend Leslie Medlik, wardrobe consultant and star of the new TLC show BIG SEXY:
Leslie suggests:
+ Stick with the current style of pant leg (the going style, not "trend" but style). Start your search there so you look current with jeans. In style now is still a skinny leg pant and on trend for Fall is the reinsertion of the 70s style wide-leg. We are seeing a style change coming up, but it will take awhile for the manufacturers to catch up to it.
+ In terms of actual fit, they key is always making sure the waist fits but it's not so tight you can't breathe or that it's not giving you an overly-accentuated muffin top. A little muffin top is necessary, especially if you have fat on your belly, but it's all about where your fat is moving. If the jeans are giving you too much of a muffin top try a larger size.
Leslie also broke down the basic jean cuts and what they mean:
+ Skinny leg should be tight all the way down to the ankle.
+ Straight leg shouldn't be tight or full in any part, it should fit comfortably close to your leg and still give shape to the leg.
+ Boot cut should be tight in the thighs and big in the ankle.
+ Trouser cut should fit like a trouser–full all the way through.
+ Flare leg fits like a boot cut but the cut a the ankle is exaggerated.
Leslie is still wearing skinny leg jeans. Torrid is Leslie's favorite place to shop for jeans, she really only wears Tripp Jeans and Z. Cavariccis because they keep up with what's in style in their plus size collection.
I buy jeans from Re/Dress NYC where I am a part time Shop Girl–we have a huge selection of jeans from all different manufacturers and resale means they start at half off the manufacturer price. I also prefer embellished jeans whenever possible because I find bling a nice dazzle to an everyday outfit.
I have also had great luck buying jeans from Asos Curve. I have a pair of black skinny jeans ($54.89). I find the side-zip part fiddly but I love the look and fit.
Jeans for Girls Who Are Shaped Like Boys
For Talls:
The funny thing about fashion is that all the models are tall and skinny and so women of average size/build/height can't really discern from fashion magazine spreads what the clothes will look like on their actual bodies.
But if you actually ARE tall, magazine photo spreads do, in fact, give you a relatively useful picture of what jeans will look like on your body but when you go to the store to purchase said jeans, you will find the pants to be too short with too much hip-space. Then you have to air-dry all your jeans. It's a hard knock life, this life of tall/skinny privilege.
I'm 5'10 and a size 4 and I find that in general, the more expensive the jean, the more likely it is to fit tall/skinny people. As a teenaged 26 x 36, the only store that carried my size (this was before internet shopping became ubiquitous) was Abercrombie & Fitch, and the only department store brands that fit were $100+ and I was 18 and so that wasn't going to happen. Every year I re-visit Old Navy under the delusion that perhaps my hips or their styles have changed significantly since the last time and THIS YEAR I CAN BUY THE CHEAP JEANS but they never fit. It never works.
Thank Jesus for American Eagle! Online they've got longs AND extra longs in all sizes, but even better — they usually have these sizes ACTUALLY IN THE STORE IN STOCK as well. Almost all my jeans are American Eagle and I've maybe ordered from their website twice. Contributing Editor Emily works there and will talk more about it on page two, so I'll stop.
Department store brands I generally have found to have long inseams: French Connection, Seven for All Mankind, Mavis, Lucky, Silvers, Paper Denim and Cloth, J Brand, Yanuk and James Jeans.
I'm aware that skinny jeans are all the rage but it's taken like two years of brainwashing for me to even accept that skinny jeans are really a thing despite being the most unflattering cut in the entire universe for everyone of every body type. I think girls look super-cute in baggy jeans with a slight flare or bootcut, the end.
+
Jeans for Tall Boy-Shaped Types: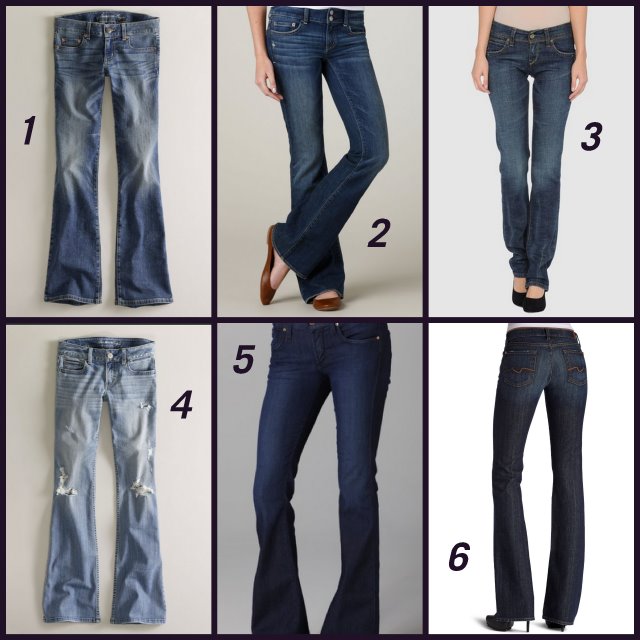 1) For basics, the American Eagle Boyfriend Jean ($34.99) and the American Eagle Hipster Flare ($29.99) both come in "Long," which is about 36 inches.
2) You can get a little more stylish with the American Eagle Artist Jean in Sun-faded Super Destroy ($44.99) and Pure Dark Wash ($29.99). I have the latter and it makes your ass look really cute!
3) Levi's is another place that always has heaps of inseam options, like these Levi's RED TAB Straight Leg Jeans ($69).
4) I love this Katie Holmes look from a few years ago (she's 5'9!):
To achieve it I have these vintage Levi's 70's Flare situations I got about two years ago that apparently are no longer for sale, as these things so often go. However the Levi's Destroyed Vintage 60's Flare Legs are just as cute, and these American Eagle Vintage Hipster Flares aren't too shabby and are much cheaper than the LDVs.
5) James Jeans usually sport 34 or 35 inch inseams. I got a pair from a used clothing store six years ago, wear them 25% of the days of the year, and they're still in primo condition. So expensive? Yes, quite. But worth it? Perhaps! I like these James Jeans Playgirl Bootcuts ($120).
6) Seven for all Mankind is another high-end denim brand with long inseams and slim hips. They run about $150-$250 retail. However, due to the explosion of 7 for All Mankind's popularity in the early '00s (the first time I spent over $100 on a pair of jeans was on 7s), you can often get Sevens at thrift stores, used clothing stores and even in places like Marshall's or online bargain shopping websites. Amazon has these 7 For All Mankind Women's Extra Long Boot Cut Jeans for $59 which are, as the title suggests, extra-long. Each style of 7s fits really differently, though, so it's best to try them on in stores. If you can pay retail, Seven's Kaylie Five-Pocket Bootcut ($189) is all vintage and very distressed with a 35 inch inseam!
+
Jeans for Smaller Boy-Shaped Types:
(I obviously asked for help with this section):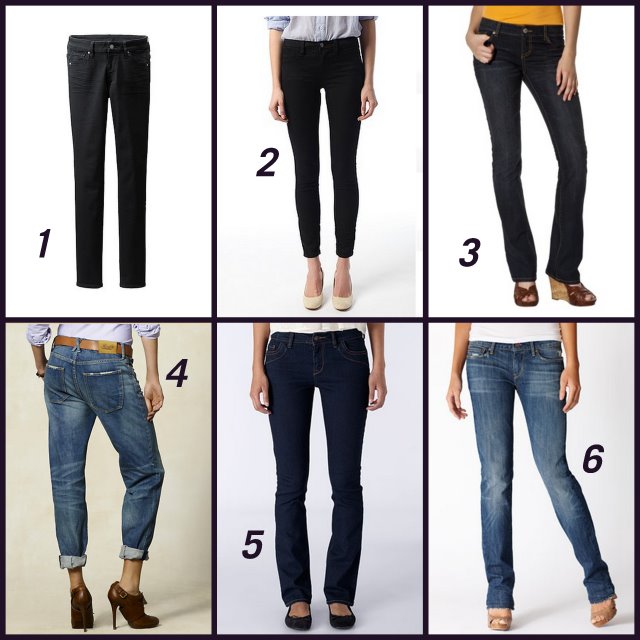 1) Uniqlo Skinny Fit Jeans – $49.90 – These are Alex's favorite pants. I actually stole a pair of these pants from her despite the fact that I'm not Alex's size. When I wear them I can't breathe and I lose circulation in my thighs but they look really amazing, so. I can't ever put them in the dryer as they're just barely long enough (with skinny jeans "just barely long enough" works). I know I'm writing this in the short section, I just want to attest that they look good and probably feel much better if you 're wearing your actual size.
2) Alex says, "Lately I've found some success with what stores like Urban Outfitters will call "Jeggings". Even Uniqlo has "jeggings" now. The trick is: buy these "jeggings" a size or two up. They will be skinny-fitting BUT totally stretchy and because you bought them a size up, they won't be tight or constricting. TRUST ME. Just like these Silence & Noise Crinkle Denim Leggings ($39) I think I have these exact ones… and I think the "crinkle" totally helps the look. They never actually look like "jeggings" on me. I usually need a belt to hold them up because of how stretchy this material can get.
3) Bargains! Mossimo Supply Co. Juniors Bootcut Jean ($22.99)!
4) The Rugby Vintage Wash Boyfriend Jean offers a roomier fit and a 29 inch inseam. ($98)
5) Delia's Mallory Mid-Rise Skinny Jeans ($44.50) come in sizes 00-20 and lengths 26-36.
6) Levi's Modern Slight Curve Straight Leg Jeans ($68): "The perfect jean for women with straight hips, narrow thighs and a flatter seat. The Modern Slight Curve hits just below the hip, stays slim through the hip and thigh, then defines curves through the seat. It celebrates straight figures"
Also, Miss April 2011 recommends: "H&M men's section actually makes jeans that go down to a size 26 and are pretty form fitting yet still baggy."

Jeans for Butches / Men's Jeans for Women
by bcw
I've always only shopped in men's sections for all of my clothes, for reasons of gender, comfort, gender, style, and gender. In the past, when I've bemoaned my difficulties with pants shopping, friends have occasionally asked me, 'Why don't you just shop in women's?', to which I generally reply, "Oh we mustn't have met, my name is Marni" or "Why don't I just smash my face with a rock."
Setting aside the fact that I'm profoundly uncomfortable even awkwardly wandering *through* a women's section while my girlfriend shops for bras or whatever nearby, have you seen the pockets on those bad boys? Women's clothing really isn't built for functionality, and I like to have all my essentials on my person – wallet, keys, phone, lighter, etc. I need portability; I need deep pockets.
That said, I'm aggressively pear-shaped, so I tend to have a really terrible, bordering-on-psychologically-damaging time in fitting rooms, squirming under those horrible fluorescent lights, reconciling the fact that my body is not the body that the jeans I'm test-driving were designed for.
My best advice is don't be afraid to size up; if you're going for a skinny jean style – quite the rage with the young ones I hear – and you're shaped like me, you're better off trying on a larger size. The jeans will fit better around your hips/waist, and will still taper the way they should. If you usually wear a 34, try a 36. I was initially spooked the first time I pulled the larger size off the rack, being mired with enough body image issues as it is, but once I tried them on I couldn't believe this hadn't occurred to me before. Size is just a number – it's arbitrary, inconsistent and doesn't matter – and nothing makes you feel as awesome as feeling like hot shit in your jeans. Real talk.
+
Team Autostraddle Recommends:
The idea here is to find brands with a wide variety of waist/inseam situations available, like Lucky Brand, Levis and Old Navy.
1) Lucky Brand is a butch go-to and it's kinda cute that the fly always says "Lucky You"! On the pricier side we like the Relaxed Fit 227 Original Boot Cut jeans ($129)
2) For everyday jeans that will last forever, try Lucky's 361 Vintage Straight Jeans in Old Oklahoma ($80) or Nirvana ( $99).
3) Levis are sold everywhere so it's easier to find a bargain. These Levi's Men's 527 Low Rise Boot Cut Carrier Jean ($44.99) are quite dapper.
4) If you wanna get real trendy, we like the Diesel Rusy 73N Slim Jeans ($82).
5) We're obsessed with these Buffalo by David Bitton everyday casual Evan Jeans ($99) and can-also-be-fancy Six Jeans ($89).
6) Going budget? There's plenty at Old Navy in just about every style — we have crushes on Old Navy's Slim-Straight Jeans in Gray Wash ($39.94) and these Distressed Boot-Cut Jeans in Dark Wash ($39.94)
Jeans in the Workplace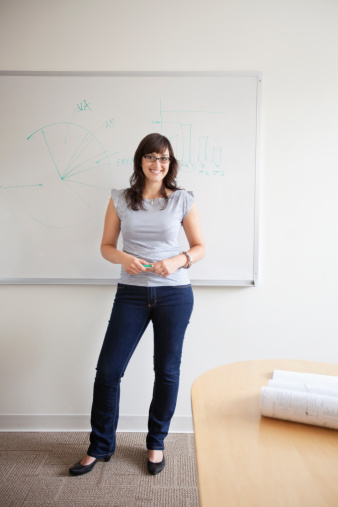 Many people, such as my power-suit wearing mother, are adamant that it is totally unacceptable slash unprofessional to wear denim in business/corporate environments. I think they're wrong. I've dedicated the past 6 years to disproving this belief — or at very least, proving that if you stick to your denim-holstered guns then you can become the office exception.
I wear denim jeans 24 x 7 x 365, including to job interviews and to my various places of employment, and I've never been passed over for a job opportunity or received a slap on the wrist from HR for my attire. Whether YOU can do this will depend on your workplace, obviously, maybe you work at Goldman Sachs or some other company that has a strict 'no denim' policy. But if you don't, here are my tips for choosing the right denim for the office:
Got any blacker? Dark/black washes are the way to go, it's a lot more difficult to dress up light denim. I wear black denim exclusively and rotate them to the weekend wardrobe the moment the colour starts to fade. Opt for jeans with no coloured stitching on the back pockets or, better yet, with no back pockets, such as these denim trousers by Banana Republic ($89.50) or KUT from the Kloth ($79), jeans with fading, fraying, tearing or any other edgy design element probably won't fly.
Not too tight, not too baggy. If your boss or colleagues can count the number of belt hoops or the exact change in your pocket then your jeans are too low and too tight and probably not appropriate for the office. I recommend tailored and slightly wide-legged jeans with a medium or high waist. My favourites are the black women's flare or bootcut jeans from Calvin Klein ($49 – $69) Jeans.
Pretend your jeans are trousers. I suggest pairing jeans with long collared shirts, jackets or blazers that cover up tell-tale belt hoops and steel buttons. I avoid pairing them with patterned or plaid shirts, or any other top that I wouldn't wear suit trousers with.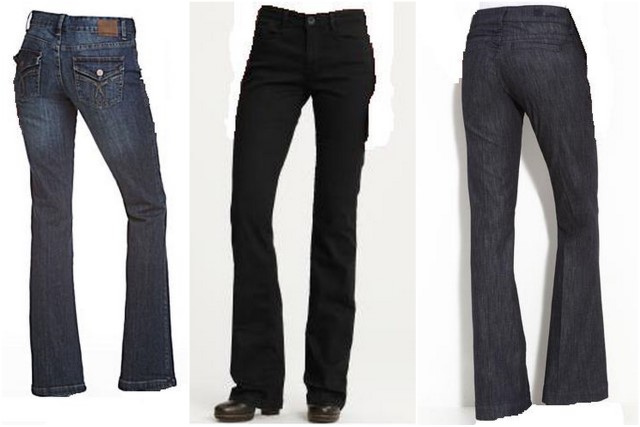 Next: Why Brandy loves bell bottoms, Lily loves Mom Jeans, and Emily loves American Eagle.
Pages: 1 2 3See entire article on one page