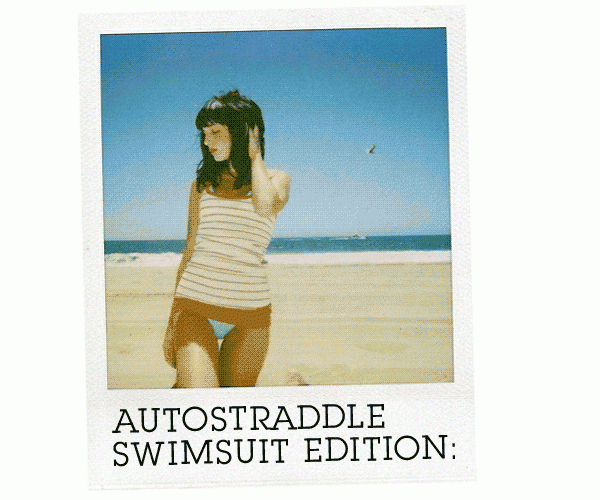 Let's face the facts here: swimsuits are rarely marketed towards lesbians. Despite our propensity for gatherings on Shores and Springs, cruise ships, New England beach towns and giant parties in Miami Beach, most swimsuit related advice and imagery feels almost aggressively heterosexual.
I remember when a girl I was dating asked me who my favorite Victoria's Secret model was; she had several but I had none and I was confused.  I'd never conceived of those women as being "women I want to make out with" but rather "pretty things that look pretty in photographs," you know, like sunsets and fences and barns and shit. It just seemed like a different world that didn't really apply to me and the swimsuits in those catalogs were for a different species of human being.
So let's queer the beach, shall we? We're covering a lot of ground here, so get ready! We've got guest writers GALORE!
1a. The Butch & The Beach by Brandy Howard of Autostraddle's In Your Box Office!
1b. How to Look as Cute as Fit for a Femme's Tomboyfriend by Skinneh of Fit for a Femme
1c. Butch on the Cyberstreet by Riese of Autostraddle
2a. Halters & Boyshorts for Boyishly Bodied Skinny Ladies with Flexible Gender Presentation by Editor-in-Chief Riese
2b. Just 'Cause It's for "Men" Doesn't Mean You Can't Wear It! (on buying boyshorts from the men's section) by Autostraddle Design Director Alex
2c. Prepare to be Unprepared by Editor-in-Chief Riese
3a. Hotties with Bodies by Bevin aka "Queer Fat Femme"
3b. Just Your Average Everday Femmie by Autostraddle Style Editor Becky
3c. Get Fit for a F*cking Femme by Skinneh B. Jones aka "Fit for a Femme"
---
Part One: The Butch & The Beach
Butches; your ladies love you so much, they can't talk about anyone but you.  In fact, of three of the "femmes" consulted for this article submitted either exclusively or secondarily an (unrequested) guide for butch beachwear. Grrrls, they want you looking gooood and don't think there's enough good advice out there for ya. So here we've got it in SPADES. Ready?
+
Deciding what to wear at the pool or the beach is hard for EVERYONE. Waterfront fashion has to meet function AND be flattering. 99% of people get this wrong, and it's especially easy to get wrong when you consider yourself a tomboy, a boy-girl, a masculine lady or a hardcore dykey-dyke. It is imperative that your swim-style match your street-style. I'd personally rather not see my favorite sexy tomboy in a string bikini.
Here's how to avoid that:
TIP #1: Young, hipster boy-girls can never go wrong at the
beach in a sleeveless t-shirt and cool shades.
You can get your own D.A.R.E. Graduation t-shirts (as modeled by Alex, above) or Red China Star Black T-Shirt to dress just like the/our stars!
TIP #2: If you don't have a sleeveless shirt, take your
favorite retro-fit and cut the sleeves off.
+
Wear a sports bra underneath for the big boob-reveal right before you dive in the pool like a lesbro champ. Pair the sleeveless shirt and sports bra with cool board shorts and you're set.
TIP #3: Don't Vacation Without Your Stylist
+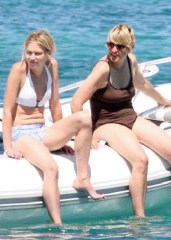 When I see this picture of Ellen & Portia I want to lift my arms to the sky and scream- WHYYYYY? What would motivate the BEST DRESSED woman on television to throw on a one-piece, brown, mom bathing suit? No offense to all the moms out there (cuz my mom Pam would rock that brown bathing suit and she'd be giving you gorgeous-mom-bathing-suit-realness), but Ellen doesn't have any kids so she doesn't need to rock maternal, ill-fitting one-pieces when she could pick a much better style.
She's probably doing something very star-studded here (like swimming with sharks or scuba diving with dolphins) and the tour guide probably insisted that she wear an actual bathing suit. Backed into a corner, she grabbed an old one (that she's probably had since she filmed Mr. Wrong) and she threw it on.
What she should have done was make her stylist pick her up a cool rash guard and some boy shorts!
+
See, isn't Brandy Howard magical, don't you wish you could just go shopping with her every day of your life, so do we.
---
1b. How to Look as Cute as Fit for a Femme's Tomboyfriend
by Fit For a Femme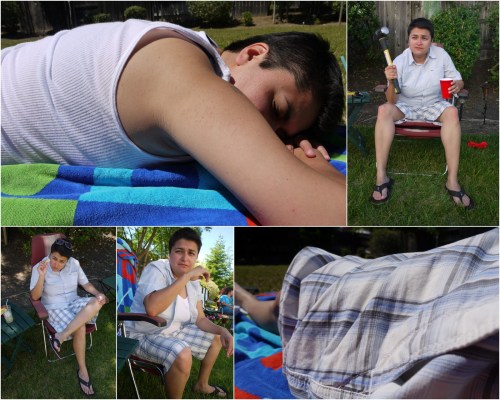 +
For most of us, swimwear is a fact of life. It can be a matter fact or a dreaded fact or a fact like "This crochet bikini does NOT go with my new embellished sandals, clearly I need to find the perfect maillot or, like, DIE of fail." For others, it's a necessary part of a fun hobby, like Sex Wax or flip-flops with built-in flasks. Still for others, well… nevermind them. They're boring and we don't care about them right now.
With summer upon us all, we wanted to provide you with a quick and dirty Queer Guide to Swimwear. Service-y!
Let's get started. We're going to go in order from least to most revealing:
1. It looks like there are a lot of cheeky, over-the-top prints happening in the board shorts department presently, in addition to predictable Hawaiian prints, solids, vomit-inducing Ed Hardy garbage and vertigo-inducing graphic prints. Only one of those previously described are truly wrong, and I think we all know which one I mean.
Clockwise from top right:
RVCA Danny Fuller Trunk, $29.99
Original Penguin India Ink Board Shorts, $39
Element Local Stranger Board Shorts, $49.50
Reef Rainbrella Board Short, $45
Ezekiel 'Danson' Board Shorts, $54
Hurley 'Puerto Rico' Recycled + 'Icon Pattern' Board Shorts, $49 each
Board shorts are board shorts and for women, they're practical and functional and it shouldn't be hard to find a pair in a design that suits you stylistically.
2. HOWEVER, board shorts become a nice alternative to bikini bottoms when the length gets several inches hacked off, falling mid-thigh instead of at or just above the knee. Like a compromise, if you're into that sort of thing.
Imagine the possibilities! That useless H&M sale on $4.99 bikini tops can suddenly mean you've quadrupled your swimwear wardrobe with a pair of these. How? Pick a pair of mini board shorts and wear bikini tops in different styles and colors to switch it up. Sundek even lets you custom design a pair in either length, and more brands are taking cues, meaning it should be easier to hunt them down.
3. The swim trunk is a classic. They're not Speedos but they're certainly not for the faint of heart, and on tomboys they are EFFING HOTTER THAN HELL. I prefer to see a butch go topless in these, but a sport bra, wifebeater or muscle tank works and is just as sexy if you don't have the luxury of living a stone's throw away from a nudist beach (or private pool).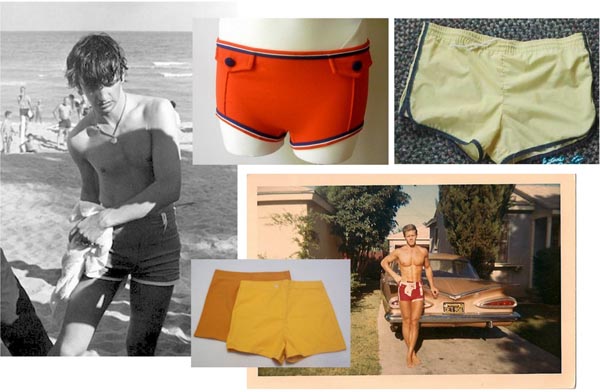 I am fond of finding the odd vintage treasure for my loverbird because it's so hard to find them nowadays with the same attention to detail and old-timey uniqueness, but there are plenty of new versions as well. Since this is my favorite and I want you to visualize the hotness with me, let's take a trip down memory lane:

---
Part 1d. Butch on the Cyberstreet, by Autostraddle Editor Riese
+
While editing this piece, my LWEP virus (Lesbian Website Editor Paranoia, a PTSD caused by repeated flame wars with emotional and perpetually pissed-at-me lesbian internet commenters) flared up big time. Would we get yelled at for providing butch fashion advice from butch admirers/lovers rather than the actual butches themselves? ARE WE SILENCING OUR MASCULINE-IDENTIFIED LADYMEN?
Perhaps, to fend off this potential vulnerability, I ought to directly consult an actual masculine-identified lady for the final word on the topic. I know. I know. We're still one step removed, and next time we will be better advance planners.
However in a pinch, I hit the virtual "streets," otherwise known as "gchat."
First up was our special butch correspondent w., an Autostraddle reader best known for frequently making smart/witty comments occasionally worthy of awards. Luckily, a few weeks ago, she'd made the mistake of personally mentioning offhand that if I ever needed  "a token butch perspective," she'd be there for me, furthermore adding "and you don't have to use that word if it skeeves you out" (I have been known to be "afraid of labels" but now realize that these are not labels so much as "identities" for people, and that's cool, yay! I am not skeeved I am delighted! Let's all call ourselves whatever we want!)
However, when I first brought up "swimwear," it didn't exactly seem to be her favorite conversation topic and she attempted to re-orient the conversation in more exciting directions several times. After about thirty minutes of beating around this particular bush, she offered the following, detail-free, explanation:
"I wear swim trunks and usually some kind of tank top, like a beater but dark so it's not see-through when I get wet."
I was curious about how this particular outfit handled her rack, so about an hour later I brought the conversation right back around to unpack that mystery: it turns out she just wears the tank top plain, sans sports bra/swim top. So. Hawt.
I then forced her to select her favorite boardshorts from the 6,780 available via Autostraddle's Shopstyle Affiliate Network. Her picks:
"These aren't bad but I tend to wear plaid which is frowned upon."
"I'd probably wear the ones that cost $12."
"These Original Penguin ones are okay."
Here's her demonstration of how her fashions function while snorkeling: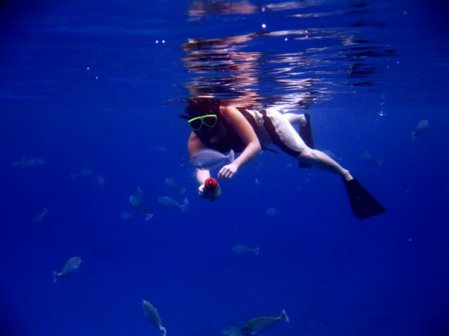 I then consulted "butch" source #2, my ex-girlfriend, who (last I checked) usually wears all black and generally finds fashion/style annoying and really hates clothes shopping. Mostly I thought she could provide some insight on how to buy actual swimsuits when you'd rather be dressed as the Lord of Darkness 24/7, because I remember last year she'd told me that she actually owned (and wore) a bikini on a beach in Greece or something, I don't know, so maybe she had some shopping tips for ladymen who don't give a shit or go swimming enough to bother with anything besides a regular lady-oriented bikini. Confirmed:
"I haven't bought a swim suit in ages. I think the last one i got was at h&m, cause they're cheap and i'm not very picky w/r/t swim suits."
I'd like to draw a conclusion of sorts from this Butch Intensive research, but I won't, I will just close my eyes and think about dolphins.
UPDATE: Our Queer Fat Femme alerted us to this post by Saritorial Butch which offers very valuable advice for butches directly from the source. SB recommends rash guards and board shorts, and also offers these wise words:
… you can bind underneath the guard, or wear a tight sports bra – I usually wear a lightweight sportsbra under because the guard dries pretty fast, and I like my bra to as well. I don't have a large chest at all, but I live where the beaches are such that the ocean only gets up to like 60 degrees on really really hot days. I'd rather not appear so visibly cold to all of the other beach dwellers.
---
+
NEXT PAGE: Andros, Hot Messes and Everything in Between with tips from Autostraddle's Becky, Riese & Alex!
+
Pages: 1 2 3See entire article on one page