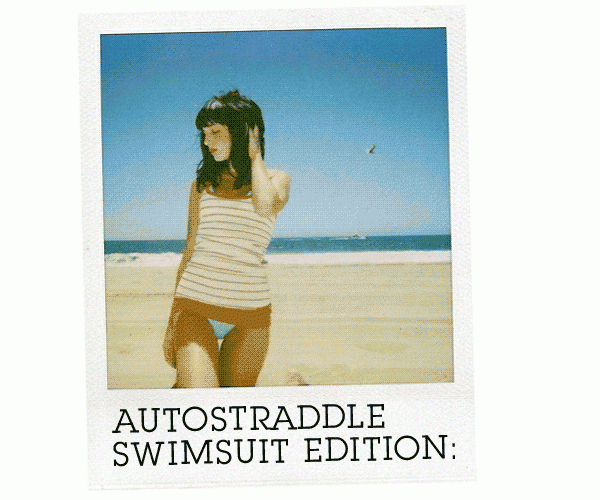 Let's face the facts here: swimsuits are rarely marketed towards lesbians. Despite our propensity for gatherings on Shores and Springs, cruise ships, New England beach towns and giant parties in Miami Beach, most swimsuit related advice and imagery feels almost aggressively heterosexual.
I remember when a girl I was dating asked me who my favorite Victoria's Secret model was; she had several but I had none and I was confused.  I'd never conceived of those women as being "women I want to make out with" but rather "pretty things that look pretty in photographs," you know, like sunsets and fences and barns and shit. It just seemed like a different world that didn't really apply to me and the swimsuits in those catalogs were for a different species of human being.
So let's queer the beach, shall we? We're covering a lot of ground here, so get ready! We've got guest writers GALORE!
1a. The Butch & The Beach by Brandy Howard of Autostraddle's In Your Box Office!
1b. How to Look as Cute as Fit for a Femme's Tomboyfriend by Skinneh of Fit for a Femme
1c. Butch on the Cyberstreet by Riese of Autostraddle
2a. Halters & Boyshorts for Boyishly Bodied Skinny Ladies with Flexible Gender Presentation by Editor-in-Chief Riese
2b. Just 'Cause It's for "Men" Doesn't Mean You Can't Wear It! (on buying boyshorts from the men's section) by Autostraddle Design Director Alex
2c. Prepare to be Unprepared by Editor-in-Chief Riese
3a. Hotties with Bodies by Bevin aka "Queer Fat Femme"
3b. Just Your Average Everday Femmie by Autostraddle Style Editor Becky
3c. Get Fit for a F*cking Femme by Skinneh B. Jones aka "Fit for a Femme"
---
Part One: The Butch & The Beach
Butches; your ladies love you so much, they can't talk about anyone but you.  In fact, of three of the "femmes" consulted for this article submitted either exclusively or secondarily an (unrequested) guide for butch beachwear. Grrrls, they want you looking gooood and don't think there's enough good advice out there for ya. So here we've got it in SPADES. Ready?
+
Deciding what to wear at the pool or the beach is hard for EVERYONE. Waterfront fashion has to meet function AND be flattering. 99% of people get this wrong, and it's especially easy to get wrong when you consider yourself a tomboy, a boy-girl, a masculine lady or a hardcore dykey-dyke. It is imperative that your swim-style match your street-style. I'd personally rather not see my favorite sexy tomboy in a string bikini.
Here's how to avoid that:
TIP #1: Young, hipster boy-girls can never go wrong at the
beach in a sleeveless t-shirt and cool shades.
You can get your own D.A.R.E. Graduation t-shirts (as modeled by Alex, above) or Red China Star Black T-Shirt to dress just like the/our stars!
TIP #2: If you don't have a sleeveless shirt, take your
favorite retro-fit and cut the sleeves off.
+
Wear a sports bra underneath for the big boob-reveal right before you dive in the pool like a lesbro champ. Pair the sleeveless shirt and sports bra with cool board shorts and you're set.
TIP #3: Don't Vacation Without Your Stylist
+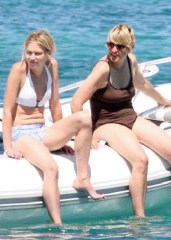 When I see this picture of Ellen & Portia I want to lift my arms to the sky and scream- WHYYYYY? What would motivate the BEST DRESSED woman on television to throw on a one-piece, brown, mom bathing suit? No offense to all the moms out there (cuz my mom Pam would rock that brown bathing suit and she'd be giving you gorgeous-mom-bathing-suit-realness), but Ellen doesn't have any kids so she doesn't need to rock maternal, ill-fitting one-pieces when she could pick a much better style.
She's probably doing something very star-studded here (like swimming with sharks or scuba diving with dolphins) and the tour guide probably insisted that she wear an actual bathing suit. Backed into a corner, she grabbed an old one (that she's probably had since she filmed Mr. Wrong) and she threw it on.
What she should have done was make her stylist pick her up a cool rash guard and some boy shorts!
+
See, isn't Brandy Howard magical, don't you wish you could just go shopping with her every day of your life, so do we.
---
1b. How to Look as Cute as Fit for a Femme's Tomboyfriend
by Fit For a Femme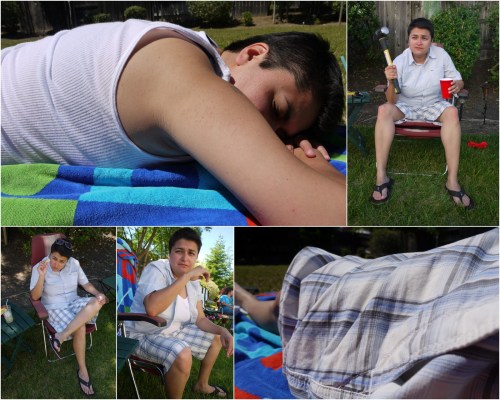 +
For most of us, swimwear is a fact of life. It can be a matter fact or a dreaded fact or a fact like "This crochet bikini does NOT go with my new embellished sandals, clearly I need to find the perfect maillot or, like, DIE of fail." For others, it's a necessary part of a fun hobby, like Sex Wax or flip-flops with built-in flasks. Still for others, well… nevermind them. They're boring and we don't care about them right now.
With summer upon us all, we wanted to provide you with a quick and dirty Queer Guide to Swimwear. Service-y!
Let's get started. We're going to go in order from least to most revealing:
1. It looks like there are a lot of cheeky, over-the-top prints happening in the board shorts department presently, in addition to predictable Hawaiian prints, solids, vomit-inducing Ed Hardy garbage and vertigo-inducing graphic prints. Only one of those previously described are truly wrong, and I think we all know which one I mean.
Clockwise from top right:
RVCA Danny Fuller Trunk, $29.99
Original Penguin India Ink Board Shorts, $39
Element Local Stranger Board Shorts, $49.50
Reef Rainbrella Board Short, $45
Ezekiel 'Danson' Board Shorts, $54
Hurley 'Puerto Rico' Recycled + 'Icon Pattern' Board Shorts, $49 each
Board shorts are board shorts and for women, they're practical and functional and it shouldn't be hard to find a pair in a design that suits you stylistically.
2. HOWEVER, board shorts become a nice alternative to bikini bottoms when the length gets several inches hacked off, falling mid-thigh instead of at or just above the knee. Like a compromise, if you're into that sort of thing.
Imagine the possibilities! That useless H&M sale on $4.99 bikini tops can suddenly mean you've quadrupled your swimwear wardrobe with a pair of these. How? Pick a pair of mini board shorts and wear bikini tops in different styles and colors to switch it up. Sundek even lets you custom design a pair in either length, and more brands are taking cues, meaning it should be easier to hunt them down.
3. The swim trunk is a classic. They're not Speedos but they're certainly not for the faint of heart, and on tomboys they are EFFING HOTTER THAN HELL. I prefer to see a butch go topless in these, but a sport bra, wifebeater or muscle tank works and is just as sexy if you don't have the luxury of living a stone's throw away from a nudist beach (or private pool).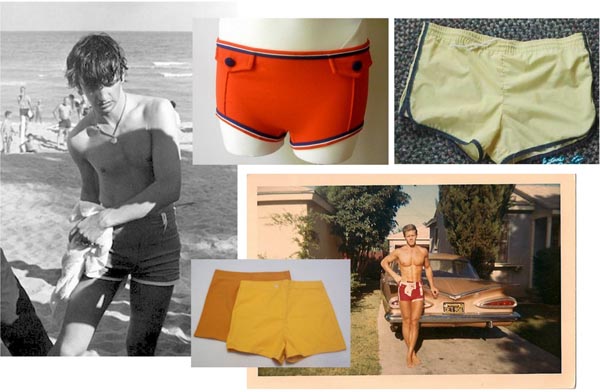 I am fond of finding the odd vintage treasure for my loverbird because it's so hard to find them nowadays with the same attention to detail and old-timey uniqueness, but there are plenty of new versions as well. Since this is my favorite and I want you to visualize the hotness with me, let's take a trip down memory lane:

---
Part 1d. Butch on the Cyberstreet, by Autostraddle Editor Riese
+
While editing this piece, my LWEP virus (Lesbian Website Editor Paranoia, a PTSD caused by repeated flame wars with emotional and perpetually pissed-at-me lesbian internet commenters) flared up big time. Would we get yelled at for providing butch fashion advice from butch admirers/lovers rather than the actual butches themselves? ARE WE SILENCING OUR MASCULINE-IDENTIFIED LADYMEN?
Perhaps, to fend off this potential vulnerability, I ought to directly consult an actual masculine-identified lady for the final word on the topic. I know. I know. We're still one step removed, and next time we will be better advance planners.
However in a pinch, I hit the virtual "streets," otherwise known as "gchat."
First up was our special butch correspondent w., an Autostraddle reader best known for frequently making smart/witty comments occasionally worthy of awards. Luckily, a few weeks ago, she'd made the mistake of personally mentioning offhand that if I ever needed  "a token butch perspective," she'd be there for me, furthermore adding "and you don't have to use that word if it skeeves you out" (I have been known to be "afraid of labels" but now realize that these are not labels so much as "identities" for people, and that's cool, yay! I am not skeeved I am delighted! Let's all call ourselves whatever we want!)
However, when I first brought up "swimwear," it didn't exactly seem to be her favorite conversation topic and she attempted to re-orient the conversation in more exciting directions several times. After about thirty minutes of beating around this particular bush, she offered the following, detail-free, explanation:
"I wear swim trunks and usually some kind of tank top, like a beater but dark so it's not see-through when I get wet."
I was curious about how this particular outfit handled her rack, so about an hour later I brought the conversation right back around to unpack that mystery: it turns out she just wears the tank top plain, sans sports bra/swim top. So. Hawt.
I then forced her to select her favorite boardshorts from the 6,780 available via Autostraddle's Shopstyle Affiliate Network. Her picks:
"These aren't bad but I tend to wear plaid which is frowned upon."
"I'd probably wear the ones that cost $12."
"These Original Penguin ones are okay."
Here's her demonstration of how her fashions function while snorkeling: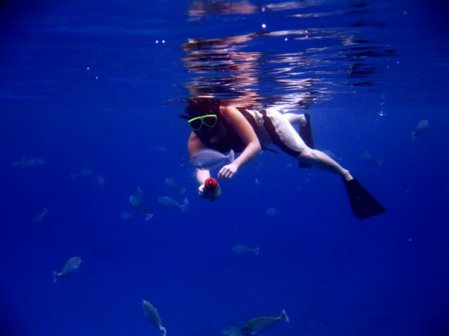 I then consulted "butch" source #2, my ex-girlfriend, who (last I checked) usually wears all black and generally finds fashion/style annoying and really hates clothes shopping. Mostly I thought she could provide some insight on how to buy actual swimsuits when you'd rather be dressed as the Lord of Darkness 24/7, because I remember last year she'd told me that she actually owned (and wore) a bikini on a beach in Greece or something, I don't know, so maybe she had some shopping tips for ladymen who don't give a shit or go swimming enough to bother with anything besides a regular lady-oriented bikini. Confirmed:
"I haven't bought a swim suit in ages. I think the last one i got was at h&m, cause they're cheap and i'm not very picky w/r/t swim suits."
I'd like to draw a conclusion of sorts from this Butch Intensive research, but I won't, I will just close my eyes and think about dolphins.
UPDATE: Our Queer Fat Femme alerted us to this post by Saritorial Butch which offers very valuable advice for butches directly from the source. SB recommends rash guards and board shorts, and also offers these wise words:
… you can bind underneath the guard, or wear a tight sports bra – I usually wear a lightweight sportsbra under because the guard dries pretty fast, and I like my bra to as well. I don't have a large chest at all, but I live where the beaches are such that the ocean only gets up to like 60 degrees on really really hot days. I'd rather not appear so visibly cold to all of the other beach dwellers.
---
+
NEXT PAGE: Andros, Hot Messes and Everything in Between with tips from Autostraddle's Becky, Riese & Alex!
Part Two: The In-Between
1. For Catastrophe-Prone Boyishly-Bodied
Skinny Grrrls with Flexible Gender Presentation
+
Hi! It's me Riese your editor in chief (with a special comment from Alex) here to provide advice for girls who don't know jack about fashionable swimwear but are paid in lesbian cruises instead of actual money, therefore requiring donning such objects regularly.
This is advice for skinny ladies who are not butches, femmes or fat but instead just dear catastrophe waitresses.
I attempt to avoid swimsuit shopping at all costs by strategically mixing & matching, stealing swimsuits from friends/lovers, and sticking to basics. I haven't tried on swimsuits in the mall since the '90s, and as I recall, I was scarred for life.
Rule #1: You Must, You Must, You Must Get a Halter Top for Your Non-Existent Bust
+
Most swimsuits are designed for women with breasts. Like this.
Then there are swimsuit models. If you're skinny, you might think you and these women will see eye-to-eye on your shopping needs. Um, not so, because they have implants, and you don't: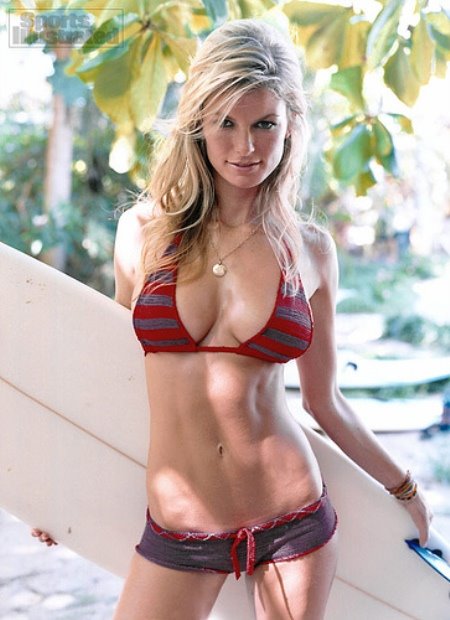 If you're anywhere between nothing and a small B-cup, then the only kind of swimsuit top you should ever wear is a halter with real straps (not spaghetti straps, what if they come undone? these things concern me). Underwires aren't your friend and padding is a lie and honesty is important. Furthermore I find mainstream magazines are always telling thin girls to wear teeny-tiny string triangle-top bikinis. That's great if you're 14 or super-confident, but that shit ain't practical, we've got trees to climb!
Here's two random people I found on the beach displaying halter top/no-chest success with their tops: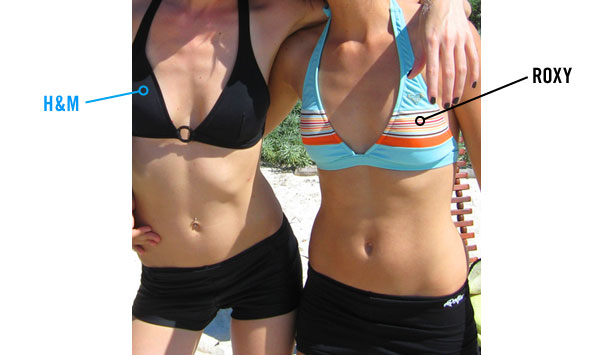 Or try:
+ I personally own this Solid Wide-Band halter from JCrew (A) ($40) — no padding, no underwire, and nothing trying to lift something that actually lifts itself just fine.
+
+ Basic Roxy halters (B) ($34) come in a several colors — Roxy runs small, so get a size larger than you normally would.
+
+ Roxy 70's Striped Halter Top (C) ($40)
+
+ Mossimo Black Women's Bikini Halter Top (D)– it's the bargain option! ($17.99)
+
+ Body Glove Smoothies Foxy Bikini Top ($48)
If you're not totally sold on the halter suggestion, these offer other small-chest-friendly styles.
+ Twist Bandeau & Foldover Hipster (E) ($24.50)
+
+ This black/blue/blue bandeau halter from Rip Curl ($27)
+
+ Like a sports bra, but for the pool: Body Glove Vapor Racer Top ($40)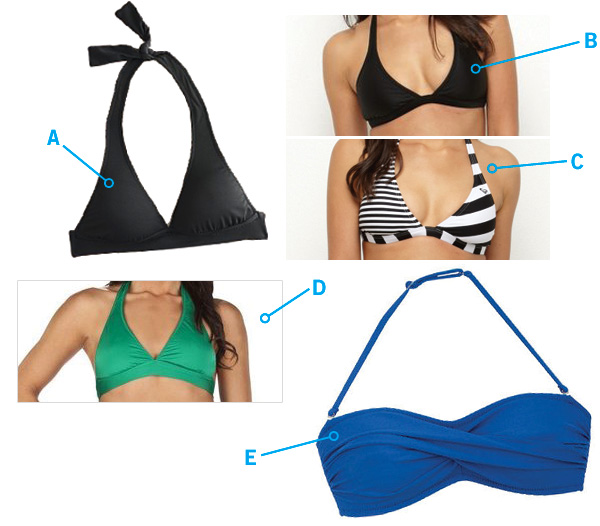 +
Rule #2: Boyshorts Cannot Do Wrong
+
Boyshorts is the best thing to happen to swimsuits since the 50's, when women still had to mostly cover themselves up which I wish we still did. Boyshorts free us from submitting to patriarchal bikini waxes every three weeks and they make your ass look good. Do people really feel good in those tiny string things? I don't.
I feel like you'd have to stand perfectly still and probably shave your cervix twice a week to successfully rock a side-tied napkin-sized bottom. Okay, grow up and cover your fucking private parts. Unless you are Dana Fairbanks, I guess, she can do no wrong.
So, a good pair of boyshorts is an investment worth making — think of the valuable time you'll save hating yourself in the dressing room if you have to shop AGAIN next year. Get lining, something thick & durable; the works. Make sure it covers your entire ass with room for ass growth so you won't need to replace it for several years. And get BASIC COLORS, like black. Why? Because that makes it easier to mix and match with other people's swimsuits or with whatever's cheapest at TJ Maxx the night before your beach vaycay, as I will explain later.
+ Roxy Venice Beach Cheeky Hipster Bottoms (A) ($28) are a little closer to the goods than I'd like, but the string is super cute and the side detailing is fun.
+
+ Hurleys One & Only Solid Boyshort Bottoms offer full ass coverage (B), which is key. They're pricey ($50) but it's a good brand that will last forever.
+
+ These Nike Mod Boyshorts (C) ($40) have a colorful belt detail which guarantees thick fabric and lots of coverage.
+
+ Roxy Neo Leg Boy Bottom (D): ($46) An athletic, 80's inspired boy bottom with neon trim.
+
+ If you're looking for a one-off 'cause you plan to grow a size next year (please don't shrink a size, it drives me crazy when girls get skinnier/have less ass to grab) then Top Shop has some cute simple little boyshorts for only $14.
+
+ JCrew's gone a little retro with this girly take on the boyshort with the solid ruched sonsie short (E) ($44) — it might make your ass look even sexier than it probs already is, and they come in all the colors of the wind.
---
Alex says: Just 'Cause it Says "Men's" Doesn't Mean You Can't Wear It
+
Hello ladies! Or should I say andros? Whatever we're calling ourselves these days. I'd like to tell you a thing or two I've learned about swim suits this past year…
RULE #infinity:
Just because it's labeled "mens" doesn't mean you can't wear it.
+
I noticed that board shorts weren't the only mens swimsuit style available to the world ('cause I'm not into them. Sorz.). And I also noticed the only underwear I wear are men's briefs. (You can read about the specific kinds of mens briefs/underwear that we wear and recommend inour "boyshorts" post.)
These are things I enjoy about mens underwear/briefs:
The extra space in my area.
No wedgies — frontal or posterior.
Plenty of upper leg coverage.
So I put this equation together and thought: I CAN WEAR MENS SWIMSUITS. The same rules apply!
It's kind of that "retro" look that Fit for a Femme talked about before. You want to make sure you're looking for "square leg", "square cut" or "short" suits — those are the keywords. The thing is — briefs/boyshorts made for women just don't work for me. You're guaranteed more room and more coverage with a mens swimsuit. And they generally come in a variety of sizes!
Where can you get these puppies?
One word: SwimOutlet.com. What a great resource for SO many different styles of mens suits! The one I currently own is the Dolfin Poly Solid Aussie suit (A). It might be just this specific pair or all men's swimwear in general, I'm not sure… But it might be a good idea to order a waist size larger than usual. The Dolfin pair definitely ran quite small on me.
If you're still confused about how your size translates into mens sizes, the sizing charts on shopping sites are helpful. If you know your waist size, you can use that to make sure you get the correct size for you.
My recommendations:
Hugo Boss 'Oyster' briefs (B),
these cute Diesel "Aloha" swim trunks (C),
of course Calvin Klein Swimwear (D),
the Speedo Shoreline Square leg suit (E)
and maybe this is just me, but I want these Dolfin "Uglies" Spritzer Baggies (F)!
So, you get the idea yeah? Get your briefs in black or a neutral color and you can pair it with virtually any top you have or steal from a friend. Or get crazy-colored briefs and top it off with a black top. (More on this mixing/matching idea in Riese's next segment below…)
You can't go wrong. I promise.
---
+
and now back to Riese's Segment…
Rule #3: Prepare to be Unprepared
+
I'm a bad planner: I really FEEL like I own a lot of swimsuits. Yet I perpetually seem to be packing the night before a free lesbian cruise asking myself, "why don't I have any swimsuits?" Therefore I have become adept at two very important swimsuit wearing skills:
a) Mixing & Matching: As Becky will mention in her upcoming section, tops need not match bottoms. One day in Summer '05 I snagged an invite to the Hamptons with 24-hour advance notice and had nothing to wear. (Sidenote: I'm not frequently called to the Hamptons. This was the only time I've been,Natalie and I basically crashed a WASPy party and haven't been invited back). Sooooo, I made a JCrew sale rack pit stop the night before and although the top & bottom I found did not match, it worked well enough and I still wear it to this day (though often with shorts over the bottom 'cause they aren't boyshorts, see "Rule #2") — this is illustrated below in picture #3 — orange top, pink bottom. Matchy, almost! Buying seperates is also good if you wear a small up top but a medium/large for your ass. Hypothetically.
I also "borrow" swimsuit pieces from friends which match tops I already own. That's why it's so important to buy tops and bottoms that can go with lots of different styles.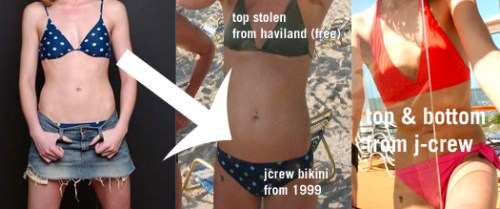 A mixing & matching key is a solid pair of black boyshort swim trunks. If worse comes to worse, you can wear it with a bra, but you can also wear it with just about any color swimsuit you want! I got a black top at H&M, didn't even try it on, holler.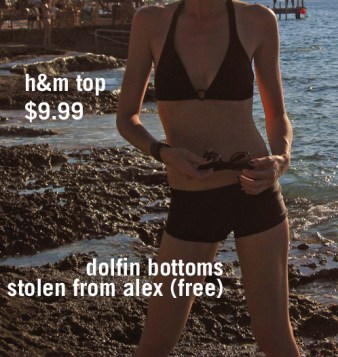 b) What Else: The "cover-ups" section of a beachwear website confuses me. One need not purchase special items simply to cover up beachwear! You need only need to own some athletic shorts and/or mini skirts within at least 3 of the 4 color following schemes: denim, navy, black, grey/white. I also find that this particular American Apparel dress, which you can tie up in 546 ways, is convenient for shifting swim strap styles.
This simple American Apparel California Fleece Skirt (with drawstring) is available in many colors for the a sweet price of $12.15 and looks good on everyone. They don't sell it anymore at American Apparel, thank god for the internet right?
American Eagle has cute navy drawstrings shorts if you can handle sporting that big ass brand name.
Stock up on cheap athletic shorts of every color — Champion Cheer Shorts are shorter than boy's XL (my prior choice) without being too teenagery, or these super-short vintage-style cheapies from Forever 21. A
That's so whatever you end up buying/stealing/finding while abroad will match whatever you wear on top of it to the beach. Or the underpants you end up wearing instead.
c) Tops: If you're going with the halter suit top — and you should — a racerback tank will look the least redic. Get a 3-pack of Hanes WifeBeaters ($7.90) or if you want your tan line to match up perfectly with your halter and be semi-stylish, these Delia's knot racerbank tanks are hawt.
---
+
NEXT PAGE:
Femmes with tips from Queer Fat Femme, Fit for a Femme, and Autostraddle's Becky!
+

---
Part Three: The Femmes
3a. Hotties With Bodies: Queer Fat Femme Swimwear
By Bevin from Queer Fat Femme
+
The folks at Autostraddle asked me to write a guest article providing their readers with my opinions about swimwear and a guide for fat girls to feel confident so that they will go out to the beach and flirt with editor Becky.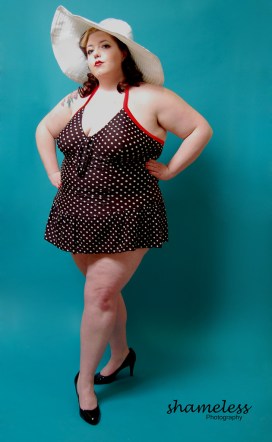 Let's be honest–wearing a swimsuit is practically like being naked in public except that it affords you the opportunity to lift or bind in areas you want to and decorate your body with swaths of fabric in as subtle or flamboyant a manner as you wish. And a lot like being naked in public, wearing a swimsuit can be extremely nervewracking and cause much anxiety.
It's really important both politically and for personal sanity that fat folks and people with all sorts of bodily non-normativity (trans people, gender non conforming people, dis/abled folks, older folks, etc…) have the same access to public swimming facilities like beaches, community pools and debaucherous queer pool parties.
The trick is to find a suit that minimizes the anxiety provoking experience of being next-to-naked in public and carries with it the personal expression that is so crucial to style.
I'll start with my own favorite swimsuit. I got this number from Torrid 3 years ago. I love it because it reminds me of wearing a dress, since it is a halter and has a cute skirt. I think it's the first time I've ever found a bathing suit with a skirt that actually looks like a dress and not like a cast off from the old Roaman's catalog.
Photo by Shameless Photography.
Every year Torrid comes out with a variety of really cute swimsuits that I think embody a retro chic style with a little bit of a girly punk edge. They're still selling the halter skirt suit with the bow in front, this year in a couple of different fabrics. And they don't just do one pieces, they also have separates if you are different sizes on top and on bottom.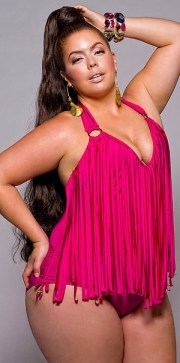 What I like also about Torrid suits is that mine has lasted for so long. Even though I spent $70 on that suit, it has definitely served well. I think when you really fall in love with a suit it is worth a monetary investment in order to feel good being practically naked.

Target and Old Navy have plus size swimwear sections, with varying results. There's a hot suit Target has right now that is black/white and has a retro feel to it as well (as you can tell, I favor retro for fancy femme pin-up style).
Target, Old Navy, and Torrid afford the size 12-28 plus size swimwear shopper in metropolitan USA the opportunity to try everything on, which is helpful. And when shopping in person for swimwear, I suggest doing a full face of make-up (if you wear it), doing your hair, having a good meal ahead of time (to avoid being self-hating and hangry) and bringing a supportive friend. I suggest trying every style on. You never know what cut is going to be flattering on you, and being open to being surprised is a huge key to fashion success.
For those who have to shop online, I suggest checking out the forum on the Fatshionista Live Journal community . It is great to see how real plus size people look in their swimwear, including reviews about online service and custom suiting options. Many people may not realize this, but fat people have widely varying body shapes, and finding someone who is a similar shape to you is really helpful to gauge how a suit will look on you.
I like Monif C swimwear. Her stuff is pricey but it is sooooo foxy. I can't get over how gorgeous some of her suits are.
Von Hottie photo courtesy Vonhottie.com. Von Hottie runs around the streets of New York City highly accessorized.
I think a big part of creating personal style out of a swimsuit is accessorizing. You'll often see me at the beach wearing my cute "could almost be a dress" swimsuit with a big hat, a necklace, big earrings, bracelet, cute shoes and sunglasses. Of course, sometimes I eschew the jewelry, but I have very fair skin (hence the hat) and I also find that playing the game of "I'm a 30s fancy lady" helps me to forget that I might be the fattest person at the pool that day. I am also the kind of ferocious Femme who thinks that she should get to wear make-up whenever she feels like it. MAC Cream Color Base is a great way to prevent your make-up from running when you swim.
The most important accessory at the beach is just being there. I wrote an article for the Femmes Guide linked here about how to have a gorgeous beach body.
I will leave you with these:
DO wear a swimsuit that makes you feel good about yourself, or at least helps you "fake it til you make it" until you do feel good about yourself.
DON'T surround yourself with friends at the beach/pool who critique your body or how you look in your swimsuit. Negative body talk is so last century.
Becky, I hope you get hella flirted with by lots of hot fat girls and bois at the beach this summer.
Bevin Branlandingham chronicles the relentless pursuit of her joy at queer fat femme dot com
---
3b. Just Your Average Everyday Girls
by Autostraddle Style Editor Becky
+
Femmes, you have your own problems. You can't go to the beach without guys hitting on you and laughing at you when you say you're a lesbian and winking at you and saying they can change that. But in regard to availability of swimsuits that fit your style–girl, you are golden. Here's a quick breakdown of stuff you probably already know with a few suggestions about what's, you know, "hot" this summer.
One Pieces & Tankinis
Le Blanca has some great swimsuits you can find over at your local Macys or Nordstroms.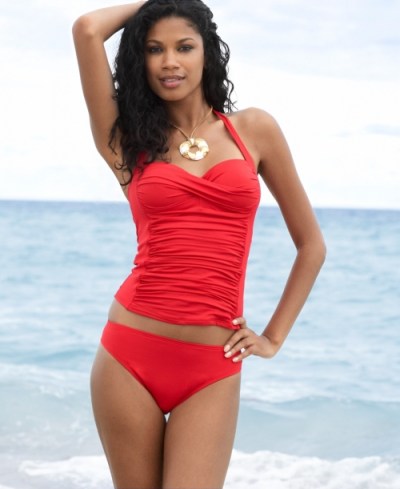 If you're less into the "sex me" look and more into the "girl-next-door-but-still-sex-me" look, check out UjENA for their wide selection (seriously they have like a bajillion and a half choices) of bathing suits, including one of my all time favorite styles: the "Monroe"
Bikinis
Oh hey, ladies. If you like cute, inexpensive bikinis that can sometimes act as a push-up(?) head on over to Body Double Swimwear and check out the bikini tops they have for only $10. Why these things are on clearance I really don't know. Probably because summer is already over in the fashion world or something ridiculous like that.
Also, because eco-fashion isn't just a fad, take this time now to explore more green options such as Eco-Panda (pictured above), BTC Elements, Nickster, and Green Is Black.
My advice for bikinis and swimsuit pieces in general is this: mix things up!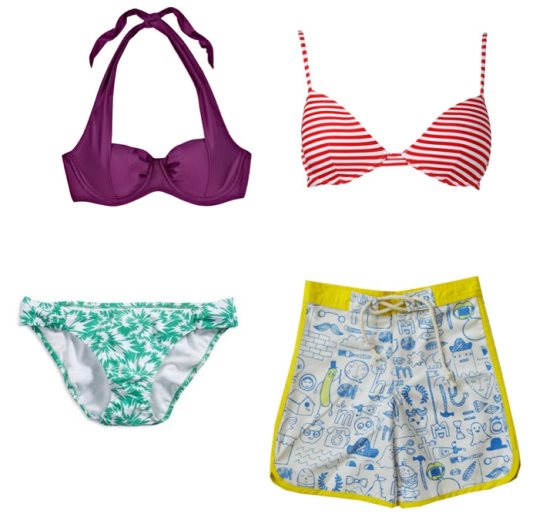 I always wanted to be that girl who wore some teal bikini top of one bathing suit and some white crouched bottoms of another. So one day I just did and there was no going back. Well, there is occasionally, but my point is experiment. Have fun. Wear a bikini top with board shorts. Live la vida loca.
---
3c. Get Fit for a Fucking Femme
by Fit for a Femme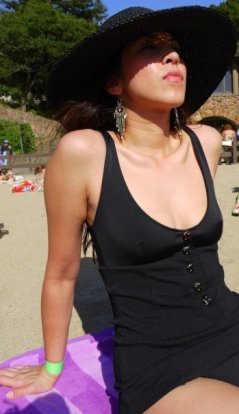 If you lean to the femme side of swimwear, you know there's a lot of fug out there to wade through. Not just outrageous, American Apparel-esque fug, but really pedestrian fug, too. There's also the fact that bikinis are tiny scraps of whatever and REALLY, REALLY fucking expensive, so while we all might lust after a dozen various swimsuits, we tend to have to commit to one or two, and like we really want to see our scraps on some other girl at the beach, amIright?! Plus, you want it to be flattering to your body type. All these factors really limit us fancy dykes, don't they? Well, fuck that noise.
TIP #1: You know what can be super foxy? The one-piece.
It feels like the designers are paying attention to the one-piece like never before, which is GREAT. I've never seen so much variation in design or had so much difficulty picking favorites.
Modcloth Retro Sailor Monokini, $124.99
Anthropologie To The Nines Maillot (Pink/Black), $198
Red Carter Coral Diamond Colorblock (Belted), $196
Marc by Marc Jacobs Coral Ikat Halter, $119
Marc by Marc Jacobs Ruffled Halter Maillot, $121
I know I don't need to double dare ya to kill it in a bikini, take a look at these:
Fuck yeah, man.
OndadeMar Sky Kaleidoscope Bikini (twisted bandeau), $72
Modcloth's Gentleman Prefer Plaid (regular and plus-size), $89.99
Lucky Brand Earth Love Bikini (black print w/ grommets), $116
Anthropologie Striped Transverse Bikini, $136
Anthropologie Loping Herd Bikini, $116
Anthropologie Inextricable Blue Bikini (with full coverage bottom), $176
Juicy Couture Felicity Floral Bikini (navy/red with rosettes), $161
PS. Is it just me and my snark or are tankinis the capri pant of bathing suits?
You can read more Fit for a Femme at fitforafemme.com!
---
+
Thanks everyone for contributing! If you want to give up and just go get a Speedo like the ones the cute girls wore in swim team, then that's okay, I bet you'll ROCK IT.
Pages: 1 2 3See entire article on one page