---
Part Three: The Femmes
3a. Hotties With Bodies: Queer Fat Femme Swimwear
By Bevin from Queer Fat Femme
+
The folks at Autostraddle asked me to write a guest article providing their readers with my opinions about swimwear and a guide for fat girls to feel confident so that they will go out to the beach and flirt with editor Becky.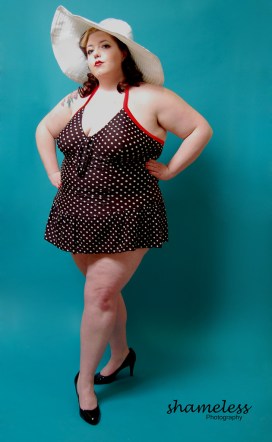 Let's be honest–wearing a swimsuit is practically like being naked in public except that it affords you the opportunity to lift or bind in areas you want to and decorate your body with swaths of fabric in as subtle or flamboyant a manner as you wish. And a lot like being naked in public, wearing a swimsuit can be extremely nervewracking and cause much anxiety.
It's really important both politically and for personal sanity that fat folks and people with all sorts of bodily non-normativity (trans people, gender non conforming people, dis/abled folks, older folks, etc…) have the same access to public swimming facilities like beaches, community pools and debaucherous queer pool parties.
The trick is to find a suit that minimizes the anxiety provoking experience of being next-to-naked in public and carries with it the personal expression that is so crucial to style.
I'll start with my own favorite swimsuit. I got this number from Torrid 3 years ago. I love it because it reminds me of wearing a dress, since it is a halter and has a cute skirt. I think it's the first time I've ever found a bathing suit with a skirt that actually looks like a dress and not like a cast off from the old Roaman's catalog.
Photo by Shameless Photography.
Every year Torrid comes out with a variety of really cute swimsuits that I think embody a retro chic style with a little bit of a girly punk edge. They're still selling the halter skirt suit with the bow in front, this year in a couple of different fabrics. And they don't just do one pieces, they also have separates if you are different sizes on top and on bottom.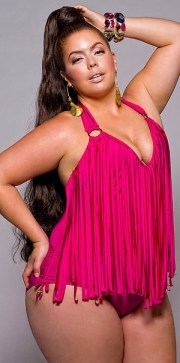 What I like also about Torrid suits is that mine has lasted for so long. Even though I spent $70 on that suit, it has definitely served well. I think when you really fall in love with a suit it is worth a monetary investment in order to feel good being practically naked.

Target and Old Navy have plus size swimwear sections, with varying results. There's a hot suit Target has right now that is black/white and has a retro feel to it as well (as you can tell, I favor retro for fancy femme pin-up style).
Target, Old Navy, and Torrid afford the size 12-28 plus size swimwear shopper in metropolitan USA the opportunity to try everything on, which is helpful. And when shopping in person for swimwear, I suggest doing a full face of make-up (if you wear it), doing your hair, having a good meal ahead of time (to avoid being self-hating and hangry) and bringing a supportive friend. I suggest trying every style on. You never know what cut is going to be flattering on you, and being open to being surprised is a huge key to fashion success.
For those who have to shop online, I suggest checking out the forum on the Fatshionista Live Journal community . It is great to see how real plus size people look in their swimwear, including reviews about online service and custom suiting options. Many people may not realize this, but fat people have widely varying body shapes, and finding someone who is a similar shape to you is really helpful to gauge how a suit will look on you.
I like Monif C swimwear. Her stuff is pricey but it is sooooo foxy. I can't get over how gorgeous some of her suits are.
Von Hottie photo courtesy Vonhottie.com. Von Hottie runs around the streets of New York City highly accessorized.
I think a big part of creating personal style out of a swimsuit is accessorizing. You'll often see me at the beach wearing my cute "could almost be a dress" swimsuit with a big hat, a necklace, big earrings, bracelet, cute shoes and sunglasses. Of course, sometimes I eschew the jewelry, but I have very fair skin (hence the hat) and I also find that playing the game of "I'm a 30s fancy lady" helps me to forget that I might be the fattest person at the pool that day. I am also the kind of ferocious Femme who thinks that she should get to wear make-up whenever she feels like it. MAC Cream Color Base is a great way to prevent your make-up from running when you swim.
The most important accessory at the beach is just being there. I wrote an article for the Femmes Guide linked here about how to have a gorgeous beach body.
I will leave you with these:
DO wear a swimsuit that makes you feel good about yourself, or at least helps you "fake it til you make it" until you do feel good about yourself.
DON'T surround yourself with friends at the beach/pool who critique your body or how you look in your swimsuit. Negative body talk is so last century.
Becky, I hope you get hella flirted with by lots of hot fat girls and bois at the beach this summer.
Bevin Branlandingham chronicles the relentless pursuit of her joy at queer fat femme dot com
---
3b. Just Your Average Everyday Girls
by Autostraddle Style Editor Becky
+
Femmes, you have your own problems. You can't go to the beach without guys hitting on you and laughing at you when you say you're a lesbian and winking at you and saying they can change that. But in regard to availability of swimsuits that fit your style–girl, you are golden. Here's a quick breakdown of stuff you probably already know with a few suggestions about what's, you know, "hot" this summer.
One Pieces & Tankinis
Le Blanca has some great swimsuits you can find over at your local Macys or Nordstroms.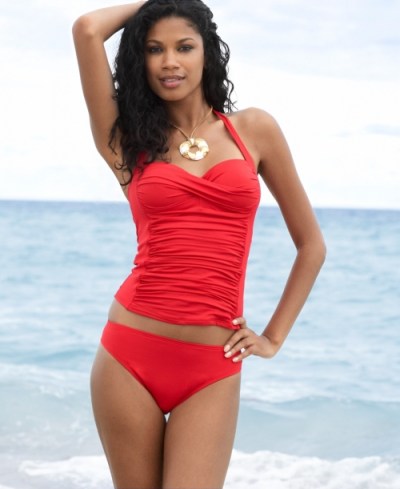 If you're less into the "sex me" look and more into the "girl-next-door-but-still-sex-me" look, check out UjENA for their wide selection (seriously they have like a bajillion and a half choices) of bathing suits, including one of my all time favorite styles: the "Monroe"
Bikinis
Oh hey, ladies. If you like cute, inexpensive bikinis that can sometimes act as a push-up(?) head on over to Body Double Swimwear and check out the bikini tops they have for only $10. Why these things are on clearance I really don't know. Probably because summer is already over in the fashion world or something ridiculous like that.
Also, because eco-fashion isn't just a fad, take this time now to explore more green options such as Eco-Panda (pictured above), BTC Elements, Nickster, and Green Is Black.
My advice for bikinis and swimsuit pieces in general is this: mix things up!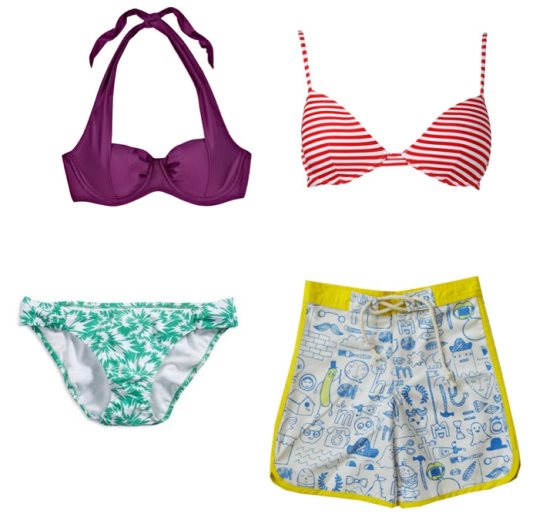 I always wanted to be that girl who wore some teal bikini top of one bathing suit and some white crouched bottoms of another. So one day I just did and there was no going back. Well, there is occasionally, but my point is experiment. Have fun. Wear a bikini top with board shorts. Live la vida loca.
---
3c. Get Fit for a Fucking Femme
by Fit for a Femme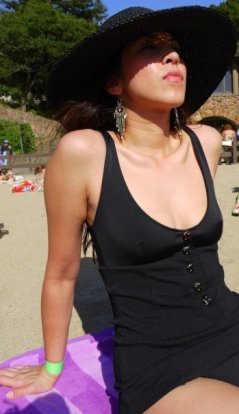 If you lean to the femme side of swimwear, you know there's a lot of fug out there to wade through. Not just outrageous, American Apparel-esque fug, but really pedestrian fug, too. There's also the fact that bikinis are tiny scraps of whatever and REALLY, REALLY fucking expensive, so while we all might lust after a dozen various swimsuits, we tend to have to commit to one or two, and like we really want to see our scraps on some other girl at the beach, amIright?! Plus, you want it to be flattering to your body type. All these factors really limit us fancy dykes, don't they? Well, fuck that noise.
TIP #1: You know what can be super foxy? The one-piece.
It feels like the designers are paying attention to the one-piece like never before, which is GREAT. I've never seen so much variation in design or had so much difficulty picking favorites.
Modcloth Retro Sailor Monokini, $124.99
Anthropologie To The Nines Maillot (Pink/Black), $198
Red Carter Coral Diamond Colorblock (Belted), $196
Marc by Marc Jacobs Coral Ikat Halter, $119
Marc by Marc Jacobs Ruffled Halter Maillot, $121
I know I don't need to double dare ya to kill it in a bikini, take a look at these:
Fuck yeah, man.
OndadeMar Sky Kaleidoscope Bikini (twisted bandeau), $72
Modcloth's Gentleman Prefer Plaid (regular and plus-size), $89.99
Lucky Brand Earth Love Bikini (black print w/ grommets), $116
Anthropologie Striped Transverse Bikini, $136
Anthropologie Loping Herd Bikini, $116
Anthropologie Inextricable Blue Bikini (with full coverage bottom), $176
Juicy Couture Felicity Floral Bikini (navy/red with rosettes), $161
PS. Is it just me and my snark or are tankinis the capri pant of bathing suits?
You can read more Fit for a Femme at fitforafemme.com!
---
+
Thanks everyone for contributing! If you want to give up and just go get a Speedo like the ones the cute girls wore in swim team, then that's okay, I bet you'll ROCK IT.
Pages: 1 2 3See entire article on one page