We started with 64 couples and their first on-screen kisses, across four regions, and went through six rounds of voting, with nearly 50,000 votes cast, all to crown a National Champion of Kissing. And, now, we have our winner: Congratulations to Kate and Emaline of Netflix's Everything Sucks on being selected as the best first kiss by Autostraddle readers.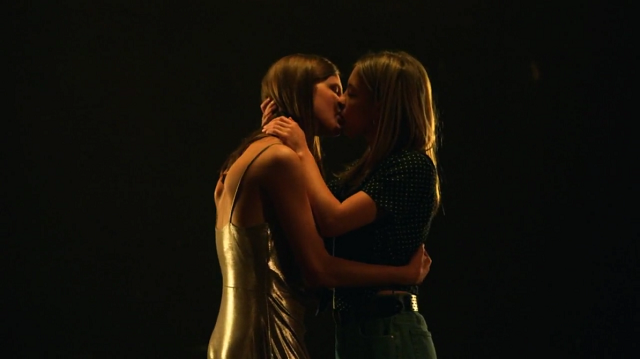 The perennial underdogs from Boring High School advanced quietly through the early rounds — I kick myself for not seeing #KEmaline coming when they bested Karolina and Nico of Marvel's Runaways with ease in the second round — but announced their formidableness when they bested Adena and Kat in the Elite 8. The fandom, led by the show's stars, Peyton Kennedy and Sydney Sweeney, would not be denied. The underdogs became the favorites and managed the win the whole damn thing in overwhelming fashion.
The victory is bittersweet after news broke on Friday that Netflix decided not to renew Everything Sucks for a second season. Fans across social media are urging Netflix to reconsider and give the show a much deserved second season. Fans are hoping that, rather than begin consigned to the history books of coming-of-age shows who only got one shot at pulling in the ratings, Everything Sucks will be more like Timeless, the time-travelling show that was cancelled then revived by NBC. If you're interested in joining the effort to #RenewEverythingSucks, you can share the hashtag on social media or add your name to the petition calling for renewal. After seeing the tenacity of the #KEmaline fans in this contest, you'd be a fool to doubt their capacity to change the show's fate.
The funny thing about Kate and Emaline's kiss in Everything Sucks, at least in my estimation, is that it's the second most significant same-sex kiss on the show. The most important kiss happens between a couple whose identities we don't know but who Kate notices holding hands and dancing to Tori Amos' "Silent All These Years." They don't notice her — they're in their own little world — but Kate sees them and she sees herself in them. The couple nuzzles lovingly against each other and happiness registers on Kate's face — the future she'd barely dared to imagine was standing right there, right in front of her. It existed, they existed, she existed. But then she watches as the couple kisses gently and, it's enough to take Kate's breathe away. She swallows hard as the full range of what's possible hits her and her eyes glisten with tears that never fall.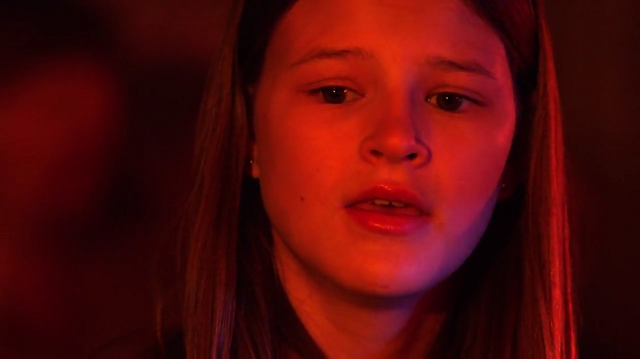 It's the moment when everything changes for Kate… when pretending that this thing that she has with Luke is a viable substitute for a real relationship becomes unacceptable… when muffling her identity — lesbian — for fear that someone might overhear is no longer her chief concern.
"My whole life, I have been the freak. The girl who nobody picked for dodgeball. The girl who didn't have a mom. The girl who dressed funny because it was her dad buying her clothes," Kate admits. "And then, tonight I looked at these people, and I thought maybe there's a future where I don't have to be a freak. Maybe I can be who I am and that's okay."
But for that moment of voyuerism, Kate doesn't confess all these thoughts and feelings she's had about Emaline. Without seeing that kiss, Kate doesn't confess to liking Emaline back in the stairwell or end up on that stage, swaying to the dulcet sounds of Duran Duran, kissing the girl that's she's wanted to kiss for so long. The perennial underdog — the closeted lesbian, member of the A/V Club — got the girl in the end, all because she saw a kiss. That's the power of representation.
In the wake of the cancellation of Everything Sucks by Netflix, Kate Messner's portrayer posted this:
Like you I'm heartbroken but I'm grateful I got to portray this complex & important character. Broken, closeted Kate blossomed into a teen icon. Love from fans & critics is testament to the power of her unique voice. I admire you for raising your unique voices. #iamkatemessner pic.twitter.com/Y5liRBZqCt

— Peyton Kennedy (@peyton_kennedy) April 7, 2018
The "I am Kate Messner" hashtag made its way around Twitter over the weekend, eliciting incredible stories from fans of the show that had seen themselves in the character.
Everything Sucks was the rare show that both gave you LGBT representation and showed you why that representation matters so much. Kate and Emaline's first kiss is going to be to some young girl what that couple at the Tori Amos concert was to Kate. Not just a chance for her to see herself reflected on screen but where she can begin to imagine a future where she doesn't have to be a freak… where she can be who she is and that's okay.