Now that you've watched the entire first season of Orange is The New Black 45 times, you may be looking for new ways to engage your senses with Orange is The New Black. Good news, we have a playlist for you!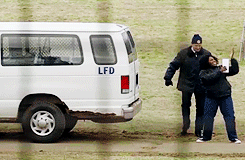 Orange Is The New Black
* = a song that appeared in the actual show
This Place is A Prison – The Postal Service
*A Better Son/Daughter – Rilo Kiley
*I Don't Give a Fuck – Boss
Going Down – Ani DiFranco
Murder Was the Case – Snoop Dogg
Drug Girls – Velocity Girl
Women's Prison – Loretta Lynn
Prison Trilogy – Joan Baez
Criminal – The Roots, Truck North & Saigon
Shoplifters of the World, Unite – The Smiths
*Living This Life Makes It Hard – The Dutchess & The Duke
Criminal – Fiona Apple
*Gangsta – Tune-Yards
A Song For Assatta – Common & Cee-Lo
Folsom Prison Blues (Johnny Cash cover) – Brandi Carlile
Riot In Cell Block Number Nine – The Robins
Werkin' Girls – Angel Haze
*Keep on Walking – Jem
Bad Girls – M.I.A.
Redemption Song – Bob Marley & The Wailers
Walking Backwards – Leagues
Do It Like a Dude – Jessie J
Ladies First – Queen Latifah
Bad Reputation – Joan Jett & The Blackhearts
*Sunday Morning – Velvet Underground & Nico
Trouble – Shampoo
Fight the Power – Public Enemy
*Milkshake – Kelis
*I'll Take You There – The Staple Singers
99 Problems – Jay-Z
I'm Just Here To Get My Baby Out of Jail – Mac Wiseman
*Chances – Jill Barber
*You've Got Time – Regina Spektor
---
Want to suggest a playlist theme? Hit Crystal up on Formspring and someone of the team might make it for you.