Welcome to the fourteenth episode of the second season of Faking It, an informational documentary about the dangers of putting Magic Shell in the refrigerator, from the same network that brought you I Want a Famous Face.
---
We open in the dapper sunlight of an early morn, where Karma and Amy have fallen asleep spooning after Amy's tragic breakup with Reagan.
Karma, unnecessarily horrified — as in, she fully considers for a good solid second that maybe they had wild lesbian sex all night, which I s'pose means she considers such a thing possible, which means something, maybe — leaps out of bed in full hair and makeup and quickly re-dresses herself in an outfit far too ambitious for this time of day. They've got a couples date with Liam, Shane and Duke! Amy slowly rouses herself and makes a solid case for staying in bed (because bed, y'all) but Karma informs Amy that she can't just wallow forever! It's been nearly 45 seconds! Get over it!
---
Meanwhile, Theo's softening Lauren's icy heart like a stick of butter! They're in love like butterflies kissing on a leaf. Lauren says that she misses kissing him in public, but they can't because Theo would lose his job and Lauren would lose her presidency. I know this 'cause Lauren tells Theo, "If anybody found out, you'd lose your job and I'd lose my presidency." As you know, of course. Also, as you know, Theo's name isn't "Theo," but Lauren likes it so she's sticking to it.
Theo's left a little note for Lauren on the back porch, so Lauren zooms down to snatch it only to find that Amy the Wild Snatcher's already got her fingering fingers all over it — and it says "I'm counting the hours until I see you again." Fortunately or unfortunately, the conclusion Amy subsequently jumps to is not that Lauren's sneaking around with Theo — it's that her mother is having an affair!
---
Saturdays at Sporkle are swinging soirees, and today is no exception: the interns are stapling away like two swans in a pond!
Then Liam's Dad shows up and Zita steps out just in time for Liam's Dad to inform Liam that he thinks Zita would make a good life partner for his strapping young son and that Karma's probably just after his money.
Liam: Karma is awesome!
Mr. Booker: They all seem awesome until they come after your money. That's what I like about Zita! She's got piles of her own.
I've added "talk to Zita about investing in Autostraddle" to my to-do list.
---
Back at Chez Fawcett, Amy's Mom is foisting a large platter of processed carbohydrates upon her sweet angels while whistling a happy tune to herself. I know what you're thinking: she's finally had sex with a woman! NOPE.
Amy: Is that a new haircut, mother?
Farrah: Why is it too short? Oh, that darn Becky at the salon, so liberal with her scissors… and other things!
Amy doesn't even catch that Farrah's hairdresser Becky is a carpet-muncher 'cause she's far too preoccupied with who might be munching Farrah's carpet. She tells Lauren that Farrah cheats on every husband with the next one and honestly, Bruce is the best one she's got so far — and, also, it turns out that "this whole step-sister thing wasn't so terrible either." "Same," Lauren agrees. Aw. See! Friendship is magic!
---
We then take a merry walk through television time/space and arrive at Kurt and Blaine's favorite hangout: the local neighborhood coffee shop. Shane and Duke are enjoying some generous public displays of affection 'cause they never get to see each other now that Duke's so busy with appearances.
Karma's enthusiasm for Liam's arrival is immediately dampened when he shows up with Zita in tow. Unfortch, Duke's publicist couldn't snag Shane a spot on the jet plane to see Duke's first big fight, but never fear, Zita and Her Piles Of Money are here! She insists on flying the whole gang to Los Angeles on her private jet.
---
We then skip merrily back to Chez Fawcett, where Amy's intense archeological dig of the laundry hamper for clues about Farrah's affair have turned up one very important clue: a motel key card!
---
We then fly luxuriously over to Los Angeles, California, home of sun, stars, relaxing beaches, a lot of mid-day traffic and most of my friends. Shane's gushing about the gay masseuse Zita's got on her Private Jet as they pull up to the venue just in time for Duke's "weigh-in." But Zita's got different plans for her afternoon with Karma.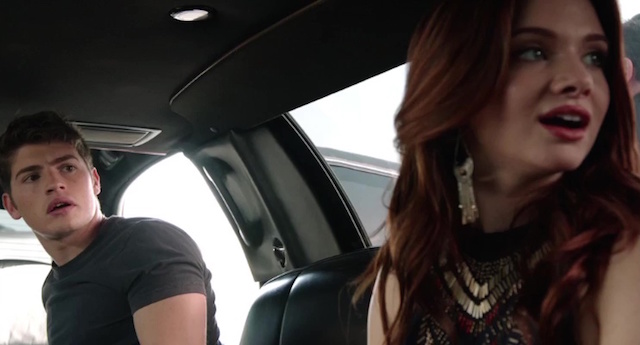 Zita wants to go shopping on Rodeo to buy new duds for the big fight tonight, her treat. When prodded, Karma insists to Liam that all these diamond rings and fancy things don't make her feel weird at all! Not even one tiny bit! Nope! Absolutely not.
Liam: Are you okay with all of this? You know… with things back home right now I wouldn't blame you if you felt uncomfortable.
Karma: The only thing uncomfortable for me was all the turbulence over Arizona. You're sweet to worry but I'm having a blast!
Fun fact: "all the turbulence over Arizona" is my pet name for Laneia. So, Liam dashes, and Karma and Zita are free to hit the shops like the great gal pals they are.
---
Back in Texas, Amy and Lauren are fighting over whose parent is doing the cheating — Lauren insists it's her Dad, and Amy insists it's her Mom. Everybody wants to have the cheater on their family tree!
Why isn't Farrah wearing her wedding ring? Is that a new shirt, BRUCE? Oh yeah, it was a gift from Farrah. Why the GIFTS, Farrah? What is this, CHRISTMAS? Is that why everybody is always wearing scarves and sweaters? Does somebody feel GUILTY about DOING SOMETHING NAUGHTY? What's with all the SUGAR AND SPICE? WHAT'S THE DEAL, Y'ALL?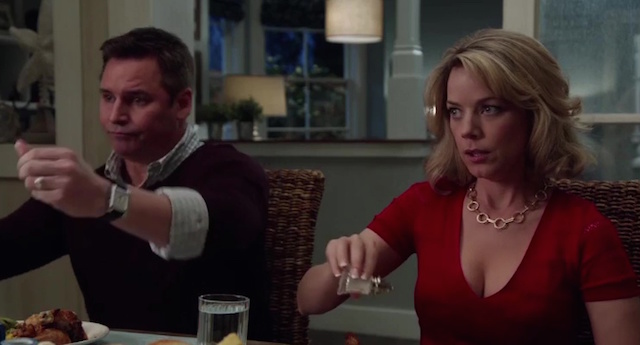 Well, Farrah knows the deal: Amy's just lost and delirious 'cause she's still heartbroken about Reagan!
Farrah: I know what this is about. You're still hurtin' from your breakup. And I bet right now you hope that you will never fall in love again. But your soulmate is out there and you'll find him someday. Or her. Them. Whatever.
Look at Farrah with her gender-neutral pronouns!
---
We then swim in our teeny tiny bikinis over to resplendent Los Angeles, California, where Duke's shocked and thrilled to see his boyfriend has made the arduous journey through land and fog to watch him punch another man in the faceplate!
Joanna The Publicist is thrilled 'cause Mr. Peanut is here and Mr. Peanut's product launch was the best product launch of all time! What a catch, that Liam Booker! She already pre-ordered her monocle!
Joanna says Shane can duck out if seeing Duke compare his biceps to another man's biceps makes him uncomfortable, but nope, insists Shane, 'cause "I know who Duke's going to prom with, and it ain't that guy." Joanna is alarmed to learn her client is shagging a high school student and obviously hasn't seen the Brian/Justin prom scene from Queer as Folk.
---
Pages: 1 2See entire article on one page