Part Two: The In-Between
1. For Catastrophe-Prone Boyishly-Bodied
Skinny Grrrls with Flexible Gender Presentation
+
Hi! It's me Riese your editor in chief (with a special comment from Alex) here to provide advice for girls who don't know jack about fashionable swimwear but are paid in lesbian cruises instead of actual money, therefore requiring donning such objects regularly.
This is advice for skinny ladies who are not butches, femmes or fat but instead just dear catastrophe waitresses.
I attempt to avoid swimsuit shopping at all costs by strategically mixing & matching, stealing swimsuits from friends/lovers, and sticking to basics. I haven't tried on swimsuits in the mall since the '90s, and as I recall, I was scarred for life.
Rule #1: You Must, You Must, You Must Get a Halter Top for Your Non-Existent Bust
+
Most swimsuits are designed for women with breasts. Like this.
Then there are swimsuit models. If you're skinny, you might think you and these women will see eye-to-eye on your shopping needs. Um, not so, because they have implants, and you don't: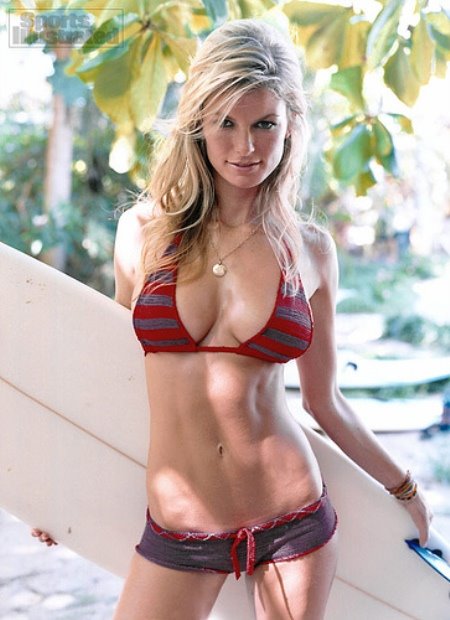 If you're anywhere between nothing and a small B-cup, then the only kind of swimsuit top you should ever wear is a halter with real straps (not spaghetti straps, what if they come undone? these things concern me). Underwires aren't your friend and padding is a lie and honesty is important. Furthermore I find mainstream magazines are always telling thin girls to wear teeny-tiny string triangle-top bikinis. That's great if you're 14 or super-confident, but that shit ain't practical, we've got trees to climb!
Here's two random people I found on the beach displaying halter top/no-chest success with their tops: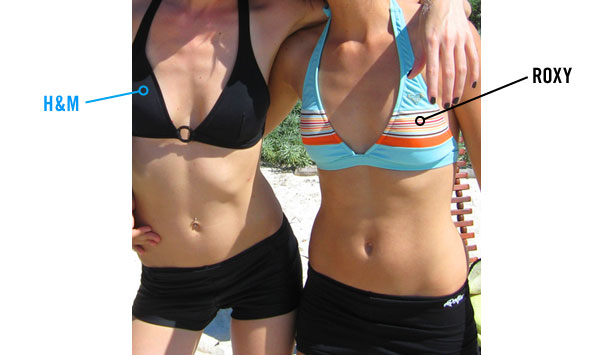 Or try:
+ I personally own this Solid Wide-Band halter from JCrew (A) ($40) — no padding, no underwire, and nothing trying to lift something that actually lifts itself just fine.
+
+ Basic Roxy halters (B) ($34) come in a several colors — Roxy runs small, so get a size larger than you normally would.
+
+ Roxy 70's Striped Halter Top (C) ($40)
+
+ Mossimo Black Women's Bikini Halter Top (D)– it's the bargain option! ($17.99)
+
+ Body Glove Smoothies Foxy Bikini Top ($48)
If you're not totally sold on the halter suggestion, these offer other small-chest-friendly styles.
+ Twist Bandeau & Foldover Hipster (E) ($24.50)
+
+ This black/blue/blue bandeau halter from Rip Curl ($27)
+
+ Like a sports bra, but for the pool: Body Glove Vapor Racer Top ($40)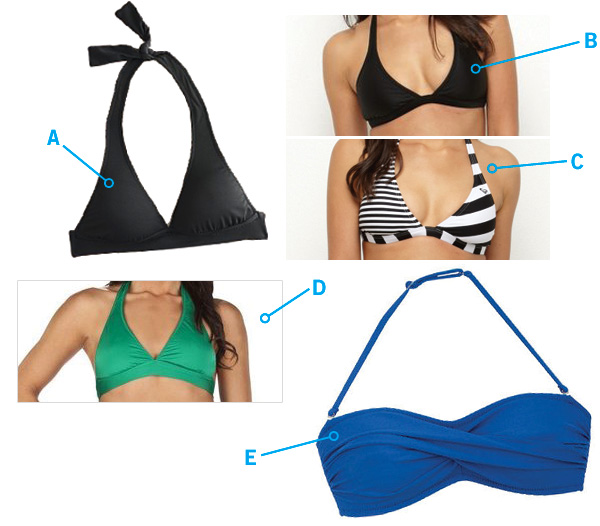 +
Rule #2: Boyshorts Cannot Do Wrong
+
Boyshorts is the best thing to happen to swimsuits since the 50's, when women still had to mostly cover themselves up which I wish we still did. Boyshorts free us from submitting to patriarchal bikini waxes every three weeks and they make your ass look good. Do people really feel good in those tiny string things? I don't.
I feel like you'd have to stand perfectly still and probably shave your cervix twice a week to successfully rock a side-tied napkin-sized bottom. Okay, grow up and cover your fucking private parts. Unless you are Dana Fairbanks, I guess, she can do no wrong.
So, a good pair of boyshorts is an investment worth making — think of the valuable time you'll save hating yourself in the dressing room if you have to shop AGAIN next year. Get lining, something thick & durable; the works. Make sure it covers your entire ass with room for ass growth so you won't need to replace it for several years. And get BASIC COLORS, like black. Why? Because that makes it easier to mix and match with other people's swimsuits or with whatever's cheapest at TJ Maxx the night before your beach vaycay, as I will explain later.
+ Roxy Venice Beach Cheeky Hipster Bottoms (A) ($28) are a little closer to the goods than I'd like, but the string is super cute and the side detailing is fun.
+
+ Hurleys One & Only Solid Boyshort Bottoms offer full ass coverage (B), which is key. They're pricey ($50) but it's a good brand that will last forever.
+
+ These Nike Mod Boyshorts (C) ($40) have a colorful belt detail which guarantees thick fabric and lots of coverage.
+
+ Roxy Neo Leg Boy Bottom (D): ($46) An athletic, 80's inspired boy bottom with neon trim.
+
+ If you're looking for a one-off 'cause you plan to grow a size next year (please don't shrink a size, it drives me crazy when girls get skinnier/have less ass to grab) then Top Shop has some cute simple little boyshorts for only $14.
+
+ JCrew's gone a little retro with this girly take on the boyshort with the solid ruched sonsie short (E) ($44) — it might make your ass look even sexier than it probs already is, and they come in all the colors of the wind.
---
Alex says: Just 'Cause it Says "Men's" Doesn't Mean You Can't Wear It
+
Hello ladies! Or should I say andros? Whatever we're calling ourselves these days. I'd like to tell you a thing or two I've learned about swim suits this past year…
RULE #infinity:
Just because it's labeled "mens" doesn't mean you can't wear it.
+
I noticed that board shorts weren't the only mens swimsuit style available to the world ('cause I'm not into them. Sorz.). And I also noticed the only underwear I wear are men's briefs. (You can read about the specific kinds of mens briefs/underwear that we wear and recommend inour "boyshorts" post.)
These are things I enjoy about mens underwear/briefs:
The extra space in my area.
No wedgies — frontal or posterior.
Plenty of upper leg coverage.
So I put this equation together and thought: I CAN WEAR MENS SWIMSUITS. The same rules apply!
It's kind of that "retro" look that Fit for a Femme talked about before. You want to make sure you're looking for "square leg", "square cut" or "short" suits — those are the keywords. The thing is — briefs/boyshorts made for women just don't work for me. You're guaranteed more room and more coverage with a mens swimsuit. And they generally come in a variety of sizes!
Where can you get these puppies?
One word: SwimOutlet.com. What a great resource for SO many different styles of mens suits! The one I currently own is the Dolfin Poly Solid Aussie suit (A). It might be just this specific pair or all men's swimwear in general, I'm not sure… But it might be a good idea to order a waist size larger than usual. The Dolfin pair definitely ran quite small on me.
If you're still confused about how your size translates into mens sizes, the sizing charts on shopping sites are helpful. If you know your waist size, you can use that to make sure you get the correct size for you.
My recommendations:
Hugo Boss 'Oyster' briefs (B),
these cute Diesel "Aloha" swim trunks (C),
of course Calvin Klein Swimwear (D),
the Speedo Shoreline Square leg suit (E)
and maybe this is just me, but I want these Dolfin "Uglies" Spritzer Baggies (F)!
So, you get the idea yeah? Get your briefs in black or a neutral color and you can pair it with virtually any top you have or steal from a friend. Or get crazy-colored briefs and top it off with a black top. (More on this mixing/matching idea in Riese's next segment below…)
You can't go wrong. I promise.
---
+
and now back to Riese's Segment…
Rule #3: Prepare to be Unprepared
+
I'm a bad planner: I really FEEL like I own a lot of swimsuits. Yet I perpetually seem to be packing the night before a free lesbian cruise asking myself, "why don't I have any swimsuits?" Therefore I have become adept at two very important swimsuit wearing skills:
a) Mixing & Matching: As Becky will mention in her upcoming section, tops need not match bottoms. One day in Summer '05 I snagged an invite to the Hamptons with 24-hour advance notice and had nothing to wear. (Sidenote: I'm not frequently called to the Hamptons. This was the only time I've been,Natalie and I basically crashed a WASPy party and haven't been invited back). Sooooo, I made a JCrew sale rack pit stop the night before and although the top & bottom I found did not match, it worked well enough and I still wear it to this day (though often with shorts over the bottom 'cause they aren't boyshorts, see "Rule #2") — this is illustrated below in picture #3 — orange top, pink bottom. Matchy, almost! Buying seperates is also good if you wear a small up top but a medium/large for your ass. Hypothetically.
I also "borrow" swimsuit pieces from friends which match tops I already own. That's why it's so important to buy tops and bottoms that can go with lots of different styles.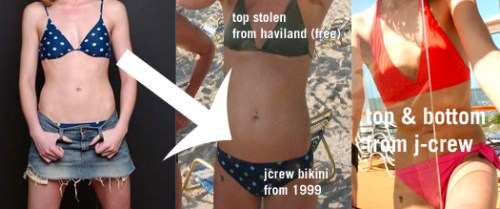 A mixing & matching key is a solid pair of black boyshort swim trunks. If worse comes to worse, you can wear it with a bra, but you can also wear it with just about any color swimsuit you want! I got a black top at H&M, didn't even try it on, holler.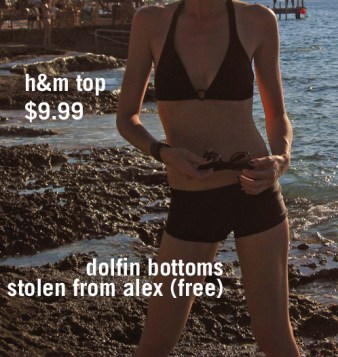 b) What Else: The "cover-ups" section of a beachwear website confuses me. One need not purchase special items simply to cover up beachwear! You need only need to own some athletic shorts and/or mini skirts within at least 3 of the 4 color following schemes: denim, navy, black, grey/white. I also find that this particular American Apparel dress, which you can tie up in 546 ways, is convenient for shifting swim strap styles.
This simple American Apparel California Fleece Skirt (with drawstring) is available in many colors for the a sweet price of $12.15 and looks good on everyone. They don't sell it anymore at American Apparel, thank god for the internet right?
American Eagle has cute navy drawstrings shorts if you can handle sporting that big ass brand name.
Stock up on cheap athletic shorts of every color — Champion Cheer Shorts are shorter than boy's XL (my prior choice) without being too teenagery, or these super-short vintage-style cheapies from Forever 21. A
That's so whatever you end up buying/stealing/finding while abroad will match whatever you wear on top of it to the beach. Or the underpants you end up wearing instead.
c) Tops: If you're going with the halter suit top — and you should — a racerback tank will look the least redic. Get a 3-pack of Hanes WifeBeaters ($7.90) or if you want your tan line to match up perfectly with your halter and be semi-stylish, these Delia's knot racerbank tanks are hawt.
---
+
NEXT PAGE:
Femmes with tips from Queer Fat Femme, Fit for a Femme, and Autostraddle's Becky!
+
Pages: 1 2 3See entire article on one page