Here at Autostraddle, we feel a lady is at her best when she's not wearing pants. Furthermore, we're struck by how many of us appreciate a certain style of underwear that is quite difficult to track down. See here's the thing: boyshorts, if you haven't noticed, have officially outpaced the thong-tha-thong-thong-thong and are now the most popular specialty style of women's underthangs. Like the thong, boyshorts can be worn under pants sans-pantyline and UNLIKE the thong, boyshorts are mega-comfortable.
Clearly we've documented our love for ladies-in-boyshorts (Girls in Boyshorts Part One, Girls in Boyshorts Part Two), and today we are going to tell you everything you need to know about getting some of your own. This is what we do for you.
Welcome to Boyshorts 101.
We've chosen our Top Three favorite brands and following that exposition we will share personal selections from passionate believers [aka the Autostraddle team/interns]. Then you are welcome to share your own experiences.
Also, we have a problem with the word "panties." It's weird right? or No? Anyone else?


The Top Three
+
1. American Apparel Unisex Baby Rib-Brief
WHY: Dov Charney's questionable treatment of his sexy female employees and possible glamorizing of child porn in his ad campaigns aside, these briefs are hands-down the most successful foray into the desperately under-explored style terrain of "unisex boy briefs."
PROS:
+ Unlike female-catered boy briefs, these suckers offer full coverage no matter how big you think your ass is.
+ Unlike actual boy briefs, there's really no serious penis pocket.
+ These look hot on everyone. Like really hot.
+ 400 colors
+ Will defo get you laid, possibly inspire you to jump on the bed while singing a cute song.
CONS:
+ Won't fit under tight pants, and if you're wearing thin pants, beware of the massive panty line.
+ Not cheap.
+ Will make you feel like a dirty hipster.
Also, we used American Apparel Unisex Boy-Briefs for our 2007 Autostraddle Boyshorts, which I think we still have in stock if you want a cute last-minute holiday gift for your girlfriend! She can have our old-school pre-Actual-Autostraddle URL on her ass. We're out of smalls. Etc.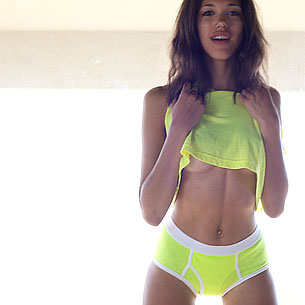 2. Hanes Authentic Core Boxer Briefs
WHY: If you find these, say hello! Whenever we find a pair of Hanes latest boy-briefs-for-ladies, we snag 'em, 'cause these suckers sell like hotcakes and go out of print before you can say, "take off your pants."
PROS:
+ Serious coverage — the Hanes boy-briefs travel all the way around your ass and underneath it, therefore enabling you to slip 'em under tight pants. That's right, you no longer have to suffer getting ASSaulted by a thong all night when you want to sport your favorite pair of fancy mega-tight jeans.
+ Cheap.
+ The thin, tight cotton spandex style manages to include the stylistic lines of an actual boybrief without the extra consideration such bulkiness requires.
CONS:
+ Design and availability changes constantly, so just as soon as you fall in love with a style, it vanishes from the racks at Target/K-Mart/wherever you found 'em you lucky bitch.
+ Anecdotal reports of elastic waistband falling apart relatively quickly.
See, this line began several years ago with a very traditional take on the men's boyshort for women. It was cute! It even had a fake penis pocket, and the "HANES" logo but in a littler girlier font … but where have they gone? Now we can't find these babies ANYWHERE: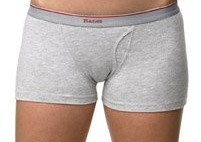 Last year a new style cropped up — tighter than before, with an updated logo on the waistband and even! more! colors! However, these seem to be out of stock EVERYWHERE except here, where you can get them 2/$5, which is um, amazing. Either everything we like is so popular it flies off the shelves, or once again the lezbros are being ignored by the commercial mainstream!
We sort of liked the old logo better, for maximum waistband sexiness. But the new style is very streamlined, which we appreciate. Check it out: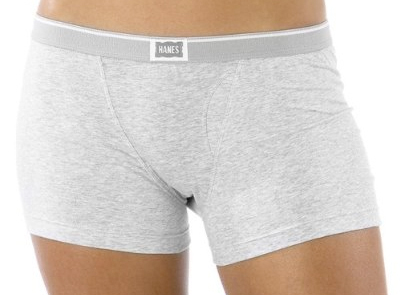 3. Calvin Klein Steel Cotton Gripper Trunks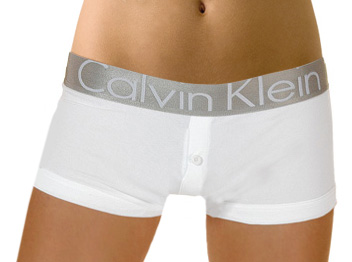 WHY: YES, these are actual men's underwear… but that's exactly why they fit so perfectly! These are the ultimate in SEXXXY with the price to match. Look at that waistband. Don't you want to fold it over and go muff-diving YEAH YOU DO. Sorry we won't make any more inappropriate jokes anymore for the rest of this post, promise.
PROS:
+ Calvin Klein = HOT HOT SEX.
+ Very minimal "package pouch" so you don't feel weird about the fact that it's made for a man. You can barely even tell!
+ Best elastic waistband in the business
+ Full ass-coverage. They grip the top of your thighs… therefore – no wedgies.
CONS:
+ REALLY FUCKING EXPENSIVE! (but try TJ Maxx & other discounters, they're always well-stocked with Calvins)
+ Extra bulk of the button at the top means they won't fit under leggings or anything sorz Lilo.
We have been  brainwashed by the media into believing Calvin Klein = hot hot sex, which accounts for a large portion of this style's appeal. Exhibit A:
Exhibit B:
Exhibit C, unrelated to underwear, but very related to Jenny Shimizu, who is hot and is also the luckiest lesbian in the universe b/c she did it with Angelina Jolie, which we think subconsciously contributes to our concept that Calvins=Sexy: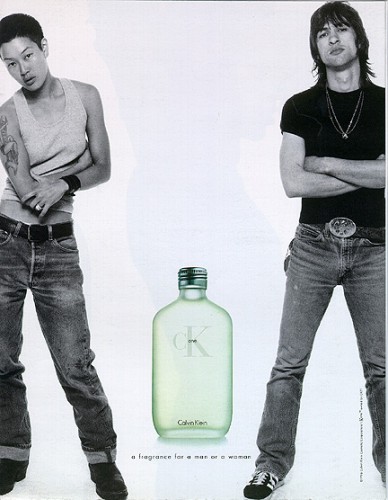 All the world's an ad campaign, and the ladies merely players …

Next: The Team makes Expert Recommendations!
Pages: 1 2 See entire article on one page