In February 2015, Autostraddle launched The Ultimate Lesbian Sex Survey, open to all women who sleep with women. We garnered over 8,566 complete responses and now we're sharing the results with you, bit by bit. Previously: How Often Do Queer Women Have Sex?, 100 Gayest Places You've Had Sex, The Masturbation Habits of Queer Women, 50 Really Fascinating Things You Wanted Us To Know About How You Have Sex, 26 Bits of Solid Sex Advice and 41 Feelings You Have About Scissoring. Today we're talking about your underpants!

---
Back in 2009, we put together a mega-fashion-post about Boyshorts that ended up being one of the year's most popular posts. It eventually became outdated, however, and figuring out what exactly to do about that is what led us to launch Underwear Week back in February 2013. Y'all LOVED UNDERWEAR WEEK. Why? 'Cause we love talking about underwear. I could talk about underwear all day! Unless you make me use the word "panties," which I had to type about 100 times in this article but cannot bring myself to say out loud.
Anyhow, we asked you on the sex survey what type of underwear you usually wear, and you were allowed to select multiple options. Here's what we learned: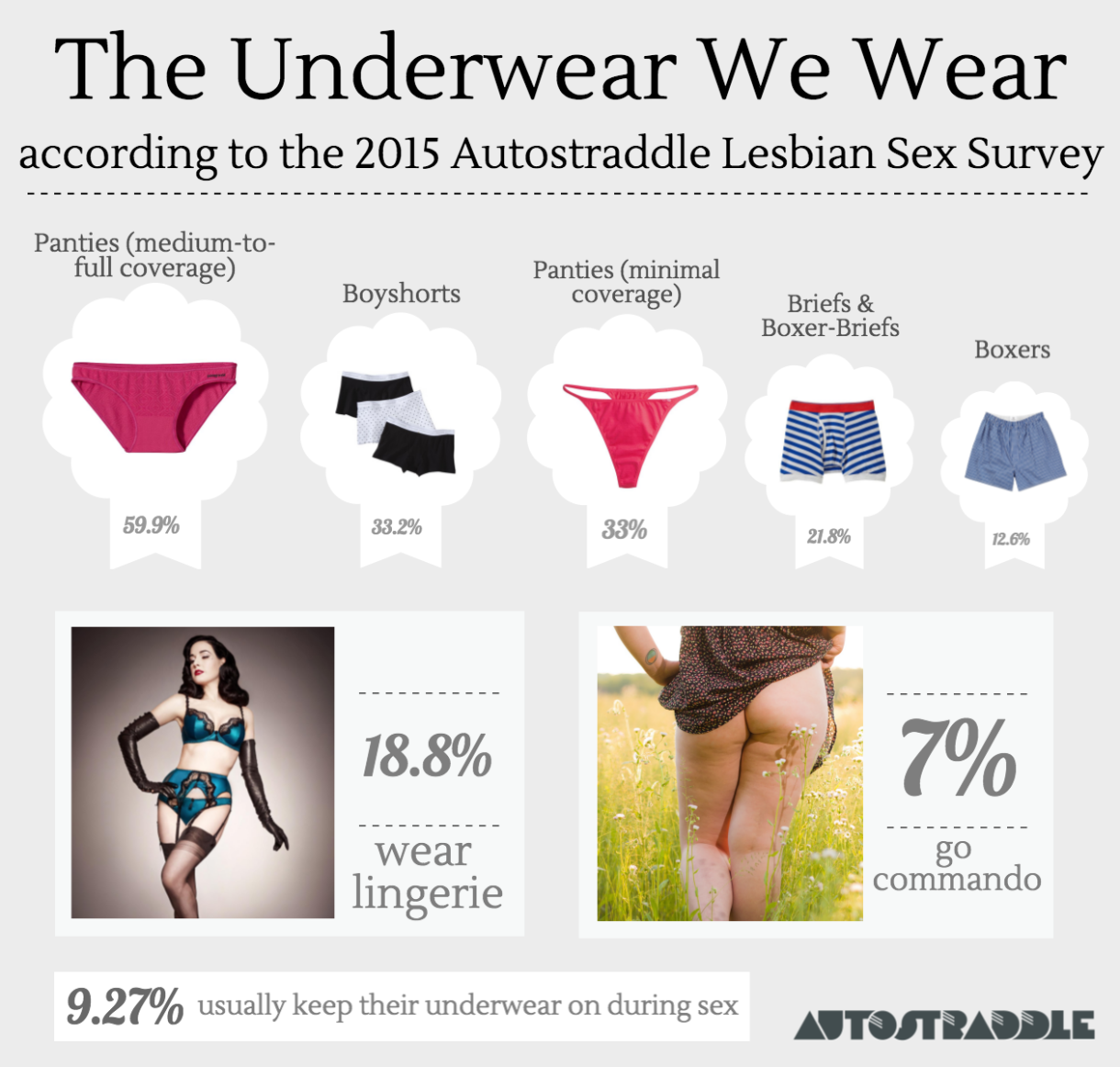 We also asked "How Naked Do You Usually Get For Sex?" and 83.78% said you got fully naked. 2.32% got naked except for a harness (and 3.04% answered "harness" for the type of underwear they usually wear). 5.05% got naked except for their underwear and 4.62% picked "naked except for a tanktop/undershirts/binder/concealing lingerie." There are a few reasons someone might stay partially closed during sex outside of situational constraints (e.g., you're in public, you're in a hurry.) Often lesbian sex involves a lot of tribadism, a.k.a "dry humping," and underwear can protect its wearers from skin-irritating friction. Or, possibly, some may prefer to remain partially clothed for reasons relating to gender dysphoria or trauma. Others just may find it more comfortable that way! Those who get naked except for their underwear for sex were most likely to wear panties (fully to medium-coverage).
What Brands and Styles Do We Enjoy?
Looking at sales data through our affiliate accounts with Amazon and Shopstyle, as well as looking at top outclicks to retailers from Autostraddle's fashion posts, I came up with this general survey of some of the most popular brands/styles worn by LGBTQ women:
What Other Factors Impact Underwear Choice?
When you cross-tab underwear preferences with other demographic results, a few things stand out.
First, looking at gender identity:
Genderqueer folks were much more likely to choose "harness (RodeOH, SpareParts, etc.)" than cisgender and transgender folks, with 7.4% selecting that option, opposed to 2.36% of cis women, .8% of trans women and 2.21% of agender folks.
Intersex folks are more likely to wear "panties (minimal coverage)" than other groups and cisgender women were slightly more likely to wear "panties (minimal coverage)" than other groups.
Ditto for lingerie — intersex folks were much more likely to wear it than other groups, with 36.67% indicating that option, and cis women were more likely to wear it than other groups, but not as dramatically, with 20.27% picking that option.
Transgender women and cisgender women were more likely to pick "panties (medium to full coverage)" than the other groups.
Genderqueer folks were more likely to pick "boyshorts" than the other groups.
Next, I looked at gender presentation. For this question, people were permitted to pick multiple presentations, so keep in mind that these groups are not mutually exclusive:
51.69% of bois, 49% of Stud/AGs, 

43.98% of butches, and 44.25% of masculine-of-center folks wear briefs, opposed to 21.8% of the entire group, 10.57% of femmes and 13.39% of femme-of-centers.
High femmes were way more likely to wear panties than the other groups. 60.37% wear medium-to-full coverage panties and 63.59% wear minimal coverage panties.
74.8% of femme-of-centers wear panties (medium-to-full coverage), which is the largest segment of any gender presentation group choosing the same underwear option.
Only 1.96% of butches, 5.06% of bois and 9.03% of tomboys wear lingerie, compared to 50.46% of high femmes and between 27%-36% of hard femmes, femmes and femme-of-centers.
Boyshorts were most popular amongst bois (48.3%), followed by baby butches, androgynous folks, tomboys, soft butches and tomboy femmes, who all had numbers above 40% as well. Boyshorts

 are least popular amongst high femmes (23%) and femmes (27.5%).

Harnesses were most popular for bois (12.64%), Stud/AGs (11.54%) and butches (11.48%). They were least popular for femmes (1.58%).
Most likely to not wear underwear at all? Hard femmes, hands down. 10.72% eschew underwear altogether. The next group most likely to bare all are high femmes, at 8.9%, followed by femme tomboys at 8%. Butches are the least likely to go without, with 3.35% (which surprised me, having known many butches who go commando by necessity due to chronic underwear shortage problems), followed by Stud/AGs, with 2.88%.
Like the numbers for lingerie and minimum coverage panties, the numbers for boxers showed enormous disparities between gender presentation groups. Only 3.91% of femmes wear boxers, but 52.9% of Stud/AGs and 49.86% of butches do.
Options that weren't included in the survey but were mentioned in the comments include tights, Spanx and under armour. Those who mentioned "boxer-briefs" in the comments (1.7%) were added to the numbers for "briefs," and those who mentioned "thongs" were added to the numbers for "minimal coverage panties."
Finally, I looked at geography and discovered that, of the countries with enough survey-takers in them to produce statistically significant results, the French were most likely to go commando, followed by Americans. Germans prefer panties (medium to full coverage), Irish folks and Australians aren't too excited about minimal coverage panties, citizens of The Netherlands love their boxers, and folks from France and The UK are more likely to get lingerie than the rest of us.
In conclusion, you're looking very Shane today.