The Global Fund for Women called on girl coders from around the world in February to design websites or apps that increase girls' access to safe spaces online and in their physical communities as part of their International Girls Hackathon. The #HackForGirlsRights was organized as part of the Global Fund's IGNITE project, which is centered around women in STEM. Their partners included Girls Who Code, Black Girls Code, General Assembly, and local partners who coordinated on-the-ground. Judges represented organized like Girls, Inc., UN Women, Kollective Mobile, and more.
Over 70 girls from five cities — New York, NY; Oakland, CA; Taipei, Taiwan; Trivandrum, India; and Porto Alegre, Brazil — stepped up for the challenge. Here's what the finalists came up with.
(List items start with the hackathon winning entry; the rest are in alphabetical order.)
---
Apps like Yelp! and UrbanSpoon are super useful when you're trying to figure out what pizza joints are still open or which restaurant to head to on vacation. But what about when your concerns have to do with safety, and not just hours of operation or grumpy reviews from people who hated their server? That's where Não Me Calo comes in.
Não Me Calo is an app and social networking tool that taps into the conversations women have amongst themselves about local establishments ("Ugh, the bartender there is so creepy" comes to mind) and makes that kind of information widely available and publicly known. Women and girls using the app are able to rank venues based on how safe they are, including shining a light on spaces where women have experienced verbal or physical abuse and harassment. Making this kind of information widely know will hopefully then create pressure for business owners and lawmakers to see to it that widespread failure in that regard is attended to.
The app, which was created by hackers Ana Paula, Adriane, Manoela, and Karen in Brazil, so right now it's pretty much limited to the Porto Alegre area. But as hackathon winners, the team is receiving support from the Global Fund to make this app a global reality, allowing all of us to navigate cities more wisely and empowering women and girls worldwide to demand that businesses be accountable for their safety.
---
There's a lot of factors holding women back in the workforce, some of which are local and some of which are more widespread. One reason women struggle to enter or re-enter the workforce is because skill-sharing is often geared toward men, who are encouraged to take on and try new things more than women and are also more likely to be connected to networks where people with different skills are open to imparting some wisdom on them. It's easier for men to go out and learn new things, and often the people encouraging them to do so are other men.
CooperaDona flips that problem on its head with their women-only skill-sharing social network, which connects women who wants to learn specific skills to women who are down to help them out. Users can register to both teach and learn, and as they connect each user will (hopefully!) begin listing more and more skills they've picked up to pass on to new folks. The development team — Daniele, Giovana, Júlia, and Sheila from Brazil — want to eventually expand the site to include suggested connections by location, partnering with schools and other programs for more advanced training, and designating skill levels for ultimate growth capability. Another key component in the master scheme is a job board and online training opportunities, which will maximize the potential benefits of the platform and also connect users to employers who believe in the mission of CooperDona overall, giving them a leg-up.
In a world of old boys' clubs, it's about damn time we got one of our own. And by putting it all online, CooperDona gives it to each and every one of us.
---
Shanyu, Maomao, and Freetsubasa of Taiwan call themselves the "PyGirls," and their hackathon mission was to expose pervs. Like, literally, their website Girls' Secret Talk has a "Pervert Radar" and a "Pervert Map." Those two things were created for a specific goal: to carve out a space for mapping girls' and women's experiences with sexual harassment and to give them a platform to connect with each other for support. Users can also set up Incident Alerts, which will notify them when new incidents are logged in their communities, and find "Safe Zones" on the map if they're looking for resources after harassment.
Organizations like HollaBack! have raised awareness over the last few years to just how widespread street harassment and sexual harassment are for women and girls in public spaces, and it's not a phenomena contained to one nation, one city, or even one continent. (There are HB! chapters around the globe, for instance.) But folks who experience this kind of harassment are still shrouded in silence, and often the moments right after find them feeling scared, overwhelmed, and alone. Being harassed in public space is jarring, and it can be hard to recoup.
What this website does is provide people with a community afterward that's there to support them, as well as the knowledge that someone's got their back. Their tool's mapping feature also capitalizes on the idea that creating a culture of accountability — and providing proof that this kind of harassment happens by logging and displaying the experiences — starts when we speak up about our own experiences.
---
Inspired by the "Carry That Weight" movement at Columbia, Nivita, Mary, Osariemen, and Natalia from New York created an animated game called "The Mattress Girl" and website called "Gray Spaces" in Emma Sulkowicz's honor that tackles the idea of "gray rape," the importance of consent, and the cultural obstacles survivors face in pursuing justice.
The center of their game is Little Triangle, an adorable, um, triangle. "We were inspired to tell [Emma Sulkowicz's] story in a neutral way, depicting people as shapes," the team told the Global Fund. "This allowed us to tell her story in a way that eliminates gender, race, or any other stereotypes. Our audience doesn't know who the triangle is, and this allows them to approach the story with an open mind."
Through Emma's story, the team hopes to inspire other people to tell their own. In the future, they'll be adding a community section where survivors of mishandled cases can share their stories anonymously.
---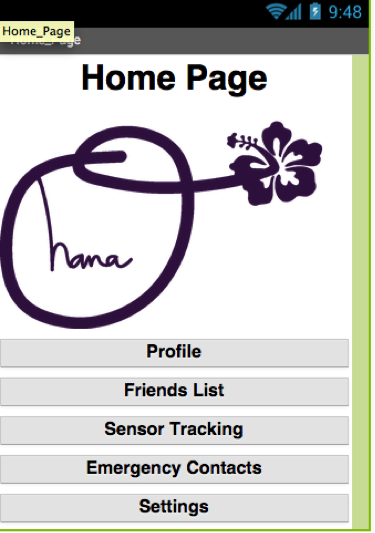 Ohana is a mobile app that uses a tracking device to prevent adbuction and sexual assault. A lightweight adhesive sensor, worn discreetly, connects with the app and allows users to communicate with pre-set contacts and notify authorities of danger without using their mobile phone at all.
Taigah, Kenya, Rebecca, Sasha, and Kai from Oakland developed the app, which enables users to input contact information and change safety status from their phone. If you indicate you're in trouble, the app will contact five pre-stored contacts with pre-programmed texts, emails, and voicemails, and when you're in danger you can obtain a tracking map with your exact coordinates, a history page with your last three locations, and a list of nearby safety resources. You can connect with your friends in the app, too, letting you see their safety status and vice-versa. (And they can even send messages of support!)
Ohana, which means "family," keeps people connected in users' scariest moments. To call this app a "lifesaver" might not be an overstatement.
---
"Pravati" means "to help and protect" in Sanskrit, which is fitting for an app of this kind. Pravati provides quick and easy access to emergency numbers and support services for women — including domestic violence shelters, resources for cyber crime and sexual harassment, and more. The app also directs users to contacts at transit hubs and the locations of safe spaces.
What this app does is widen the idea of "safety" to encompass more than just policing and authorities, and by doing that it highlights community-based solutions to some of women's most complex issues. Pravati would be one more way to escape domestic violence and harassment and find immediate recourse and support.
Pravati was built by Deepika S.J., Divya N. Indran, Reshma P.S., and Reshma Sanal in India, so right now the database of contact information is limited to Trivandrum, but the developing team hopes to expand it and turn it into a broad, global network of resources in the future.
---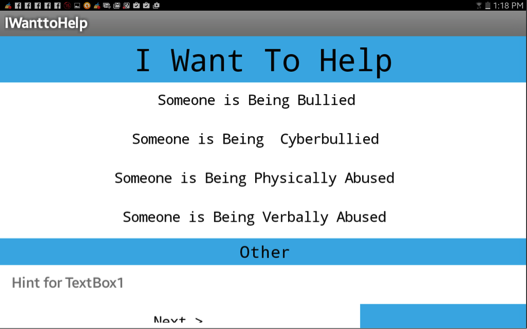 What if kids who feel isolated and hopeless about bullying had a support system in their pocket? That's what the Talk It Out app, designed by Mira, Parris, Kimora, Iris, and Emily in Oakland, makes possible.
Users enter the app and designate whether they'd like to help or be helped, and then they choose a more specific kind of abuse to either talk to someone about or listen to someone's experience with. It's an immediate connection to people who care, and a constant reminder that you're not alone – which is exactly what kids need once their bullies walk away. Through the app, users can message back and forth and access suicide prevention resources and contact information for local authorities as well.
Although everything in the app is privacy-protected and confidential, an aspect of human connection is still there — and it might be what matters most.
---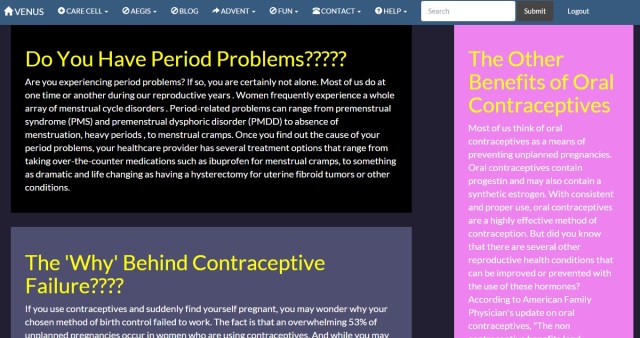 Venus is the 21st-century version of reading Cosmo with your friends behind the bleachers at gym to learn about sex. And luckily, it's like ten zillion times more accurate, reliable, and empowering than those sex tips about donuts!
Invented by Bavya B., Sindoora N., Chithra, Diya Elizabeth, and Pooja M in India, Venus confronts the taboo topic of sex head-on, creating a space for teen girls to ask questions, find support and sexual health resources, and learn the basics of sex education. The feminist website also has a chat feature for users and what appears to be a submission-based blogging platform. (Venus also confronts topics like domestic violence and sexual assault, which are encompassed in their own section on the site.)
---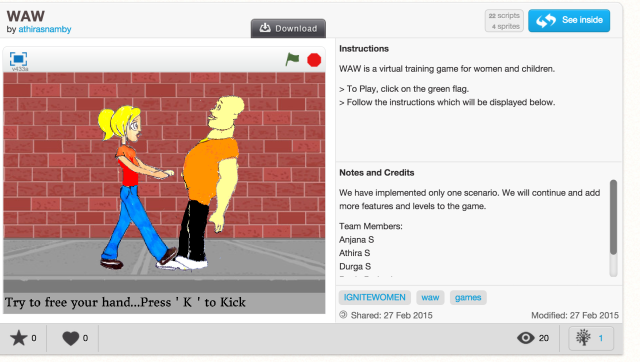 For women and girls, being safe is a constant concern. That's the underlying message of WAW, a virtual training center for women and girls that teaches self-defense techniques and educates users about how to recognize dangerous situations and cope with abuse. The training covers safety at home, in school, and while traveling.
Anjana S., Athira S., Durga S., Pooja P., and Sreedevi P. from India actually built a functional scenario for the hackathon, which you can play right here!
---
In an attempt to drive home just how hard it is for women around the world to access reproductive and sexual health care, Adina, Joelle, and Raye created a 3D game complete with "obstacles" in which a user tries to navigate a maze in order to "win" by securing some god damn health care. At each obstacle encountered, the person playing the game learns about a real-world roadblock that holds women back from moving forward in their pursuit of reproductive health resources, and the game creators wanted to make sure they also drove home the point that not all women will ultimately "win." The game also has a partner website detailing the obstacles faced by women in accessing care.
Conversations about reproductive justice and access to health care remain fraught and complicated at home and abroad, but this game would give everyday people the opportunity to face off against some of the challenges they may not realize (or care to acknowledge) that women and girls face on the daily.