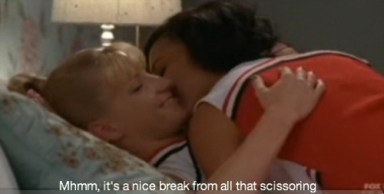 Queer women are generally obsessed with the world's obsession with the idea that all lesbians do in bed is scissor like wild Fiskars, which often leaves us wondering: What's the deal with scissoring?? It was a running joke on Glee, it's a wildly successful line of Autostraddle merch and it's a thing many humans enjoy doing. It's also a thing many humans don't do or don't enjoy. It's also a thing many humans think is not real. This is an issue we have confronted head-on in So, You Need Help: What's The Deal With Scissoring?
Here's the deal, ladies: 40.7% of the 8,556 women who completed our Ultimate Lesbian Sex Survey (open to all women who sleep with women) said scissoring was a regular part of their sex lives, including 43.98% of lesbian-identified survey-takers and 43.48% of survey-takers in a relationship. So, needless to say, it's real.
Scissoring also came up repeatedly in many open-ended questions, however: it came up when talking about your favorite and least favorite sex acts, it came up when talking about your questions about sex, it came up when you were asked if there was anything to share about how you f*ck. Y'all had so much to say about scissoring! Here are some of those things:
1. Has anyone ever actually orgasmed from scissoring? I mean it's hot and I like it, but….
2. Scissoring is my favorite sexual act, which means I must not really exist. "I scissor therefore I am not."
3. We scissor all the time and its FUCKING GREAT.
4. SCISSORING IS TOO MUCH EFFORT
5. SCISSORING GETS SUCH A BAD RAP! But it's so fun. So there's that.
6. Do people actually scissor? I mean, I've never met any lesbians who scissor. We've all tried it and can't figure out how it could possibly be enjoyable.
7. I'm actually a lesbian that loves scissoring. We exist. We are real.
8. Scissoring is too much core work
9. I hate that people think certain types of sex don't happen at all just because they don't do it. This is especially troubling when "celebrities" like Lea Delaria say that " scissoring isn't a thing" because she herself doesn't do it.
10. SCISSORING DOES NOT WORK, ARE LESBIANS REALLY DOING THIS? WHY DO PEOPLE THINK WE ARE
11. Scissoring .. that shit is weird
12. My least favorite sexual act is scissoring. Only because of all the arm aches in holding myself at the correct angle!
13. I wish that we were one of the magical lesbian couples for whom scissoring works! It has worked like once, maybe, but requires some yoga-origami type shit that does not happen organically
14.  Scissoring is my least favorite sexual act because I'm not a contortionist (although I think I now understand why lesbians like yoga so much).
15. 69-ing is fun. Not everyone's hips allow for good scissoring.
16. SCISSORING DOES NOT WORK UNLESS YOU DO NOT HAVE LIMBS.
17. I've had partners where we could scissor in all kinds of positions and others where the mere IDEA thereof was physically impossible.
18. My girlfriend and I didn't believe in scissoring until we quite literally slipped in just the right way.
19. I can't seem to understand how scissoring is supposed to work, but I always want to try it/have an urge to do it. But it doesn't seem to work anatomically.
20.  My girlfriend and I just can't make scissoring work but for some reason we keep trying.
21. Tribbing — what was once referred to in an autostraddle article as "the full body scissor" — is one of my favorite things of all time, in life, generally.
22. According to Orange is the New Black it's 'not a thing,' but I like the scissor — or sort of modified version. That's almost guaranteed to get me off.

23. Scissoring and 69 are alive and well and it's annoying when famous dykes make sweeping statements that no one actually has sex that way.
24. Scissoring is a joke. There are so many different positions that are better.
25. Why do people think that lesbians scissor? It is not easy to do and it's not fun. It's what straight girls in porn do when fucking another women!
26. I like scissoring and I hate that others assume "real" lesbians don't really do that.
27. Why the hell does the scissoring myth live on?
28. Right now my wife and I are really getting into scissoring (yes, we're THAT cliche) and I'm really enjoying that.
29. Not all lesbians scissor — it just creates horrible friction!
30. Why is everyone always dissing scissoring and saying it doesn't exist…?
31. I think a lot of the times theres many stigmas about scissoring. It's definitely not the main sex act but I think most lesbians maybe don't scissor the way people do in porn, but they do rub and touch pussies more than they like to admit.
32. I have only ever attempted ' scissoring ' once in my life and it utterly failed it didn't feel like particularly anything, and me and my partner switched back to eating each other out and fingering again.
33. Hilariously, I love scissoring and enjoy it, but don't do it often.
34. I find the term "scissoring" inaccurate thus use "tribbing" to describe my favorite way to orgasm. I use the term "tribbing" to describe any sort of clitoral rubbing that doesn't involve hands, e.g. her straddling me while grinding her clit against my pelvis, me grinding my clit against her a$$ from behind. 90% of the time I hook up with a female this type of phenomenon takes place. It's very easy for me to orgasm this way and very sexy to have someone grinding against me in this manner, which leads me to believe it might just be a pretty common thing that people don't talk about enough. Tumblr and some porn sites are sources for seeing the term "tribbing" used to describe the queer sex act I'm describing.
35. I guess of the things I've done, scissoring proved entertaining but not all that effective.
36. I tried scissoring once with one of my girlfriends and it ended in laughter.

37. WHAT DOES IT ALL MEAN?! No jk, but does scissoring actually get anyone off? I cannot figure that out.

38. Is scissoring real and is fisting as common as the internet makes it seem because I don't think it is?

39. Scissoring is real and possible and when done right it's awesome.
40. Why do so many lesbians think scissoring isn't real? It's real
41. Scissoring exists, and it's great.