If you wanna see how popular scissoring turned out to be on our 2015 Lesbian Sex Survey, follow this link.
---
I got this question in my (in)box:
What's the big deal with scissoring? I can't even imagine how it would be done. How? Does it actually do anything for you?
And then I realized something crazy — I haven't written one single thing about scissoring. Not. Even. One. Weird, right? Because scissoring is, like, the ubiquitous sex activity that all of us are supposed to be taking part in, yeah? On the not-so-rare and unfortunate occasions where straight people bring up lesbian sex with me in a totally disrespectful and out-of-the-blue way, this is all they assume we do. Like the only thing. And of course that's bullshit, right? Because lesbian sex is a lot of things and it's kinda fucked that people assume it's just one thing. Or, rather, one or two things — the other one being oral. All oral all the time, amirite?
Anyhoozle. Let's explore the wide world of scissoring. Join me. I researched scissoring for you. My Google history is awesome right now.
---
The Reputation Of Scissoring
What is scissoring? Urban dictionary describes it as:
A Lesbian sex act where two partners interlock their spread legs (like two pairs of scissors) and grind their vulvae together to stimulate each other's clitoris to orgasm. Also called tribadism, the practice has many colloquialisms. In some Central American countries it is called "making tortillas," and the Chinese refer to the act as "polishing mirrors."
Okay, so we already know people outside the community think all we do at home is scissor each other. But what about other queer people? What's the perception of scissoring as related to us by queer media?
While there are certainly statements I don't agree with in this video, it does seem like scissoring is a really popular topic for porn aimed at straight men (and here's a not-safe-for-work link to back that up). But we're also talking about a really narrow definition of scissoring — the kind where one rubs a vulva against a vulva. Actually, scissoring is a colloquial umbrella term for all sorts of acts of tribadism, aka: rubbing vulva against all sorts of body bits! So thighs, stomachs, butt cheeks and so many other places also count. It's not just somehow aiming one clitoris for another and hitting it magically (small targets, y'all!). You can use bigger targets and guess what? That's still scissoring (or tribadism, or whatever you prefer to call it in bed)! It just doesn't have the theatrical mainstream porn shape that gave scissoring its name.
Now that we've expanded the definition of scissoring, let's talk about the practicality of it.
---
The Practice of Scissoring
While I haven't written about scissoring, turns out we at Autostraddle collectively have offered up a little advice. From "However Do You Want Me?" DIVA UK Magazine, May 2011.
Bit of a lesbian legend this one and doesn't work for every couple. If it does though, stand by for fireworks. There are two basic positions. In classic scissors, you both lie down, open your legs and scootch together from opposite directions (so your pussies meet) and rub your clits together. If you prefer more body contact, one of you can lie on her back, legs apart, while the other goes on top with one leg between her partners and one thigh drawn up to enable cuntact. She can reach under her partner's bum to bring her closer. This will either work or it won't, it depends a lot on how your bodies "fit." But worth a try, eh? TIP: Don't save the lube for penetration, scissors feels fantastic with extra slip 'n' slide. Add a vibrator between you for extra va-va-vrrrrrrom.
If you, like me, have trouble picturing what that means for your actual bodies, we have some interns to the rescue to help illustrate. Thank you, Intern Liz, for the following illustrations. I feel like maybe this is not what people expect when they do the Autostraddle internship? Or maybe it is?
Classic Scissoring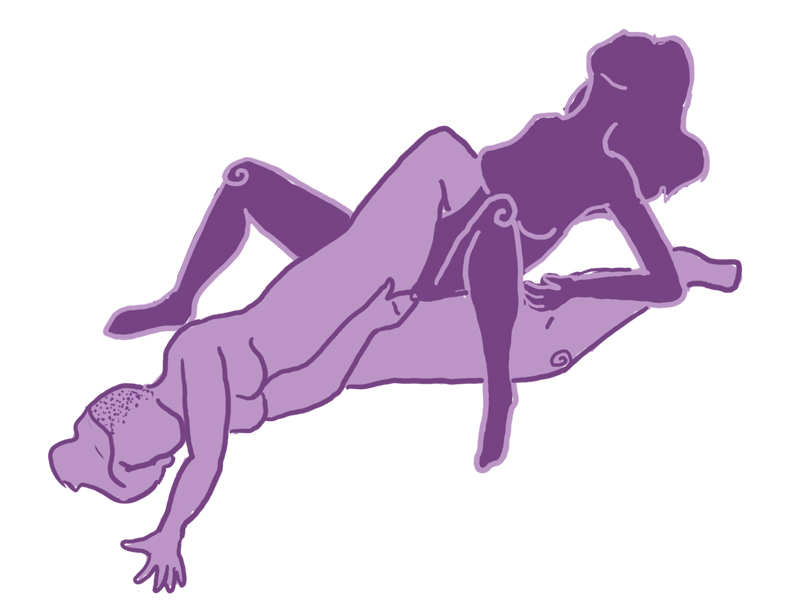 This is what the urban dictionary says scissoring is. This is what we all perceive scissoring to be. Personally, I think if I attempted this I'd kick someone in the head trying to make my clit have supernatural aiming ability. So to take some of that pressure of the tiniest bullseye in the world off of you, you can add a hand or a Hitachi to help. The nice part about the Hitachi is that both parties are gonna feel it, even the one doing most of the concentration work. See below: enhanced scissoring.
The Acrobatic Sitting Scissor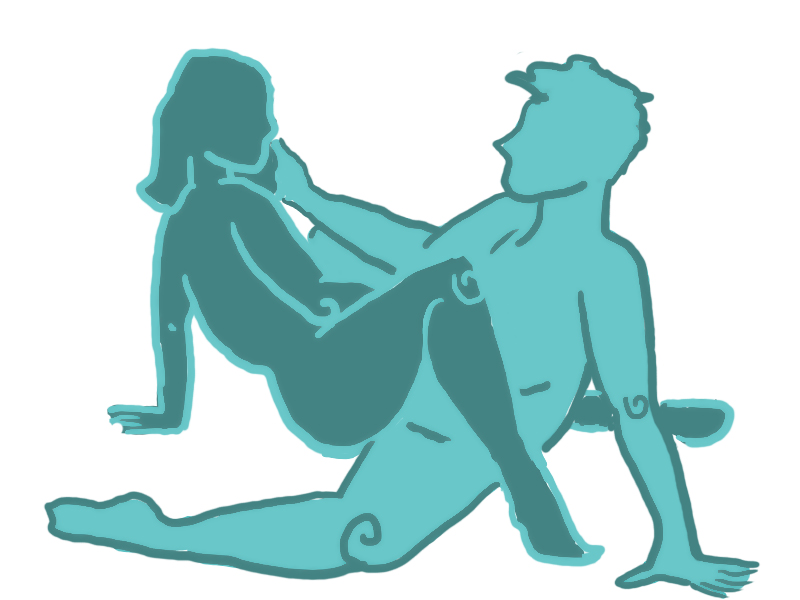 I know there are acrobats reading. This one's for you. If you've got really open hip flexors, you probably can make this happen. The legs go much like the legs do in the classic scissor, except you bring your body to sitting. This is kinda cool because you can look each other in the face, if that's your thing.
The Full-Body Scissor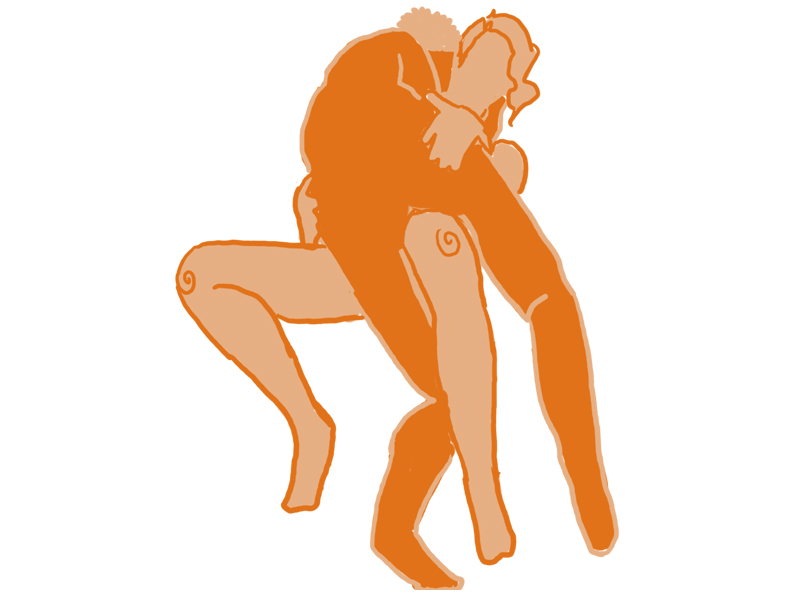 For those of us whose aim isn't great and/or like the full body contact, this kind of "scissoring" doesn't really have the customary shape. It's also much easier than the above-pictured positions. Basically, give up on rubbing clit on clit. Instead, consider clit-to-hip/upper-thigh. Both y'all's legs are still spread, which means it's still totally a scissor-like shape. Just saying "Hell, Imma use this surface instead of this one" enables you to go into a pseudo-missionary position, meaning you get to touch/suck/kiss/rub a whole bunch of other fun things.
The Fuck All This Bullshit Non-Scissor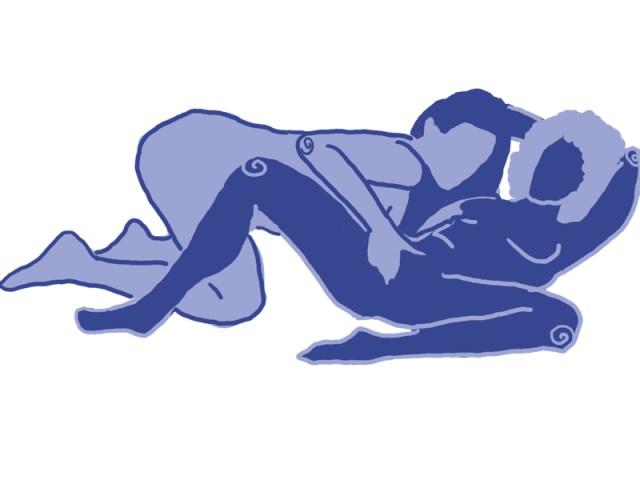 Just a gentle reminder that if you've tried these positions and none of them work for you, if you read through the comments and there's nothing there for you, if you accidentally kick someone in the head whenever you try this or if you just don't like it or don't want to try it, that's okay. Scissoring isn't some sort of perquisite to the wide world of lesbian sex. It isn't some kind of badge of honor, nor is it a mythical sex position that doesn't exist. It doesn't make you more or less queer if you can or cannot do it (or do or do not want to). Some people like to do it this way, some people don't. Hell, some people can't. So if scissoring isn't your thing, if all of this is too complicated (or not complicated enough), do it your way. As long as you and your partner are happy consenting people, scissor or don't. You do you.
---
A Discussion About Scissoring
So, like, show of hands, how many people do stuff that's kinda like this? Yeah, more people than we all thought there were gonna be, now that we've discovered all sorts of scissoring Jedi powers. And how many think that tribadism and scissoring should be two different things, like a square is always also a rectangle but a rectangle isn't always a square type of thing? Think I've expanded the definition too far? And and and! How many people saw some crazy scissoring positions on their favorite porn? Care to share? Care to make a diagram? Obviously this post is research-based and not the be-all-and-end-all of scissoring advice. So let's talk scissoring. Please converse.