Ed.note: Since the publication of this post, we've been swamped with requests from academics and researchers to have access to our data, and we haven't figured out how to approach those offers quite yet. Just so you know.
---
Our Lesbian Sex Survey — open to all women who have sex with women — garnered 8,566 complete responses and gave us heaps of information about your pony-riding habits. One of the things we asked about was how often you have sex, because everybody is f*cking obsessed with how often everybody else is having sex! It's the thing your friend whisper-asks you when you say you're not sure if your long-term relationship is working anymore, "how often do you have sex?" It's the thing people brag about when they start a new relationship, too. But after the U-Haul dust clears, most same-sex female couples are forever haunted by the possibility of Lesbian Bed Death and, in an effort to deter this fate, we seem unnaturally disposed to keeping tabs on everybody's frequency to ensure that we're all on par.
But it's not just queers who are focused on this number. Trying to find basic statistics on sexual frequency for the general population was like finding a needle in a haystack, because heteros are also so intrigued by this topic that they're seemingly able to pump out endless articles about it… none of which contain any conclusive numbers. Everybody's worried about what sexual frequency means about the strength of their relationship, you know?
A lot of the available data is old, which matters because there's a lot of data showing that sexual behavior in general has gone down over the last 5-10 years, especially amongst young people who are having sex later and less often. Why? Obviously it's 'cause everybody is so busy playing on the interwebs and over-intellectualizing!
Some good numbers I found include:
I also found this, from the Kinsey Institute, which apparently only asks about penetrative sex:
There, don't you feel like you know everything now? Me too. So now let's talk about the ladies who like ladies who answered our survey! First, an important thing to know is that 89% of our survey respondents were between the ages of 18 and 36.
So, in an ideal world, how often would our respondents having sex? And how often are they actually having sex? Take a gander: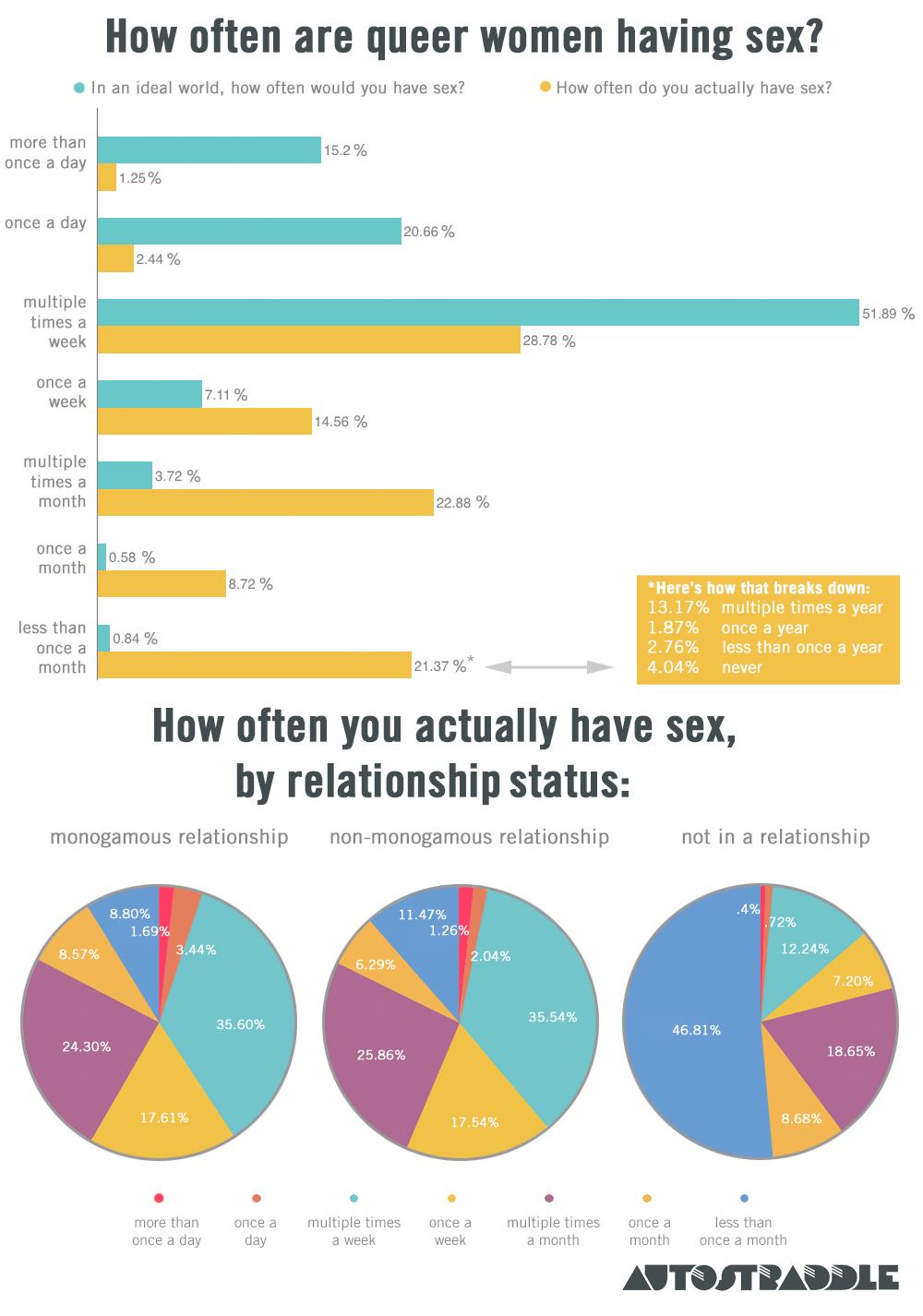 There's a popular conception that people in non-monogamous relationships are having sex more often than those in monogamous relationships, but our research shows that's not true. The numbers are almost exactly even, as you can see above.
The other most striking element of the data is that 35% of you want to be having sex once a day or more, and only 3.69% of you are having sex once a day or more. It's possible that everybody thinks they want sex a lot more often than they actually do, but it's also possible that when we imagine an "ideal world", we imagine a world where we work 40 hours a week instead of 70, aren't so damn tired after putting the kids to bed, or weren't struggling with stress or emotional issues that make sex hard to be prepared for.
We have so much data to look at here, but today's focus will be on sexual frequency within relationships, both monogamous and non-monogamous. Let's get into it.
What's the strongest predictor of how much sex you're having?
It's not age, it's not desire, it's not how many partners you've had or when you lost your virginity — it's how long you've been in the relationship that you're in. Relationships that had lasted six months or less report much more sex frequency — about 12% of relationships lasting six months or less reported sex once a day or more, with 47.81% reporting sex multiple times a week. The numbers go down slightly, but not significantly, towards the year mark, at which point the more significant downturn begins. 3% of relationships 1-3 years long report daily sex, 39% have sex multiple times a week. Once we get to the 5-10 year mark, we've got 1% having daily sex and 14% doing it multiple times a week.
Often this is seen as evidence of waning desire but I don't think that's always fair — often it's hard to find the time, period, and it's just easier to prioritize constant sex over everything else in your life when you've just started seeing somebody.
Here's what's amazing, though: in addition to the frequency of sex you're actually having going down as your relationship progresses, how often you say you want to have sex goes down, too. So, although the gulf between wanting and having remains wide, it's clear that for a majority of relationships, what you want two years in isn't the same thing you wanted two years ago. Or maybe when you're doing it every day you can't imagine ever not wanting to do it every day, you know?
We also asked you directly "How often do you have sex compared to the first year of your relationship?"  Of those who'd been in a monogamous relationship for a year or more, only 7% said they're having more sex now than at the beginning. 38% report less sex, 29% report much  less sex, and 21% said "about the same."
Living together seems to have some correlation, too, but that's probably linked pretty tightly to length of relationship, since people generally move in after they've been dating for a while. Within monogamous relationships, 68% of those who are having sex more than once a day, 63% of those having sex daily, and 54% of those having sex multiple times a week do not live together. The longer you've been living together, the more likely you are to have sex multiple times a month, once a month or multiple times a year. When you're planning all your sleepovers at each other's places, there can be an expectation of sex that just doesn't exist when you sleep together every night.
How big is that gap between what you want and what you're getting?
About half of the women in relationships who'd have sex once a day or more in their ideal lives are actually having it multiple times a week. 31% who wanted sex multiple times a week were having it that often, 1% were having it more often than multiple times a week, and 50% were having it either once a week or multiple times a month. This isn't bad, really: sex every day or multiple times a day isn't practical for many people, and the fact that most people get one level down from what they'd have in an ideal world likely leads to similar satisfaction.
On the flip side, 72% of women having sex less than once a year and 57% of women never having sex wanted to be having it multiple times a week or more.
Of those who hadn't had sex at all within the last year, 18% didn't want to have sex. I assumed that those people would identify as grey-A, demisexual or asexual, but that's not the case — only 10% of those in a sexless relationship identified as asexual, 5.26% as gray-ace and 7% as demisexual (but we allowed people to pick more than just one sexual orientation, so there may be some overlap). It's likely that recovering from trauma, dealing with medical conditions or medications and aging are the biggest contributing factors to those not wanting sex.
However – 36% of those in relationships who never have sex have never had sex with anybody, ever. So, when we look at people not having sex, we might often be looking at people who are waiting, not people who aren't getting what they wish they had.
How does that relate to your overall happiness in your relationship?
For starters, most of you are happy in your relationships, which is great! 86% of you are either happy or ecstatic in your present relationship and only 3% of you reported being unhappy, miserable or ready to break up. 1% selected "unhappy, but I know it's temporary." So I think it's pretty clear that sexual frequency doesn't make-or-break a lesbian relationship, although it certainly has an impact.
We had you choose between Ecstatic, Happy, Kinda Happy, Neutral, Unhappy, Miserable, Unhappy But I Know It's Temporary and Would Like To Break Up, and at no point was there a major shift towards the more negative words.
It's true that the more often you have sex, the more likely you are to report ecstasy and happiness in your relationship, consistent with Happify's report that "the happiest couples have sex 2-3 times a week."
It's once we get into relationships where sex is had once a year or less that there's any major shift away from happiness. Still, 58% report being happy or ecstatic, with another 27% reporting that they are kinda happy. There's then a slight uptick in happiness amongst those who never have sex. But again — it's important to remember that the numbers of unhappy people are so small in general. It's hard to draw any major conclusions from a handful of unhappy people.
We also asked if you were satisfied with your sex life and, predictably, more sex = more satisfaction. 91% of those having sex multiple times a week or more felt very or somewhat satisfied with their sex lives. The least satisfied were those having sex once a year (55%) and those having sex less than once a year (58%).
Initiation Equality and Good Communication = More Sex
When asked "who initiates sex most often," 56% of people having sex multiple times a week or more reported that both them and their partner initiated equally. Also, 97% of people who have sex multiple times a week or more reported that their communication about sex was either somewhat or very successful.
Is there a relationship between masturbation and sexual frequency?
Not what you'd expect, actually — the people who masturbate most frequently are on opposite poles of the sexual frequency scale: those who have sex once a day or more and those who have sex less than once a year or never are the ones who masturbate most frequently.
What about between length of sexual encounter and orgasms?
Not really. There's no clear correlation between your average length of sexual encounter and how often you're doing it, which surprised me (and goes against my own personal experiences, too) — it seems like you'd really want to make the moment last when the moment comes so rarely! But… nope.
When it comes to orgasming, those who have sex multiple times a week or more are somewhat more likely to report orgasming more often. 80% of those having sex multiple times a day, 72% of once-a-dayers and 68% of multiple-times-a-weekers orgasmed at least once per sexual encounter, opposed to 50%-55% of those who have sex once a year or less. The percentage of people who never orgasm remains between 2 and 3% until we get to couples having sex multiple times a year or less, at which point the never-orgasming people increase to more like 5%-9%.
We also asked "have you ever squirted" and there was really barely any correlation between sexual frequency and whether or not a person had ever experienced female ejaculation. For every group besides the "once a year" and "never" folks — who each had about 20% answering in the affirmative — between 30% and 40% said you'd definitely experienced it.
Do people who have sex more often do more non-traditional things in bed?
Yes. Yes they do. The more often a couple has sex, the more likely they are to be kinky and to engage regularly in anal play and penetration, muffing, fisting, strap-on sex, role-play, BDSM and kink. Things like dry-humping, clitoral stimulation and oral sex were consistently popular amongst all levels of sex frequency above "once a year." People who reported trying new things in bed more often also had sex more often. This pretty much makes sense — when you're doing it more often, you might want more variety in what you're doing to keep it fresh. When you only have sex once a month, you're more likely to stick with what you know, and the infrequency of sex in general means it's pretty special when you have it, regardless of how adventurous the encounter.
We also found that people who have sex more often are more likely to be in favor of having period sex — between 50 and 60 percent of those having sex multiple times a week or more are somewhat or enthusiastically in favor of it.
Do married people have less sex?
It seems we're much like the straights in this regard. 25% of married or civil unioned humans reported sex once a week or more, opposed to 55% of couples who live together, 50% of engaged couples, 62% of couples "planning to get engaged" and 68% of those "dating seriously." Regardless, 89% of monogamous married couples are either happy or ecstatic about their relationship and only 3% of married non-monogamous people and monogamous married people report being unhappy in their relationships or wanting to break up.
So marriage might mean less sex, but it doesn't mean less happiness. Priorities shift, kids get born, you know the drill. We didn't ask survey-takers if they'd had kids, because we're idiots, but a lot of you mentioned childbirth and raising kids as a turning point towards less sexual frequency.
On how you described your sex lives
We also asked "what word would or phrase you use to describe your sex life?" There was, predictably, a distinct language shift as frequency declined, but it seems like the vast majority of people having sex at least multiple times a month are pretty cool with their sex lives.
Words and phrases used by people who have sex once a week or more include Mind-blowing, "Whoa," Hot As Fuck, Glorious and Communicative, "my girlfriend and I should take up a hobby," Passionate, Intense and Frequent and Fulfilling.
The language starts shifting once we get into "multiple times a month," but only slightly. Most of the words are positive, but there's a bit more neutral/negative language showing up, too, like "average," "nice, i guess," and "enjoyable when I remember to have sex."
The once-a-month folks are split — "Awesome" and "Loving" comes up, but so does a lot of "Lacking" and "Boring."
Once we get into "multiple times a year" or less, words take a strong negative shift — "occasionally dormant," "on hiatus" and "quiet" show up quite a bit, but so does the occasional "passionate."
Once a year or less, though? Y'all ain't happy! We've got Lesbian Bed Death, Insufficient, Awkward, Rare, On Hold, and some clever answers including "God bless the person who invented the vibrator," "Deader than Elvis," and "Right-handed."
In Conclusion
Most of you are very happy in your relationships regardless of how much sex you're having, which is great. Having sex every day or multiple times a day makes people feel pretty ecstatic and thrilled to be alive, but usually doesn't last past the first year or so of the relationship. We do have less sex than the straights, but not that much less, and our sexual encounters probably last a bit longer, too. Lesbian bed death is real — but so is bed death for heterosexual couples! It does seem like once we get below the "multiple times a month," threshold, though, the relationship could very well be suffering, but of course that's not true for every relationship.
Here's some other things we've written on the topic of sexual frequency that might interest you — and be sure to check out the comments which are also filled with good advice!
Stay tuned for even more captivating bits of info we know about what you do in bed!