Okay, are y'all ready for the longest sex question I've ever answered? Because this one's a doozy. Normally we edit the questions down to a nice size, but there's a lot going on here and I think all of it's valuable. So we're publishing most of this question, almost intact:
I have been in a relationship with a bisexual girl for more than 10 months. We have a pretty okay relationship, we have our strong differences but there are things about her that I do adore. However, we are having some bedroom issues.
In February 2013, she went for an operation to remove a couple of cysts in her womb and she has been put on the mini-pill ever since. And since after that, our sex life has gone from hero to zero. We have had many chats (both peaceful and heated) about the lack thereof and she has said on many occasions that she will decide when we have sex. She said it's her body and she has a right to decide what someone else can do with it.
I definitely have a higher libido than she does and here, I'm not sure if it is because she has had sex with men or women (I'm not her first girl) who have been demanding and have forced themselves on her. But all this is making me afraid to initiate sex in fear of rejection and yet I feel that it's unfair that sex should solely be on her terms. She sees penetration as an "invasion" of her body and it is getting increasingly frustrating for me.
I do not want to jeopardize the relationship—I know sex isn't everything but I don't feel the intimacy with her. She says that I always want instant gratification that I get from sex and I always want it when I want it, which is not true. It seems that she only wants sex when she's drunk or when she feels like it. Please help. I don't know what else to do.
Alrighty, dear reader. This is going to be a multipart opus, because you've actually asked a lot of questions here, not just one.
I want to start, though, by commending you for not calling this lesbian bed death. I feel like that term gets bandied about a lot and it implies that a difference in libido is somehow a lesbian-specific phenomenon. It's not. Any couple, no matter how they identify, can face this issue.
So now let's start by picking apart these questions, one by one, and see if we can't unwind this tangled ball of string into a more manageable spool.
Medications Make A Difference
You've acknowledged that there might be an external cause for the gap between your libidos. Medication, hormones, stress—these are all things that can make a difference in one's desire to have sex. So it could be that this is a storm that you can weather—is she on this medication temporarily? Or it could be that she's on the wrong medication for her. I don't know enough about her medical condition (or about medical conditions in general) to tell you if that's the case, but it's something about which she can certainly talk to her doctor. However, some medications are long-term and have unavoidable libido side-effects—which might mean that this is the new normal. So what could that mean for you?
Her Body Is, In Fact, Hers
She says that her body is hers and she can decide who does what with it when, and that's 100% correct. Even in your horniest state, it would be super ultra mega no-good to pressure her into having sex. Remember that consent counts only when it's enthusiastic. You have the right to pursue a sexually fulfilling relationship, but that doesn't mean that your girlfriend is personally obligated to sexually fulfill you even when she doesn't want to.
But there is another side to that equation—your body is yours, and you are allowed to want things done to it. And you're allowed to seek out those things. It's normal and wonderful to want sex and to seek it out. So let's talk about the ways you can do that within the parameters you've described.
The Price Of Admission
Before everyone gets on my case for using an idea that Dan Savage popularized, let me be clear. Dan Savage has said some VERY problematic things in his career, as many have. But he has helped normalize talking about sex and has contributed to the culture of being open and honest about our wants and needs. And this particular idea of his, despite so many problems with his other ideas, is a real winner.
Basically, think of your partner as a ride (while still thinking of them as a person! I'm not suggesting you objectify your partner!). There is a price you pay to ride the ride, and that price is often a compromise. I'll give you an example from my own life: my girlfriend is wicked smart. Like, the kind of smart you cannot even believe exists. But she does have this weakness. And that weakness is Say Yes To The Dress. Sure, most of the time we're watching thought-provoking documentaries or really excellent foreign films or any number of other things that are WAY MORE INTELLIGENT than Say Yes To The Dress. But the price of admission for my girlfriend is that sometimes we are gonna marathon this show and there's nothing I can do about it. If there is a Say Yes To The F*cking Dress marathon, that is what we are watching. Instead of fighting against it, I go with it and we have fun critiquing the wedding industrial complex together. I've even come to grudgingly love it and find my inner Monte.
(My girlfriend's note here: YOU DID NOT SPECIFY SAY YES TO THE DRESS ATLANTA! SAY ATLANTA! I HAVE MY STANDARDS.)
You can apply this idea to sex as well. I'll give you another example from my own life: I cannot keep my mouth shut during sex. I dunno, I just let forth a torrent of filthy talk every time I get naked. That's the price of admission for me—I don't necessarily need someone to reciprocate it, I just need someone who's okay with me doing that. Because I like it and I really don't want to not do it.
Sometimes price of admission can change — it sounds like her boundaries about sex and penetration might be more recent, and may not have been there when you began this relationship, but that doesn't make them less valid.
In your case, it sounds like you both have different prices of admission when it comes to having sex at all. Your price of admission is frequent sex. Her price of admission is no penetration, or only when she's completely into it. Thus the apparent libido gap. Which brings me to my next point:
Sex Can Be More Than Penetration…
In your question, you state "she sees penetration as an 'invasion' of her body." But if penetration is your criterion for sex, I'd challenge you to broaden your definition. Sex is a huge category that covers a bunch of different acts. Here are a few suggestions for things that could be considered sex that are not you penetrating her.
Using a vibrator on her.
Her using a vibrator on you.
Mutual masturbation!
Non-mutual masturbation/watching each other masturbate!
Her penetrating you (fingers, dildo, back door or front door if ya catch my drift).
Oral sex!
BDSM acts without penetration. (Yes, you can just flog someone and leave it there! Totally a thing!)
And much much more!
Whenever someone, a couple of someones, or multiple someones talk to me about a perceived libido gap, I always have to check and make sure they're on the same page when it comes to defining sex for themselves as an individual, couple or group. Everyone has certain things they're into, and when you're having sex with someone else, you're going to do the things that you're both into, the acts where your interests intersect. Think of it as a Venn diagram.
It could be you're both thinking you've got a huge libido gap because you're both defining sex as acts totally on the opposite sides of your circles, but actually there are certain things you're both into doing together that fall smack in the middle and are totally still sex acts. The only way to find out about that is to talk about it. For a more complete list of sex acts to peruse, I recommend this list on Scarleteen (yes, yes, I know, I am always talking about it, but that's because the yes/no/maybe list is so good!) or this (admittedly a bit cheesy) interactive sex questionnaire. Your libido gap may not be as large as you think, you might just be looking in the wrong place on the diagram.
Or you discover that no, in fact, your libido gap (the difference between your respective prices of sexytime admission) is exactly as large as you think it is and it is truly a difference in how often you want to be having the sex in the intersection. You still have other options.
…And Relationships Can Be More Than Monogamous
Another valid way of addressing a libido gap is to consider sleeping with other people. If you're both into it and you want to keep the non-sexual parts of your relationship going, you can always negotiate a less traditional relationship structure. You know, one that allows you to take your yayas outside the two of you and get your rocks off with someone else. Or many someone elses.
Now there's a bit of a misconception I hear often—a non-monogamous relationship doesn't mean you both have to be sleeping with other people to make it equal. It sounds like that wouldn't be really happening for her if you all decide to go this route. No, what makes this kind of relationship egalitarian is that both partners' needs are being met and both of you are happy. That means that, if you both agree on it, you could sleep with other people and she could sleep only with you, when she feels like it. Totally cool.
Or perhaps she really likes her nonsexual relationship with you, but would like to also have a sexual relationship with someone else.

Or! Maybe she finds that her libido increases when she gets her yayas yaya-ed by someone else and you are also bumping hoo-has with another human and then you come together for a sextravaganza. Some couples find that INCREDIBLY SEXY!
Or! OR! She might want to watch you fuck someone else. Some couples find THAT incredibly sexy.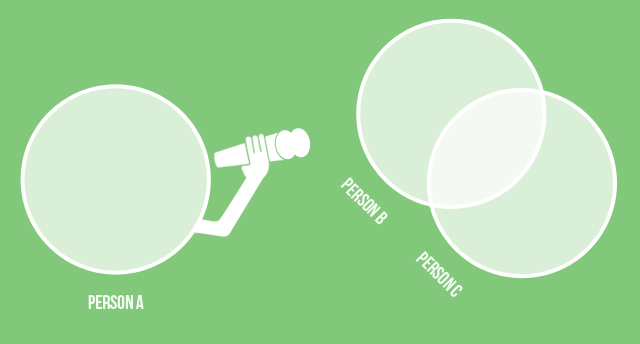 The point is that there are options for bridging a libido gap. And those options can safely and respectfully include non-monogamy. For more thoughts on this subject, I highly recommend The Ethical Slut by Dossie Easton and Janet W. Hardy and Opening Up: A Guide to Creating and Sustaining Open Relationships by Tristan Taormino.
Regardless of what you decide, you should still feel okay talking about sex with your partner and asking for sex from your partner (if you both agree that you still wanna be having sex). So—
There Are Ways of Bringing Up Sex Without Pressure
I've actually written about this before, but let me do a reader's digest version.
Always talk about sex at a time and in a place where you're not having sex, or intending to immediately have sex after the conversation. Noisy coffee shops are my favorite. Driving in the car is my second favorite, though some have told me that location doesn't work for them because it distracts them from driving. Regardless, pick a place that your partner won't feel like you're pressuring her to have sex right this second.
Ask permission to talk about sex and give that other person a chance to reschedule the conversation. If they say they don't want to talk about it right now, say something along the lines of "that's totally cool, no pressure. But this is a really important conversation to me. Can we work out another time to talk about it?"
Assume positive intent. Assume your girlfriend wants to make you happy. Assume that she is not mismatching y'all's libidos on purpose. Because unless you're dating a mustache-twirling cartoon villain, she's not. If you are dating a mustache- twirling cartoon villain, pics please.
Be prepared to compromise on one of those above solutions. Be prepared to make an actual change in the way you're doing things, and not expecting her to be the only one changing.
And I'm going to add another bullet point here, specific to you. Your partner seems to be not super into the way you've asked for sex in the past. So make sure to include this question: "How would you prefer me to express my want for sex in the future?" And again, really listen to what she says here, and be prepared to do what she asks.
Always Be Masturbating
Well, not always. You've got to eat, sleep and go to work. But yeah, masturbation is included in every You Need Help I answer because it's important. And in this case, it can be an important tool for filling the libido gap with some spectacular orgasms. It can also be a sex initiator—many people get turned on when their partner starts touching themselves, and not wanting sex can turn into wanting sex totally organically.
However.
May I speak frankly?
I generally try not to give really specific advice because even though I answer the You Need Helps on Autostraddle sometimes, my relationship isn't your relationship and the way I have sex isn't the way you have sex. Things are different for everyone. But I want to point out a few things I read in your question:
"I have been in a relationship with a bisexual girl for more than 10 months. We have a pretty okay relationship, we have our strong differences but there are things about her that I do adore."
"I do not want to jeopardize the relationship—I know sex isn't everything but I don't feel the intimacy with her."
First off, you've only been in a relationship with this woman ballpark ten months. That's not a very long time and already you're experiencing problems—I want you to think about spending the next year this way. How about the next five? You also describe the relationship as only "pretty okay" and you don't say you adore her, but rather you say there are things about her that you do adore. That sounds like a pretty ambivalent way to talk about what should be a fairly new relationship. It sounds like you're compromising pretty hard here, and not just in the bedroom but outside it as well.
You also state that it's not really about the sex, it's about the intimacy that you're not feeling. Which brings up yet another reason for a libido gap: that there are deeper problems with the relationship. Problems like not truly having feelings for each other, or not trusting each other. Or perhaps more personal problems for one or both of you (think depression or anxiety). And it's these issues that are the problem—the mismatched libido is merely a symptom, not the cause. It's up to you whether or not you want to work through those problems. But I need to be honest with you—if I were in the relationship that you have described here, I would end the relationship. I would be breaking up with my partner.
Which brings me to my last point. Sometimes a libido gap isn't a libido gap. It's just a gap, plain and simple. An everything gap. And that gap can be too big to bridge. We need to reframe breaking up in our community—everyone talks about it like the worst thing that could happen to a relationship. It can actually be the best thing. It means both of you get to be honest about what you're truly feeling, instead of keeping up a charade and wasting time y'all could be out courting people who are fulfilling your needs. It could mean that you remain friends because you haven't ventured into the place where your relationship (not the romantic kind) is irreparable. It could mean that you never speak to each other again, and that's okay too! But whatever the case, we don't have to look at it as a thing that has to get ugly. Or a moment that has to be entirely sad. Endings are beginnings too, and I recommend you end this era and begin something new and different.
Good luck, dear reader. I'm rooting for both of you.
---
Have a question about sex? Email me at ali [at] autostraddle.com, PM me on Autostraddle or for a completely anonymous experience you can ask me a question right here.
Please keep your questions to around, at most, 100 words. Due to the high volume of questions and feelings, not every question or feeling will be answered or published on Autostraddle. We hope you know that we love you regardless.
---
  feature image via Shutterstock