Before I met my current girlfriend, I decided to master Tinder. I know Tinder is not a game. I didn't necessarily want to win Tinder, but I did want to be good at it. And the reason was simple: I was terrible at dating. And the reason for that was simple, too: at the age when everyone else was learning how to date, I was extremely closeted.
I came out at the very end of college, and I struggled. I didn't know how to meet girls. I have always been an extroverted introvert, a contradicting duality I often attribute to being a Gemini, which makes connecting with people difficult. But I've been connecting with people on the internet since high school. Some of my best friends today are people I met on tumblr years ago. There's something about the structure and culture of the internet that makes it easy for me to open up to people, bond with them, and eventually take our relationships into the real world.
Dating apps immediately seemed familiar, and not all that different from other ways to build relationships online. Hooking up with girls and connecting with other local queer people no longer seemed insurmountable. Tinder can be exhausting, and my relationship with it was extremely love/hate. But I had some fun. And none of it would have happened if I hadn't dived into the part of Tinder that can be the most anxiety-inducing: sending the first message.
Some Tinder philosophers maintain that you should never send the first message. I personally think that approach is bullshit. You swiped right; they swiped right. You've both expressed interest on a very surface level. Why wait? Send the first message! Don't open with something generic or weak that isn't going to prompt them to answer. Start with a question. My recommendation? Ask an absurdly specific and slightly bizarre question about pop culture. (If you don't care about pop culture, ask a specific and slightly bizarre question about something you do care about, duh.) It's an easy way to see if you have similar interests, to talk about culture and art, and to have a fun back-and-forth before making plans to meet up.
Below, some suggestions for Tinder opening lines. I'm not saying the following is an exhaustive list of every first message I sent,* but it does include the best. Borrow and go forth. Or suggest your own in the comments!
Tinder Opening Lines For Everyone
1. "Do you have a favorite Fast & Furious movie?"
This line was, without a doubt, my favorite way to start conversations on Tinder. Far too many of my matches did not have an answer, but they always replied, because in a sea of "what's upswp_postsand "how are youswp_postsand "heys,wp_postsmy first stab at striking up conversation stood out. One time, a girl gave a complete answer with reasons and everything… only to later admit that she had never seen any of the films and had made the whole thing up in a panic. If nothing else, this tactic at least led to some comedy. But to be clear: it also led to some dates.
---
2. "Have you ever cried during Dawson's Creek be honest."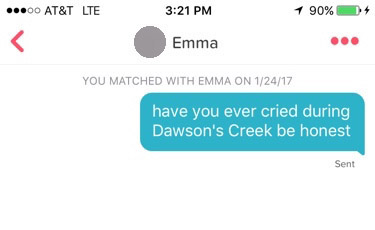 Honesty is a great quality in a potential sexual partner.
---
3. "How would you rank the noses of all the cast members of Cruel Intentions?"
In college, an inside joke with one of my friends about the structure and integrity of Sarah Michelle Gellar's nose spun wildly out of control when I made a password-protected blog dedicated to the matter (the password is "nose"). A few years later, and the joke was still wildly out of control, seeping into my Tinder presence. Sarah Michelle Gellar has a lovely nose. Cruel Intentions is a great movie. At some point, I decided this was a perfectly reasonable question to ask people I was trying to make out with.
---
4. "What's your favorite scene from Bend It Like Beckham?"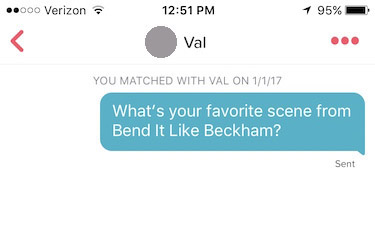 This one led to some of my favorite Tinder conversations.
---
5. "Serious question: How do you feel about the Grey's Anatomy musical episode?"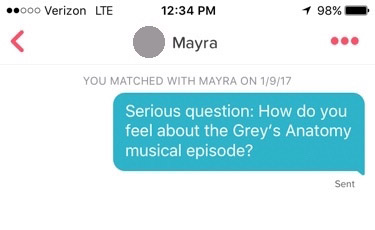 I am 100% serious when discussing Grey's Anatomy (or any Shonda Rhimes show for that matter), so this question started with an important disclaimer. It is very important to be totally upfront with matches about your interests, even if those interests are slightly embarrassing or otherwise chip away at the very cool and sexy exterior of your Tinder profile. There's nothing wrong with being a little earnest and a little goofy. And there's nothing more earnest or goofy than the Grey's Anatomy musical episode and my unironic love for it.
---
6. "Do you want to watch the back-to-back airing of Maid in Manhattan on oxygen with me on Monday?"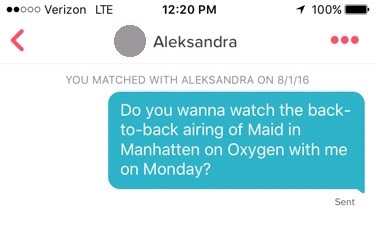 This message served two purposes: finding out how they feel about Jennifer Lopez's acting career and also suggesting an actual date.
---
7. "How do you feel about Jennifer Lopez's acting career?"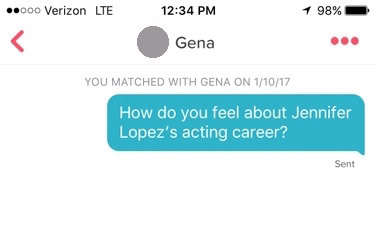 Sometimes, you just gotta get straight to the point.
---
8. "How many times have you watched Rihanna's iHeartRadio Music Awards performance of 'Bitch Better Have My Money' today?"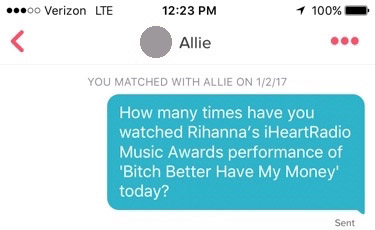 I think I threatened to unmatch anyone who said zero.
---
9. "How do you feel about Dana Scully?"
A sensible question in all scenarios.
---
10. "What's your favorite season of The Good Wife?"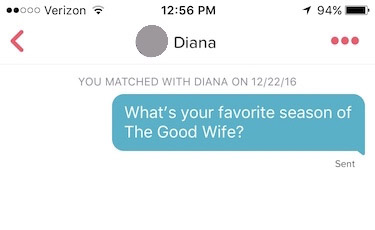 My Tinder bio at the time read: "Looking for the Alicia to my Kalinda."
---
11. "If you were a Shonda Rhimes character, who would you be?"
This is a really easy way to find out if they are a sociopath.
---
12. "Do you have a favorite Terminator movie?"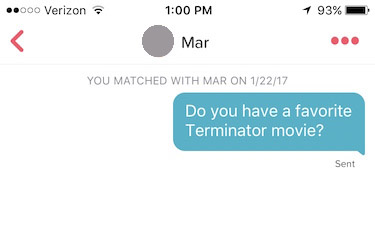 T2 is the right answer, but T3 is the gayest.
---
13. "Have you ever subscribed to the Goop newsletter?"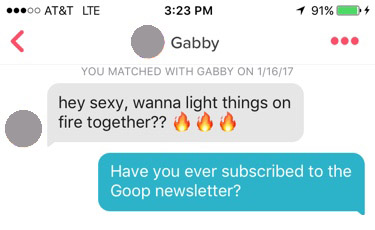 I just need to know.
---
14. "Who would you cast as the Halliwell sisters in a Charmed reboot?"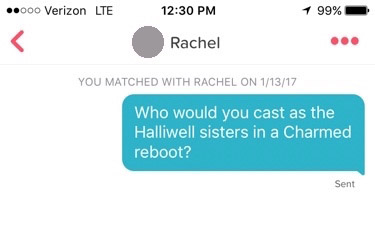 People have some STRONG OPINIONS about this one. I love it.