When a few Autostraddle readers commented on my list of top ten television shows that they loved what I loved and would also add Kipo and the Age of Wonderbeasts to their list; and when Valerie Anne, who only ever recommends TV she knows will delight her friends, suggested it to me, I knew I was missing out on something special. But I didn't realize how special until I was immersed in about the third episode of Netflix's lush, euphonic, whimsical, post-apocalyptic dreamscape. Because, truly, immersion is the only way to describe the experience of watching Kipo. Also it's gay, but hang on for that.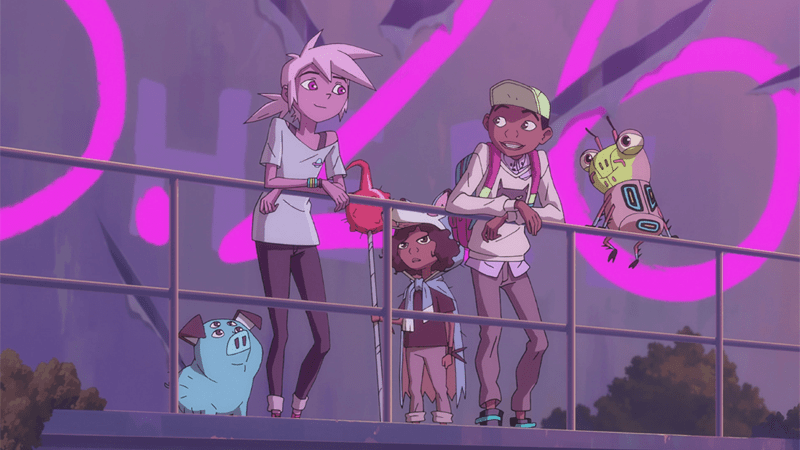 Kipo is a "burrow girl," one of the few remaining members of a fractured human society that lives below ground in burrows. In the first episode of the series, however, she finds herself on the surface, the earth as we know it, but populated by mutes — short for mutants, as in mutated animals. Wolves in turtlenecks who study the cosmos, territorial frogs in suits, lumberjack cats in flannel, dubstep bees, heavy metal snakes, raccoons obsessed with 1980s fitness and fashion. Also: mega-mutes, gigantic mutes that are bigger than the crumbling skyscrapers that line the vibrant violet skyline.
Also: humans! Luckily, on her first day above ground, Kipo meets Wolf, a resilient ,surly, tough-as-all-heck girl in a wolf cloak who's been surviving on her own (thank you very much) by not trusting anyone; and Benson, an affable, bright-eyed, resourceful, dapper lad with a perpetually metamorphosing mute bug best friend named Dave. And Mandu, an adorable, four-eyed, six-legged pig-puppy mute. Kipo is surprised to find humans on the surface, but unafraid. In fact, Kipo is unafraid of basically everything. It's not that she's not constantly in danger; it's that everything's a thrilling new adventure with new friends to make and new songs to sing and new places to discover and new powers to unlock (and that's all I'll say about that).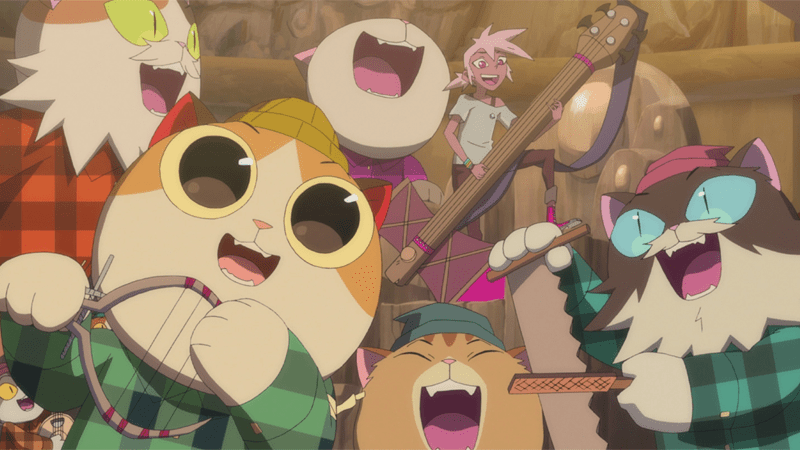 Kipo isn't playing around with token diversity on-screen. Nearly every character in Kipo is a person of color, and almost all of the main characters are voiced by people of color. Karen Fukuhara, who you know best as Glimmer from She-Ra, is full of life and wonder as Kipo; Sydney Mikayla is pitch-perfect as the testy but tender Wolf; Coy Stewart captures Benson's keen compassion completely; and then there's Sterling K. Brown as Kipo's dad, Lio. Plus, as I said: gay! Benson, to be precise, and he actually says the word "gay," right out loud, which has never happened on an all-ages animated series to my knowledge. Kipo get a little crush on him, he says he's gay, she apologizes for misreading the situation, and that's that. In season two, he even gets a sweet love interest. Rhea Butcher voices a non-binary character named Asher in season two; no fuss, their friends simply use they/them pronouns to refer to them. Also, if it reminds you of Legend of Korra, it's because Angela Sung is the art director.
And oh, the music. Every episode of Kipo features a different style of music because every group of mutes has their own visual and auditory aesthetic and every single song is an absolute bop. Kier Lehman, was was responsible for Into the Spider-Verse's celebrated soundtrack, is the music supervisor for Kipo. The eclectic music mix fits the series brilliantly because it's a genre-busting show. Yes, it's all-ages animation. And fantasy. And sci-fi. And dystopia. And dramedy. And a musical. And pun-y surreal ridiculousness on par with Alice in Wonderland.
While season one, which landed in January, is about Kipo discovering the bizarre and wondrous and terrifying realities of surface life, season two, which dropped a few weeks ago, is about Kipo discovering what's inside herself, which is a bit more complicated than your standard hero's journey of reflection. And while she's learning who she is and what she can do, enemies abound in the form of mutes and mega-mutes and human adults and talking non-mute baboons. Or, well, Wolf and Benson would probably call them enemies. Kipo would just call them friends who don't know it yet.