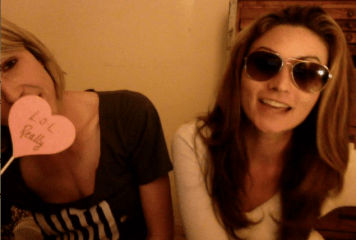 Welcome to You Need Help! Where you seek advice and we try our very best to give it.
This has traditionally been done by way of individual Formspring accounts, Autostraddle's Tumblr and a Formspring Friday column, which has all been very fun and insightful. But, because Formspring has a character limit and we're wildly optimistic w/r/t our time-management skills, we thought we'd go one further and let you use our ASS private messaging to share advice-related feelings, too.
For more info on sending in questions, see the bottom of this post.
Rising Star Haviland Stillwell and I filmed some stuff for a vlog and then figured we'd shoot some advice answers too. So this is sort of bare-bones no-frills video editing. Also, our activity partners expressed dissatisfaction with our answers to this question and took a crack at it themselves — ON VIDEO!
Let's get down to bossing people around on the internet! Today we "help" you with your sex drive issues.

Question: My question is that well, I have a low sex drive. It hasn't always been this way, but I just want to want to fuck my girlfriend. Sometimes I feel like it and sometimes I don't.
Answer:
If that stellar advice doesn't work, I recommend Laneia's recent "You Need Help" on a similar topic. The thing is that you say it hasn't always been this way, so if your sex drive is lower now than before, that's worth looking at. I also suggest "just doing it' because this problem can snowball and turn you into a flinching beast (it's like going to the gym! might be hard to get started, but you're so glad you did it when you got there), getting into a sex-state of mind by immersing yourself in lesbosexy tumblrs, porn or erotica (it's like Stockholm Syndrome), or maybe if you're afraid you might not get wet and then ruin your relationship, maybe suggest doing all the things to HER instead this time.  Also, set aside time to have sex where you won't be thinking that you should be working/at the gym/cleaning/etc. Maybe go to a hotel or something where it's distraction-free.
However, if you wanna have sex with other people — just not her — then as Ashley Reed said, you should "want to want to pack your bags." Seriously otherwise you're gonna give her an insecurity complex which will haunt all of her future relationships.

To send your question via ASS personal messaging, choose an editor: Riese | Laneia | Rachel
Or ask any team member you'd like: Meet the Team
*If messaging is down, email us! There are so many options, you guys! You could send carrier pigeons!*
For 100% anonymity, contact us through Formspring:  Riese | Laneia | Rachel
Please keep your questions to around, at most, 100 words. Due to the high volume of questions and feelings, not every question or feeling will be answered or published on Autostraddle. We hope you know that we love you regardless.
—