Welcome to the thirteenth episode of the fifth glorious season of Glee, a charming country-style chowder of a tale about a quantum physicist from the near future who, due to a time travel experiment gone wrong, is doomed to forever hop through time, taking the place of humans to "put right what once went wrong" with the help of his womanizing best friend, who is actually a hologram. This crushing tale of daring heights and multiple avalanches deals with situations including prom-worthy headbands, three-legged tables, cylons, Bacon Clubhouse Rules, irritable bowel syndrome, ponies, undercuts and Frosted Mini-Wheats.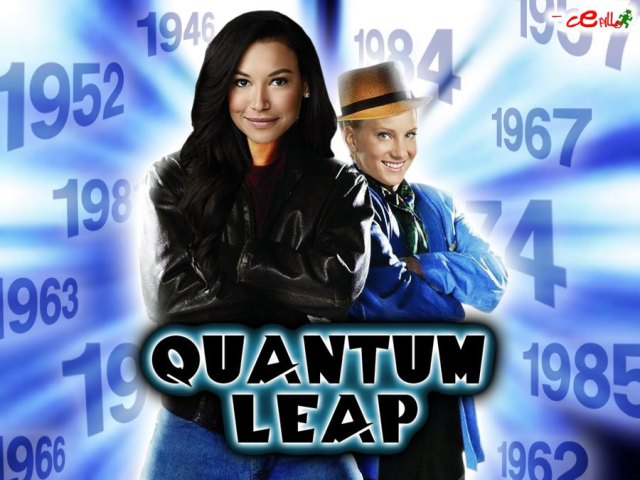 This episode made me nostalgic for the last week of my senior year at Interlochen, because seriously THERE WAS A LOT OF MUSICAL THEATER KIDS SINGING and alumni everywhere and people wondering if it was okay to go to New York City without a plan. It is, by the way, although it's an expensive place to go without a plan, but lots of people (including me) just needed to taste it anyhow, and then things have a way of working themselves out.
---
We open in the teacher's lounge, where Holly Holiday and April Rhodes are enjoying a generous spread of pre-chopped vegetables while playing "fuck or chuck" with the Fine Older Men of McKinley High when Sue Sylvester saunters in and calls April Rhodes "America's favorite alcoholic dwarf whore" as April accents her melon with Splenda and her coffee with victory gin.
Sue then admits she's not anti-April, really, because Holly and Sue are BEST BEST FRIENDS so she tolerates April by association! Holly and Sue even auditioned for The Amazing Race together, and their tape is amazing and would therefore win the race if I ran the world.
Sue then agrees to allow Holly and April shoehorn music into regular class-time activities all week long to further celebrate the unseemly demise of the Club once known for its Glee.
---
We then skate gracefully into the hallowed hallways of McKinley High, where Tina Cohen-Chang's walking and monologuing about this week's Way Tina Has Been Wronged. Somehow, despite all logic and facts available to us as human beings, Tina was rejected from Ohio State.
Thus, Tina's re-focused her sights on New York, New York, home to world's most affordable manicures, and specifically Mitzvah University, where she hopes her Cohen-ness and photoshopped account of her time at a kibbutz will snag her a spot despite missing the deadline.
Tina saunters into the Glee Room, where the kids are wrapping up Sir William's golden dildo collection, which sends Tina into a depressive spiral. Then Blaine pops in with his big news: HE GOT INTO NYADA!
In a dervish of delight, Sam accidentally knocks Tina unconscious with a giant golden dildo, thus transporting her to an alternate universe in which the Gleeks star in a Chums, which is like Friends, but happening right now in your face instead of in the '90s!
It's a mad-cap sitcom world where all these wacky teens are cohabiting in the Barbie Bushwick Dreamhouse Loft, which is indeed approximately the size of Rachel and Monica's Barbie Greenwich Village Dreamhouse Loft. Guys I was so into Friends, I even bought the book. Okay, I bought the book whenever there was a show that had a book.
Also, I got the haircut. I got the Rachel. Nobody told me that the Rachel doesn't work very well on crazy Jewish hair like mine and this is before I knew that flatirons existed and anyhow, it looked about half as good as this:
Tina wakes up from her special nap to declare that New York's gonna be amazing, you guys!
---
Cut to The April Rhodes Civic Pavilion, where Kurt and Mercedes share a little story about a recent fight they had regarding the vegetative content of tater tots and how despite said fight, the terrific twosome managed to triumph over adversity and remain friends.
Why? Because it's so silly for good friends to ruin everybody's lives for no reason! 
Kurt: The most upsetting thing is watching two people you love fight about something ridiculous and there not being anything you can do to stop it!
Basically they're trying to tell Rachel and Santana the same thing I've been trying to tell them in my recaps which is to SQUASH THIS THING. Okay? So they're about to do something even the worst enemies can bond over: DREAMGIRLS.
"I'm Changing"
http://youtu.be/hzQgWtXUeEU
---
After a refreshing commercial break, we return to the McKinley High restroom, where Rachel is exhausted/depressed regarding this tedious rivalry and is therefore making Santana a peace offering — she'll  just straight-up give Santana ten shows and Santana can pick the shows so her friends/family can be there to witness the glory.
It's a generous offer, but Santana turns it down because she is being a total asshole nut who doesn't understand how Broadway works.
Santana: No. I want them all. The only reason why you're doing this for me is because you know I'm gonna go on Showgirls on you and win. No more scraps, Rachel. I'll be happy and kiss and be friends once you give me the part.
Rachel: God what is it about anymore with you Santana? I don't get it.
---
Cut to Animal Husbandry Club, which Holly Holiday has decided to use as a forum for a WILD MUSICAL PERFORMANCE! Specifically, Eddie Murphy's "Party All The Time." It gets really homoerotic.
It's super fun, like a dance club in a '90s movie but also Xanadu but also a PG-13 foam party or a photoshoot for a PARTY TIME fashion spread in YM Magazine.
Witness:
http://youtu.be/JREMC_fWCEs
---
Cut to the Glee Room, where Brittany has stolen lilies from acres of innocent maidens to woo her lady-love back to her lesbilicious lap. "They're the lesbian of flowers," Brit-Brit explains, handing her lady-love two one-way tickets to Lesbos island.
Brittany: "I figured once we arrived at the Girl-on-Girl paradise that is Lesbos that we'd never want to leave."
Santana: "Okay listen. Brittany, I love you but running away with me and living on a lesbian island is not what you want to do. You just don't want to go back to MIT."
Just 'cause she's a super math genius doesn't mean she has to do math, says Santana, because being a math genius wasn't ever her big dream and neither was living on a lesbian island with Santana. That's our dream, DUH.
Brit-Brit says that Santana never wanted to be a Broadway star, SO THERE. Santana says all that matters to her is that she is a star, a shiny star with lots of money and fame, which is actually a really solid point. I mean, being a Broadway star isn't my dream either, but were I offered a lead role, I'm pretty sure I would take it. (Don't worry, friends, not all Broadway shows involve singing.)
Brittany insists, "I don't wanna run away with you because I want to run away. I want to run away with you because you and I are the only truly awesome people I've ever met, and I'm tired of doing stuff that only matters to people less awesome to us." Then Brittany lays it on thick:
Brittany: "Listen, you have spent most of your life in the closet because you cared about what people thought about you. Walking away from a dream that you don't actually care about is you winning, because it's you saying, This is not who I am and I don't care who knows it."
What???
Santana: "You know, it's funny. I spent months tangled up in knots, and in five minutes, you straighten me out. You really are a genius."
Brittany: "I'm just the world's foremost expert in the field of Santana Lopez."
Aw.
---
Pages: 1 2See entire article on one page