Worksheet content by Austen and Azul , graphic design by Geneva.
We answer sex questions on this here website. And let me tell you, as a person who sometimes answers them, the number one piece of advice I give out is to open your mouth. And not in, like, a sexual way. What I mean by that is you have to talk to your sex partner or partners about the same issue you just talked to me about. And that can be scary, especially if you're not clear on what exactly it is you want out of sex or a relationship. If you're not clear about it in your head, it can be harder to verbalize things.
So that's why at A-Camp 2014, we did an entire workshop on how to talk about sex with your partner. Now it's certainly something we've covered before, but we're also interested in helping you clarify what exactly you want to talk about. Not just the act of having the conversation, but the content of it too. Do you want to be doing different things in bed? Do you really want to tell your partner about a fantasy you've been having? Do you want to test drive some new language to refer to genitalia? Gender? Where exactly do you and your partner(s) intersect?
We made you this worksheet, the three of us. It's full of suggestions, helpful things to think about, creative ways of looking at things we want in the sack. We hope you like it and we encourage you to deface it. If you want to talk about something you don't see on here, well then add it. Draw all over it. Download it, print it out and go bananas.
And please, do talk to your partners if there's something you want to change about your sex life. Also talk to your partners if they're doing everything right (believe me, everyone wants to know they're fabulous).
Here are some previews of what the worksheet looks like: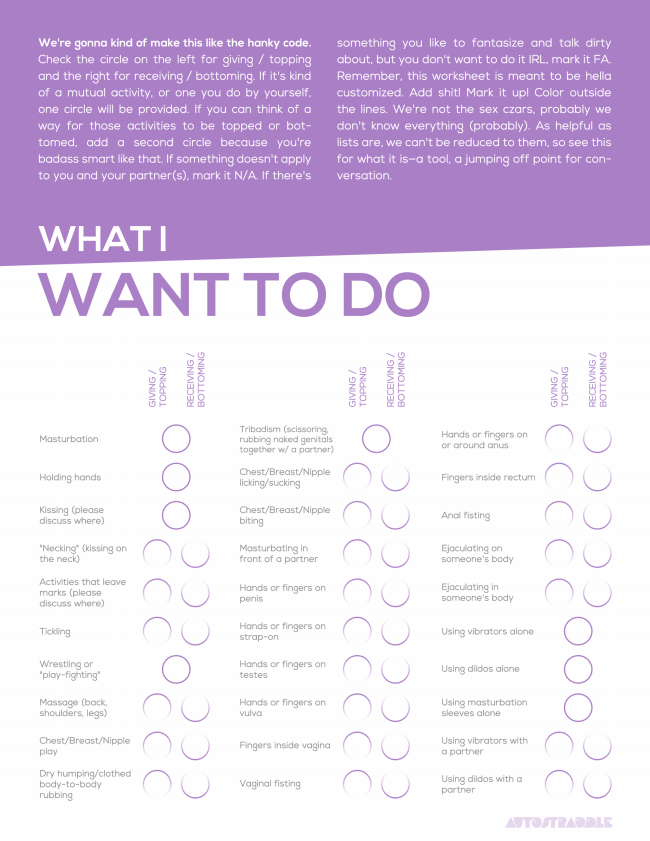 And here's a downloadable PDF, just for you.