The phrase "lesbian vampire" might be one of the most titillating combinations of words in the English language. She is a specter that has endured throughout the last 150 years in fiction and film. Before she appeared on screen as a predatory lesbian coveting the necks of young girls, she found her roots in two sources from history, lore, and literature.
The first of these sources is the infamous Countess Elizabeth Bathory, a Hungarian noblewoman. Elizabeth Bathory is best known in the annals of morbid history as a prolific serial killer. According to lore and testimony from her trial, the 17th century countess believed bathing in the blood of young girls would preserve her youth and beauty — purportedly to the tune of 300 exsanguinated virgins in Hungary. Several of the country's own scholars have speculated that Bathory was the victim of a patriarchal conspiracy. In such theories, a cabal of men, blood relations of Bathory's, strove to take over her land and wealth after her husband's death. If one is to accept the theory of power-hungry misogyny, the details of Bathory's various murders do indeed read with a feverishly sadomasochistic bent. In other words, it is not hard to imagine these unsavory descriptions being manufactured by sexually repressed Hungarian noblemen who could not handle this one woman's autonomy. Bathory has been heavily filtered through the language of men.
The second major source for lesbian vampire lore appears in Joseph Sheridan le Fanu's 1872 novella, Carmilla, which predates Dracula by 26 years. It is the story of a strange female visitor, Carmilla, who seduces a young, lonely girl named Laura who is confined to her father's house. Eventually, the male characters defeat her and rescue the female narrator from Carmilla's clutches. Indeed, this becomes the standard cycle of many lesbian vampire movie narratives.
Queer people continue to be drawn to the figure of the lesbian vampire. The allure signals there is more than the lust of the male gaze on display in this body of work. One need only point to Carmen Maria Machado's recent re-edition of Carmilla in which she repositions the novel in the context of queer history.  The continued interest in historically "problematic" imagery is more than a queer scavenger hunt for representation. After all, there are now also more explicit portrayals of queer relationships on screen than ever before. So why do so many queer horror fans keep returning to these films, which are more interested in homoerotic undertones than they are in any commentary on "queerness" as an identity?
The lesbian vampire remains a figure rafted between two schools of popular feminist discourse. Mainstream feminist theses have steered the discourse from the ivory tower to the art house screen. Decades later, the erotic potential of the lesbian vampire outside of a patriarchal framework and these particular feminist responses remains woefully untapped.
Feminist writers have typically written off sadomasochistic imagery in this subgenre of a subgenre as yet another violent male fantasy. But what to make of women whose sexual modalities incorporate violence and fear into the erotic experience? A binary is reinforced in these texts that male fantasies are uniformly violent and that, conversely, women's desires are delicate, almost chaste. As a leatherdyke, my sensibilities are entrenched in the sadomasochistic and perverse. Lesbian vampire movies scratch that itch for me; they utilize a host of traditional imagery associated with sadomasochism, including bondage, domination, and submission — all practices that have only been improved upon by queer people throughout leather history. In my writing, lectures, and podcast work, I posit that the lesbian vampire figure can be reclaimed not necessarily as a figure of women's empowerment, but as a symbol of dark eroticism and the less savory aspects of queer life, those of which have not been abated by assimilationism and neo-queer pride. This list highlights some of my favorite lesbian vampire movies (in no particular order) that, while mostly made by heterosexual men, I believe embody a counter-cultural, sadomasochistic sensibility.
Dracula's Daughter (1936) dir. Lambert Hillyer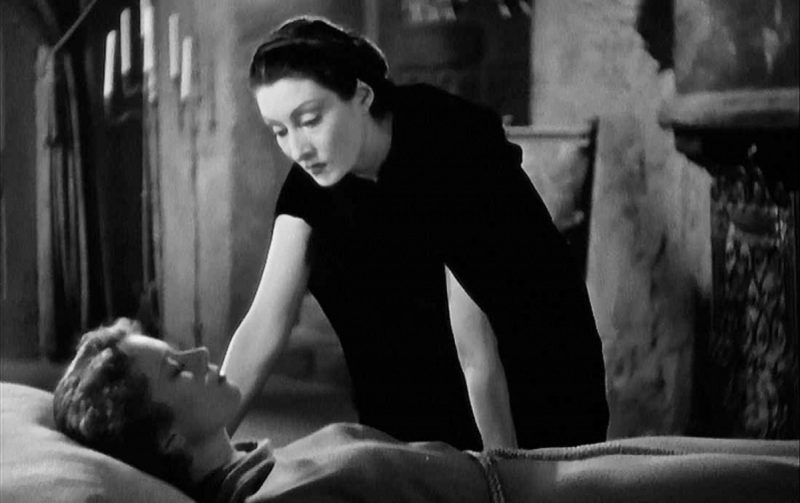 While Vampyr (1932) directed by Carl Theodor Dreyer is technically the first film to adapt Carmilla, the controversial Universal Studios production Dracula's Daughter is considered the first true lesbian vampire movie. It is one of the last of the first wave of universal monster movies, occurring during the fall of the Hollywood powerhouse family, the Laemmle Family. The film is a combination of both the Dracula and Carmilla story, following Countess Zaleska (Gloria Holden) on her lonely quest for female blood. Marketing for the film exploited the lesbian undertones of the story and was much derided by the Production Code Administration for that reason.
Made during the rise of modern psychology, lesbianism is equated to vampirism as an affliction the victim cannot control. This film gives us the first image of an existential female vampire, wallowing in misery and suicidal ideation over her plight. Countess Zaleska bemoans her vampiric affliction throughout, desperately seeking a cure. She wanders the streets alone at night, her depressed countenance scouring the streets reluctantly for a victim.
In the most famous scene of the film, Countess Zaleska solicits a sex worker she meets during one of her nighttime strolls to model nude for her back at her house. Gloria Holden's performance conveys the deep pain and conflict that the Countess feels in this encounter where she ultimately feeds on the girl. In desperation, the Countess seeks the help of a psychiatrist in ridding her of this curse. But in the end, she accepts her fate.
Is the film indicative of contemporary psychology's view on lesbianism? Absolutely, and it is important to acknowledge that in its history. But Countess Zaleska is also a powerful symbol of the depression and suicidal ideation many queer women struggle with under patriarchal oppression. The desire to be rid of the "affliction" is one many queer people can relate to.
Blood and Roses (1960) dir. Roger Vadim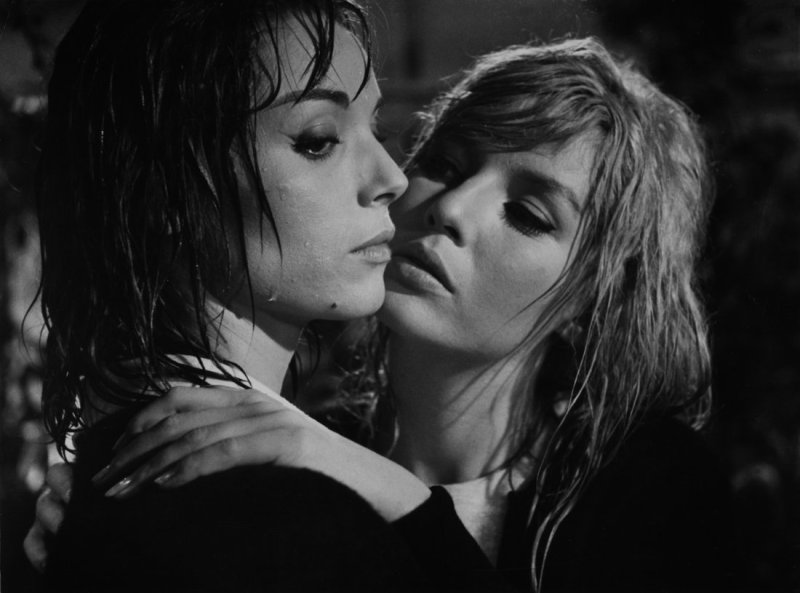 The lesbian vampire lay relatively dormant until her return to the art house film scene in the 1960s. Post Dracula's Daughter (an American film), the lesbian vampire remains a largely European art house/exploitation film phenomenon. Given that Europe is historically less sexually strict in a cultural sense, this lent filmmakers to a freer, more avant-garde sensibility. 1960s U.S.  cinema was still quite mired in production codes and studio systems, something that would not abate until the late 1960s/early 1970s. European lesbian vampire movies from this time have a remarkably contemporary feel compared to American films that were being made.
Roger Vadim's Blood and Roses is a reworked Carmilla narrative. The young Carmilla (played by the director's wife, Annette Vadim) is torn emotionally by the engagement of her friend Georgia (Elsa Martinelle) to her cousin Leopoldo. During a celebration where the tomb of her vampire ancestor is opened, she becomes possessed by her and begins claiming victims. The story capitulates around her lust for Georgia, which is constantly stymied by the presence of a male lover.
Blood and Roses centers on the concept of a queer woman's unrequited obsession with an unattainable love interest who is invested in a heterosexual order. While an initial reading reveals the homophobic misogyny at the center of this trope, it behooves us to look beyond the obvious. Many young queer women have had this exact experience in their journey to embodiment, lusting after a straight woman that rebuffs affection. The film illustrates the angst of that experience in a beautifully gothic manner. 
Female Vampire (1973) dir. Jesús Franco
Jesús Franco Manera, known to most cult cinephiles as Jess Franco, was a prolific Spanish filmmaker who specialized in the glorious intersection between horror and pornography. He made about 195 feature films and, during his peak period, averaged nine films per year. Known for his trademark blend of surreal psychedelic imagery, gore, and eroticism, Franco is responsible for two of the most famous lesbian vampire movies in horror history.
Female Vampire (a.k.a. The Bare-Breasted Countess) stars Lina Romay, an adult actress and longtime collaborator/muse of Franco's who appeared in approximately 109 of his films made over 30 years. Romay, in an obvious nod to both Bathory and Carmilla, plays the titular female vampire Countess Irina von Karlstein. In a perverse twist on the vampire mythos, the Countess needs sex as well as blood to stay alive, and takes many opportunities to fulfill her hunger.
Female Vampire is a beautiful example of Franco's gory erotic vision, as the film functions as much as titillation (Franco rejected the idea that this was a porno) as it does a horror film. An artist as well as a smut peddler, Franco was working with some "high-brow concepts" of lust as it relates to the death drive. In her book Screening the Marquis de Sade: Pleasure, Pain, and the Transgressive Body in Film, Lindsay Anne Hallam positions Irina as a Sadean heroine who through primal expression of lust, claims her body and sexuality outside of a patriarchal framework. By only living for sex, Irina becomes a symbol of Sadean hedonism.
Vampyros Lesbos (1971) dir. Jesús Franco
Vampyros Lesbos is the first lesbian vampire film Franco wrote and directed. He even makes an appearance in the film as a serial killer character. Lesbos is the more famous of the two and certainly the more overtly psychedelic and stylish vampire flick.
Countess Nadine Carody (played by Soledad Miranda, who tragically died in a car accident at age 27, a year before the film's release) lives with her loyal servant on a remote, vaguely mediterranean island (the film was shot in Turkey). By night, she performs as part of a kind of erotic horror burlesque act that involves female mannequins, mirrors, psychedelic music, and lots of sheer fabrics. Autostraddle readers may remember the soundtrack score from the episode of The L Word where Alice has sex with a lesbian vampire named Uta Refson.
When Linda (Ewa Strömberg) visits the island and becomes entranced by Nadine's stage act, the Countess sets her sights on seducing the innocent blonde. She releases Linda's suppressed sexuality with her emancipating bite. However, the bite also causes the women to become obsessed with her, crazed and tormented by their unfulfilled lust.
The Blood Spattered Bride (1972) dir. Vicente Aranda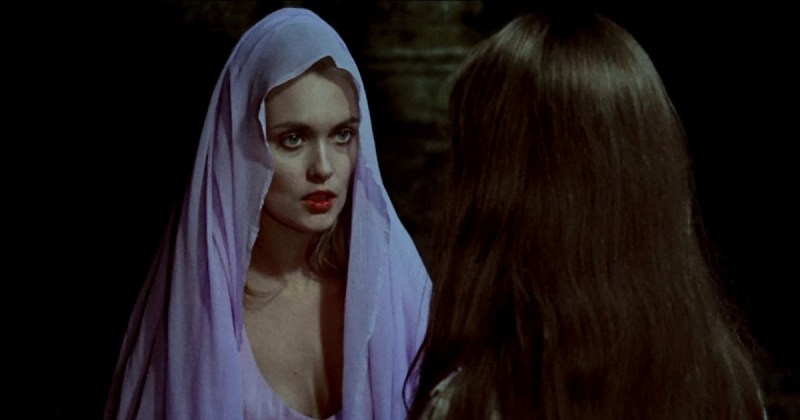 The 1970s were the decade when the most lesbian vampire movies were produced. With exploitation and grindhouse cinema in full swing, sleaze mongers (a phrase I use with love and respect) latched onto the idea of the predatory lesbian vampire as an erotic figure.
The Blood Spattered Bride is a Spanish horror film written and directed by Vicente Aranda. Based wholly on Carmilla, Aranda shifts the action to present day Spain. Vampire Carmilla (Alexandra Bastedo) takes the form of a ghost who tries to tempt newlywed Susan (Maribel Martín) into murdering her abusive husband and joining her in her ghostly crypt.
Though one of the more obscure entries, the film has obtained some recognition. It attained cult film status for its mix of horror, vampirism, rejection of fascism, and progressive ideas on gender and sexuality. Director Quentin Tarantino named a chapter in his 2003 film Kill Bill: Volume 1 after The Blood Spattered Bride. It's been screened at hip New York theater locales like Quad Cinema and Nitehawk. Nitehawk describes Bride:"riffing on the 19th century vampire tale of Carmilla, The Blood Spattered Bride is a trashy exploration of female sexuality, marital misogyny and good old fashioned graphic violence."
Many lesbian vampire films center around a female protagonist in a dubious (or just straight up abusive) relationship. The lesbian vampire enters as a kind of dark heroine to save our girl from his clutches. This film is no different. There are plenty of allusions to gendered violence and its relationship to fascism.
Alucarda (1977) dir. Juan López Moctezuma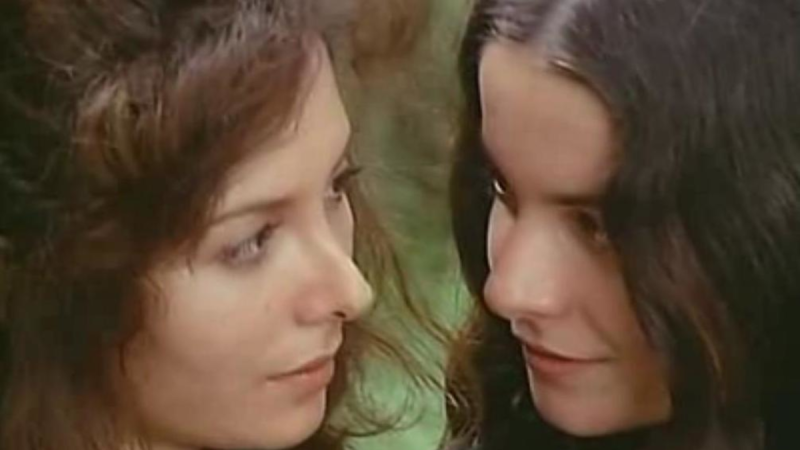 The Spanish speaking world has produced several iconic lesbian vampire films. Alucarda is a Mexican cult horror film that was a major inspiration for Guillermo Del Toro. It's directed by Juan López Moctezuma, who produced Alejandra Jodorowsky's El Topo, another cult classic. Moctezuma was a figure in the Mexican artistic avant-garde of the 1960s and 70s. His reach was prolific, and his credits boast TV and radio host, as well as jazz musician, painter and film director.
Manolo Santillán and Lalo Cazares, two hardcore fans of Alucarda that would later become close to the director, recall tracking him down in his later life. At this point, Moctezuma was a patient at a mental institution. Santillán and Cazares describe the director as "looking into emptiness" in an interview for Radio UNAM. They claim that, upon asking him how he fared, he replied: "Here with my friends, the monsters and the vampires flying all around me."
A loose adaptation of Carmilla, Alucarda stars the enigmatic Tina Romero as Alucarda/Lucy Westenra (both references to Dracula), and Susana Kamini as Justine (a reference to the Marquis de Sade). The film has been noted by film scholars for its themes regarding national tradition versus modernity, as well as the tensions between science and religion, and the failures of both.
Alucarda wasn't received well upon its initial release. Especially in native Mexico, where it was supposedly banned. But like many films of this ilk, it has developed a cult following over the years. It was considered all but lost until a negative of the film was discovered, making this film a diamond in the rough for those who are resourceful enough to find it.
Mary, Mary, Bloody Mary (1975) dir. Juan López Moctezuma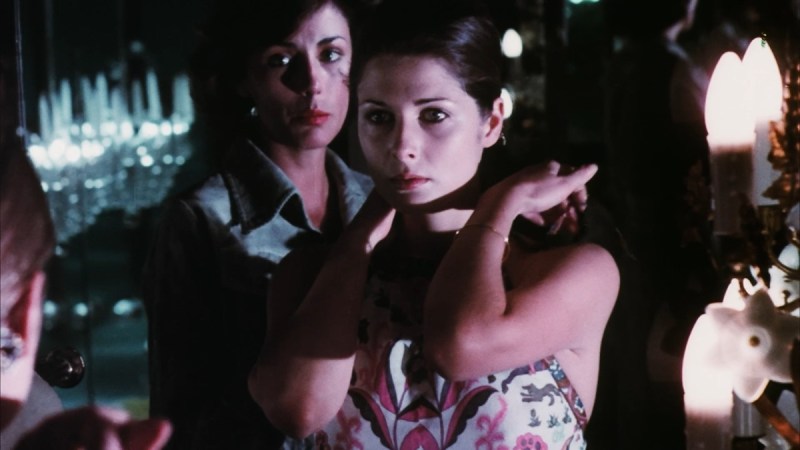 This obscure gem is Moctezuma's first foray into lesbian vampire territory and is the only lesbian vampire film to reference the "Mary, Mary, Bloody Mary" nursery rhyme/urban legend. The plot revolves around an impossibly stylish bisexual American artist named Mary (Cristina Ferrare) with a penchant for drinking blood. Mary seduces and drains the residents of a small fishing town in Mexico, the police hot on her trail.
Mary is especially notable for its art direction. Mary's paintings were done by Rosa Rosenberg, a surrealist Mexican painter who Moctezuma knew from the avant-garde art scene. The sculptures that decorate her home were provided by Diaz Barriga, Feliciano Bejar, and Lorraine Pinto, also Mexican artists working in the surrealist, post-war movement.
The Vampire Lovers (1970) dir. Roy Ward Baker
The gorgeous, British horror film icon Ingrid Pitt stars as another iteration of Carmilla in this 1970 British Gothic Hammer horror film. Despite its lack of explicit gay sex, The Vampire Lovers is one of the more well known lesbian vampire films. Once the crown jewels of British horror cinema, gothics had become unpopular. The Vampire Lovers was one of the last in the Hammer Horror revival era of the 1960s and 1970s when the company was overhauling its image to include more cheesecake (fluffy, gratuitous TnA.) It is the first of the Karnstein trilogy, which also includes Lust for a Vampire and Twins of Evil. Though British to the core, the film was actually a co-production between Hammer and American International, who were interested in a vampire movie with more explicit sexual content to take advantage of a more relaxed censorship environment.
Roy Ward Baker claimed that after reading Carmilla twice, he didn't get a sense of any lesbian content. Which just goes to reinforce the obliviousness of heterosexual men remains unmatched. Although, in her autobiography, Ingrid Pitt also claimed to have no idea her character was supposed to be a lesbian. Madeline Smith (who plays Emma) apparently was similarly clueless about this aspect, even though she literally bares her breasts for Pitt's character to feed on. That compulsory heterosexuality goes deep! While filming, the women had a great deal of trouble getting through scenes without giggling. In the scene where Ingrid has to drink from Kate O'Mara (who plays the Governess), her vampire teeth kept falling out and into Kate's cleavage. Oh to be a fly on the wall of that production!
The Velvet Vampire (1971) dir. Stephanie Rothman
The Velvet Vampire earns its place in history as one of the only lesbian vampire films directed by a woman and has recently enjoyed a new life of restoration glory in the Criterion Collection. The plot is intentionally rote, standard vampire stuff by way of Carmilla and Dracula: Married couple Lee (Michael Blodgett) and Susan (Sherry Miles) are drawn into the strange, seductive web of Diane LeFanu (Celeste Yarnall, who some may recognize from Star Trek: The Original Series, and whose name is an ode to Sheridan Le Fanu). Diane lives in her own private desert enclave somewhere outside Los Angeles. While there, they discover she may be harboring an uncanny secret which is already evident by the title of the movie itself.
Stephanie Rothman is an unconventional filmmaker. A protege of the great horror master Roger Corman, her 1966 movie Blood Bath was deemed so weird that the production hired Jack Hill (a notorious exploitation sleaze director known for Spider Baby and The Big Dollhouse) to come in and make it less weird.
Roger Corman famously mentored female directors working in sleaze like Katt Shea, but always with the caveat that the films must feature ample amounts of TnA. Stephanie Rothman has acknowledged this and her frustration with being associated with exploitation films, but she always managed to sneak in political messaging. In her film Student Nurses, Rothman interweaves narratives of pro-choice advocacy and immigrant representation throughout the structure of a typical Corman-produced exploitation film. With The Velvet Vampire, Rothman wanted to make a feminist-leaning film making fun of vampire tropes. The sexual frankness is a commentary on the vampire genre itself rather than merely an example of it, although it was intended as a commercial exploitation film for Roger Corman's New World Pictures. There are many hints throughout the film toward the feminist bent of the narrative. For example, the film opens with a typical sort of rape-revenge red herring. The Velvet Vampire arose alongside a variety of lesbian vampire films including Daughters of Darkness and Vampyros Lesbos. But Rothman's specific surrealistic vision continues to influence works like The Love Witch and Jennifer's Body.
Daughters of Darkness (1971) dir. Harry Kummel
With Delphine Seyrig sporting a variety of fabulous gowns and stopping mid-seduction to launch into feminist rants, Daughters of Darkness is definitely one of my favorites on this list.  The plot is typical lesbian vampire film fare: A young couple is taking a holiday at a strange European location when they meet a gorgeous and mysterious woman (a vampire) who takes an interest in the young wife and becomes obsessed with possessing her. A battle for her soul between the vampire and the husband ensues and typically, the hetero man is victorious. But not in Daughters of Darkness, which makes it a particularly unique addition to the canon.
Countess Elizabeth Bathory is played by international film star Delphine Seyrig, who is absolutely gorgeous in this part. Delphine was a Lebanese-born French stage and film actress, a film director, and a feminist. She is perhaps best known for her starring role in Chantal Akerman's 1975 epic feminist film, Jeanne Dielman. Seyrig's background and status as an outspoken feminist is important here to give the film some context. She certainly would have been highly conscious of the messages about women she was putting out there by choosing certain roles, so I believe she probably saw this representation as an important one. After all, even the title Daughters of Darkness suggests a kind of sisterhood. Harry Kummel was thrilled to have her in this film. At first, she didn't want to accept the role, but her husband encouraged her to as he was obsessed with comics and graphic novels and thought it would be great for her to star in a film with horror themes.
In the BBC documentary Horror Europa, Kummel said he deliberately styled Delphine Seyrig's character after Marlene Dietrich and Andrea Rau's (who plays Countess Bathory's consort) after Louise Brooks. Because the vampire character of Elizabeth Bathory is also a demagogue, Kummel dressed her in the Nazi colors of black, white, and red. Controversial critic Camille Paglia wrote about this movie in her book Sexual Personae (1990): "a classy genre of vampire film follows a style I call psychological high Gothic. It begins in Coleridge's medieval Christabel and its descendants, Poe's Ligeia and James's The Turn of the Screw. A good example is Daughters of Darkness, starring Delphine Seyrig as an elegant lesbian vampire. High gothic is abstract and ceremonious. Evil has become world-weary, hierarchical glamor. There is no bestiality. The theme is eroticized western power, the burden of history."
Clearly, both Kummel himself and critics see this film as a critique of European despotism and aristocracy. In fact, vampires are often used as a vehicle in literature and film for criticizing the decadence of the upper class. Bram Stoker's Dracula was, after all, largely an illustration of the English fear of other hedonistic and seductive Europeans stealing away good English women.
Shiver of the Vampires (1971) dir. Jean Rollin
French fantasy/horror arthouse director Jean Rollin made a series of lesbian vampire-themed films, three of which are on this list. If you can ever get your mitts on a copy of the out of print Lost Girls: The Phantasmagorical Cinema of Jean Rollin, edited by Samm Deighan and penned by all women critics, scholars and film historians, do yourself a favor and snag that tome. Jean Rollin was an undersung genius known for his depiction of explicit sexuality and themes of mortality and longing. Shiver of the Vampires is an early film that fully established the visual motifs and overall stylistic approach to which he would return for most of his subsequent oeuvre.
Shiver of the Vampires is most notable for its lush castle and forest settings, especially a series of  beautiful outdoor night scenes that cement this fun French camp in a canon of 70s gothics.
Fascination (1979) dir. Jean Rollin
Jean Rollin's most famous vampire film is set in the 1905 French countryside outside Paris.
This is many fans' favorite Rollin films and is considered one of his most accessible. Rollin's films fall squarely in the erotic horror canon, which isn't surprising considering he directed literal pornography, with titles such as Fly Me the French Way (1974), Hard Penetration (1977), Sexual Vibrations (1977), and Sodomanie (1983).
Rather than the studio-bound period sets of Hammer Films, this is a real location and one where Rollin creates a suggestion of an aristocracy that has fallen into bored decadence.
Rollin keeps alluding to things happening at midnight, leaving us with suggestions of something that might involve Satanic rituals, orgies, or vampirism, all culminating in one extended act of violence.
The Living Dead Girl (1982) dir. Jean Rollin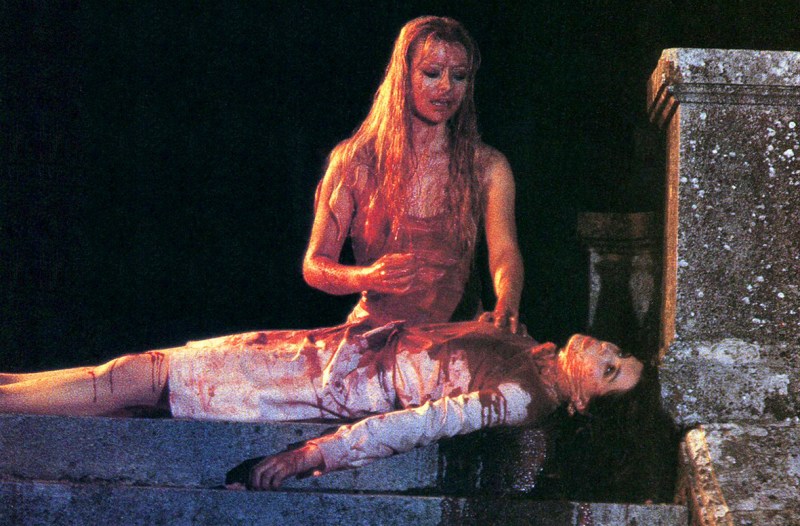 Rollin's vampires are typically ambiguous and fall outside traditional vampire lore. The Living Dead Girl is one of his more experimental vampires, with Catherine Valmont the Living Dead Girl (François Blanchard) being brought back to life through toxic radiation. Catherine as a female monster is a mix between a vampire and a zombie, as she basically eats people whole instead of just sucking their blood.
Catherine's crypt sits in the basement of the crumbling Valmont chateau. When leaked toxic waste brings her back from the dead, she discovers her home is up for sale and begins to pick off prospective buyers with her voracious appetite. When Catherine's childhood friend Hélène (Marina Pierro) returns to the Valmont home after hearing the dead girl's music box playing distantly over the phone, the two begin a troubled sexual and romantic relationship. The Living Dead Girl is the perfect film for sapphics who have ever been in love with a childhood best friend. It is an incredibly romantic erotic horror film.
Vampyres (1974) dir. José Ramón Larraz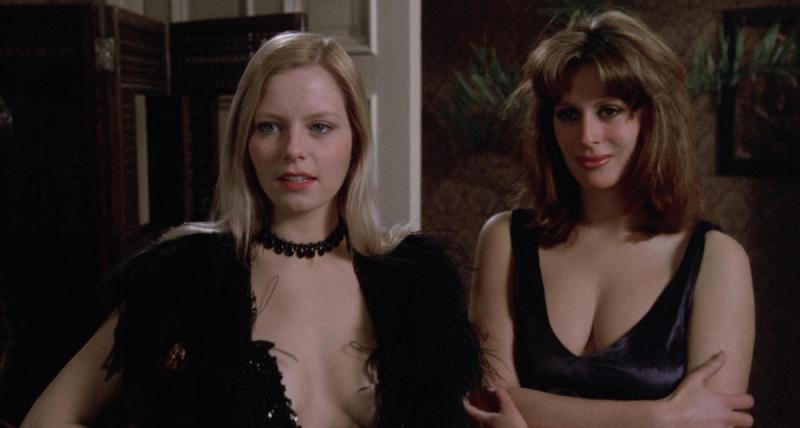 For those unfamiliar with José Ramón Larraz's horror films, do yourself a favor and rectify that immediately. The man loved using lesbianism and from Symptoms (1974) to Black Candles (1982), his films deal with the intersection of femme madness and the supernatural. Vampyres is his most well known effort. The film follows two female vampire lovers who lure unsuspecting travelers to their dilapidated estate to feed on their blood. Upon its release, the film was targeted by film critics for its depictions of graphic violence, sex, and female bisexuality. Film theorist Barbara Creed called a scene in this movie "one of the most grotesque sights in the film." If that's not a selling point, I don't know what is!
As was typical of erotic European art house films of this era such as Daughters of Darkness, adult as well as "higher brow" stage actresses are utilized in the cast. Anulka Dziubinska had been featured in Playboy's "Girls of Munich" pictorial in 1972 and appeared as the magazine's Playmate of the Month in May 1973. Vampyres was her first acting role on film. Sally Faulkner, a Shakespearean stage actress, was cast in the role of Harriet. Marianne Morris had appeared in a number of horror movies and sex comedies.
Mark of Lilith (1986) dir. Bruna Fionda, Polly Gladwin, and Isiling Mack-Nataf
This short film is difficult to find, but if you seek it out, the experience is well worth it. I was lucky enough to catch a screening of it a few years ago.  It is, to my knowledge, the only lesbian vampire film that explicitly deals with race and interracial lesbian relationships, and one of the few directed by women. Zena (Pamela Lofton) is a Black lesbian and graduate student researching monstrous women (hello again, Barbara Creed!) She meets Lillia (Susan Franklin), a white, bisexual vampire at a horror movie, and they embark on a bizarre, fraught relationship.
The Hunger (1983) dir. Tony Scott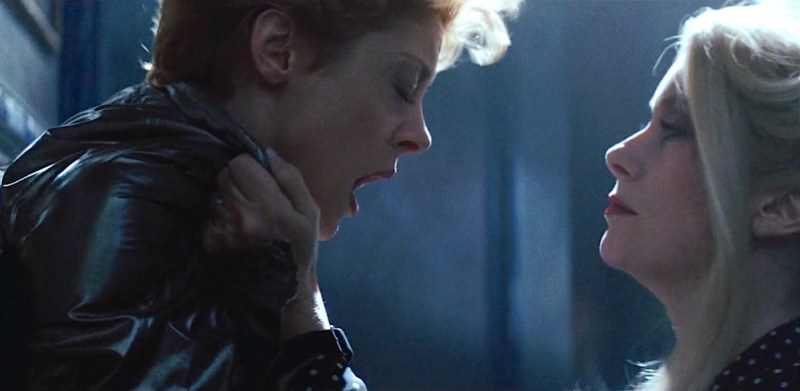 It's time to talk about one of the most stylish films ever made. Tony Scott's The Hunger oozes 1980s New York decadence and faded glamor with a cast to die for. The story focuses on Miriam Blaylock (played by Catherine Deneuve), a vampire living in a New York City Townhouse with her lover of the last few hundred years, John (played of course by David Bowie). When John begins to exhibit the rapid aging symptoms of the lovers that came before him, Miriam seeks out brilliant gerontology doctor, Sarah Roberts (Susan Sarandon), who is working on a "cure" for aging. We open in a dark, goth night clubwith Bauhaus on screen singing their famous single "Bela Lugosi's Dead." Miriam Blaylock and John stalk the club for punk blood, and the film only escalates in moodiness from there.
Milena Canonero's costuming is one of the most iconic aspects of the film. She's extremely prolific and did the costumes for Marie Antoinette, Chariots of Fire, and A Clockwork Orange.  One day during filming, Canonero, who is famously dedicated to her craft, disappeared and was nowhere to be found. It was discovered eventually she had flown to Rome to purchase fabric for a handkerchief David Bowie wears in the film. Unable to find fabric she liked in London, Canonero had flown to Rome at her own expense to find the fabric she needed instead. To me, this is femme culture.
In The Celluloid Closet, the 1995 documentary about the history of homosexuality in film, actress Susan Sarandon said the screenplay for The Hunger (1983) originally called for her to be demonstrably drunk in the lead-up to her sex scene with Catherine Deneuve, but Sarandon asked for it to be changed so that her character had only a single sip of wine and then spilled the rest of the glass. She said she wanted to make it clear that her character was choosing to have sex with Miriam instead of doing it because of the alcohol, and also because "you wouldn't have to get drunk to bed Catherine Deneuve, I don't care what your sexual history to that point had been."
In another interview about this film, Sarandon said "would you want to live forever if you were an addict?" Indeed, in addition to themes around sexuality, The Hunger is also a potent metaphor for addiction. Additionally, queer film scholars agree that most queer horror films of the 1980s make subtextual reference to the AIDS epidemic. The Hunger novel was released in 1981, the year the CDC first published a written report on what would later be known as AIDS. At this time, it was known among those affected, but remained largely unspoken among the general public. It is unlikely Tony Scott and co. intended for this film to be a one to one metaphor for the disease, but it is subtextually and historically present nonetheless. The Hunger is a powerful time capsule, perfectly 80s, decadent, and languid. It is wholly representative of the cultural hangover Americans were in after the hedonism and debauchery of the 1970s.
Nadja (1994) dir. Michael Almereyda
This ultra-hip take on the lesbian vampire is a black-and-white homage to Dracula's Daughter. Produced by David Lynch and featuring Peter Fonda as Van Helsing, this film's pedigree earns it a treasured spot the arthouse horror canon. Adding to its hipster cred, Nadja was filmed with a toy Fisher Price camera that used audio tape to record a very low resolution black- and- white picture. The soundtrack is iconic for its shoegaze tracks, which include artists like My Bloody Valentine and Portishead.
Nadja is a post-modern vampire tale set in contemporary New York City. Members of a dysfunctional family of vampires are trying to come to terms with each other in the wake of their father's death. Nadja (Elina Löwensohn, who needs to be in more movies), Dracula's bisexual daughter, is on a quest for her new consort when she meets Lucy (played by an actress named Galaxy Craze, whose parents were surely dropping LSD in the 60s.) Dr. Van Helsing and his hapless nephew hunt the family down and try to rescue Lucy before Nadja has a chance to turn her. As in all good vampire movies, forces of love are pitted against forces of destruction. The film is notable for being one of the only lesbian vampire films to show and utilize menstrual blood.
The Addiction (1995) dir. Abel Ferrara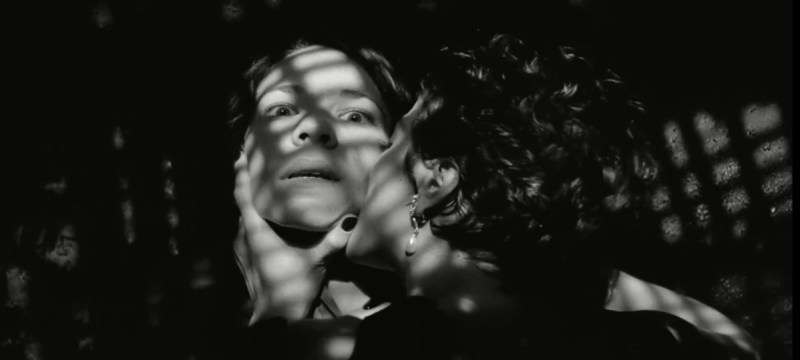 This gem is directed by legendary cult filmmaker Abel Ferrara, who most fans know for the rape revenge exploitation film Ms. 45 (1981). Lili Taylor stars as an introverted philosophy graduate student at NYU, Kathleen, who is stalked and attacked by a female vampire, on a dark street late at night. The Addiction also features such figures of the 1990s New York-Italian scene such as Edie Falco, Annabella Sciorra, and Michael Imperioli (of course, each of these actors would go on to star in The Sopranos). Now turned, Kathleen must satisfy the nightly cravings for human blood that have begun to consume her. Along the way she meets fellow vampire Peina (Christopher Walken), who becomes her murderous mentor.
According to Abel Ferrara, the characters of Peina and Casanova (the female vampire that turns Kathleen) were originally written as a female and male respectively. When Walken read the script, he thought Peina was a male character and wanted to play the role. As a result, Walken had his way, and the Casanova role ended up going to Annabella Sciorra, making this the lesbian vampire horror film fans know and adore. Ferrara also said in a 2018 interview that he intended the film to be an explicit metaphor for drug addiction; Ferrara himself had had a years-long addiction to heroin and conceptualized the film as a Catholic redemption tale in which Kathleen, stricken by her lust for blood, accepts her powerlessness and submits to God before being reborn in the conclusion. Of course it also recalls themes around HIV, queerness, and social disillusionment, whether Ferrara intended so or not. Film critic Stephen Hunter interprets the film as containing commentary on the world of academia, specifically pointing out Kathleen's transformative disillusionment with philosophy as a means of understanding the nature of good versus evil: "She's got a grudge against philosophy, which, in the long run, with all its constructs and rationalizations and insights, has proved somewhat inefficient as salvation."
The gritty New York setting and the high-contrast black-and-white cinematography position the film as an exploration of loneliness and longing. "Self-revelation is the annihilation of self," says Kathleen: "Dependency is a marvelous thing. It does more for the soul than any formulation of doctoral material." The dependency, the "addiction," is literally to blood and figuratively to human connection (particularly of the sapphic variety), and the film trusts the viewer to recognize this analogy on their own. In addition to this longing for connection, themes of cruelty, violence, and genocide are also explored. Lesbian desire is positioned within the larger realm of existential anxiety and the nature of cruelty itself. There is connection, however aberrant it may be, through violence and addiction.
Red Lips (1995) dir. Donald Farmer
Red Lips is a shot-on-video trashy diamond in the rough that was extremely difficult to track down until Vinegar Syndrome recently re-released it in restored splendor. Letterboxd user Nocturna describes this movie as a "megatrash romance blood transmission thirstfuck from an adjacent realm of pure desire. open wide and suck the ache. fit your mouth around a neon hunger. just promise you won't leave."
Caroline (the Amazonian Ghetty Chasun) donates blood because she is broke and it is easy money. One day, the doctor injects her with a serum that infects her with a violent need to feed on human blood. Caroline is busy slaughtering people with her new teeth when she unexpectedly meets and falls in love with Lisa (Michelle Bauer), who is just fresh off a lesbian breakup with her lover (a cameo performance for legendary porn actress Kitten Natividad). Red Lips is a  beautiful piece of softcore porn trash that is very aware of itself. It is a time capsule to the 90s. Critic Astrid Anne Rose of the Live From the Death Factory podcast describes this movie as "a shoegaze Jean Rollin music video."
Carmilla (2019) dir. Emily Harris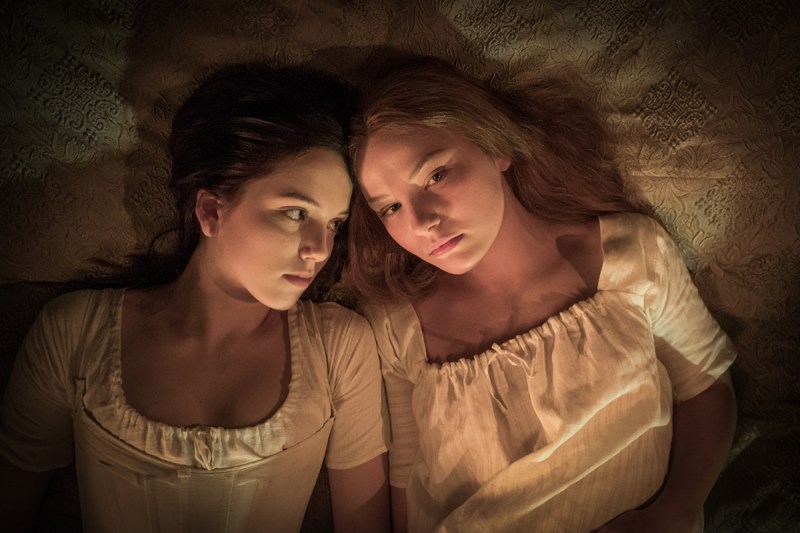 Emily Harris's adaptation of Carmilla is an important addition to the canon as its one of the rare lesbian vampire movies directed by a woman, and it is also the truest adaptation of Carmilla I've seen. There is a Nightmare Classics episode from 1989 that transposes the Carmilla story onto a pre-Civil War plantation setting that is also quite close to the novela (you can find the full episode on YouTube.) But Harris's iteration keeps true to the setting and plot points of the novella almost exactly.
Harris's film elevates the romance element between the two young women and highlights the repression of women's sexuality that Sheriden La Fanu hints at subtextually in his novella. More of a dark romance than a horror film, Harris makes sure to spotlight the female characters interiority as opposed to the male-centered action that makes up the bulk of the novella's climax. It is a lovely, quiet film that blooms slowly and enfolds the viewer into its bloodsucking embrace.
---