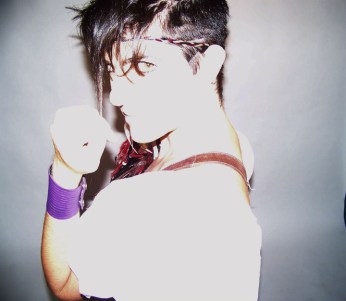 Queer electro-violinist rock poet grrl, Bitch, burst on to the music scene a few years ago as a part of the popular electroqueer duo, Bitch and Animal. They toured the USA extensively, building a reputation coast to coast for their feminist lyrics, theatrical performances, and a tour van affectionately named T.W.A.T. (Tenacious Women And Trannies).
Since the duo parted ways in 2004, Bitch — who refuses to give her real name due to artistic reasons — hasn't slowed down. She first formed Bitch and The Exciting Conclusion with then-girlfriend Daniela Sea and made a guest appearance on John Cameron Mitchell's Shortbus. Bitch then started her own label, Short Story Records, as a means to deliver her recent record and second solo release, Blasted!

I recently caught up with Bitch to have a chat about everything from the new pop-friendly sound and upcoming tour to the impact of queer & feminist identities for a solo female artist.
COREY: Let's get to know Bitch by starting at the very beginning. How did you get started in music?
B*TCH: When I was younger, I saw this episode of Sesame Street, and they were all playing instruments. I think I was four. It made me just want to play music.
COREY: Were you raised in a musical household?
B*TCH: Yeah, it was definitely one of those musical homes. My mom is a tap dancer and choreographer with a studio in her basement, and as a kid I used to listen to the rhythm from the basement filter up into the house as she taught classes. My parents also played a lot of music. As a kid I was singing all the time.
COREY: How would you describe the transition, going from being part of a team — Bitch & Animal — to becoming a solo performer?
B*TCH: Touring in a van for years with Animal started bringing out our creative differences, and so after awhile I was keen to go out on my own and see what that would be like, you know? To go out with my chest up in the world and keep some heart in what I do. So I started performing as a solo artist.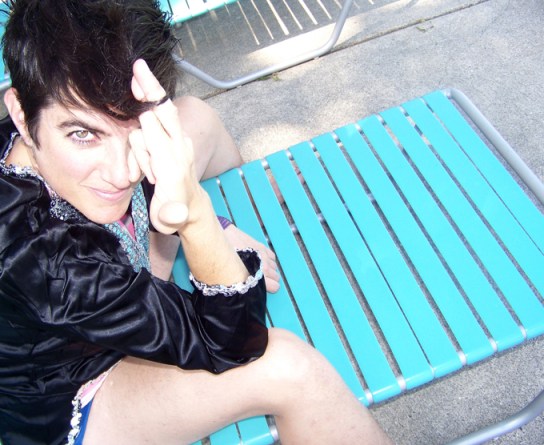 COREY: I read on your blog that writing this album, Blasted!, was a 9-month long process. Can you describe it for us?
B*TCH: Hmm, let me take a second… This is where you insert the (long pause)… It was definitely cathartic. It started in a place of complete solitude. I started recording it in Michigan while I was staying with a friend, and then once I returned to Brooklyn I was able to start recording it in my studio with people that I know and have worked with before.
COREY: This album is a little more pop than previous efforts — was it a conscious decision or did it happen organically?
B*TCH: I don't think it was so much a conscious decision. I felt it heading in that direction while recording, and it just felt right, and so I wanted to see how it worked out.
COREY: There's one song on the album that particularly registered with me, "Afghanistan". Can you share the story behind the song, what inspired it?
B*TCH: Afghanistan started as a poem on a tiny piece of paper, in a whole box of poems that I had written. I stumbled across it right as I was about to go on tour with Girl In A Coma and then finished it while I was on the road. It ended up being this interesting song, starting very quiet, and as it gets going it busts out in an exciting way.
COREY: I really love the music video for your first single, "Kitchen" — what was the concept behind the video?
B*TCH: I wanted to capture what happens on the streets of New York. It fits so perfectly with the song and exemplifies the music that was inside of me while filming it. Just the raw burst of music.
+
COREY: Do you believe that being labeled as a queer and a feminist affects how people approach your music?
B*TCH: Yes absolutely. But I would never change in any way because being who I am and being out has given me so much support in the community.
COREY: A lot of artists like yourself are choosing to form their own record labels to release their music. What are the advantages there, does it allow you to be more creative?
B*TCH: Definitely. And it gives you a more exciting feeling. I formed Short Story Records two years ago. It started small with the release of Ferron's EP, and then it eventually became a net, so to speak, where I could put all of my eggs. I began to see my work as more of a bigger collection than individual pieces. Part of a bigger whole. Having your own label makes the whole process of going from the recording studio to releasing the albums so much faster.
COREY: You're touring in support of Blasted! What can your fans expect from your live shows?
B*TCH: I'll be touring the country in my van, T.W.A.T., and the whole tour is going to be a record release party on wheels. I want each show to be killer, not just playing old stuff but the new material as well. The idea is to have a party celebrating the new album in every city so that everyone can experience it. A two-woman duo from Miami called State Of will be touring with me. They're so youthful and give me a lot of energy while on tour. They will be my backing band; they're just a really great energy force.
COREY: How do you feel about this new album compared to your past work?
B*TCH: This is the best thing I've ever made. I can't wait to make the next one.
COREY: That's great. So many artists say, "well it's okay…"
B*TCH: (laughs) Well, not Bitch.