ELENA KAGAN: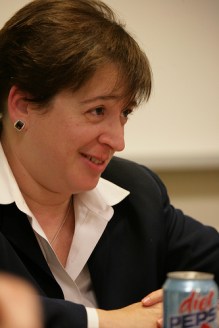 On Friday we told you about some of the possible candidates for retiring Supreme Court Justice Stevens' spot, one of whom is present Solicitor General (Obama appointee) Elena Kagan. There are now a few posts up speculating about Kagan's sexual orientation – we are not sure whether to be excited that a potential lesbian feminist might be nominated for a Supreme Court position, or annoyed that 3.5 seconds after a woman might maybe attain political power someone starts getting into her personal life and/or declares her a huge dyke.
Oh also, Elena Kagan is Jewish, which seems to really upset some people/Nazis. That's not all; she was raised in New York City. Sarah Palin will have a field day with this one 'cause like there's actually not even a Main Street in New York City. But there is a Gay Street. Just saying.
Anyhow, here's the thing: if Elena Kagan really does get nominated, chances are there is going to be a serious stakeout to uncover Kagan's sexuality and because she is Jewish, as aforementioned, Kagan can't hide from the political-paps in the Scientology Castle. But chances are the whole debacle will remind us why so many politicians stay closeted.
Anyhow. Elena Kagan was confirmed as the first Solicitor General of the US in March of 2009 and formerly was a superstar dean of Harvard Law School and Charles Hamilton Houston Professor of Law at Harvard University. She also served as Associate White House Counsel with Bill Clinton. It was actually speculated that Kagan might take the spot that went to Sonya Sotomayor last year, but she wasn't, so now is her time to bring that pro gay-marriage and anti-DADT spirit right on up there yeah?
POPE:
In the latest installment of the Pope Benedict Being Pretty Okay With Child Abuse saga, Gawker finds that the Pope slash the Church apparently does have the power to dismiss clerics almost immediately, and just never felt like it was that important in the case of confessed pedophiles. In 2006, Archbishop Emmanuel Milingo of Zambia was excommunicated in an incredible 48 hours after ordaining four priests who were already married. In contrast, Revered Steven Kiesle of California plead no contest to tying up and molesting two young boys in 1978, but he wasn't removed from his office until 1987, even though he himself asked to be in 1981. Really classy, Ratzinger. (@gawker)
In related news, famous British atheist Richard Dawkins has announced that he hopes to have the Pope arrested on human rights charges the next time he visits England, employing the same tactics used to arrest the Chilean dictator Augusto Pinochet in 1998. (@joemygod)
LGBT INDIAN S.R. SIRAS MYSTERIOUS DEATH:
The tragic death of Aligarh Muslim University professor S. R. Siras isn't being ignored by his students, colleagues or other LGBT Indians. "A statement by a coalition of NGOs working for gay rights and others said: "We, as concerned citizens — and for many of us, as gay, lesbian, bisexual and transgendered Indians ourselves — express our shock, outrage and deep sadness at the loss of a teacher, a loyal member of the AMU community, a gay man, and a kind, gentle soul". They have demanded an impartial investigation into his mysterious death – Siras was found dead alone in his home with blood coming from his mouth, and at the time it was ruled a suicide. (@hindustantimes)
GAY EMPLOYERS:
Add this to the nearly infinite list of Problems Facing Gay Small Business Owners: should you be out to your employees? If so, when? "It might just be easier for people to mention that they're gay instead of waiting for someone to quit if that's going to be a real problem for them." (@thebilericoproject)
DAN CHOI:
Our boy Dan Choi (that rhymed!) gave a really inspiring talk at Texas A&M, and also looked really good. He spoke, of course, about DADT and compared his experience as a closeted gay man in the military to the oppressed and unsafe existence of Shia Muslims in Iraq: "See, they were discriminated against throughout their entire existence. They were called heretics. They were called less than, and worse than infidels. They were going to go to hell because of who they are and what they believe about themselves. It was so rampant, that discrimination, that some of the Shia leaders, these Ayatollahs and these tribal leaders, informed and trained their people. They say, 'I know you're Shia and we're proud of who we are but if its ever a condition where you are threatened with your life or you might lose your job, or for the sake of political expediency, when it is comfortable for you, you can lie about who you are… So while we were here preaching about democracy, transparency, equal rights for all groups in Iraq, whether you're Shia or Sunni, I couldn't help but feel like such a hypocrite because I was hiding something deep down inside myself. I could talk about democracy and transparency and being proud of who you are, but I was hiding." He took some questions at the end! Here's a video! (@pamshouseblend)
CYNDI LAUPER:
Just after the launch of her Give A Damn campaign (you may remember it as the time Anna Paquin came out), Cyndi Lauper is also opening a center for LGBT youth in Harlem. (@huffpo)
BENEFITS:
"Protestors chanting slogans and carrying signs marched in Hollywood to demand equal Social Security benefits for same-sex couples" (@mercurynews)
MCCAIN:
In an interview with the Arizona Star on DADT, McCain gives a confusing soundbyte about "not talking" to gays and lesbians. It's being quoted as his opinion that GLBTs don't need to be consulted about DADT, but the way he phrases it I feel like it could also just mean he, um, doesn't want to talk to us. Thoughts? "…I visit with the troops all the time. I go to Iraq, I go to Afghanistan, I run into them everywhere. And of course, I don't seek out someone who is gay. Why would I? These are all men and women who are serving. Why should I, that would be nuts. I go up to men and women and say thanks for serving. I say thank you for serving, you are great Americans, God bless you." (@theadvocate)