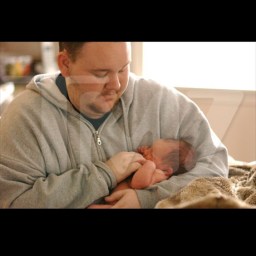 Scott Moore, dubbed "the second pregnant man" by the media, just gave birth to his baby Miles, and TMZ got photos, which we came upon via Bossip.  Scott and his husband Thomas were both born women. The couple already has two other children, 10 and 12, from Thomas's first marriage to a woman who has since passed away. They're legally married as Moore still has his female ID. It's worth noting that obviously Scott is not the world's second pregnant man, hey there's even a great documentary called Transparents about the real experiences of transgender parents! Go watch it!
The new baby is adorable, as babies often are. The couple looks happy and Scott is wearing a cute hoodie. And the Internet is, apparently, disgusted. And subsequently we are disgusted at the Internet.
Back in January, when the news of Scott's pregnancy was announced, Pam's House Blend ran a piece on a radio show's transphobic reaction to the news. The author of the post also asked TransMentors International's Michael Brown for his opinion on the issue. Here it is:
I can tell you that trans men are divided on the issue of trans men giving birth. Many are incredibly angry, others are c'est la vie.
I know that many transmen have kids, all along for decades, when in all stages of transition. They didn't have to become a media "sensation" overnight, they simply chose to conceive a child and that's great.
I'm on the side of — if they're a man, then don't get pregnant. BUT — if they do, don't take it to the media. Keep it low profile. Every individual has a right to govern their own body, including having a kid.
But being out in the news is not good right now, with society needing so much education and very susceptible now that "trans" is becoming a household word.
This whole situation pisses me off…. and maybe part of that is because they were obnoxious against trans MEN. I'm sorry, but us guys are least known in the trans spectrum, and about the only time we get anyone noticing us is either because of a hate crime (Brandon Teena), porn (Buck Angel) or PREGNANT men.
Although TMZ (which we would link to, but we try to avoid consorting with the devil and so you'll just have to trust us) introduces the new photo shoot with the troubling but relatively innocuous (for TMZ)"Confusing? Perhaps. Adorable? Absolutely" — well, the commenters really just take it from there. And although we may not completely understand the decision to take this story to the press, these commenters ARE SO F*CKING TRANSPHOBIC AND HOMOPHOBIC. Really world, really?
About 95% of the comments are some variation on comments expressing these ideas: "THATS NOT A MAN!!! IF HE HAVE A VAGINA, OVARIES AND A WOMB! THEN HE'S NOT A TRUE MAN!!"
Some are concerned about Miles' comfort at various extracurricular activities:
Just think how horrible school, teachers conferences, scouts or any normal healthy activity will be for the kids!!!! Even the childhood joy of birthday parties will be difficult for the kids, if they even are invited or have one. The children are innocents. The "parents" are selfish, short sighted and SICKOS!!!!!
Even the gays are openly transphobic:
I'm gay and this is really sad even to me. This woman is not a man. If she has a vagina and is still shooting out kids, she is a woman. If she had a hysterectomy and had her vagina crafted into a penis and THEN had a baby, I would be impressed but now, not so much. I feel like the transexuals have a right to change what they want about their bodies, but don't expect me to join in on your psychosis.

Throwing in "fat" and "ugly" for good measure:
Whether anyone here believes in God or not… I'm glad to see that 90% of us agree that this freak is not a man, but an ugly, fat, lesbian woman. I feel sorry for their precious baby.
Hypotheticals abound:
This isn't a man. Never was, never will be. If I have surgery to make me LOOK like an alien, and then I have a baby, does the headline read "Alien has baby"? I think not.
This pressing question comes from the commenters of Bossip, which actually includes maybe 10% positive comments, as opposed to TMZ's 1%:
I don't care about peoples personal lives and who they choose to love and have kids w/ but all I wanna know is… why are most lesbians overweight (even though these two are now transgender/men). I never see a nice trim and small lesbian couple. Do they all just want to be fat? Has anyone else noticed this?
Oh, sigh. Obviously she never saw The L Word (which also had plenty of transphobia to go around).
What do you think? It's a bit interesting; we assume Scott & Thomas chose to do the photoshoot with gossip rag TMZ because the payout was handsome and Robin Hooding it is the solution. But the ethics of selling baby photos are tricky.
We admit that the hatred stunned us; perhaps we live in a bubble. But here's the thing, check out the reaction to Queerty's coverage of the announced pregnancy in January — the commenters over there are similarly transphobic. The interesting issue raised by Michael Brown on the PHB post of positive vs. negative visibility isn't discussed, rather people just sort of spew unrelated transphobia into the world wide web.
Kate Bornstein, Gender Outlaw Lady We Love, has noted, "Since transgenders in this culture are neither fairly nor accurately represented in the media, nor championed by a community, we develop our world views in solitude." So what do you think? Does this kind of press coverage endorse or challenge current transphobic and homophobic cultural norms? Does the response surprise you? How should the queer press best talk about it?
IS IT A TIGGER BLANKET OR A CALVIN & HOBBES BLANKET I DON'T KNOW BUT IT'S A CUTE BLANKET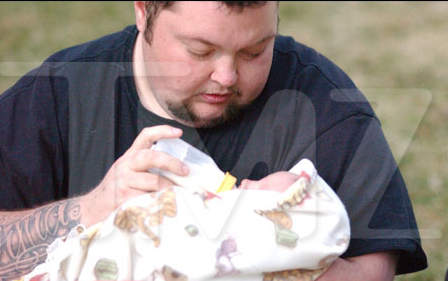 The backstory on Scott and Thomas, if you don't already know it, is interesting:
Moore, born Jessica, told the paper he first realized he wanted to be a man when he was 11.
"When I told my family, they thought I was crazy, but they gradually realized I was serious and allowed me to start taking male hormones when I was 16 years old," he said.
His parents eventually paid for him to have his 36DDD breasts removed, the paper reports, but he could not afford the high cost of full sex reassignment surgery.
Thomas, born Laura, underwent sex reassignment surgery last year. "We were so happy, we did what all gay men do when they get excited — we went shopping," he told the newspaper.
Also:
"My son Logan was bullied, but now he just says to teasers: 'You may have a problem with my two dads, but I don't, so you're not hurting me.'