Welcome to Make a Gooey Thing! In which I walk you through these weird substances I regularly make in my work with kids. This week, we're making Oobleck.
Oobleck, traditionally made in middle school science classrooms from cornstarch and water during units on phases of matter, is a non-Newtonian substance, like quicksand or Silly Putty. It's not a solid OR a liquid! Scientific American explains:
Applying pressure to the mixture increases its viscosity (thickness). A quick tap on the surface of Oobleck will make it feel hard, because it forces the cornstarch particles together. But dip your hand slowly into the mix, and see what happens—your fingers slide in as easily as through water. Moving slowly gives the cornstarch particles time to move out of the way.
You can make a whole lesson about this if you want, or make up a story that it's a secret substance from space. Or not. The six-year-old I made this with thoroughly did not care about the phases of matter represented in her hands, but she have a thoroughly good time. The point is not really to make anything with the Oobleck. It's just a cool substance to feel and play with. The one thing you can make is a mess, but it cleans up really easily.
As I said, Oobleck is just cornstarch and water, plus optional food coloring for maximum fun. This box of cornstarch from Stop and Shop cost $2. It's a gluten-free activity, because it's made from corn, if that matters to you. Lay out some newspaper to cover the table to minimize clean-up. Make it in some sort of baking dish. Cake pans work really well.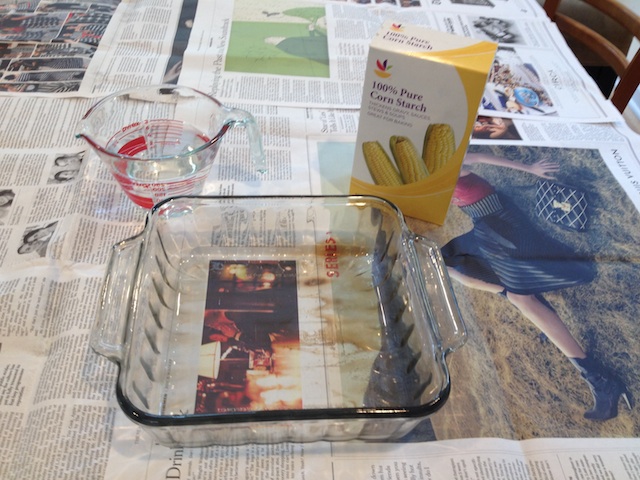 Mix the cornstarch and water together. You're going to use a roughly 1:1 ratio, but add as needed until you reach a consistency that isn't too watery, but is liquid-y enough to be able to run your hands around in.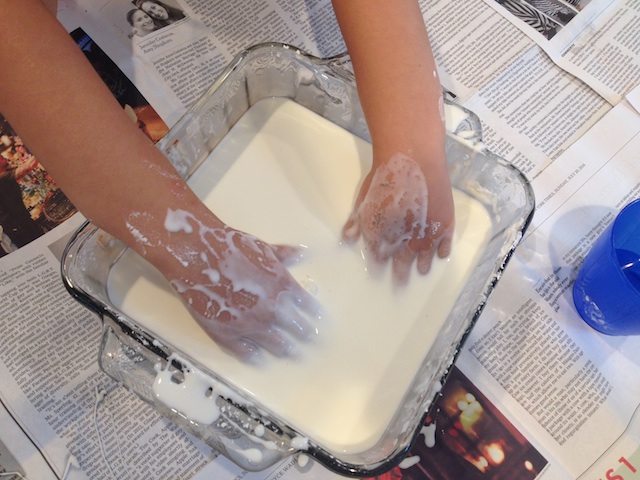 Now let the small human have at it.
When the small human has begun to understand the ridiculous fun that this substance is, dig out whatever food coloring you can find. Put a few drops in, and let them mix it around. It makes very cool designs.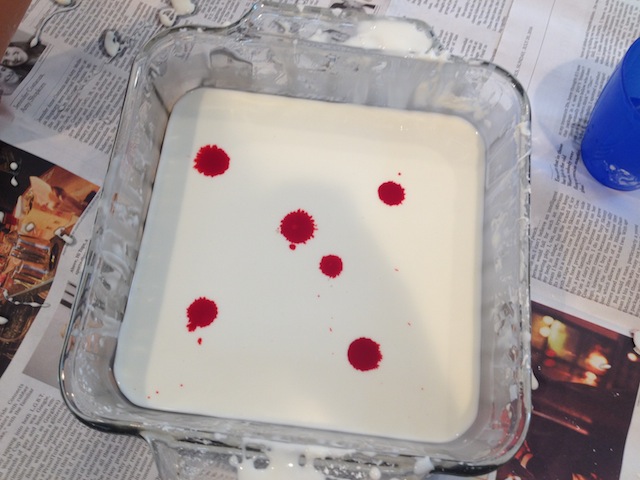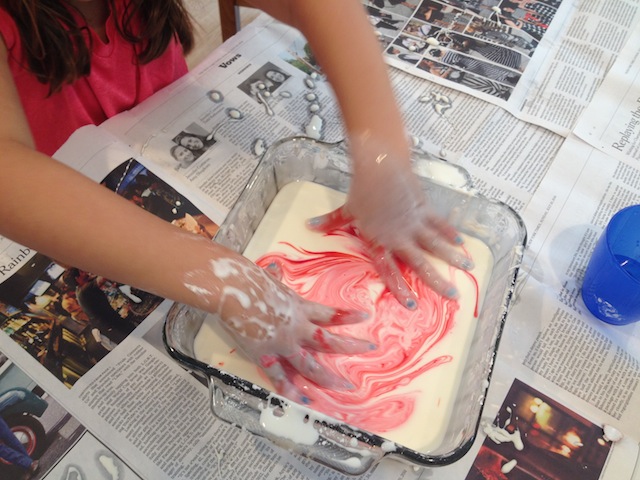 The small human's hands will be whatever color the food coloring is afterwards, but it will come off with some scrubbing, some time in a chlorinated pool or just by waiting it out for a little bit.
They can make it rain Oobleck.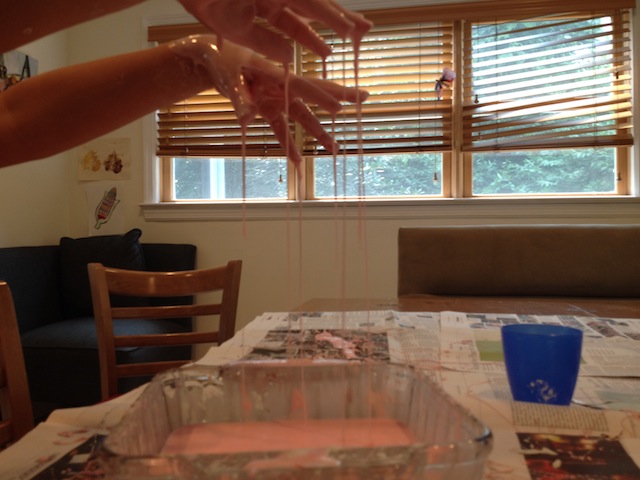 They can have fun spattering it over the newspaper.
And you can send cute pictures to their parents.
We saved it in a ziplock bag to play with again, which was definitely the hardest part, because non-newtonioan substances don't really pour so well. But it worked eventually, and the next day we added some more water and cornstarch and food coloring, and we were right back to where we were the day before.