So, San Diego Comic-Con happened. That's cool, right? Sadly, Marvel didn't announce a Captain Marvel movie, DC didn't announce that Wonder Woman (or even Harley Quinn or Poison Ivy) is canonically queer and Natalie Dormer did not ask me to marry her. Still, there was a lot of pretty cool news. So let's check it out (and warning, there are slight spoilers throughout)!
TV News
There was some casting and new character news announced for the next season of Marvel's Agents of S.H.I.E.L.D. This includes the marvelous Lucy Lawless joining the cast as Isabel Hartly, a longtime S.H.I.E.L.D. veteran and the announcement that Bobbi Morse, also known as the superhero Mockingbird, will likely show up, although no casting has been announced for her yet.
Hayley Atwell talked about her upcoming Marvel/ABC show Agent Carter, which follows the Captain America character and her days helping to start S.H.I.E.L.D. in the late 1940s and seems totally awesome.
Character names for a bunch of cast members on American Horror Story: Freak Show were announced. Sarah Paulson is playing conjoined twins Bette and Dot Tattler, Emma Roberts is playing Maggie, Kathy Bates is playing Effil Darling, Angela Bassett is Desiere Duprée and Jessica Lange will be playing Elsa Mars.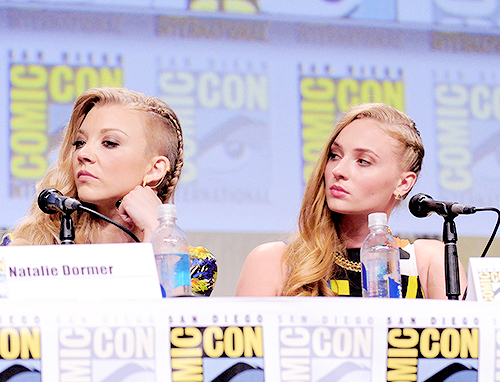 A bunch of new actors are coming to Game of Thrones next season, including Keisha Castle-Hughes, Jessica Henwick and Rosabell Laurenti Sellers as the Sand Snakes, Oberyn Martell's formidable daughters. Also, Sophie Turner emulated her co-star Natalie Dormer's hairstyle on the panel. So that's incredible.
---
Movie News
We've seen a few teasers for The Hunger Games: Mockingjay Part 1 (and they look pretty awesome) but we got our very first look at an actual trailer for the movie with footage from it! Look at that action! Look at that intensity! Look at Natalie Dormer!
Marvel announced a sequel to their new movie Guardians of the Galaxy, which technically hasn't even come out yet. But hey, if it means we get to see more Zoe Saldana as a super-assassin, I'm all in. Also, maybe we'll get to see interstellar girlfriends and Guardians members Phyla-Vell and Moondragon.
Evangeline Lilly, who also plays the elf Tauriel in The Hobbit films, is going to be playing Hope Van Dyne, the daughter of Hank Pym and Janet Van Dyne in Marvel's upcoming film Ant-Man. If you know the comics, you know that Janet Van Dyne is also known as the superhero Wasp, who was an original Avenger and actually on the team before Captain America. So does this mean that Hope and not Janet will become the Wasp? Does it mean that the Wasp will make an appearance in the Marvel Cinematic Universe soon? Hopefully.
Zach Snyder released the first official photo of Wonder Woman in Batman v Superman: Dawn of Justice, which I give my opinion on over in Drawn to Comics.
Joss Whedon said that women will have a bigger role in Avengers: Age of Ultron and that "There are four prominent female roles in the center of the movie, and a more balanced presence throughout the movie."
In maybe my favorite piece of news, Screen Gems is producing a movie adaptation of the terrific (and queer) video game The Last of Us and they confirmed that they've met with little badass Arya Stark, AKA Maisie Williams, about playing the role of Ellie! Ugh, that would be so amazing! Now, who's going to play Riley?
---
Actual Comic Book News from Comic-Con
The husband-wife duo who are taking over art-writing duty on Wonder Woman admitted that Wonder Woman actually is a feminist icon, despite an earlier interview where David Finch (who will be doing art duties) said he didn't want to call her a feminist character. Merideth Finch, who will be writing (yay for a woman writing Wonder Woman!) also said that she's excited to bring Wonder Woman back into the rest of the larger DC Universe.
Dynamite Entertainment announced that Gail Simone will be writing a "Women of Dynamite" mini-series bringing together characters like Red Sonja, Vampirella and Dejah Thoris of Mars.
In addition to winning Eisner Awards, Brian K. Vaughan and Fiona Staples  premiered the cover for their Saga Book One Hardcover.
Marvel announced two new female-led solo titles at Comic-Con. The first is Angela: Asgard's Assassin, written by Kieron Gillen and Marguerite Bennett and with art by Phil Jimenez and Stephanie Hans, which centers around the adventures of Angela, a warrior woman sister of Thor originally created by Neil Gaiman. The other title that was announced is Spider-Woman, who is also getting her own ongoing solo series.
Marvel will also be debuting a new S.H.I.E.L.D. comic series based on the TV show Marvel's Agents of S.H.I.E.L.D. (although taking place in the comic book universe, not the TV show's universe) to be written by Mark Waid. This comic will feature the comic book debut of characters like Melinda May, Fitz and Simmons. Waid will also be writing a "Star Wars: Princess Leia" miniseries along with art by Terry Dodson in March.
---
There was also, of course, a bunch of amazing cosplay, and what seem like two especially great panels: the "Badass Women" panel from NerdHQ, which featured Yvonne Strahovski, Retta, Jennifer Morrison, Sophie Turner, Ming-Na Wen and Missy Peregrym, and the "Women who Kick Ass" panel, which featured Natalie Dormer, Maisie Williams, Katey Sagal, Tatiana Maslany, Sarah Paulson and Nicole Behaire. So if there weren't enough announcements about badass women, hopefully those will tide you over until next year's Con.