Once upon a time we accepted that we'd have to suffer for our lesbians, whether that be enduring a year of Meredith Gray whining about McMuffins like a spoiled pony or Seasons 2-6 of The L Word.
But wasn't that all changing? Now we've got Skins, Degrassi, Pretty Little Liars, True Blood, The Good Wife — shows where fingerblasting and plot development meet and have lesbian sex (whatever that is). No more must we tread the banal gravel of Dr.House's pontifications to snatch a minute or two of girl-on-girl action. No more must we accept that Marissa's relationship with Alex won't last more than three episodes or that all lesbian characters will inevitably die a bloody merciless death.
In fact, we even had Glee! We liked Glee before Santana came out, didn't we? The Lesbo Thing was just the icing on the cake, like biting into a hunk of vanilla cake to discover it's not just vanilla cake — it's confetti cake.
Finally FINALLY! Brittany & Santana are dating!
But bad news — the rest of the show has never been worse!
So — and before I begin I'd like to acknowledge that yes, indeed, it is Friday, and this is mega-late, and I'm really sorry, shit got real this week. Due to the fact that 75% of this week's episode was total bunk, I've decided to only recap the Brittany/Santana parts.
Basically, here's what happened outside of Brittana: Sue jockeys to desecrate Glee/West Side Story by enraging the People of Lima about there being too much money thrown at the arts. She succeeds and everyone calls Figgins, who, sidenote, is the worst principal ever in the history of education. He should replace himself with a Magic 8 ball, it would have more to add to the conversation than he does as he is basically just an empty tank of peer pressure. Sue's foiled by Burt Hummel and his band of maudlin funeral directors who take out ads in the West Side Story program.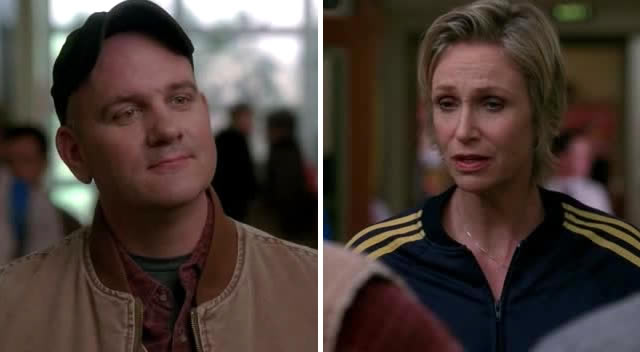 Then Burt gets his airtime on the Sue News-Show and gives a killer speech about funding for the arts because now he's also running for senate or congress or whatever.
Meanwhile, over in the land of Retconville,  Quinn volleys to get her baby back baby back baby back ribs by planting fucked up shit at Elpheba's apartment so Child Protective Services will get Beth out of the house so Quinn can have her back 'cause Beth is a "perfect thing" Quinn can't fuck up. Actually, a baby child can be fucked up a lot easier than just about anything else in the entire world, but whatever.
Puck foils Quinn's baby-snatching plan when he takes a secret trip to Shelby's to remove her kaluha or hot sauce or whatever so she won't have her baby taken away. Meanwhile Beth is wailing and yelling so Puck pulls out a guitar from nowhere and starts playing for Shelby who smiles at him and Beth is soothed by the sweet sweet sounds of Puck covering a stupid, stupid, stupid song. So now Beth is gonna be stupid. Just warning you. Also, this: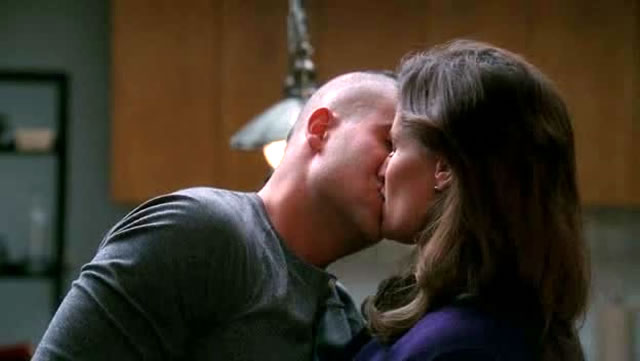 Let's begin!
Brit-Brit's convinced the new guy's a leprechaun, but he's actually a Glee Project Guy, or, I mean, an Irish guy named Rory Flanagan.
Finn, skulking like Shrek at his locker, overhears Brittany wish for all-marshmallows Lucky Charms and makes a face like a stomachache.
Clearly Irish is focused on poking the salami with Brit-Brit and, clearly misinterpreting Brittany's orientation, thinks she's attracted to magical elves, and therefore is maintaining the illusion.

This episode I had a hard time getting over how fucking old these actors are! Sometimes I feel like every episode is Halloween and they're all going as teenagers.  Like for example: 29-year-old Corey Monteith is going as Justin Bieber, 29-year-old Mark Salling is Jughead Jones, 23-year-old Kevin McHale is Jason Street, 24-year-old Naya Rivera and 24-year-old Heather Morris are going as high school cheerleaders, 25-year-old Dianna Agron is Sandy from Grease, 25-year-old Lea Michele is Anne of Green Gables, 25-year-old Jenna Ushkowitz is Violet Beauregarde, 29-year-old Harry Shum Jr is Doogie Howser, 22-year-old Chris Colfer is Colonel Mustard, 24-year-old Darren Criss is Steve Urkel, 25-year-old Amber Riley is Claudia from The Baby-Sitters Club and 33-year-old Will Schuster is Steve Sanders.
BAM. Oh, look at Santana's locker:
So, back in the hallowed hallways of McKinely High For 25-Year-Olds, where Mercedes is trying to woo Santana over to The Girl Group, promising heaps of solos AND duets. Maybe even trios! Mercedes emphasizes that it's an all-girl group, 'cause she knows lesbians hate men, and well, we all hate Finn. "It's all lady-power all the time," she says. Also, that's what she said. Just saying.
But Santana can't leave Brittany behind 'cause girlfriend cannot take care of her shit, so Mercedes suggests Santana seduce Brit-Brit into switching teams. You know, like from Glee Club to Destiny's Child. Those teams.


At Glee Club Meeting Puck's pissed about Mercedes ditching Glee, and Tina feels "naked without her." Everyone overlooks that obvious lesbian reference as Puck moans they'll have to perform naked to win at sectionals. You know those high school glee club competitions, all they care about is sex! What is the world coming to?
But Will's got a look on his face like a man who's about to stand before a Glee Club and ask them to sell magazine subscriptions door-to-door to fundraise to replace the piano Sue destroyed with her fighter jet. I mean the funding for West Side Story Sue destroyed because that's what she does every single episode. These children must need a lot of Xanax.
When Finn whines about togetherness or some shit, Blaine interrupts to share warm heartstories from The Warblers, where they reacted to losing a team member by hiring a new team member. Finn says it's not like that here because nobody wears blazers, and Rachel's dressed like she's on her way to You're a Good Man, Charlie Brown auditions or her sixth birthday party. Basically Finn's a lesbian, and Blaine's a gay man, and the gays oppress the lesbians, as it was declared in last year's Oppression Olympics.
"So have a seat, I'm trying to give a pep talk," says Finn to Blaine, and Blaine's like "uh didn't you just say we shouldn't turn on each other?" and Finn is like "uh, yeah but mostly I just needed to stand up for a sec 'cause my cramps are super bad this month" and then Will's like, LET'S SELL ADS IN THE PROGRAMS like he just invented the printing press. Then they can stick all the ads together with taffy, and make a chain of taffy long enough to feed all the fishes in the entire sea.
Yes, Will is preparing the children for their bright future at The Gap by turning them into salespeople, AGAIN.
Then, Finn's super-bitchy with Santana 'cause he spied on her chit-chat about dropping Glee, in case she hadn't noticed the hulk shadow hovering behind her at the time. "Sure you wanna help out the team?" says Finn. Har har har.

Finn's on a roll, so he decides to wrap up his excessive screen time with a heart-to-heart with Irish, who laments that everyone in America is a bitch and asks Finn to be his friend like he's in a grape juice commercial and loves his Cracklin' Oat Bran. Finn asks Irish to be a friend and spy on Brit-Brit, 'cause Finn's got lots of other spy jobs to take care of. You know, spy jobs.


Irish is talking to his Mom on his cellphone at school. This isn't Ireland, kid. We can't just make long-distance calls from Calculus. Some anti-Irish terrorist bangs him into a locker thus abruptly ending the call. This is nbd however as Irish delivers an all-marshmallow box of Lucky Charms to Brit-Brit. She's pleased as punch to be that much closer to turning Lord Tubbington's excrement into Almond Joy. But she denies his request for a dinner date, saying she's got plans with a "friend."
In the amount of time it takes for this kid to cover Kermit the Frog's "It's Not Easy Being Green," and honestly it should be illegal to cover a muppets tune, Brittany and Santana could've had full-on sex.
However, there is indeed a quick snap of the Cheerio Queerios popping marshmallows and giggling like schoolgirls during this unnecessary musical montage:

Onward to Breadsticks, home of the 12-inch super thin micro 100% whole wheat dildo, and these chicks:
Santana: "I wanna talk about you know, that thing we never talk about."
Brittany: "That Sour Patch Kids are just Gummy Bears that turned to drugs?"
Santana: "Are we dating? Or what?"
Brittany: "Wait, isn't this a date? Aren't you paying, 'cause I ordered food! Wasn't last night when we took a bath together, wasn't that a date?"
Santana's little face gets a little bit warmer, like a girl who's finally about to get the thing she's always wanted, which, according to Hallmark, is friendship set on fire. Tops can cry too.
Brittany: "Are you crying?"
Santana: "It's just that I'm really happy."
Brittany: "Well I told you last year that if I'm single and you're single that we'd mingle."
Santana regains her composure to talk business — Santana wants to ditch Glee so she can shine shine shine like a roman candle in Elpheba's Showgirl Choir of Song and wants Brit to tag along, lest they separate and get depressed, as lesbians are wont to do. Brit's concerned that quitting will fuck up her campaign and requests a day to think about it.
Santana: "I do have one more wish, I wish you'd hold my hand."
The way she says it starts out bossy and then gets needy at the end, and it's refreshing and sweet and all those things.
Although Santana's uncomfortable vulnerability manifests itself in things like "needing PDA to prove that this is real" (and I mean, don't we all? I sure do), she's still tepid about what the world thinks — she corrects the hand-grab with a quick 'under the napkin.'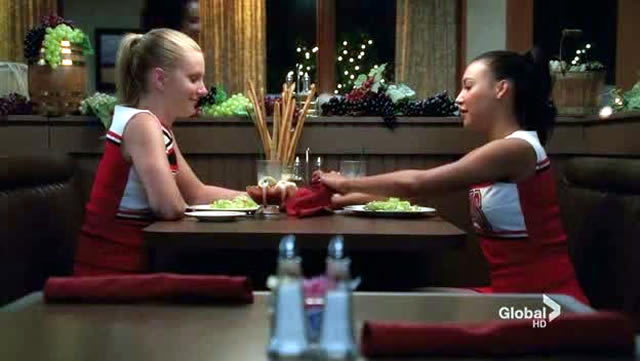 Pretty much, what happens here is this:



Good news, thanks to the big ad buy from the funeral directors, the kids have raised the money to do West Side Story! Everyone screams like they just female ejaculated.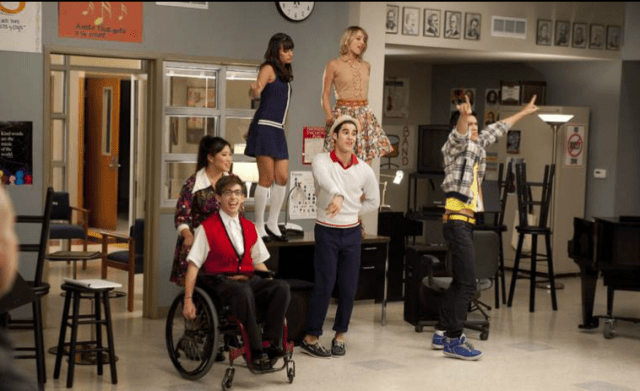 Blaine wants to cheer up the group and thought he'd do so by performing a song about "last Friday night." This kid's got a good memory. So the music begins and Blaine begins singing with an enthusiasm that makes me worry his eyes could pop out of his skull or he could jump too high and hit the ceiling. What a feeling!
Get this — everyone else joins him! Yup! They're all so energized and inspired by this shitty pop song and how color-coordinated everyone is today that every other child in the room also leaps to their feet, reveling in the joy of song and the joy of dance! The pure bliss of dancing and singing! Everyone in the whole room! It's wild. The entire room of kids, just singing and dancing like that. Hot damn.
Except Santana, who broods in the bleachers, 'cause now that Brittany and Santana are a lesbian couple, they've lost their right to marry and also their right party. Now they'll have to fight for their right to party, like The Beastie Boys.
Back in the hallway, Santana corners Irish to ensure he understands that he's gotta convince Brit-Brit to quit Glee and be in The Pussycat Dolls with her. She really admired his work with the marshmallows.

Irish, in his shirt, sits down for a one-on-one with Brit, who was busy in her room staring at her fingernails and wondering if they were short enough.
Brittany starts talking about feces again and Irish breaks it to her that Santana's one wish is for Brit to leave New Directions in favor of Petra, Paula and Mary. Brittany feels torn, just like her hymen. But ultimately she consents to the higher power and agrees to flee Glee.

Finn, who clearly woke up on the wrong side of the futon earlier this week and hasn't napped since, godzillas his way over to The Cutest Couple of All Time to start trouble, and by that I mean "telling Brittany that Rory is not a real leprechaun." Then Finn calls Brittany an idiot and she says he's a bully and she's quitting Glee Club for The Violent Femmes.
Brittany & Santana chum up to Mercedes to ask her about being an erotic third, but then they get nervous and instead tell her they're joining The Dixie Chicks.

Santana and Brit arrive at rehearsal to find Mummata dancing like Nancy Grace and singing like me, and Santana promptly lays the smack down like a motherfucking pancake with peanut butter on it, because that's Santana's special recipe.
Santana: "Okay, I did not just leave one diva-driven glee club to join another. So let me write you a reality check, richy bitch. I've seen what you can do, and what you can do is stand in the back, and sway, and sing very, very quietly."
Sugar: "I just wanted to be on the winning team for once."
Mercedes: "So just turn down the 'tude, and you will be."
So there goes that problem. Glee creates and solves problems so fast. It should have a Mathnet edition. Then Shelby, who's been standing approximately two feet away from the girls, suddenly springs to life like the motherfucking Hall of Presidents, announcing vacantly that the team needs a NAME. A name that reflects who they really are. And All-4-One has already been taken, so.
They pick Troubletones and giggle like a bunch of sexy nincompoops. Then they launch into a delightful Candyman performance which is a perfect demonstration of how the world would be so much better if the 1% just handed their shit over to the lesbians and black people.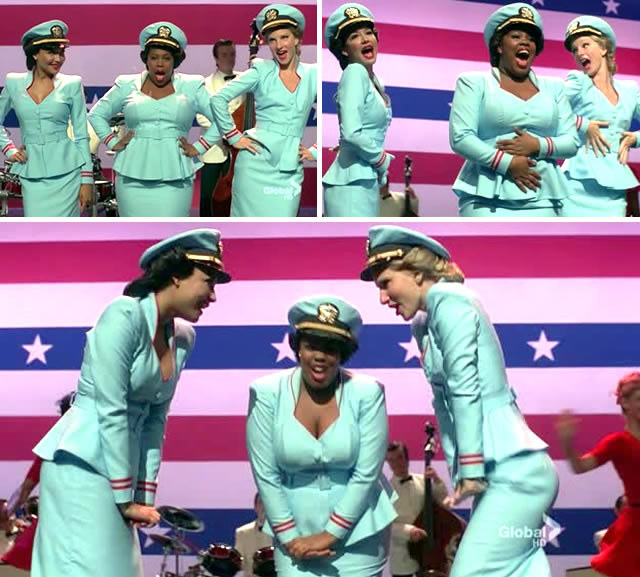 "This is trouble," says Finn. Will says, "big trouble." Biggggg trouble.

Next week on Glee, everybody will be having sex for the first time except for Santana and Brittany, because of the patriarchy.