Is it just me or did it suddenly become okay to say penis and vagina on TV? I mean, they should have always been allowed since they're just clinical terms, but between 2 Broke Girls, New Girl and Modern Family, there was a lot of, erm, talk.

Modern Family
by Lizz
As usual, there were tons of plotlines on Modern Family this week. Sometimes I swear it probably takes you longer to read my recap than to just watch the episode. A couple of the plotlines were really funny, like Cam trying to pick up a chick. Others, like Jay being all self-conscious about dancing, I just fast forwarded through the second time around.
But yes! You read correctly, Cam tried to pick up a girl. Apparently Cam believes that if he were straight he's be the ultimate womanizer.
Mitchell: Or maybe you just stepped out of a machine called "the womanizer."
Cam bets laundry for a month that he can get the phone number of any chick in the room. And he does.
Cam: If she were a hot guy, I would never have been that smooth. It's ironic, like, the gift of the vagi.
The girl, who's played by the amazing Leslie Mann, is excited when Cam calls her, and Cam gets worried she's become attached. So worried, in fact, that he doesn't tell her he's gay and instead invites her over. But, um, everyone knows where this is going, right? The girl knew he was gay the whole time and she just wanted a gay best friend to "dish with, give [her] guy advice, someone [she] can shop with." Cam points out these are stereotypes but that, more importantly, Julia Roberts is super nice in person. It's okay though, Leslie Mann still gives him a hot one on the lips to trick Mitchell.
At the Dunphy's, Phil tries to help Luke while Claire tries to help Haley. Alex Dunphy was obviously at all day cello/science camp. Phil wants desperately to make a tree house for-Luke-but-really-for-himself because he's all full of feelings about not having close buddies around. He explains to Luke how when you grow up, it's not easy to make friends anymore. You can't just holler to your friends or run in to them on campus after a late night ultimate frisbee game. This is so true that I need to go cry for a minute.
Okay I'm back. Claire also does her best to help Haley who won't stop complaining about her horrible god-awful terrible safe upper-middle class upbringing.
Everyone Has This Conversation While Writing College Essays
Haley: Hey Mom? I'm trying to write this stupid college essay question and I really don't even know where to start
Claire: What is the qustion? Tell me.
Haley: What's the biggest obsticle you've ever had to overcome…? Didn't my third grade teacher say I had like ADD or something?
Claire: Oh, no honey. She said you couldn't A-D-D and she put it that way because she also knew you couldn't S-P-E-L-L.
Much like Phil, Claire explains to Haley how being safe and warm like a kitten dressed up as a bunny doesn't last forever and that she should savor these years of normalcy with her family. Just kidding, she drops her off in the middle of nowhere.
The end results at the Dunphy household is that Luke quits the treehouse, Haley writes about Claire being crazy and Phil makes a new friend, Andre, who may or may not ever appear in another episode. Phil, of course, points out that he's black because it's not like you can just have a black guy on a sitcom without explaining his existence.
Oh man I almost Totally Accidentally forgot to tell you about the epicly boring Jay being self-conscious about dancing thing. Mitchell gives him "something that some people take at clubs to, you know, loosen up"and he hits the dance floor.
Mitchell: A gay man who hates dancing lives in a sad and lonely world
The drug? baby aspirin. Trickery is my fave.
New Girl
"Naked"
by Brittani
Jess interrupts the guys watching a scary movie and ruins it. OH JESS. I don't know. I think maybe that's what they want us to do. Put our hands on our hips, tilt our heads to the side, and say, "Oh that Jess!" Always ruining everything by being a person."
Nick has a date. His first since his no good awful break-up. They tell Nick to suck in his gut to get the girl which I think is silly. If she cared about his non-existent belly, she wouldn't have agreed to go out with him in the first place, right?
Nick checks himself out in the mirror before breaking into dance. That's how I get my self-esteem up too. I don't know what it is you lose from in front of the mirror to out in the real world but it's something crucial. Jess goes into the room to tell him to turn the music down but oh no! She is a TV person and doesn't wait to be told to come in. She enters and sees the whole package, giggles, then retreats out of the room.
Winston can't find a job. I refuse to discuss this further. Later, Amanda from the bar wants to get it on after her date with Nick but he is damaged goods and refuses to get undressed. I thought Lake Bell was really funny. Funnier than her name even.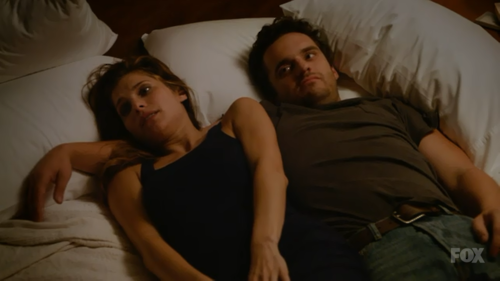 Nick: President Obama?
Amanda: I like him to watch over me.
When Nick returns in the morning, Jess suggests maybe he's not one for meaningless sex. He retorts that he is a man and thus must be. Unless men solely have sex with men (which they don't), I think this means that women engage in this activity as well. But what do I know? Lesbians only cuddle.
Model CeCe pops in to give some advice. Jess should flash her vadge badge to even things out. As fate would have it, Nick brings Amanda to his room while Jess waits in the wings to reveal herself. When she realizes what's happening, she hides behind the bed but Nick sees her as she tries to crawl out. He yells, she runs, the towel drops, she welcomes Amanda to their home.
Schmidt, seemingly out of nowhere, has a breakdown and admits he hates his life while running with Winston. In his attempt to cheer up his friend, he realizes how much of a sham his own life is. This is a thing that happens.
Schmidt: I suffer from exercise induced asthma.
Winston: Do you suffer from exercise induced crying?
Jess says penis a lot to prove she is mature. I know, right.
Are you glad New Girl is back?
Happy Endings
"Lying Around"
by Brittani
Dave unveils a new sandwich, The Steaktanic. He needs something to pull ahead of Dogs in Heat. Max wants to direct a commercial for him but Dave would rather go with a professional. That turns out awful so he lets Max have a go at it. Alex goes on a date with Liam, one of Penny's extras. Turns out Liam is a romantic baller or a show off and he rents out the entire restaurant Millionaire Matchmaker Style for their first date. Penny becomes unhappy with her comfortable dating situation when she finds out what could have been hers.
Penny: We watched Con-Air with the director's commentary. So here I am laughing and learning.
Brad is practicing parkour indoors when he's reminded that Sarah, Jane's sorority sister, is coming to town. Brad lies and says he has a work retreat in Michigan to avoid the duo. Sarah has to cancel last minute to host an intervention for her father. Left to enjoy the lush activities she had planned for them by her lonesome, Jane elects to carry on even after discovering Brad lied.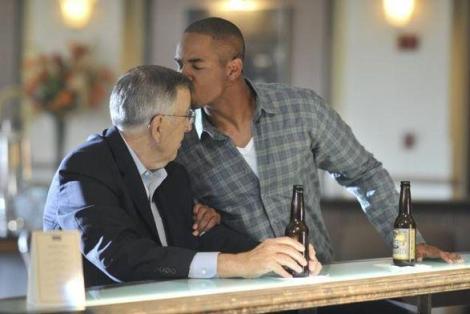 Jane: Picked up my knitting again. And you better believe that I don't stick to the conventional stitches. Guess you can say I'm a knitter with attitude.
Max's commercial was riveting but never mentioned Steak Me Home Tonight or even steak sandwiches. In fact, it probably helped the competition. Good thing there's this website to bring in customers. Brad finds out he's been double crossed and it leads to confrontation. The couple realizes maybe they need some time apart since they do everything together, including buying cheese. Penny and Alex switch dates again but Penny still isn't happy. The grass is always greener on the other side or some such.
Fred Savage? Fred Savage! Fred Savage.