The sun set on Wednesday night while we were on the freeway overcrossing at the Port Of Oakland, having marched there with somewhere between 7,000 (conservative estimate) and 20,000 (liberal estimate) other people. (However I'd accidentally over-ingested some whiskey shortly beforehand, so to me, it looked like somewhere between 14,000 and 40,000 other people.)
People were sitting on top of trucks and most of us were walking our bicycles. Longshoremen, prevented by their union from striking, expressed solidarity at the picket line by honking their horns and talking with protesters. Many just turned around and went home, due to a provision in their contracts which does not require them to work if there is a disturbance in the port.  Shortly after sunset it was announced that the protest had officially shut down the Port of Oakland, the nation's fifth-busiest port. Everyone cheered and we cheered too and then we rode our bikes 60 blocks home.
And then, apparently, as most of the city slept, a bunch of assholes went around fucking shit up in the name of Occupy Oakland. They set shit on fire, vandalized buildings, broke windows, and allegedly attacked police officers. By the end of the standoff, 80 protesters were arrested. And yesterday that's all anybody could talk about, and I guess I can't blame them, because look here I am, also talking about it. How the hell did this…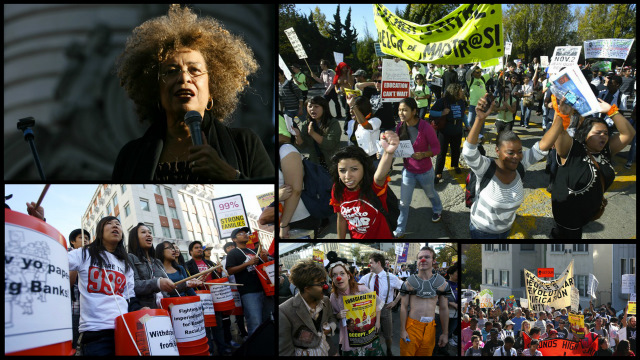 …turn into this?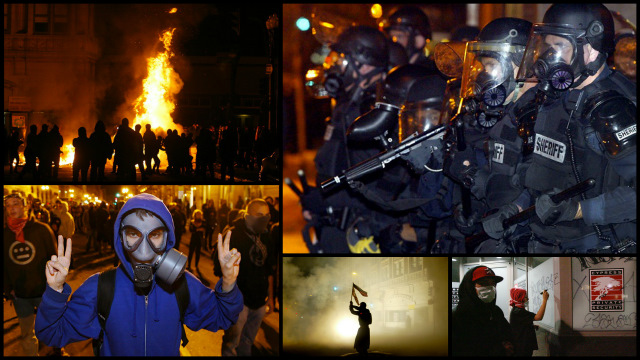 Well, long story short: it didn't. But let's begin at the beginning.
Occupy Oakland has been the focus of much world attention since it began on October 10th. Last week Oakland had the unfortunate honor of being the location of a massive and ultimately violent standoff between police and Occupiers, in which police unleashed tear gas and rubber bullets upon unarmed protesters, leaving many injured and critically wounding Marine Iraq veteran Scott Olsen.
Occupy Oakland actually runs a pretty tight ship under the supervision of a "Unified General Assembly." The objectives as laid out on the Occupy Oakland website are to "reclaim public space to use as a forum for the people to come together, meet one another, listen to each other, and build power for ourselves… to plan actions, to mobilize real resistance, to defend ourselves from the economic and physical war that is being waged against our communities."
On November 2nd, Occupy Oakland called for a General Strike, the first held in the city since 1946. They called on workers and students to walk out of class/work or take a vacation/sick day to join the occupiers. According to TruthOut, 16 percent of the city's teachers didn't show up for work and some high school students were given the day off. Half a dozen marches on banks and corporations shut down Wells Fargo, Chase, Citibank and Bank of America. Occupy Oakland said about 10,000 people were there during the day, which included 800 children, parents and teachers who gathered at the Oakland Main Library. There were poets there you guys, POETS! You can get the most accurate view of Tuesday's events, really, on Occupy Oakland's facebook page.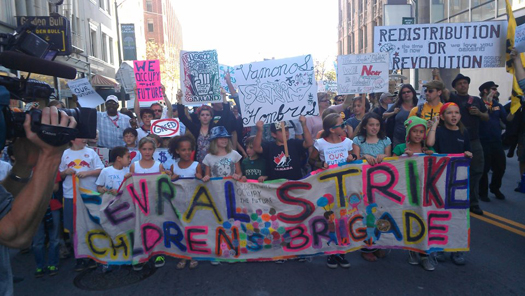 The day began with Angela Fucking Davis at 9:30, and by the time I got there in mid-afternoon the scene could best be described as a Social Justice Festival — heaps of performances and speakers, including some spoken word poets and kids from the Destiny Arts Center that I could've watched all day.
I used the video function on my camera for the first time to film some of that — it's not edited, just random footage (also I clearly didn't realize that shooting vertically would result in a sideways shot):
The crowd was remarkably diverse both racially and age-wise, in addition to sporting a visible contingency of alternative lifestyle haircuts, pot-smoking hippies and punk kids. (The San Francisco Gate has a nice piece on the diversity at Occupy.) 4,000 free meals in the form of hot dogs, hamburgers, veggie dogs and veggie burgers were distributed by the Alameda Labor Council with grills manned by City of Alameda firefighters and Alameda Local 689. It was almost an exact demonstration of how peaceful and happy people can be when you take commerce out of the picture.
I think for a lot of us who have been upset about these issues for years now, it's just incredibly affirming and encouraging to see this thing actually happening.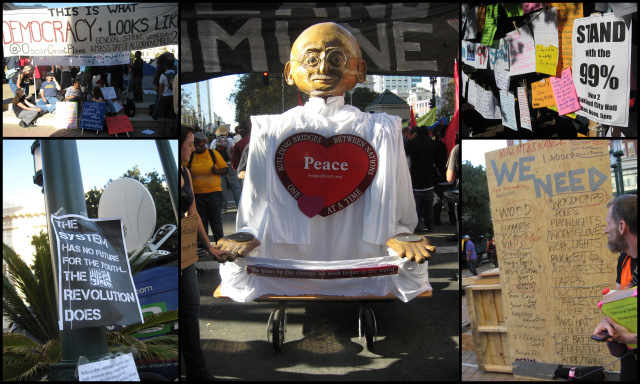 But according to the San Francisco Gate, things "descended into chaos after midnight." Fires were set, windows were shattered, graffiti plastered the walls of banks and other buildings. Police arrived in riot gear, utilizing tear gas and flash-bang grenades to disperse the activity. Police officers claimed they had pipes, hammers, glass bottles, rocks and cobblestones thrown at them and some protesters claimed that officers "beat anyone who ran and arrested anyone who stood still."
The Gate quotes a resident of the area who said, "The protest is supposed to be about corporate greed. It's not about trashing the streets of Oakland." The Gate quotes a man who was standing there when they took that quote, "These are drastic measures, to make people listen. This is our block now."
WHAT THE FUCK? Are we in second grade where when you like a girl you throw spitballs at her neck or something.
On Thursday the Occupy Oakland group did everything it could to distance itself from the "provocative fringe" who'd done such damage. The occupiers committed to helping the city clean up and disavowed the violence. I don't know what else to say, besides that it kinda rocked.
According to The San Francisco Gate, there was some dissent over how to handle the "black bloc" tactics, which "have been a source of debate in the Bay Area activist community for years." Some wanted to issue an official apology, but some argued that the actions were "irrelevant" and "trivial" and that "the people of Oakland were highly reassured by the unity of this community."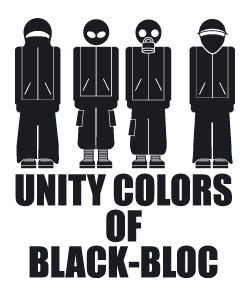 The term "Black bloc" is often misused to describe a group of anarchists, but it's not a group, it's a strategy. The protest tactic was developed in the 1980s by Autonomists (a set of left-wing political/social movements somehow related to the socialist movement) (not my socialist movement!) in Europe and it involves people fucking shit up while hiding themselves in black clothing, scarves and ski masks and carrying shields/truncheons. Black bloc groups were most visible at the 1999 anti-WTO demonstration when they damaged a lot of retail property in Seattle including precious Starbucks. Tactics include vandalism, rioting, street-fighting, misleading authorities, demonstrating without a permit and building barricades. Favorite targets include banks, outlets of multi-national corporations and institutional buildings.
Former Bay Area conflicts with black bloc protesters include a January 2003 march against invading Iraq, where a splinter group broke off from the peaceful protest, 150,000-200,000 strong, to vandalize the Financial District by breaking windows, tagging buildings with graffiti and dragging news racks into the street.
From a historical perspective, black bloc groups have often been a thorn in the side of peaceful protesters, but the media seems to be framing Wednesday's activists as a specific fringe incited by the spirit of the 99%. But that's just not the case. Sure, I was raised by very politically active anti-violent hippies who wouldn't even let us own a squirt gun, but I just can't see any benefit to violence as activism. What do you think?
In any event, Wednesday's protests were still, I believe, a success. It looks like Oakland will remain in the spotlight as this movement evolves, especially as low temperatures and snowstorms freeze out protesters throughout the East and Midwest. There is no weather in Oakland, it's always 70 degrees. Oakland can do this shit all year, bitches!